Honoring our influential Georgians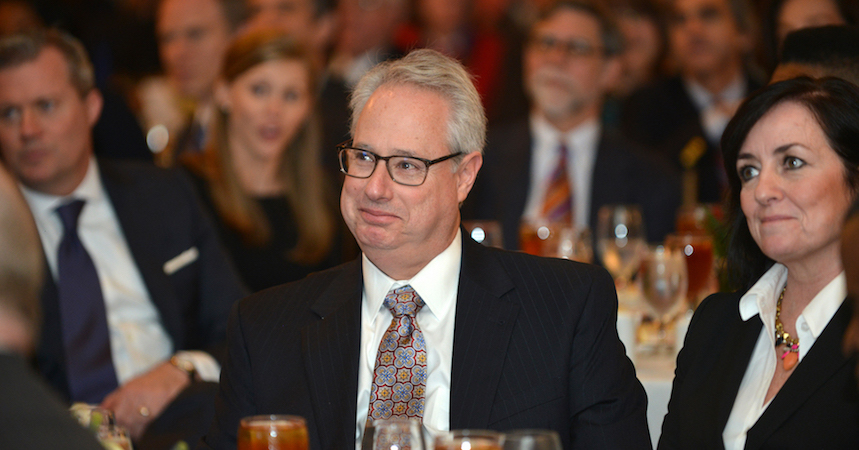 Georgia's Attorney General Sam Olens demonstrated once again why he was the right choice for Georgia Trend's 2016 Georgian of the Year at our Most Influential Georgians celebration on Tuesday. He spoke movingly not about the work he's done – to strengthen sex trafficking laws, tackle the problems of prescription drug addiction and open up the government of we the people with an update to the state's sunshine laws – but about the work that still needs to be done, particularly for children.
He talked about the needs of hungry children – 65 percent of Georgia's public school children get free or reduced-cost lunch and only 15 percent of those get adequate nutrition in the summers, he said. To help ensure that more Georgia kids get the food they need, Olens and Atlanta Community Food Bank Founder Bill Boll
ing (who introduced Olens at the event) teamed up to create the Legal Food Frenzy, an annual statewide food-drive competition that has lawyers helping stock food banks across the Peach State.
We also heard from Alana Shepherd, the powerhouse co-founder of the Shepherd Center and 2016 Hall of Fame inductee, who encouraged us all to help prevent diving injuries by telling our friends and our kids, "The only safe dive is the dive you never take." Diving injuries – whether into the ocean, a river or even a swimming pool – are the most preventable injuries, she said, so spread the word.
Arthur Blank, the other Hall of Fame inductee, and Atlanta Mayor Kasim Reed, one of the 100 Most Influential Georgians, also spoke before our emcee Richard Warner introduced this year's roster of the 100 Most Influential Georgians (MIGs), the people who are helping to make lives better all across the state.
It was the biggest crowd in recent memory, with about 80 of the 100 MIGs plus friends, family and supporters in attendance. It's an event we at Georgia Trend look forward to all year. It's an opportunity to say thank you to people who help make Georgia the place we want to call home.
Look for more photos from the event in the next few days on our Facebook page.
Photos courtesy of Jennifer Stalcup.