Rome | Floyd County: Reinvestments and Opportunities
Manufacturing, tourism and a bustling downtown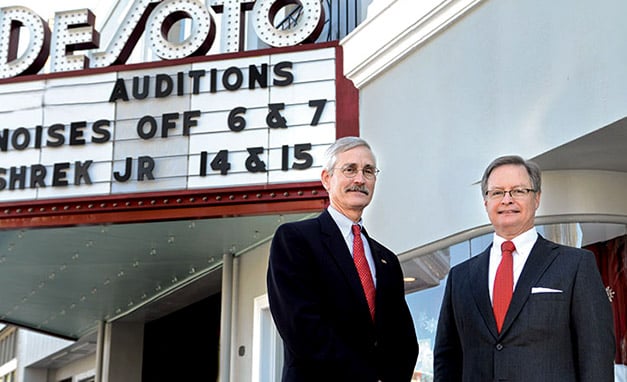 The wisp of smoke quickly became a thick black cloud enveloping the Bekaert Corp. plant on Darlington Drive in Rome. Within minutes the blaze spread throughout the building, closing operations back in November 2014. Some 175 employees and the entire community held its breath. Would the Belgium-based company rebuild or use the disaster as cause to move elsewhere?
The plant, which makes bead wire used in the manufacture of tires and rubber hoses, was already in the midst of a $29-million upgrade. The plant had just taken delivery on about $7-million worth of new equipment.
Locals didn't have to wait long for the answer. The company swiftly announced that not only would it be rebuilding and reopening, but it would be putting an additional $16 million into operations.
"They did not prolong the decision to go ahead and invest here," says Al Hodge, president and CEO of the Greater Rome Chamber of Commerce. "Meanwhile they worked out incredible logistics to continue serving their customers so they could keep producing. Other plants were providing what was needed, and now this plant is back in operation and ramping up quickly."
Manufacturing companies like being in Rome and Floyd County. This is still an industrial region with a host of companies that still make things. Decades ago textiles dominated here, but when they left for low-wage nations overseas, local leaders moved quickly to replace them with new, more resilient forms of industry.
"We began planning several years ago when we needed to convert from traditional textile business," says Hodge. "Our community made a conscious decision to convert to advanced manufacturing. That has paid off handsomely."
Locals knew that in order to win and keep high-skilled jobs, it would require a community effort focused on education and training for workers. "We also worked closely with the schools at all levels, including colleges, to prepare our workforce and in some cases retrain adult employees," Hodge says.
Over the past decade, Rome and Floyd County have built a strong economy based on education, healthcare and, of course, manufacturing. In fact, Bekaert isn't the only firm that has put its money where its mouth is by investing heavily in upgrading local operations.
International Paper is in the midst of a three-year $150-million upgrade that will ensure that 460 jobs stay in Coosa. Carpet maker Mohawk Industries just spent $31 million to upgrade processes and retain 230 jobs. Neaton Rome spent more than $8 million to expand its operations while hiring 50 employees.
The cranking up of the economy after a lull is reflected in the willingness of these companies to open their pocketbooks to spend and hire. There has also been a lot more tire kicking by companies seeking a new place to put down roots.
"We have seen a fair amount of visits from potential manufacturers – which is a good sign," says Jimmy Byars, a real estate developer and chairman of the local chamber. "We haven't landed anything yet, but we have had a lot of interest. Meanwhile our core manufacturers are all either renovating or expanding."
High tech in all its forms has become the watchword for this West Georgia city. These days, manufacturing workers have to know how to operate computers and complex equipment. A skilled workforce has opened up the region to other technology verticals such as healthcare IT – a natural considering the city boasts two major medical centers and one of the state's largest physician group practices.
"We have some innovation programs that the chamber sponsors for health information technology," adds Hodge.
These include an annual conference called Confluence that brings in national and international speakers to Rome's Historic DeSoto Theatre to showcase new advances in technology and software. The event grew out of the Future Industries Initiative of the Rome-Floyd County 20/20 Strategic Plan. This blueprint for development has guided the region forward in developing high-tech industry.
The Great Recession was a bit late coming to Rome – and equally late leaving – but now the economy seems to be back on track. Floyd County government is starting to see an uptick in tax collections, and that has eased the pressure that has made providing services more difficult, according to county manager Jamie McCord.
"I don't think we're totally out of the recession," he says. "We've bottomed out, and we're going back in a positive direction."
That has allowed the county to proceed on needed infrastructure projects such as a $5.7-million water expansion in the north. A big boost to economic development came with the $5.5-million project to lengthen the runway at Richard B. Russell Airport from 6,000 to 7,000 feet. The extra distance will enable larger planes to land that had been kept away by insurance regulations.
"That will open up our regional airport for economic development," says McCord. Easy access for corporate jets will mean planes can bypass Atlanta and come directly to the city – another perk that companies often seek.
---
Tourism Activity
The primary attractor for people visiting Rome and Floyd County is "major sporting events and activities," says Kristi Kent, communications director for the Greater Rome Convention and Visitors Bureau. "That ranges from the Rome Braves in the spring to road races that we host year round."
Then there are tennis tournaments along with a host of other sports ranging from wheelchair races and other adaptive sports to intercollegiate championship games.
Rome is built where the Etowah and Oostanaula rivers meet to form the Coosa. Blessed with its share of outdoor beauty, the city has been a place where people like to get outside and play sports. So there's little surprise when Berry College President Stephen Briggs echoes others by saying, "Rome has been a tennis town for a long time."
The flurry of annual tournaments crowd local courts and have driven the need for a facility that could accommodate a high level of play.
"You watch the waves of folks coming in, whether it be adult teams or youth leagues," he says. "So there is a lot of economic impact whether in the restaurants or the hotels. There is also a sense the nature of the experience is important, so we want to provide folks with a great experience."
The $11.9-million Rome Tennis Center of Georgia, which will include 51 tennis courts and a clubhouse on about 30 acres of land owned by Berry College, is set for completion later this year. The college decided to offer the land when construction of the Armuchee Connector separated about 80 acres from the main campus.
"We have enough tennis courts, but they're spread across six or eight sites across town," says Briggs. "Increasingly it's not as competitive an experience. We recognized that it would be better to build a facility that can handle larger tournaments."
With construction underway, the new center has already booked a series of major tournaments, including the Georgia Adult Tennis State Championships for 2016 and 2017 and some that were previously too large for the scattered courts then available.
"We'll be able to bring in the largest tournaments that occur in the region," says Briggs. "People can come in and be in one spot and enjoy great tennis and access the great amenities in town, and that will increase the tourism draw of the city."
---
A Walkable City
The bustling activity in the county is also reflected in an upsurge in home buying and finally rising home prices.
"From a residential sales standpoint, it's certainly back," says Byars, who heads Hardy Realty and Development Co. "New construction is not as robust as Atlanta. House prices are still inching up, but not the way most people would like. As residential goes so commercial tends to flow."
Some of the greatest activity can be found in the always busy downtown section of Rome along Broad Street. A new hotel is on the drawing boards for downtown. Storefronts are nearly all full, and the area's proliferating restaurants are busy most evenings. In fact, the biggest problem facing a visitor to downtown is finding a parking spot.
"Our downtown has really taken off," says Mayor Jamie Doss proudly. "We currently have over 95 percent occupancy. For the people who haven't been in Rome in a while, they come back and they're shocked about how things are so busy and vibrant."
This section of the city has proven a major attractor for self-employed entrepreneurs seeking a walkable urban experience. Over the past few years, several people have purchased and renovated historic old buildings and converted them into mixed-use developments with retail on the ground floor topped by their own residences up above. With about 200 loft dwellings downtown already, the city has all the makings of a vibrant daytime business destination with nightlife as well.
"Rome has always been a regional city. We have a lot of people who come to Rome to work at our hospitals and our businesses, but we're finding more and more people are living in Rome," says Doss. "It's very popular to live downtown where you can walk to work, walk to dinner and walk to a play."
A lot more living spaces are on the way with more apartments under construction and even a condo development. The Lofts at Third and Broad, developed by veteran Rome entrepreneur Ira Levy, will include six retail shops on the street level and 26 condos on the second and third floors. The project will offer an underground garage with reserved parking for both retail shop owners and residents alike.
"Right now he's going through the [permitting] process," says Ann Arnold, executive director of the Rome Downtown Development Authority. "He just finished with historic preservation review for the exterior, and he's doing pre-sales. He has to have 60 percent to get his financing through the bank, but he plans to start construction [in 2016]."
Levy has been working on the project for close to a decade. After the old Top Hat Formal Wear building at the intersection was demolished, he leased the lot at Third and Broad to the Downtown Development Authority, which has used it for parking for the past three years.
"We partnered with the owner to help take the property down and clean it up, pave it, and we leased it for three years to use it for parking while he worked on getting his project together," says Arnold. "We knew it was not the highest and best use, but we wanted to be able to use the property while he was working out all his details."
Along with the growth of apartments, the area will be getting its first condo development this year. The number of restaurants has jumped from 17 to 20 in the past few months, and there has also been a continuing growth in new shops and stores, according to Arnold.
Downtown retail has thrived by offering the type of boutique and mom-and-pop establishments that can't be found at the local mall.
"The new stores are [primarily] lady's clothing, and one that opened just this past July sold out two-thirds of its merchandise the first week it was open," Arnold says. "That's wonderful to see that kind of thing happen."
---
Hometown Waters
Just 12 miles south of Rome, Floyd County's only other municipality is also on the upswing. Cave Spring likes to bill itself as your traditional American hometown. A century ago, it was a destination for those seeking the healing properties of its mineral spring waters. Today, people still trek here from near and far – jugs in hand – to take advantage of the free water. Many also like to swim in a pool filled each week with waters from the spring.
"Our biggest draw is tourism because our park and the spring is well known and it's popular, and people come from all around to visit," says Sandra Lindsey, executive director of the Cave Spring Downtown Development Authority.
"Visitors have always come here for the springs, and one time they were thought to have a healing quality for arthritis patients," Lindsey says. "We had a doctor who specialized in treating those patients, and they always took the water back home with them. People line up now to this day filling coolers and jugs with the water – by the pickup truck loads."
The natural cave spring that is the town's namesake is certainly the biggest attraction, but once here you realize that it truly is "drenched in history," as Lindsey says. More than 90 of the town's homes and buildings are historic, with about a third of that number listed on the National Register of Historic Places.
"A lot of our buildings were built before the Civil War," she says.
Cave Spring is home to the Georgia School for the Deaf, which was founded in 1846 and has since moved to a new campus on the other side of town. To preserve the historic campus, the city recently spent $2.6 million of SPLOST funds to renovate Fannin Hall, the school's c. 1846 administration building. The facility now houses city offices.
The former school's old dining hall, which underwent renovation about five years ago, is a community center.
Just like Bekaert Corp., Berry College and many others, Cave Spring officials know that reinvesting in the community brings long-term payoffs and encourages more opportunities for all.
---
Local Flavor
---
Hidden History
Cave Spring is a historic place filled with homes and buildings from another era. Yet some of its most important history has been long hidden and only recently brought into the light.
Although the campus itself is mostly gone, the town was once home to a Rosenwald School. In the 1920s, the county was awarded one of 5,000 schools, shop buildings, and teachers' homes funded by philanthropist and Sears Roebuck president Julius Rosenwald. Designed by a staff architect at the Tuskegee Institute, they were built primarily for the education of African-American children in the South.
Joyce Perdue-Smith, chairman and executive director of the Fairview and E.S. Brown Heritage Corp., is leading an effort to reclaim the school from obscurity.
After returning to her hometown to care for her aging parents, Smith began research on the school in Cave Spring where her father had first served as principal many years before. While poring over dusty records in the Floyd County Board of Education, she came upon the first mention of the "Fairview Colored School."
"Therein began my quest to figure out what this was," she recalls. "It became so interesting that I spent an entire summer just reading their [record] books and trying to figure out the history of the school."
Questioning some of the older residents of Cave Spring led her to the long-hidden campus. The only surviving remnant of the Fairview School (renamed E.S. Brown School in 1954) is a building for first-graders, long abandoned and covered in heavy kudzu. The glint of sunlight off the building's tin roof was the only clue of what was once a thriving campus for rural children.
The discovery of the historical significance of the campus led Smith to form a foundation to preserve the school as a resource for later generations. Once the first-grade structure is restored, phase one of the long-term project is to transform it into an interpretive center that will accommodate school children on field trips and conduct horticulture studies in the surrounding gardens.
"Our long-range goal is to restore the school along historical guidelines," says Perdue-Smith, who was a recipient of a Governor's Award for the Arts and Humanities last year for her efforts to raise awareness about the school and its historical significance. "The programming we offer will have to be modern day. Our plan is to offer STEM [science, technology, engineering and mathematics] programs on the campus, and that's been our direction for the last three or four years."
In an era of segregation and rural poverty, the Rosenwald schools played a vital role in providing educational opportunities for African-American youth.
"[Rosenwald] did not fund each school 100 percent," says Smith. "It was a partnership with the school that applied for grant funding. He gave $1,000 to $1,500 depending on the size of the school. The Cave Spring community had to give money or land and was responsible for the labor in building the schools."
After raising funds to purchase the campus from its current owner, the foundation is moving forward to realize its bigger goal of not just preserving history, but creating a new source of education for a new generation. – Randy Southerland