Ports 2.0
From record growth to a harbor deepening to a network of inland facilities, Georgia's ports are moving up to a new level.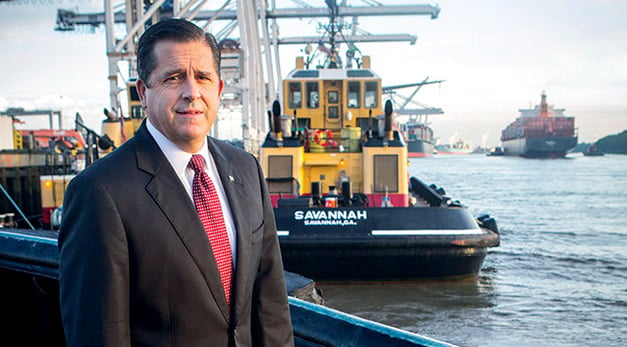 The new year has barely started, and Curtis Foltz is already sure "2016 will be an incredible year."
The level-headed executive director of the Georgia Ports Authority (GPA) is not a man given to exaggeration, so you know he has good reasons for his enthusiastic prediction: Georgia's ports have just celebrated another record year of growth, and the long, long awaited expansion of the Port of Savannah is finally underway.
"Every one of the past six years has been a record year, and that just doesn't happen in our business," Foltz says. "We've seen meteoric growth over the past two years at both of our ports. With Savannah becoming the fastest-growing container port in the country and Brunswick becoming the fastest-growing automobile port, we're now walking tall and have become an economic powerhouse for the entire state."
Georgia has two ports and five major terminals, importing and exporting "anything you make or consume in the Southeast," Foltz says. The Brunswick port is used primarily for automobiles, forest products and bulk goods. The Port of Savannah also handles automobiles and bulk goods but is the state's primary container port and the one that's been in the news the most in recent years.
Georgia started talking about expanding the Savannah port some 20 years ago, but the idea really picked up steam 10 years ago when Panama voted to expand the Panama Canal to accommodate larger ships.
Over the years, the Port of Savannah has become a money- and jobs-generating giant for Georgia, and state officials consider its expansion critical to Georgia's economic development future. The primary need is deepening the Savannah River, making it possible for the port to more easily accommodate larger ships carrying larger loads, like those that will soon be arriving through an expanded Panama Canal.
Foltz says Savannah is already seeing larger ships that come through the Suez Canal but can accommodate them only if they're not fully loaded and if the tide is in, problems to be mostly alleviated by the deepening.
The Panama Canal expansion, expected to cost more than $5.25 billion, will allow ships carrying loads more than double what could previously be accommodated. Capacity of a cargo ship is described using a measure called TEU – for 20-foot equivalent units – that's based on the volume of a standard 20-foot-long metal shipping container. When the canal's expansion is completed later this year, that cargo capacity maximum will go from 4,800 TEUs to 13,000 TEUs.
That's a huge increase in volume representing a big savings for shippers. That's why when the canal expansion was announced, ports all along the East Coast began the rush to get ready.
---
Expansion Project Underway
Georgia's plan, called the Savannah Harbor Expansion Project (SHEP), officially became a federal project in 1999, but that was just the beginning of years of discussion about funding and environmental concerns. It was not until 2014 that enough federal funds were finally approved to get the project started and a $134-million dredging contract was awarded.
The project is expected to cost $706 million, with about half going to mitigate environmental harm. Georgia has already anted up $266 million and is looking at Washington to come up with the rest.
The feds have classified the deepening as "ongoing construction," a critical step that allows for additional federal funding, and the U.S. Army Corps of Engineers has cited some big economic advantages to the expansion. According to the Corps, SHEP is expected to net more than $174 million in annual benefits to the nation and has a benefit-to-cost ratio of $5.50 for every $1 invested.
The expansion has several parts. The area to be deepened stretches 41 miles, from the Garden City Terminal into the Atlantic Ocean. The first 18 miles from the ocean will be deepened to 49 feet, and the remaining stretch will be deepened to 47 feet. Dredging began last fall on the first phase to deepen the channel in the outer harbor. In addition to the deepening, the harbor entrance will be extended and other areas will be enlarged to accommodate the larger ships.
Dredging is expected to take 62 months – a little over 5 years. In the process, the project will remove 24 million yards of river mud, enough to fill seven Georgia Domes. While underway, the project will create 6,100 temporary jobs.
"We expect the majority of the project to be completed in 2020 or 2021," Foltz says.
---
Huge Economic Impact
A look at the ports' economic impact shows why Georgia officials want to see the ports continue to grow and why they consider the Savannah Port expansion the state's No. 1 economic development project.
A study found that Georgia's ports support more than 369,000 jobs throughout the state and annually contribute more than $20 billion in income, more than $84 billion in revenue and $2.3 billion in state and local taxes to Georgia's economy. The ports' economic impact touches every part of the state. In Metro Atlanta alone, some 100,000 jobs are port-related.
"Our ports have seen phenomenal growth in recent years," Foltz says. "We've had double-digit container growth in Savannah and similar growth in Brunswick, but with bigger ships and the expanded Panama Canal opening, we must expand to remain competitive. We want to maintain our status as the hub port of the Southeast and serve our customers in the best way possible, helping us grow and creating more jobs for Georgians."
An improving U.S. economy was the main reason for the all-time highs in cargo volume for fiscal year 2015, but Georgia also got a boost from the labor disputes at West Coast ports that diverted cargo to Savannah and other East Coast ports. Foltz says that diverted business "has opened doors to long-term opportunities for Georgia."
In FY2015, a record 3.66 million TEUs crossed the docks at the Port of Savannah – a jump of 17 percent, or more than half a million TEUs. Of that cargo, 369,347 containers moved by rail, an 11 percent increase over the previous year.
Between Savannah and the Port of Brunswick, the GPA moved 714,008 units of autos and heavy machinery in FY15, also the highest volume ever.
To help ensure continued growth, the Georgia Ports Authority has approved a $142-million capital expenditure plan for fiscal year 2016 at the Savannah port and is planning $152 million in improvements at the Port of Brunswick over the next 10 years.
And the GPA is thinking long term with a recently announced joint venture agreement with the South Carolina Ports Authority for the $4.5-billion Jasper Ocean Terminal, to be built 15 miles downriver from the Garden City Terminal in South Carolina. The agreement paves the way to a scheduled completion date of 2028, which is none too soon – both the Savannah and Charleston ports are expected to reach capacity within the next 10 to 15 years.
---
"Great Asset" For Georgia Business
The Georgia ports' biggest customers include such retailing giants as The Home Depot, Target, Walmart and Lowe's and auto brands like Mercedes-Benz, Toyota, Hyundai, Kia and BMW. In fact, Mercedes, which is in the process of moving its U.S. headquarters to Metro Atlanta, is the largest auto exporter.
But along with the big-name customers, Georgia's ports have opened the gateway to global commerce to hundreds of smaller Georgia-based businesses. Pecans from South Georgia, poultry from North Georgia and numerous products grown or manufactured in the state now make their way to customers throughout the world.
"The Georgia ports have been a tremendous asset for us," says Gary Bell of Bell Farms, a 2,000-acre Georgia Centennial Farm in Bellville that has been in the family for six generations.
"We have about 800 acres in cotton, 150 acres of pecan trees and about 700 to 800 acres of timberland," Bell says. "We also have 140 beef cattle and a pine seedling nursery. We export 50 to 75 percent of our cotton and about half of our pecan crop, mostly to China. The Chinese love our pecans, and that market has been a real boon for Georgia's pecan farmers.
"The Port of Savannah does a great job for us and is a great asset for Georgia," he says. "I've visited the port with a farmers' group and was really impressed with how efficiently it operates."
Foltz says the GPA wants to be sure the ports continue to impress customers like Bell.
"We're making significant reinvestment in our ports, $1.4 billion over the next 10 years, as we plan for the future," Foltz says. "And the future looks great. We expect increases of 4.5 percent annually, much higher than the national average. By the mid 2020s, we expect to be handling more than 5 million TEUs."
Reinvestment is one of three key factors Foltz cites for the growth of Georgia's ports.
"Location, location, location is No. 1," he says. "For location, we're in the sweet spot – in [a] fast-growing Southeast state, and we're the closest port to Atlanta.
"Number two would be our world-class facilities. We're in the long-reach business, and our ability to invest in modern facilities has paid off and will continue to pay off."
The third key "is our connectivity," Foltz says. "Georgia has done an excellent job building a great road network, and we have two major railroads serving the port – all together it's a great combination, and we're looking at making it even better with our Network Georgia plan."
---
Reaching More Customers
The GPA is seeking to streamline how all those goods get to and from the coast via a network of inland ports scattered throughout the state. Known as Network Georgia, the initiative will create six nodes to serve different geographic areas, at the same time removing thousands of trucks from Georgia's clogged interstates.
"Network Georgia is a strategy to solidify our presence not only in Georgia but also to nearby states," says Griff Lynch, GPA's chief operating officer. "We were looking for ways to reach more customers, and one way to do that is to provide the most cost-effective way for our customers to get their goods to the ports.
"In transporting goods, the cheapest way is by ship, rail is next and by truck is the most expensive. We are fortunate that we are served by two Class I railroads, Norfolk Southern and CSX, and we believe we can make use of the state's extensive rail system to serve more customers at a better price."
The Network Georgia plan calls for setting up "inland ports" to serve six specific geographic zones: Southwest Georgia, Northwest Georgia, Atlanta area, I-95 Corridor-North, I-95 Corridor-South and Middle Georgia.
"By dividing the state into six zones, we can locate a facility in each region where customers can truck in their containers, load them on a train and have them delivered to the port at a much cheaper price than if they had delivered them the entire way by truck," Lynch says.
"There will be some time savings, but the most significant savings will be in cost," he says. "Also it'll help eliminate a lot of trucks from the highways, especially important around Metro Atlanta."
These inland facilities are also expected to generate new business for the Georgia ports, both locally and from nearby states, and provide an economic boost to the local communities by attracting new development around the facilities.
The Georgia ports already have many customers outside the state, but being able to offer cheaper shipping costs "will extend our reach even farther," Lynch says.
Network Georgia already has one inland port in operation, in Southwest Georgia, and another under construction in the far northwest corner of the state.
The Southwest Georgia facility in Cordele began operation in 2013 as a project of the local development authority and is operated by a private company.
"The Georgia Ports Authority is not a financial stakeholder in the Cordele facility and we only provided advice, but its success helped serve as the stimulus for starting the Network Georgia project," Lynch says.
The first of the GPA-planned ports is now underway in Northwest Georgia on a 42-acre site near the Murray County city of Chatsworth. It is scheduled to open in the second quarter of 2018.
Called the Appalachian Regional Port, this $24-million facility will serve the carpet and flooring industry, along with a number of other manufacturers in the area and as far out as Alabama, Tennessee and Kentucky. Lynch says one potential customer is the Volkswagen plant in Chattanooga, some 40 miles north, which already ships cars through Georgia's ports.
"There's a lot going on in our business," says Lynch. "The expanded Panama Canal, larger ships carrying more cargo, the expansion of our Savannah port. The Network Georgia project is just another way to be sure nothing restricts the future growth of the ports and the state."