Cancer Treatment Centers of America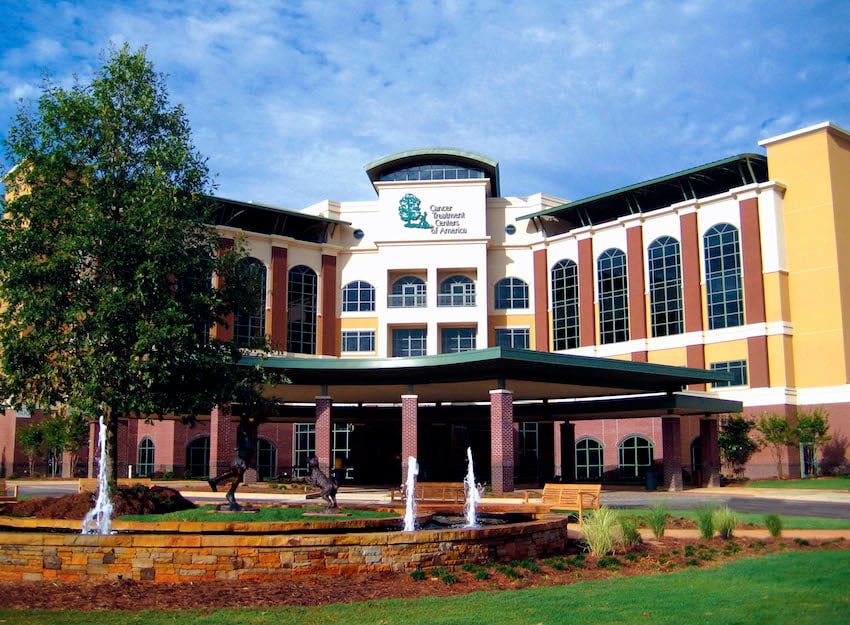 Unique among health facilities in the state, Cancer Treatment Centers of America (CTCA) is not a hospital in the traditional sense, and the majority of its patients come from outside of Georgia.
The newest of the Boca Raton, Fla.-based CTCA opened in Georgia in 2012 in Newnan. Designated by the state as a "destination cancer hospital," the for-profit CTCA at Southeastern Regional Medical Center is obligated to serve patients from throughout the U.S. In fact, no more than 35 percent of the center's patients can come from Georgia. The remaining 65 percent come from surrounding states and as far away as Mexico and the Caribbean.
The designation requires the facility to provide charity care and serve patients covered by Medicaid. It also limits the hospital to 50 beds – few enough to qualify as a small hospital, yet more than most large hospitals have devoted to cancer.
CTCA offers a patient-centered approach to cancer that combines the latest treatments with natural therapies. "The patient is at the center of all we do, so that all clinical services and everything revolves around the patients," says Alan Yahanda, vice-chair of the department of surgery, chief of staff and chief of surgery at the facility. "Clinical visits and appointments are arranged to streamline their care and make it as efficient and caring as possible."
Dr . Yahanda recalls a patient who needed a feeding tube, but because of cancer in the jaw would have had trouble having surgery under general anesthesia to place the tube. There were three possible options for placing the tube, Dr. Yahanda says, and within an hour he was able to get doctors from three different specialties – the hospital's head of anesthesia, a gastroenterologist and two interventional radiologists – into the patient's room to discuss the different methods and select the best one for him.
In addition to cutting-edge and streamlined medical care, the center offers a holistic approach, including nutritional counseling, naturopathic medicine and mind-body care, says Anne Meisner, president and CEO.
For people who travel from out of state to stay at the center, there is onsite housing, a laundry room, dining room, recreational facilities and staff to coordinate recreational activities.
But the center's first mission is to provide excellent cancer care. "Unfortunately there is a real demand for cancer care services," says Meisner. "To have an organization that is really focused specifically on meeting the needs of cancer patients is a wonderful asset of the community. Our hope is one day to really be considered one of the crown jewels."
Learn more about Georgia's Hidden Hospital Gems in the December 2015 issue.
Photos courtesy of the Cancer Treatment Centers of America