The season of giving and giving back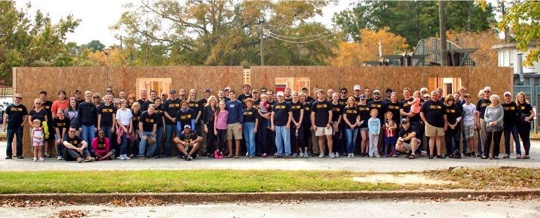 As we kick off the holiday season this week, we're taking a look at some of the ways Georgia Trend readers make a difference in their communities. If there's an organization doing good work in the state that's special to you, let us know in the comments. Meanwhile, over the next few weeks we'll be shining the spotlight on groups that make a difference in the lives of Georgians every day.
First up, construction law firm Smith, Currie & Hancock is celebrating its 50th anniversary this year with its Fifty for 50 campaign. The firm selected 50 nonprofit organizations to provide in-kind services, monetary donations and community service manpower over the course of the year. The firm encouraged attorneys, staff and family members to recommend charities that would be the recipients of the firm's attention this year.
From supporting the Georgia Chapter of the Alzheimer's Association to framing a home for a family in Macon, Smith, Currie & Hancock is celebrating its golden anniversary by helping make the lives of Georgians just a little sweeter.
As you're shopping and celebrating, keep in mind that there are people across the state who could use a hand not just during the holidays, but throughout the year. Give back this season and make it a habit that lasts all year long.
Photo: Smith, Currie & Hancock attorneys and families who built the frame for a house through the organization Help Build Hope. Courtesy of Smith, Currie & Hancock.