Sports Desk: A Sportswriter In Earnest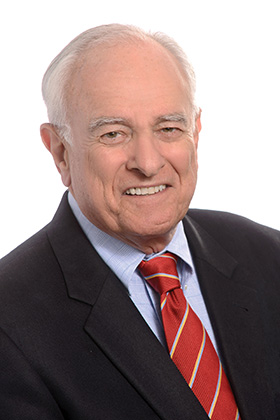 There's nothing like a man who endures and remains appreciated. What brings that about? Sage wit? Mental acuity? Appreciation for history? Maybe it's just love of the small pleasures in life – a full moon, a Jameson on the rocks. A glorious sunset. Hot soup. A good book.
If you are talking about Jim Minter, then it would be all of the above – and then some. The young folk may not know him, but they ought to "read up on him" as they say.
As a sportswriter for The Atlanta Journal, which in its heyday "Covered Dixie like the Dew," Minter's byline was one of distinction. Sports page enthusiasts statewide knew about his writing skills and clever insights. With the passing of time, he became editor of The Atlanta Journal-Constitution. Those were good years. The AJC was influential, its presence felt in all of Georgia's 159 counties.
Minter hired writers like Lewis Grizzard, who became a nationally celebrated humorist whose work enhanced readership; and Steve Oney, who authored an award-winning book on the murder of Mary Phagan, And The Dead Shall Rise. Then there were Lee Walburn who became editor of Atlanta Magazine, which was a pacesetter in chamber of commerce publications; and Terry Kay, who is such a prolific author he could deliver a title monthly for the Book-of-the-Month Club.
Jim was tough when it was necessary, and he was not without the resolve and motivation to put the uppity in their place – be it a politician, a state contractor, a football coach or a bootlegger. However, he preferred stories about bird dogs, cane pole fishermen and those who lived off their acreage and made do, those who would do for others and those who had affection for the church in the valley by the wildwood.
When an invitation comes from Jim and his wife, Anne, to take respite at St. Simons Island, I find myself driving down Georgia 15 from Athens through the sleepy towns and the changing rural scenes along the way.
Jim remains very knowledgeable about the sporting scene, but when it comes to being a fan, he is second fiddle to Anne. Never demonstrative, never bent on firing a coach or sending a moving van to his address, Anne enjoys Georgia football as much as any Bulldog fan I know – but she does it quietly and with Southern reserve. She abhors boorish behavior.
When they're not in St. Simons, Jim and Anne live in Fayetteville, where he fixes fences, fishes his five-acre pond and cuts firewood for the winter. He grew up on a farm and considers life at its best when he can read a well-written piece of nonfiction by the flame of seasoned wood cut from his property – with a glass of Jameson in reach.
In Jim's sports-writing days, coaches enjoyed seeing him come around – Wallace Butts at UGA; Shug Jordan at Auburn; Frank Howard at Clemson; and Bobby Dodd at Georgia Tech. It was easiest covering the Yellow Jackets but more of a challenge when he went down to Auburn or over to Athens. You cover practice, write your story and send it to the paper by Western Union, go to dinner with Bulldog personality Dan Magill, drive home and sleep a few hours before heading to the newspaper by 5 a.m.
"Even though it was a hard routine, I always enjoyed coming to Athens because of Dan Magill. He was a clever and innovative publicity man. There were times in the '50s when Georgia really needed a man like him," Jim says.
When UGA fell on hard times in the '50s, Magill fought for coverage and was never a shrinking violet when he thought that the Bulldogs didn't get a fair shake in the AJC. Minter recalls a telephone conversation in the mid-'50s that was classic Magill. He told Minter, curtly and caustically, that, "If Captain Bobby Garrard dropped dead of a heart attack at practice today, the headline in the Atlanta papers would say, 'Bobby Garrard quits the team.'"
Now retired, Jim gets up daily at St. Simons and heads to a convenience store where he buys the Brunswick News and the Florida Times-Union. "I still think about the old days, and when I do, there is more than a little frustration when I can't even buy an Atlanta paper in St. Simons anymore. Never thought we'd come to that."
No, people don't appreciate newspapers like they once did. It's one of many passing trends we find ourselves lamenting during my visit.
That is why a weekend with Jim and Anne Minter lifts the spirits. I feel a sense of purpose after spending time with Jim.