Athens | Clarke County: Creative Culture
Biotech, bulldawgs and intown businesses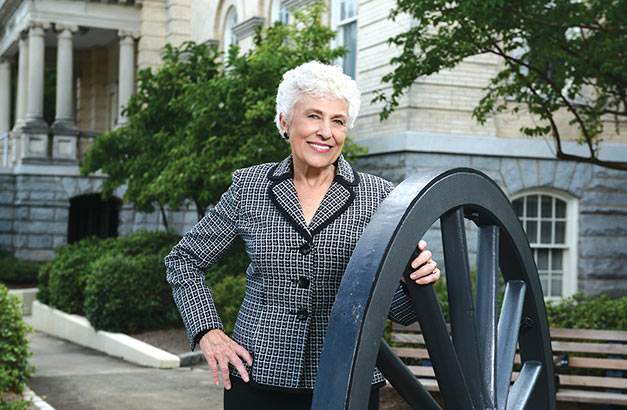 A stream of melted chocolate flows from a spigot into a stainless steel container at Chef Peter Dale's chocolate shop in Athens' Five Points neighborhood, near the University of Georgia campus. The sweet, rich smell is intense in the cafe serving house-made truffles, brownies and other artisanal desserts, such as sipping chocolate.
Dale may be holding a golden ticket to making it as an entrepreneur in Athens. A partner in the upscale downtown Athens restaurant The National, he opened his Ecuadorian-inspired Condor Chocolates with his brother in December 2014. Earlier in 2014, he launched another local eatery, Seabear Oyster Bar, in a Coca-Cola bottling plant-turned-mixed-use development called The Bottleworks.
After living in Washington, D.C., Dale returned to his hometown in 2002 to work for Hugh Acheson at the award-winning Five & Ten. The 1999 UGA grad was attracted to the idea of being back in a small town with low costs of living and doing business.
"Athens is still relatively inexpensive to start a business," he says. "It gives you some freedom to be creative."
Athens-Clarke County is trying to balance its creative vibe that decades ago produced R.E.M. and put it on the college music scene with growing interest from national retailers and international companies.
Three new downtown developments will add rooms for more than 1,430 college students amid luxurious amenities like rooftop pools and private hot tubs. Georgia Heights, which was set to open in August with ground-floor retail such as CVS and J.Crew, along with The Mark and another project on a former A&P grocery site, also are adding 100,000 square feet of commercial space.
"It's interesting to me, driving into Athens and seeing cranes," says Ryan Moore, director of the Athens-Clarke County Unified Government Economic Development Department. "Now you're going vertical in Athens in a lot of different ways."
Some locals are concerned about national chains pushing out independents and gripe about finding and paying for parking, but area leaders believe Athens is at a strong and pivotal point.
"We probably have more new construction and new development going on in our downtown area than I've seen in my lifetime, and I've been here my whole life," says Doc Eldridge, president of the 900-member Athens Area Chamber of Commerce. "Most of it is predominately based on student housing, but there are mixed-use [components]. There will be significant increases in the property tax base, which is good for the local coffers."
---
Building Boom
Construction continues at the University of Georgia, the county's largest economic engine with 22,000 jobs and a $2.1 billion-plus annual economic impact, according to a 2013 report by the UGA Selig Center for Economic Growth. This fall, Correll Hall, named in honor of A.D. "Pete" Correll, a UGA graduate and chairman emeritus of Georgia-Pacific Corp. and his wife, Ada Lee, was set to open in the new $70-million Terry College of Business Learning Community. The new 122,500-square-foot, $44.7-million Science Learning Center is expected to open in fall 2016. The nearly 300,000-square-foot Veterinary Medical Center recently opened on College Station Road, which doubles the size of the existing campus facility.
In 2014, UGA generated more than $190 million in externally sponsored project expenditures, much of which supports hiring research personnel who contribute to the local economy, says President Jere Morehead. Three new Georgia Research Alliance Eminent Scholars have recently joined the faculty – Dr. Robert Haltiwanger, a leading glycobiologist; Ted Ross, a pre-eminent infectious disease researcher; and Arthur S. Edison, an expert on nuclear magnetic resonance spectroscopy.
"The University of Georgia is one of those schools that's viewed as being on the rise," Morehead says. "When you're bringing in a lot of a strong faculty to the campus, it causes people to take notice. And thus they begin to look at Athens."
UGA's talent, resources and facilities are paramount to recruiting companies to locate in Athens, say local leaders. In addition, of the 132 new companies formed out of UGA research, 69 are or have been based in Athens.
"Those companies are creating jobs and helping to strengthen the area's economic and entrepreneurial enterprise," Morehead says.
Due to efforts such as UGA's Innovation Gateway incubator (formerly the Technology Commercialization Office and Georgia BioBusiness Center), Moore says there is now a burgeoning bioscience cluster. "There's all this demand for this knowledge and the resources at the university and access to a vibrant community like Athens," Moore says.
Innovation Gateway company Swissaustral, founded in Chile by UGA biochemistry alum Jenny Blamey, chose Athens for its North American location. The U.S. division is managed by Felipe Sarmiento, who earned his Ph.D. in microbiology in 2013.
"I see support from the government, I see support from the university, and I see a lot of scientists from the university [with ideas they want to commercialize]," Sarmiento says. "There is a lot more biotech going on in Athens than before."
Space is available in the nearly 2,000-acre Athena Industrial Park, which has a cluster of four bioscience companies: Merial, an animal vaccination company with French ownership; Athens Research and Tech, a UGA-born business in the area of human proteins; and two Johnson & Johnson subsidiaries, Noramco, a manufacturer of pharmaceutical products, and Ethicon, a surgical goods provider. Ethicon is continuing work on a $185-million expansion in Athens and plans to add 75 high-paying jobs.
In 2015, Caterpillar had already hired 1,400 workers, ahead of its schedule with the state to fill that number of jobs by 2018, and McCann Aerospace Machining was nearing completion on a $10-million expansion in Athena Industrial Park.
---
Dual Economic Engines
Education and healthcare continue to serve as the county's two primary economic engines. In July 2015, a joint effort by St. Mary's Health Care System and the Georgia Regents University/UGA Medical Partnership in Athens welcomed its first class of 10 internal medicine residents, half of whom received their undergraduate degrees from UGA. Healthcare leaders hope the program will help attract primary care physicians to practice in the region.
"This is a significant step toward beginning to remedy some of the physician shortage realities," says Don McKenna, president and CEO of St. Mary's Health Care System. "With having 10 residents complete their training each year, we are well positioned to further access to care and raise the bar for education. As more faculty and physician residents relocate their families to our community, the direct economic impact for their presence will be significant."
Moore says the residency program adds to Athens' burgeoning bioscience culture. "There's a lot of crossover there between medical doctors and maybe somebody doing research within the university. Having that talent in the same geographic proximity is a good thing," Moore says.
It's also a time of transition in healthcare and education. Athens Regional Health System, which named Dr. Charles A. Peck as its new president and CEO in February, announced in July that it is exploring a partnership with another hospital or healthcare system or organization. This summer, Flora Tydings, Athens Tech's president of 12 years, left to helm Chattanooga State Community College, and a search was underway for the next leader of Athens Tech.
The Athens-Clarke County School District received positive attention this year, when Superintendent Philip D. Lanoue was named the 2015 National Superintendent of the Year by AASA, The School Superintendents Association. The school system's recognition is an asset when talking to new businesses, Eldridge says.
---
Assistance Offered
Athens-Clarke County had a reputation of being business-unfriendly, which Mayor Nancy Denson, who was re-elected in 2014, says stemmed from difficulty at the government level. Businesses interested in the county had to endure a complicated process that required visiting multiple government offices for permits, licensing and other approvals. A flow chart created internally had so many colors, circles and arrows that it looked like a "crazy piece of modern art," Denson says. "You think, 'Oh my God, I got to do that? I might as well go someplace else.'"
In 2015, the county introduced a revamped, streamlined plan review process that makes it easier and seamless for businesses, Moore says. The "cleaner, sleeker" process makes Denson so proud that she wants to frame the before and after flow charts.
"Athens was stagnant," Denson says. "There was a lot of talk about our failing school system, our business-unfriendly government, our poverty rate. I thought, 'Why would anybody want to come to Athens if that's what they're hearing?' I wanted to change the perception."
The Athens Downtown Development Authority (ADDA) has helped some businesses open and made changes, such as streetscape improvements. Its revolving loan fund program awarded $250,000 to Creature Comforts (see Local Flavor page 86) and $80,000 to The Rook and The Pawn, a board game cafe across from the town's legendary 40 Watt Club. A new Downtown Facade Grant Program will award matching grants of up to 50 percent of the cost – up to $10,000 – to renovate and improve the exteriors of historic downtown buildings. The first recipient is a College Square building dating to 1833 that once housed offices for the band R.E.M. but was damaged in a fire. The exterior upper level will be restored and changes, determined by UGA's Historic Preservation Services, will include using original metal façade panels recently discovered in the attic.
With streetscape improvements, new businesses and urban pioneers filling the new student apartments, Denson says downtown is ripe to attract a grocery store and service businesses like a dry cleaner that will spark Athens' next wave of development: new housing for adults seeking to retire and live near campus.
Throughout the year, downtown is also energized with tourists, whether for football games, to attend concerts and conventions, or to partake in the culinary, beer and music scenes. In 2013, tourism in Athens-Clarke County generated more than $16.6 million in state and local tax revenues, according to the Athens Convention and Visitors Bureau (CVB).
In fiscal year 2014, 364,700 people attended events at the expanded Classic Center. The Classic Center generated more than $66 million in economic impact that year, according to its annual report. The largest conference so far in 2015 was the MOVE Conference, a Georgia Baptist Convention that brought about 7,000 students to town last winter. In 2014 and 2015, the Classic Center added an outdoor market, indoor ice skating and hockey games and other community events that are attracting new clientele, says Chuck Jones, director of the CVB.
But hotel inventory remains a challenge. Athens has about 2,325 beds and a planned 200-room Hyatt Place connected to the Classic Center. "We do have groups that say, 'We will not come to Athens unless there is a hotel connected to the Classic Center.' Having a facility like this warrants more hotel rooms," Jones says.
Downtown Athens is also attracting franchise eateries, such as Zaxby's and D.P. Dough, as well as national retailers. The upside to new development is that it can diversify downtown and make it a destination. Dale sees national chains giving legitimacy to the area, especially in the eyes of visitors, and helping local businesses flourish.
"I'm not worried about having Urban Outfitters and J.Crew coming in," he says. "I think it just brings more people and gets more people in all our doors."
As downtown Athens lures new businesses, big boxes continue to defect from Atlanta Highway to new shopping centers just a few miles away in Oconee County. While a few of those vacant spaces on Atlanta Highway have been filled, the county commission's Atlanta Highway Committee is working on a plan to revitalize the corridor, including the 686,517-square-foot Georgia Square Mall owned by Hendon Properties. One possible idea is to create a Community Improvement District, Denson says.
Efforts are also underway to assist entrepreneurs. A new UGA campus-wide entrepreneurial initiative is being led by Bob Pinckney, former CEO of EvoShield, a sports protection company. Four Athens, a technology incubator, and Broad 9A offer cowork spaces to remove the barrier of finding affordable space for startups.
In May 2015, Josh Brown and his wife, Alex, opened Broad 9A in the renovated Chase Park warehouses. In addition to providing workspace and conference rooms to landscape architects, photographers and designers (membership packages cost up to $200 a month), the couple organizes networking events and business growth workshops featuring Athenians such as Acheson.
"We believe that Athens is teeming with creative people. The problem is they're all bartenders, they're all hostesses, they're all servers," Josh Brown says. "Perhaps maybe we can incentivize this creative class to free them up to put their thing into the world."
From her corner office on the third floor of City Hall, Denson sees continued growth with more of an international flavor. In June, the government signed an agreement with leaders from Seodaemun District, Seoul, South Korea, to start an international economic and educational exchange program.
"I wanted to change the reality where I could," she says. "With cooperation from the commission and staff and people in the community, I actually think those changes happened."
---
LOCAL FLAVOR
Hometown Brews: About 10 of us stroll past the barrels, kegs and boxes holding Liquid Bliss, Hopsecutioner and other beers at Terrapin Beer Co. in Athens, but frankly, the party is in the tasting room. That's where the din is growing as the mostly 20- and 30-something crowd samples flights of Maggie's Blackberry Cobbler, RecreationAle and other beers on tap. Outside, there's more beer, a food truck, a volleyball court and corn hole, giving the summer evening a part-tailgate/part-frat party vibe.
Terrapin, founded in 2002, now produces 46,000 barrels of beer annually and plans to expand production over the next couple of years. Local leaders hope that will continue to happen in Athens and have offered Terrapin a package including $350,000 to remain in the county and create jobs.
Athens' craft beer scene is a growing area for tourism. Terrapin remains the biggest draw, with out-of-towners making up an estimated 20 percent of its 25,000 paying customers in the first six months of 2015, but there are newcomers on the rise. Creature Comforts Brewing Co., started downtown in 2014, and Southern Brewing Co., which opened in May 2015, have joined the scene at a good time.
Effective July 1, 2015, updated state laws allow Georgia breweries to be more competitive with the rest of the country, says Carmen Miranda, Terrapin's brewery events manager. The law allows breweries to sell 36 ounces of beer on site and up to 72 ounces for off-site consumption to those touring the facility, so Terrapin, for example, increased its hours and has hired more tasting room staff to accommodate the anticipated jump in visitors.
Southern Brewery co-founders Rick Goddard and Brian Roth have built an 11,000-square-foot facility on 15 acres in north Athens – believed to be the state's first craft brewery constructed from the ground up – and have plans for a 1,500-person amphitheater. "Athens is a cutting-edge town on the music side. Beer kind of goes hand-in-hand with music," Goddard says.
Southern Brewery has been averaging about 300 people a weekend, where it has a live band, tours and tastings.
"We have blown out of the water our expectations," Goddard says. "We absolutely want Athens to be a destination for craft beer."– Lori Johnston