Georgia Chamber Celebrates in Macon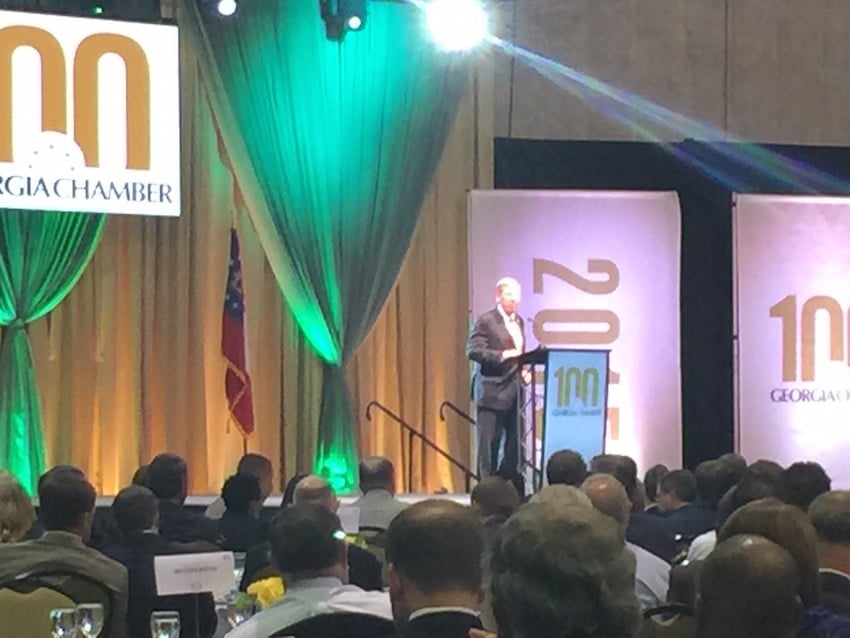 The Georgia Chamber of Commerce celebrated its 100th anniversary with a second series of events, this time in Macon last month with an evening reception and Congressional Luncheon at the Macon Marriott City Center, featuring keynote speaker Dr. Frank Luntz, pollster and communications professional.
2016 Georgia Chamber Chair Hank Linginfelter, executive VP of distribution operations for AGL Resources, congratulated speaker U.S. Sen. Johnny Isakson for receiving the Spirit of Enterprise Award from the U.S. Chamber of Commerce this summer. Isakson was one of seven Georgia leaders honored by the U.S. Chamber (the others are U.S. Reps. Sanford Bishop, Lynn Westmoreland, Tom Price, Rob Woodall, Doug Collins and Tom Graves) for their votes on business legislation in 2015.
Isakson cautioned that approval of Congress is at just 12 percent, then spoke highly of Georgia's delegation and noted the importance of the Highway Trust Fund Reform Act, the Elementary and Secondary Education Act, and the Trade Promotion Authority Act currently before Congress, as well as foreign affairs.
Luntz, whose slovenly appearance and passionate punditry have endeared him to TV audiences, spoke of his feud with Donald Trump, who called him a "low-class slob." Luntz said Trump and Democratic candidate Bernie Sanders represent a sign of the times and issued a direct challenge to business leaders: improve your messaging so you begin reaching workers as well as owners. He even guided the crowd through charts showing the effectiveness of certain word choices when addressing the working class.
Like George W. Bush, who the night before told the audience at the James Blanchard Leadership Forum in Columbus that "isolationism is the biggest threat to this country," Luntz beseeched leaders to come together on foreign policy issues. Until then, he said, "the dividers will continue leading the polls."
Other speakers included U.S. Sen. David Perdue, U.S. Reps. Austin Scott and Rob Woodall, 2015 Georgia Chamber Chair and Georgia Power CEO Paul Bowers, and Georgia Chamber CEO Chris Clark.
Photo: Sen. Johnny Isakson speaks to business and political leaders at the Georgia Chamber's Congressional Luncheon in Macon
Photo courtesy of Ben Young.