Gwinnett County: On Location
Finding new businesses, city upgrades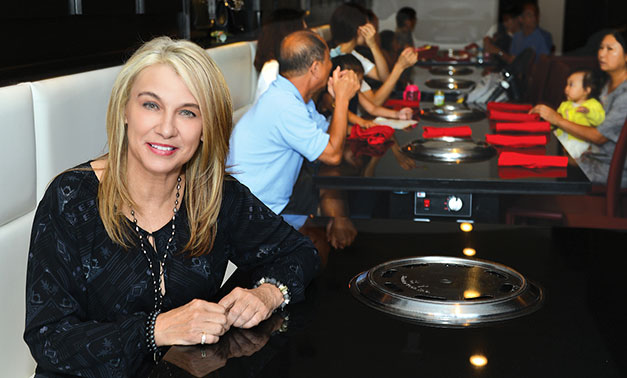 Some of Gwinnett's newest businesses have a quirky flavor that perfectly illustrates the diversity of the county itself.
There's the beer distributor that bought a 690,000-square-foot warehouse formerly used by Kraft to not only distribute beer, but to also house the nation's largest film and TV production studio under one roof.
There's the Korean barbecue restaurant located in a strip center beside David's Bridal that's so popular with the county's significant Asian population – and others – that it takes reservations for lunch and dinner.
There's the self-serve beer dispenser manufacturer that recently added 150 jobs after business boomed with new clients such as major league baseball parks and Carnival Cruise Line.
The three companies – Eagle Rock Studios Atlanta in Norcross, Breakers Korean BBQ in Duluth and DraftServ Technologies in Suwanee – show how Gwinnett can be a spot for everyone, say local leaders. Access to I-85 and Hartsfield-Jackson Atlanta International Airport continue to be key factors attracting corporations, international companies and small businesses.
Gwinnett, one of the most diverse counties in the nation, has nearly 900,000 residents and 16 municipalities – including newest city Peachtree Corners, incorporated in 2013.
"Gwinnett had been in our sights for several years," says Steve Economos, CEO of Eagle Rock Studios Atlanta. "It's a fantastic place to work, but it was also centrally located for our business to work logistically."
---
Global and Local
Partnership Gwinnett, the county's economic development arm, announced $125 million in investments and 1,600 in new job creation in Gwinnett in 2014.
Some companies receive county and state job credits through Opportunity Zone and Less Developed Census Tracts (LDCT) initiatives, which offer incentives including job creation tax credits of up to $3,500 per job, per year for five years.
More than 500 international companies are in Gwinnett, and of those, 129 companies, including Mitsubishi, have a headquarters or regional headquarters in the county. Gwinnett is home to 25 percent of Chinese companies and 40 percent of Italian companies in Georgia, says Nick Masino, the Gwinnett Chamber of Commerce's senior vice president for economic development and Partnership Gwinnett.
"Your international companies want to go to where your growth is," he says. "It's access to a world-class airport, a great quality of life, great education for their kids, and we're almost at a million people – we have the workforce."
With so many benefits to locating in Gwinnett, many companies looking for larger digs are choosing to stay within the county borders. Comcast announced in 2015 that it will move its regional headquarters from Norcross to a larger, 88,000-square-foot facility in Peachtree Corners and add 150 new jobs.
Those international companies also are expanding, including German thermoplastic elastomers manufacturer Kraiburg TPE with a $15-million investment and 20 new jobs in Duluth. MöInIycke Health Care, a Swedish company, made a nearly $1-million investment in 2014 with the 24,000-square-foot expansion of its North American headquarters in Peachtree Corners.
Four Fortune 500 companies are based in Gwinnett, but small businesses remain prominent. Of the 21,547 businesses in Gwinnett, 75 percent (or 16,078) have less than 10 employees, according to the U.S. Census Bureau.
As small businesses and corporations hire, schools such as Georgia Gwinnett College (GGC) and Gwinnett Technical College (GTC) are creating degree programs based on workforce needs. "We're providing the future leaders, the future employees," says GGC President Stas Preczewski.
GGC has generated a $1-billion economic impact in its first nine years. New programs include chemistry and environmental science, and a strong pace of internship programs with major companies are helping keep graduates in the county, he says. Gwinnett Tech's 50-plus program areas range from bioscience technology to cyber crime specialist to radiologic technology.
To address the physician shortage, Gwinnett Medical Center in summer 2015 expanded its graduate medical education program to include internal medicine residents. (Family medicine residents began in 2014.) The majority of residents typically stay in the communities where they have completed their residency, says Phil Wolfe, president and CEO of Gwinnett Medical Center. "If you have a residency program, you're growing your own," he adds.
---
Film Friendly
A gigantic breezeway inside Eagle Rock, with studios on both sides, is empty in late May, but soon trailers will pull in, bringing actors and crew. For starters, Sony will film its PlayStation original series, Powers, there in 2015 and 2016.
The property – 60 acres – first appeared too big for Eagle Rock as it looked for another beer distribution facility. Economos, whose Stone Mountain studio is used for productions such as Lifetime's Devious Maids, asked his ABC/Disney contacts to view the Norcross property to determine the viability for studios.
"We had a good relationship with them, the industry was thriving, and that's when we had the idea: Well, maybe there might be some use for them at the facility. And the rest is kind of history. We finally settled on four studios and all the support space, all under one roof," Economos says in a conference room overlooking the breezeway.
Eagle Rock's beer and filming operations will employ 350, not counting crews and contractors providing services such as lighting.
Jacoby Development's Atlanta Media Campus and Studios, under development off Jimmy Carter Boulevard, will be the Southeast's largest movie studio campus once completed.
The county and cities are trying to be film-friendly by assisting studios and productions with location scouting and permitting to avoid delays, says Lisa Anders, executive director of Explore Gwinnett, the county's convention and visitors bureau.
The investment is worthwhile, not just in bringing Hollywood-type headlines to Gwinnett, but in filling hotel rooms. "The crew for The Hunger Games stayed at one of our hotels in Peachtree Corners for weeks and weeks and weeks, so it's great hotel business," Anders says
More hotels are on the way, including two at Duluth's Gwinnett Center. Embassy Suites, with 166 rooms, was expected to break ground in August. A full-service Marriott with 290 rooms is expected to break ground in early 2016.
"We really haven't been what you would call an exciting destination for something jazzy like the entertainment industry, but that's changing," says Charlotte J. Nash, chair of the Gwinnett County Board of Commissioners and a Gwinnett native.
---
Live, Work, Play
Just a couple of miles from the make-believe worlds at Eagle Rock, redevelopment is a reality in downtown Norcross. A key step was the $6-million-plus expansion of the 5-acre Lillian Webb Park that increased the size of the downtown district, says Mayor Bucky Johnson. The city also renovated Thrasher Park and relocated the public works building outside downtown to free up parking. The area hosts about 300 events annually, from concerts to car shows to arts festivals.
Norcross, which is living out its slogan, "A Place to Imagine," is joined by redevelopment efforts in Duluth, Lilburn, Lawrenceville and Suwanee. Sugar Hill's new city hall and The Bowl @ Sugar Hill, an event venue, are part of that city's new downtown.
"We're building the live-work-play kinds of environments that also are attractive to the young professionals we're trying to attract and retain," says Dan Kaufman, president and CEO of the Gwinnett Chamber of Commerce.
Public art is adding character to city centers in Suwanee, Lilburn and Duluth, which created a public art master plan and has installed privately funded works. Live music brings folks to downtown Duluth's Eddie Owen Presents at Red Clay Music Foundry for singer-songwriter events. In Lawrenceville, the Aurora Theatre is celebrating its 20th anniversary in 2015. In downtown Norcross, the Lionheart Theatre Co. performs in a renovated cotton gin, and Kudzu Art Zone serves as a hub for artists.
In Duluth, some buildings are being demolished to pave the way for new mixed-use development, while others are being saved, funded by a $7.5-million bond project approved by the city in May 2015. "A strong, vibrant downtown feeds out into the entire city limits," says Duluth Mayor Nancy Harris.
Sugarloaf Marketplace, a Fuqua Development project expected to be complete in spring 2016 at Sugarloaf Parkway and Peachtree Industrial Boulevard, will add 330 apartments and a Sprouts Farmers Market. A mixed-use development with 625 homes and nearly 450,000 square feet of retail is planned in Grayson.
"If we can offer those urban amenities and those urban assets closer to home, people are ready for that," Harris says.
The county appears to be reclaiming its role as a leader in the housing market's recovery, including the return of new construction. Gwinnett posted the highest number of single-family sales of any Georgia county in June 2015, and the average sold price was $237,057, up from $214,136 in June 2014.
---
Inroads for Millennials
Leaders hope that investing in walkable, mixed-use settings will attract millennials who may grimace at the thought of living in Gwinnett.
"Their view of the world is all the cool people live inside the perimeter," says Bryan Cohen, president and CEO of Quantum National Bank, based in Suwanee, whose children are 28 and 31. "Folks have seen by the example of Norcross, or by the example of Suwanee, or some of the things that have happened in Lawrenceville, that when you create that type of environment, that people do choose to live there."
Creating millennial-friendly settings also could attract more companies, particularly technology firms. Gwinnett County employs more than 23,000 people in technology-related jobs, according to the Georgia Department of Labor.
"We have identified certain corridors and activity center areas where we are very interested in redevelopment projects and are very accepting of the idea of greater density that would lend itself to developing a center that would be attractive to millennials and younger folks," Nash says.
Expanding companies with millennial workers include Luckie and Co., an advertising and marketing agency that benefited from the state's LDCT incentive. LDCT areas include the Gwinnett Place Community Improvement District (CID), which in May expanded its boundaries bringing its total to 240 parcels and boosting value to $591.5 million.
Executive director Joe Allen says the Gwinnett Place CID – one of three CIDs in the county – has launched a matchmaking effort to connect larger property owners holding sites poised for redevelopment with potential buyers or users. The Activate Gwinnett Place initiative, which includes roadway, transportation and infrastructure projects, is the CID's driving force for the next several years, Allen says.
The county is kicking off an update of its long-term, comprehensive transportation plan, Nash says. Transportation projects receive 70 percent of funds generated by the 1-percent Gwinnett SPLOST sales tax, which was renewed in 2014 and is expected to raise $453 million for capital projects over three years.
The Gwinnett Village CID celebrated the completion of the Jimmy Carter Boulevard diverging diamond interchange (DDI) this past spring – one of two DDIs in the county. Since the DDI opened at Pleasant Hill Road in 2013, there has been a 51 percent decrease in the average number of stops and 43 percent decrease in total delays, Allen notes.
"We've been able to devote literally hundreds of millions of dollars to transportation improvements," Kaufman says. "While we have done a lot to help ourselves, there are still significant needs remaining both here in Gwinnett and the metro region."
---
A Bigger Melting Pot
Marinated chicken sizzles on a tabletop grill, accompanied by bowls of kimchi, Himalayan salt and rice. It's not one of those smoke-filled, hibachi experiences, but a high-end meal in a sleek setting that makes Korean culture the centerpiece. Waiters at Breakers Korean BBQ, which opened in 2013 in Duluth, rush to serve diners who push a call button on the table. Managers frequently stop by to inquire if diners are enjoying their meal.
Breakers is one of the restaurants being promoted in Explore Gwinnett's new food marketing campaign that educates residents and visitors about the county's authentic international foods.
The international businesses in Gwinnett range from restaurants to manufacturers to technology firms. Well over 100 companies in Gwinnett are Japanese, with an estimated 40 British firms, Masino says. Of 54 Swedish companies in Georgia, 27 are in Gwinnett. Quantum National Bank, for example, has financed hotels, convenience stores and markets owned by south Asian entrepreneurs, and several Hindu temples, Cohen says.
Duluth's Asian population is 23 percent, according to census data. At Gwinnett Medical Center-Duluth, three doctors, four X-ray technicians, a dietitian and many nurses speak Korean, and the hospital's Korean patient liaison is the Southeast's only Korean certified medical interpreter. Two Korean physicians are also affiliated with the hospital's Lawrenceville location.
Georgia Gwinnett College reflects the county's growing diversity. In 2015, U.S. News & World Report rated the school the most diverse public or private college in the South. Individuals holding citizenship from 104 countries and 42 percent of students are first-generation college students.
"Gwinnett County is the most diverse county in the Southeast," Allen says. "We see that as a positive that we want to build upon."
---
LOCAL FLAVOR
Active Lifestyles: Residents gush over Gwinnett County's parks and recreation system, which includes 46 parks offering everything from bocce ball to equestrian trails. New businesses are also offering venues for family-friendly entertainment.
Slingshot Entertainment, a newcomer in Peachtree Corners, offers an indoor obstacle course that will appeal to fans of the TV reality competition American Ninja Warrior. There are also electric go-karts and an interactive bowling alley.
TreeTop Quest tested the ropes when it opened its ziplines in 2011. TreeTop, whose parent company is based in France, received assistance from economic development and tourism officials in finding a location at Buford's Gwinnett Environmental and Heritage Center. "Gwinnett County was the county that was the most responsive to a new business and a new attraction," says Cloe Amara, regional director of operations.
TreeTop had more than 22,000 participants in 2014 and has expanded to Dunwoody. When Amara looks up at the ziplines, she sees kids and adults who reflect the county's international diversity.
"We have absolutely everybody," she says. "Everybody is up for the challenge. I think it's amazing." – Lori Johnston