LaGrange | Troup County: Investing In The Future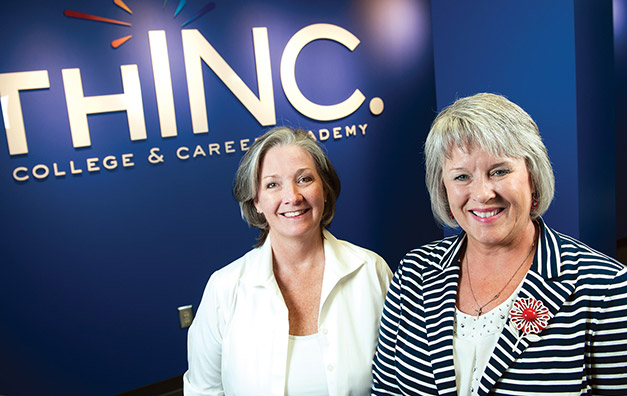 Life in West Georgia changed significantly when the Kia plant opened in West Point in 2010. "When Kia came, LaGrange started seeing an opportunity for growth and expansion. One thing became a reality: the need for workforce development," says Kathy Carlisle, CEO of the brand-new THINC College and Career Academy in LaGrange, which grew out of a 108-member steering committee that took on the task of workforce development.
THINC, a charter school to prepare students for workplaces – including Kia – in the West Georgia area, is just one more way leaders are addressing poverty in Troup County, where more than 24 percent of residents – and one out of three children – live at or below poverty level. With more than 30 such charter schools in the state, a career academy was hardly a new idea, not even for Troup. The school system looked into it a number of years ago but lacked the funds to get it off the ground. The Troup County Center for Strategic Planning began researching what it could do to make it a reality.
The planning center was created in 2009, at a time when unemployment in Troup County "was through the roof," as high as 17 percent, says Kathryn Tilley, executive director of the center. The center was charged with executing strategic planning for sustainable development ahead of expected growth in the community.
THINC, which opens this month, has capacity for 500 students in grades 10-12, with half attending a morning session and the other half attending in the afternoon. "They'll stay engaged with their home schools in addition to doing the program at the college and career academy," says Carlisle, adding that they plan to expand the program next year to include high school freshmen.
Because each of Troup County's three high schools has long offered a schedule of quality career classes, THINC planners were careful not to duplicate those programs already in place. Instead, they worked closely with the schools to ensure THINC curriculum would complement coursework the students received at their home schools.
The steering committee surveyed 250 employers and used that data to determine employers' needs for the next five years. They included manufacturing, mechatronics, business, marketing, healthcare, energy, science, technology, engineering and math. "These were the areas identified as the potential for highest growth and the needs for workforce development," says Carlisle.
Instructors for the program were carefully chosen, some hired from within the school system before the search was extended to other candidates. Those who didn't have teacher certification were required to have industry experience in the area they'd be instructing.
Not only did Kia support the idea of the technology-rich college and career academy, the company committed to contributing $3 million over a five-year period to jumpstart the program. THINC is located on the campus of West Georgia Technical College, in the 30,000-square-foot building Kia operated out of while the plant was being built. The tech school provided THINC an additional 30,000 square feet.
"Within each pathway, there's classroom hands-on learning and environmental onsite learning," says Carlisle of the program designed to provide technical and career-specific skills. "The key to success is hands-on learning."
Conversations with area employers also revealed the need for potential employees to have better "soft skills," such as a strong work ethic, critical thinking skills and solid communication skills. Such soft skills will be a key focus of THINC, says Carlisle. "We can incorporate soft skills into their grades, as much as 30 percent of their grade. The school system can't do that."
One hundred students passed a test allowing them to participate in a dual enrollment through THINC and will attend classes at West Georgia Technical College in addition to their high school classes. Those students will graduate with both a high school diploma and a technical college certificate. Another 100 students will have the opportunity for work-based learning, partnering with an employer aligned with their career goals. In this program, students are generally paid by the employer for the work they complete, says Carlisle.
Community and corporate support for the program was strong even during planning stages. Because the public school system had to sustain several years of budgets cuts, community leadership assured school leaders that THINC would not have an adverse impact on their budget. In addition to Kia's contribution, Georgia Power has pledged $750,000, Caterpillar $650,000 and SEWON America Inc. $300,000. A number of smaller donations have also been given.
---
Ready to Work
The Center for Strategic Planning is also part of a smaller initiative, this one targeting unemployed and underemployed adults. Troup Trained is a seven-week intensive training program that also includes partners West Georgia Technical College and the Workforce Investment Board.
Troup Trained is ideal for someone re-entering the workforce and those who need to learn critical job skills to secure and retain employment, such as interview techniques, punctuality, computer training and team building.
"It's a fast-track training program teaching things such as soft skills – how to dress for success, how to write a resume," says Tilley. The Workforce Investment Act funds the instructors, and West Georgia Tech provides the instructors and the program facility.
More than 20 area employers who recognize the Troup Trained certificate guarantee interviews for those who successfully complete the program, many of whom are offered jobs as a result of those interviews. Among the corporate partners are Kia, P&G Duracell, Caterpillar and Kimberly-Clark.
"Many of our 26 employee partners will take that Troup Trained certificate in lieu of work experience," Tilley says. Corporate partners often assist with program curriculum and provide tours of their plants.
Troup Trained applicants are required to have a high school diploma or GED, take several assessment tests and pass a drug test and background check. Historically, about 85 percent of them are employed within the first month after completing the program, says Tilley. There are strict requirements for participation, she adds, and only one absence is allowed during the seven-week program.
In addition to participation in Troup Trained, Caterpillar, which manufactures construction equipment, sponsors a welding dual enrollment program in conjunction with THINC and West Georgia Technical College, targeting 11th and 12th graders. Participating students combine high school and college coursework with on-the-job-training at Caterpillar and graduate with enough training and education to become skilled welders.
Eleventh graders enter a mentoring program with Caterpillar, and by 12th grade they receive increased mentoring in addition to work-based learning at the Caterpillar facility. Welding instructors from West Georgia Tech and the company work together to ensure students are receiving the instruction they need to successfully complete the program and graduate ready to go to work, says Carlisle, adding it's the first such high school program for Caterpillar, which announced earlier this year its plans for a $25-million expansion that will add 50 jobs in LaGrange.
"When the students graduate, they're almost guaranteed a job. They'll go through a 90-day Caterpillar welding program for certification and make $35,000 to $40,000 a year right out of high school," says Carlisle. "We could use 20 programs like that with numerous companies and not just in manufacturing, but also with healthcare, with business, with marketing, with all of our pathways, really.
"So that's the struggle, figuring out how we partner with other businesses to connect the pipeline and create the relationships so students are all ready, from day one, identified and aligned with an employer of their choice."
---
Broader Appeal
As existing industries expand and add jobs to the rolls, Troup County continues efforts to attract new business and industry. A $4-million expansion to the airport runway over the next couple of years will certainly be an economic driver, says Patrick Crews, chairman of the Troup County Commission. Also in the transportation vein, the proposed $560-million, 80-mile Import/Export Highway that would stretch between LaGrange and Macon would be a boon for Troup County, says Crews, who wants to sit down and discuss the project with leaders from other counties that stand to be impacted.
"When it comes to those transportation ideas, whether it's high-speed rail or the Import/Export Highway, our elected officials and businesses don't want it to bypass LaGrange," he says. "We want to show the economic impact of this area and the tertiary effects on those businesses."
Beautification efforts, such as the Ray C. Anderson Foundation's Mission Zero Corridor initiative that kicked off in February along Troup's 16-mile stretch of Interstate 85, are making the county more aesthetically appealing to potential businesses and residents as well as the 3.5 million visitors to the county last year – 2.5 million of whom came specifically to enjoy West Point Lake.
A lifelong resident himself, LaGrange Mayor Jim Thornton has practically worn a 300-foot path between his law office and city hall since taking office last year. While he says there's much to be proud of in his hometown, he's especially pumped about the overall quality of life LaGrange offers, much of which he attributes to the long-term dedicated leaders preceding him.
"The city has been well-managed over the years. We had the same manager for over 20 years, and we've only had four since we started having city managers in the early '50s. It's a testament to the political stability and deference given to the city manager in order to right the ship," says Thornton, who served a four-year term on the city council before running for mayor.
He and fellow residents are excited about the opening next spring of a state-of-the-art 2,000-seat amphitheater at Boyd Park on the north side of downtown LaGrange. Sweetland Amphitheatre is currently under construction, its crowning glory the repurposed 1930s-era pavilion that used to welcome visitors to the town's swimming pool.
The project is funded via a public-private partnership between the city of LaGrange and the Callaway Foundation headed by President Speer Burdette, who also serves on the Downtown LaGrange Development Authority. The foundation picked up $6 million of the $8.5 million cost, the remainder coming from SPLOST. Over the past decade, the foundation has contributed more than $75 million to Troup projects and organizations, $30 million of which went specifically to downtown revitalization.
"The Callaway Foundation has been instrumental in this community for a long time. Our mission is to improve the quality of life here, and we have the resources to do that," says Burdette, a lifelong resident of LaGrange. "We're a huge part of the community in every aspect, from culture to education to being an economic engine."
The amphitheater is among the newest projects in an aggressive plan to revitalize downtown that includes opportunities for dining, shopping, entertainment and recreation. "Not many towns of this size are able to attract a movie theater to move downtown," notes Burdette of one feather in LaGrange's cap. "When you come downtown now, it's pretty lively at night."
Georgia's District 4 Public Health office is moving its operations downtown into a new $3.5-million facility, and plans for a traffic roundabout – unusual for this area – will relieve a "convoluted intersection," says Burdette.
Even as progress booms, there are still challenges in Troup County. "Even with all the good things that are here, we have a high poverty rate that weighs on every area," he says, noting the work being done through the Center for Strategic Planning's poverty initiate, Circles of Troup County.
Circles works to engage the community by providing residents the skills and knowledge needed to become self-sufficient, developing leadership, increasing capacity of existing social and community services and addressing systematic barriers faced by families trying to move out of poverty.
"It's a slow process," admits Burdette. "We take it one step at a time. If we can show one family how to do things a little differently to rise above the poverty levels, we're making a difference."
---
LOCAL FLAVOR
New Ventures: Putting people to work is a focus across Troup County, but some populations of the unemployed require additional assistance to become self-sufficient. Since 1972, New Ventures has provided jobs and job training to disabled citizens. Program expansion has since allowed them to reach out to other groups with barriers to employment, including at-risk youth and individuals without the skills re-quired for employment, says Mike Wilson, director of industrial marketing for the not-for-profit em-ployment development center.
New Ventures has a number of industry and corporate partners, including Interface, that help to provide viable employment for those they serve. An international company with a presence in LaGrange, Interface produces modular carpet and broadloom carpet. New Ventures receives excess yarn from the production process, along with overruns of carpet tiles, for its nearly 100 employees to upcycle into useful products such as area rugs and tote bags.
A new chapter to an ongoing partnership with Delta Air Lines will allow New Ventures' associates to upcycle life vests and leather seat covers. "Every five years life vests have to come off the plane, and they were going into the landfill. We started experimenting – cutting them apart and putting them together in larger sheets to make barbecue aprons, wine bags and pocketbooks," says Wilson, adding that design students at local colleges help come up with product designs. The products are sold online and through retailers, and profits are used to support training and programs.
Last month, New Ventures announced the acquisition of a 131,000-square-foot facility on 30 acres in LaGrange's industrial park. The new location will become a sorting facility for industrial waste, such as corrugated cardboard, that the city of LaGrange was previously taking to the landfill. "It's an opportunity for us to be a recycler," says Wilson, noting the facility will be up and running by the end of August.
"The long-term plan is to move all of our facilities there under one roof, including our 11 county regional training programs. We expect to train 500 to 1,000 people a year," he says, adding that it will eventually serve as a pre-screening and training facility for area industry.
In addition to the jobs it provides, New Ventures offers training in a number of areas to prepare individuals for employment with specific industries. Forklift training, drivers' education, and training for jobs in the janitorial and landscaping fields are available to qualified participants.
For more information about New Ventures and the opportunities they provide, visit them online at www.newventures.org. – K.K. Snyder