Transit-Oriented Development Comes to College Park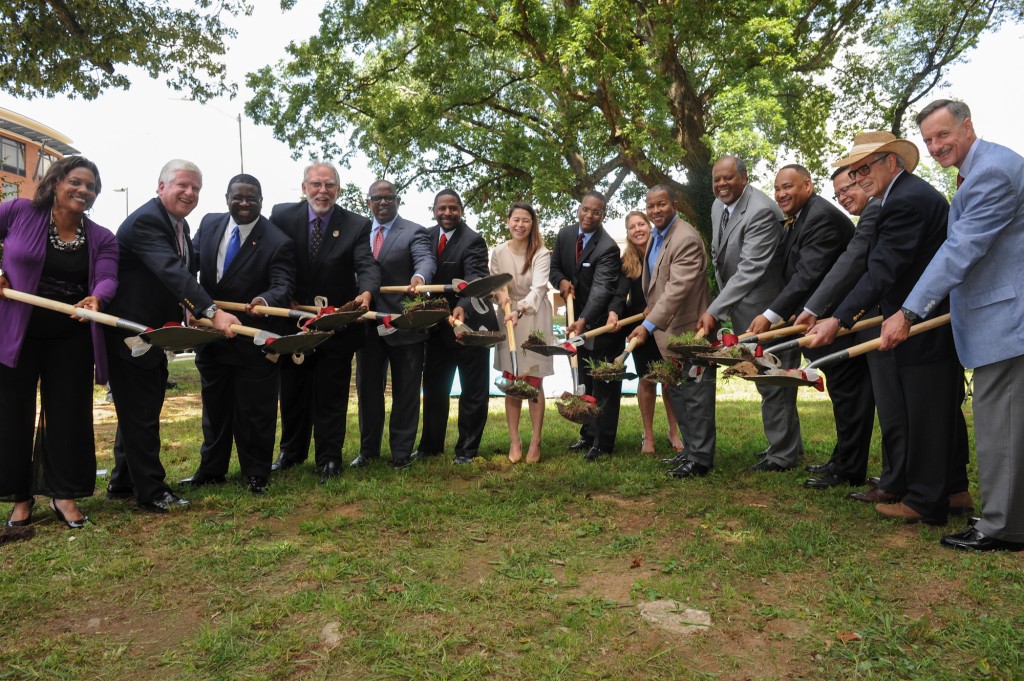 College Park is just the latest place to get new transit-oriented development around its MARTA station, as ThePad on Harvard, a $35-million mixed-use project near the College Park MARTA Station and Hotel Indigo, gets set for construction.
A groundbreaking ceremony was held earlier this month for Phase I of the project, which includes 109 apartment units, with all of the amenities one might expect, including a pool and patio area and a rooftop lounge with a balcony. The difference is in the affordability. Rents at ThePad on Harvard will average about $1,500.
College Park Mayor Jack Longino told the gathering that ThePad on Harvard is a "cutting-edge development," and the first multifamily project built in College Park in 40 years.
With some of the Atlanta area's largest employers – Hartsfield-Jackson Atlanta International Airport, Chick-fil-A, Porsche North America and Delta Air Lines – nearby, ThePad hopes to attract young professionals who are looking to live, work and play near mass transit.
"This brings in a high-quality living option, walkable destination alternatives and a vibrant community for young professionals in the airport area. They will find it an attractive lifestyle choice," Rod Mullice of Air Realty, one of the project's partners, said in a press release.
The Avondale Estates, Candler Park and King Memorial MARTA stations are also seeing transit-oriented development, which helps generate long-term revenue for MARTA while also providing new live-work-play destinations with the convenience of mass transit.
Photo above: ThePad on Harvard groundbreaking ceremony, Thursday, July 9, 2015. From left to right, College Park Business and Industrial Development Authority Chair Subrenia Willis; Atlanta Aerotropolis Alliance Chairman Joseph Folz (VP, General Counsel and Secretary, Porsche North America); Hartsfield Jackson Atlanta International Airport Deputy General Manager Michael Smith; College Park Mayor Jack Longino; HJ Russell & Company President Jerome Russell (Partner, ThePad on Harvard Residential LP); College Park City Councilman Tracey Wyatt; ThePad on Harvard Spokeswoman Rubie Canete; Air Realty Partner Rod Mullice (Partner, ThePad on Harvard Residential LP); Blue Ridge Companies Vice President Tami Fossum (Marketing, ThePad on Harvard); College Park City Councilman Joe Carn; Federal Aviation Administration Deputy Regional Administrator Pearlis Johnson; MARTA Chief Administrative Officer Edward Johnson; Air Realty Partner Romel Canete (Partner, ThePad on Harvard Residential LP);College Park City Councilman Ambrose Clay, and Woodward Academy President Dr. Stuart Gulley.
Photo courtesy of Beckysteinphotography.com