Legal Elite nominations end July 31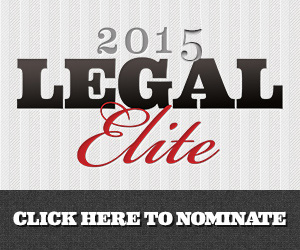 Who do you think are the state's most effective lawyers? There's still time for you to tell us. Through Friday, July 31, 2015, at 5 p.m., Georgia Trend magazine is accepting nominations for its annual Legal Elite listing, which will highlight the state's most effective lawyers in 14 different practice areas. The list of the state's Legal Elite, as chosen by their peers, will appear in the December 2015 issue.
Any attorney who lives and works in Georgia and is a member of the Georgia bar is eligible to nominate a peer. You cannot nominate yourself, but you can nominate attorneys in your own firm, as long as you put forward an equal or greater number of attorneys outside the firm. Nominated attorneys must also live and practice in Georgia and be members of the State Bar of Georgia.
Remember, make your nominations by Friday, July 31, 2015, at 5 p.m.
For more details or to nominate go to our online nomination form.