Carroll County: The Common Good
Collaboration, planning and results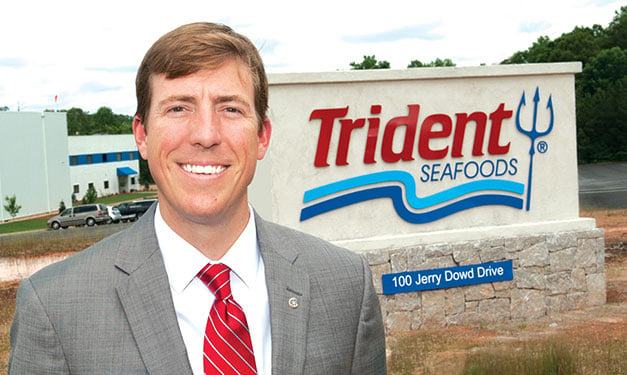 Leadership throughout West Georgia's Carroll County gets top scores when it comes to playing well with others, and it's a practice that's paying off for the entire community. From healthcare and education to job creation and economic development, joining forces has enabled Carroll County to far exceed community goals.
They've been so successful in economic development, in fact, that Carroll County – now home to 14 international companies – is challenged with identifying available properties for new or expanding businesses. The county is looking for several hundred acres of land, talking to property owners, city and county officials and utility reps in an effort to have additional product on the shelf.
Heading that effort is newcomer Andy Camp, who joined the Carroll County Chamber of Commerce earlier this year as vice president of economic development. With a background in construction management, land analysis and site development, as well as three years in economic development for the city of LaGrange, he's well prepared for the role. New property identification is keeping Camp very busy these days. Increasing speed to market is crucial for attracting new business and industry, he says. "We're developing more product and getting more sites that have been vetted, which reduces the risks of the companies, such as having a limited amount of ecological and environmental challenges," he says.
Attracting new industry is most successful when being "specific about whom you're targeting and making sure you've incentivized that. We continue to look to attract companies that fit in with the workforce we have now and utilizing the clusters that we have now," says Camp, naming as an example the food industry, which is huge in Carroll County. Pilgrim's Pride, Flowers Baking Co. and Trident Seafoods are among the producers there.
But the county is also looking for new opportunities. In May, the county commission adopted a new zoning category, namely Buffalo Creek Technology Park. "We have about 25 lots blocked in," says commission chairman Marty Smith of the 115-acre Buffalo Creek, which is currently unoccupied. "The new zoning will allow us to attract medical research companies and gives Carroll Tomorrow something to market."
Earlier this year, Sugar Foods announced a $31-million expansion to its facility where sweeteners, coffee creamers and condiments are packed. The expansion will add 100 jobs, bringing the company's total to 435. Construction should be completed this year with increased production kicking off in 2016, Camp says.
Of course there are considerations, such as logistics, that make an area attractive to potential newcomers, especially manufacturers. One project that would have tremendous impact on the region's economy is the construction of the much discussed but still on the drawing board export/import highway.
The 80-mile route would connect Macon to LaGrange and serve as a logical east-west continuation of Interstate 16 and a parallel alternative to Interstate 20, connecting West Georgia to the Port of Savannah. "It would have a huge impact for West Central Georgia and into West Georgia. We'd be very interested in and supportive of that project," says Camp.
Funding is the biggest obstacle, even though the proposed corridor has the support of a coalition of regional commissions, local governments and business and elected leaders across Central and West Georgia. Supporters are still working to get the Georgia Department of Transportation to agree to authorize a $1-million to $1.5-million corridor study that would unlock potential federal funding, said Lanier Boatwright, executive director of Three Rivers Regional Commission, a state planning organization. The study would provide a more accurate estimate of the project's cost, which is now guessed to be about $560 million, says Boatwright.
---
Forward Thinking
Aggressive plans and measurable goals for economic development, education and workforce development, plus leadership and government relations, led to early success of a five-year plan known as Advantage Carroll, says Daniel Jackson, president and CEO of the chamber and Carroll Tomorrow, the chamber's public-private economic development organization that led the Advantage Carroll efforts.
Figures from late 2014 – four years into the five-year plan – show many of the initial goals have been met or surpassed. New capital investment, which had an original goal of $175 million, stands at more than $650 million. A $100 million payroll goal is at nearly $87 million. The goal of assisting 75 new businesses at the Burson Center, a regional business incubator, was met and exceeded by nine. New and retained jobs totaled 3,926, well beyond the initial goal of 2,000. Finally, the five-year goal of creating 500 new information technology and communications jobs has been met, and in fact more than doubled. Discussions are underway to formulate goals for the next five years, says Jackson.
Executive director of the Burson Center, Donna Armstrong Lackey, also senior vice president of business development for the chamber and Carroll Tomorrow, is working to expand the center's outreach to the region's business community.
They're currently finalizing plans for a proposed 2,500-square-foot makerspace, or do-it-yourself space, in the Burson Center, where people can gather to create, invent or learn. It will be located in a renovated section of the warehouse area of the center. The three-pronged project will focus on robotics, electronics and computer applications. "A lot of clients we work with in the community have ideas they want to play around with, or inventions; and don't have the equipment or the space to do that," says Lackey. "We'll provide a 3D printer, electron microscope and all the gadgets and tools for the electronics and robotics industry."
They'll offer a membership-based program for the inventor community; a local corporate membership program; and expanded science, technology, engineering and mathematics (STEM) after-school and summer-camp programs. "We have certified STEM programs in our schools, but they're limited on time. This will provide students with an after-school or summer-camp opportunity to continue to work on their ideas," she says. The West Georgia chapter of Georgia Tech Alumni has agreed to serve as mentors for the program, and a number of IT professionals from area businesses will serve in an advisory capacity.
To help finance the project, Carroll Tomorrow applied for a matching $250,000 grant from the Appalachian Regional Commission. The new space is slated to open by the end of the year.
In another announcement this year, Carroll County was selected as one of 10 pilot counties in the state to participate in the GeorgiaLEADS program, a new leadership development program in partnership with the Georgia Chamber of Commerce and University of Georgia. Created by the chamber and the university's J.W. Fanning Institute for Leadership, GeorgiaLEADS is based on the premise that leadership is key to economic success and leadership training will give the communities a competitive advantage.
Carroll County's local leadership program has been in place for 25 years and has graduated more than 500 people in the community, says Lackey. "We're in the process, with the help of GeorgiaLEADS, of developing an alumni program for executive leadership training." They're also creating a junior chamber board for training high school juniors to be effective leaders.
---
Access To Care
The nonprofit Tanner Health System, last year named one of the best large companies to work for in Metro Atlanta, serves a nine-county area in west Georgia and east Alabama. Tanner recently increased both its urgent care facilities and behavioral health services. The expansion to 82 beds at Willowbrooke, a behavioral health hospital in Villa Rica, is helping meet demand for inpatient care for patients of all ages.
Tanner has also targeted a new market for behavioral health services through Regain at Willowbrooke, an outpatient substance abuse program tailored for working professionals with drug and alcohol addictions. Regain provides private, individualized outpatient care at Willowbrooke three nights a week, allowing people to maintain their jobs and be with their families while undergoing treatment.
"The lack of behavioral health services is plaguing the country," says Loy Howard, president and CEO of Tanner Health System. "We see headline after headline about situations where, in my opinion, limited access to behavioral health services is a real problem for society in general. We're trying to do our part by expanding those services in this region, and hopefully we're making a difference."
Tanner's board of directors earlier this year approved an estimated $100 million in expansions that include Higgins General Hospital in Bremen. Expansion of Tanner Medical Center/ Villa Rica, including its acute care capacity, and the addition of angioplasty and stent procedures to its cardiology program are also on tap. A potential collaboration with Randolph County in Alabama could result in Tanner building a hospital across the state line. And on its main Carrollton campus, Tanner will make the first steps toward providing open-heart procedures.
"We're excited about that. It will result in a pretty big expansion of the Carrollton facility. It will be very outpatient-oriented, and it's going to include an imaging center, maybe a pharmacy, private care practices and our cardiology practices," says Howard.
Tanner is in the early stages of starting a residency program in internal medicine and psychiatry, with a goal of eventually becoming a teaching facility. At the height of that program, which Howard says should be in place by 2017, there will be 80 to 100 physicians in training at Tanner facilities.
---
Educating For The Future
Tanner's reach in the community is wide and extends to the University of West Georgia (UWG), where President Dr. Kyle Marrero works closely with Howard. The recently named Tanner Health System School of Nursing at the university is helping the region prepare now for predicted nursing shortages in the future.
Careers in healthcare are a big draw for the university, says Marrero, noting the new facility is one of the best state-of-the-art nursing education facilities in the state, garnering a number of awards. "With 10 simulators, a full emergency room simulation lab and high-tech simulation mannequins, the facility houses one of the university's premier programs."
Both Tanner and UWG are working to improve scholarship availability for nursing students and to increase capacity in the nursing program, which this spring had to turn away more than 150 applicants because all slots were filled.
"Biology is our largest major – pre-med – followed by mass communications and criminology. Richards College of Business is one of the best in the country," says Marrero, noting overall enrollment was 12,206 last fall, including students from 44 states and 75 countries. "We're very proud of our ethnically-diverse campus."
Marrero has also formed a successful working relationship with West Georgia Technical College President Steve Daniel, appointed to the position last year. Together they are improving on the post-secondary education opportunities in the region and partnering to reach higher matriculation rates and stronger workforce development outcomes.
"Our university system and technical college system, though both state-supported higher education institutions, haven't always had a close working relationship," says Daniel. "[Marrero] was new and had a fresh approach, and I was a brand-new president. We challenged each other to set benchmarks in this state regarding how university and technical college systems should work together. That was not the prior administration's philosophy, and we've changed that."
A dual enrollment initiative in Carroll County also has widespread support. "Two bills were passed this year that enhance dual enrollment and we expect that to drive the program even farther," says Daniel. "We're all talking about ways to embrace higher education partnerships and K-12 partnerships. It's quite amazing to find that kind of collaboration."
Spread across five main campuses and two satellite campuses, West Georgia Technical College is the third largest tech school in the state and currently serves 6,500 students in a seven-county area. Increasingly popular is the recently added culinary arts program associated with the Carroll County College and Career Academy, a charter school providing high school students with career-based education for quality, high-demand jobs.
Other countywide work-based and workforce education programs are in place well before students reach post-secondary education age. Last year, 114 students graduated from 12 for Life, a program of Southwire, the county's largest employer and the third largest wire manufacturer in the world.
While 12 for Life is the name of Southwire's program, the model has been adopted by other entities in the county, including Sugar Foods in Villa Rica and the Carroll County Water Authority, says Lackey. This year, 150 students graduated from 12 for Life programs in Carroll, Heard and Haralson counties.
"The students are identified by school counselors as being at risk of not graduating for a variety of reasons," she says. The students continue their education while also getting hands-on work experience in a variety of local industries.
Collaborative workforce education programs offered over the past 14 years have paid off in dividends for Carroll County. Efforts were rewarded last year when the county was named the first Marquee Community in the state by Great Promise Partnership, which strives to help at-risk students graduate from high school by promising post-graduation assistance with preparing for further education, military service or entering the workforce.
Overall, Carroll County continues to embrace any entity willing to come to the table to make things better for the community. The county's all-inclusive practices have proven time and again that when everyone is focused on a common goal, everyone wins.
---
LOCAL FLAVOR
Teaming Up for Better Health: One local initiative with many partners, including Tanner Health System, is Get Healthy, Live Well, a community-wide program designed to promote a healthy lifestyle and prevent chronic disease.
Among the efforts in Carroll County is a 16-mile biking, running and walking GreenBelt slated for completion in 2016, as well as the creation of community gardens and providing better access to local farms and farmers markets. In addition, Carroll County leadership has purposefully preserved hundreds of acres for the creation of parks they hope will motivate people to spend less time on the couch and more time outside.
The initiative is being funded by more than $4 million in Community Transformation Grants awarded by the Centers for Disease Control and Prevention. The grants were funded through the Affordable Care Act's Prevention and Public Health Fund.
"[The funding] is really helping us move toward evidence-based outcomes. It's about helping the community stay well by engaging with them through church groups, service clubs and many different grassroots ways to begin improving on their healthy habits," says Tanner's President and CEO Loy Howard, who also serves as chairman of the Carroll Tomorrow board of directors. "Wellness is tough. You can have health fairs and emphasize this or that, but if you don't change people's behaviors, you really won't see your community getting healthier."
Striving to set the standard, Tanner recently gave each of its 2,600 employees a Fitbit, a wristband device that tracks the number of steps and amount of physical activity the wearer engages in daily. Ongoing challenges between co-workers and hospital departments pit employees against one another for the highest scores, providing opportunity for great camaraderie while encouraging an active lifestyle. Gyms and health coaching for chronic diseases and other health issues are also readily available to Tanner employees.
"If we're going to help the whole community get healthy, we need to concentrate on ourselves," Howard says of Tanner's workforce. "Bottom line for us is that health and wellness are going to take a new slant for Tanner, and it fits nicely with our mission and vision. This is not something we're going to do for a year and be done; you're literally changing the culture of an entire community to healthy. Progressive communities are going to be the ones emphasizing health." – K.K. Snyder