A Hard Rock Life
Georgia's mining industry is adjusting to challenging times.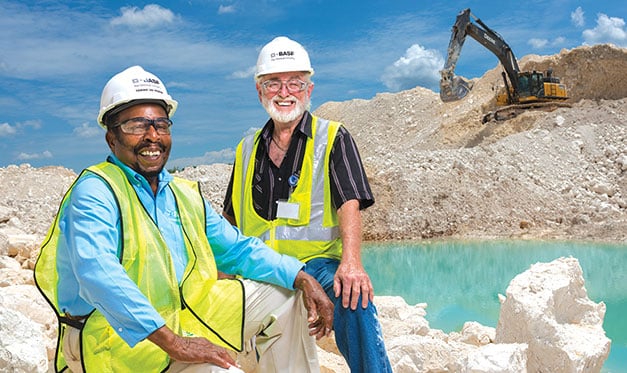 Mining is the only work that Tommie Wilson, 79, and Hoyt Sanders, 76, have known. Wilson began loading kaolin in 1956 and Sanders began working in the mines in east Georgia in 1957. They started out at $1.28 and $1.34 an hour, respectively.
Both men witnessed consolidation in their industry, working for five different companies over the years. BASF, with mining operations from Savannah to Hartwell, is currently on their name badges.
"If [BASF] hadn't bought us out, I don't know what would have happened," Wilson, now a central stores driver in the McIntyre facility, says. Sanders works in Gordon as a lab tech.
The state's mining industry is digging out of layoffs, plant closings and consolidations that intensified during the housing market collapse and recession and is now seeking to build on a rich legacy that runs deep in Georgia's rural communities.
A focus on technology and innovation, a drive toward lean operations and a resolve to strengthen relationships with government agencies and environmental groups are all necessary, as some companies remain the backbone of their communities. As the economy improves across the state, plants have reopened, 100-year-old companies continue to mine and there are new players on the scene, like Southern Ionics, which began operations in South Georgia this year.
"Plants were closed. Many people lost their jobs. But for those of us who survived the great recession, it's definitely upbeat," says Stan Bearden, vice president of operations for Cartersville-based New Riverside Ochre Co., founded in 1905.
Mining operations are located in 117 Georgia counties, producing 17 industrial minerals, says Lee Lemke, executive vice president of the Macon-based Georgia Mining Association, which has 225 members. With clay, stone, cement, sand and gravel as Georgia's principal minerals, mining represents about 0.8 percent of the state's gross domestic product (GDP).
More than 10,000 Georgians work directly for the mining industry, and the industry's average national wage in 2012 was $69,588, according to the National Mining Association (NMA). Most of Georgia's operations are open pit, or surface mining, with two underground calcium carbonate mines operated by Imerys and J.M. Huber in Tate in North Georgia.
"We use a lot of minerals in our daily lives," Lemke says. "It is a significant industry."
In fact, mining industry leaders dare you to look around a home, office or school and not see products that were mined. Every individual uses 3.5 million pounds of minerals in a lifetime, according to the NMA.
"We couldn't have the society we have without mining," says Greg Bowles, director of real estate, environment and geology for General Shale. The company, founded in 1928, is one of North America's largest brick, stone and concrete block manufacturers.
Mining companies have learned to do more with less, though. Georgia produced an estimated $1.5 billion in non-fuel mineral products in 2013, representing 2 percent of the U.S. total, but down from $2.1 billion in 2008, according to the U.S. Geological Survey (USGS). Georgia's mining industry has dropped to 14th (down from 10th) in the nation in terms of industrial mineral production, Lemke says.
---
Growing Optimism
Construction is bringing back some – but not all – of the business that was lost in the recession. At its plant near Rome, General Shale brought a second kiln back into production in 2014; and Bowles credits the improvement in the Atlanta area construction industry. "Atlanta's such a large brick market. It doesn't take a big upturn to make a big difference," he says.
Producing 180 million bricks per year, the Rome plant has the greatest output of any of the company's 47 locations in North America; 67 people are employed in Rome. Bowles describes Georgia as the "brightest spot" in the U.S. mining industry.
The outdoor living trend is benefiting New Riverside Ochre, one of the oldest continuously active, family-owned mining companies in the country, with 40 employees. The company began by mining ochre, or iron oxide, used to color tile in Europe. Business dropped about 30 percent during the recession. Now the demand for retaining walls and pavers using different pigments is growing, Bearden says.
Atlanta Sand and Supply Co., a family-owned business established in 1903 with its signature operation in Roberta, provides construction aggregates and has diversified. The company is selling more of its product to golf courses, says President Jeff Avant. Industrial sand, for shingles, grout, stucco and other items, is another thriving part of the business.
---
Old School, New Twists
Red road signs on the way into and out of the town of Deepstep, incorporated in 1901 and boasting 137 residents, identify it as the Heart of Kaolin.
When weathered crystalline rocks in the Piedmont Plateau eroded, believed to be between 50 million and 70 million years ago, deposits of the white compound were formed across Middle Georgia in a strip that runs from Columbus to Macon to Augusta along what's called the fall line. Georgia is a significant player in the world market for kaolin, also known as china clay, which is used to make paper, paints, rubber, plastics and thousands of other products.
Deepstep, in Washington County, is one site for Imerys Kaolin North America Division, part of a billion-dollar international company providing mineral-based specialty solutions. Imerys has a number of operations in Georgia, including Tate and Anderson-ville. In 2008, operations in Deepstep, however, dropped to three staffers in the office.
"We were looking at shutting down," says the town's former mayor, Monty Sanders, who started working in mining as a teen and has worked 30 years for Imerys. Sanders, lands resource manager for Imerys Kaolin, lives in a cabin he built down the street from his office, which is located in a former school. Across the street, a busload of third graders is on a spring field trip to the mine.
"Everything you see here has been mined and reclaimed," he says, pointing toward his neighbors' and family members' yards.
The state's biggest kaolin producers – KaMin Performance Minerals, Thiele Kaolin Co., Imerys and BASF – are a mix of private and family-owned operations and international companies. Plant and mining operations appear to converge, although officials are quick to point out the boundaries.
A major shift in mining overall is the use of contractors. For example, about 160 of the 250 workers at Imerys Kaolin's sites in middle Georgia are contractors, says Tammy Brack, purchasing manager for the company with customers that include Sherwin-Williams and International Paper.
Sam Martinez, director of operations for Burgess Pigment Co., a family-owned specialty kaolin company in Sandersville, says the most dramatic industry change he's seen in 20 years has been the use of technology. Holding a tablet device in his office, Martinez, president of the Georgia Mining Association, says plants can be run remotely; and productivity per employee is greater.
The kaolin operations in Sandersville are located around the Sandersville Railroad, which was organized in 1893 by local residents and remains a privately held shortline railroad run by the Tarbutton family. The railroad has been a critical link in the success of Imerys' Sandersville facilities, because it provides the ability to select feasible freight options to transport material to critical destinations efficiently, Brack says.
Technology also has allowed companies to use different clay and still get the brightness that customers desire. The best kaolin – Buffalo china – is gone, Monty Sanders says, yet kaolin companies now are using clay they would have ignored 15 years ago.
"We mined this track back in the '70s and '80s," he says, "with the new technology we can now use this type clay. It costs us quite a bit more in chemical costs to get the brightness. The biggest thing in paper is brightness."
---
Latest Operation
In South Georgia, Southern Ionics Minerals is a new operation producing aluminum, sulfur materials, ammonia and a line of zirconium chemicals used by ceramic manufacturers for glazes and in the metal casting industry. The company plans to create 150 jobs and invest $100 million in its operations, with a mineral sand processing plant in Pierce County and a mine in Brantley and Charlton counties.
The company, the only heavy mineral sand miner in Georgia and one of a few in the Southeast, mines the black sand seen at low tide.
"We mine where the beach was a half-million years ago. The coast of Georgia, basically from 60 miles back down to the modern coast, is just a series of stair steps where the sea level has been at different levels. We mine what used to be the barrier island systems," says Jim Renner, the company's manager of environmental stewardship.
Renner says company leaders sought feedback from groups such as the Satilla RiverKeeper and the Georgia Conservancy to develop a mine plan that minimizes the environmental impacts. Each hour, 500 tons of sand is processed, and water is recycled, Renner says. Instead of leaving a big pit, the sand that is not used by Southern Ionics, which ships products by rail, goes back into the earth, and pine trees are planted. "We want to leave the land in as good condition as when we started," he says.
Georgia's sand companies are diverse in their locations, from Atlanta Sand and Supply in Macon and Georgia Industrial Minerals in Sandersville to Butler Sand near Columbus and Lambert Sand and Gravel in McDonough. Shale and brick companies include Cherokee Brick and Tile in Macon and Boral Bricks in Columbus. Other longtime companies include Cartersville's Cimbar Performance Minerals, a leading supplier of barium sulfate, and CEMEX in Clinchfield. In South Georgia, Oil Dri produces products used in cat litter.
The presence of granite companies is so strong in northeast Georgia that there is the Elberton Granite Association, which, along with the Duluth-based Georgia Construction Aggregate Association, works with the Georgia Mining Association on industry issues.
---
Consolidation, Competition
The number of mining companies has been reduced in the past 20 years, partly because of consolidation. In fact, the Macon-based China Clay Producers Association now has just four members.
The growth of substitutes and the evolution of competition from kaolin deposits in Brazil and other countries are also challenges. "We have been forced to be much more competitive," says Eric Tillirson, the new president of Sandersville-based Thiele Kaolin Co.
About 50 percent of U.S. kaolin – some 2.6 million tons – was exported in 2014 mainly as a paper coating and filler, according to the USGS. As paper use has declined, Thiele, which has 470 employees and exports about 40 percent of its annual production, is focused on new niches, such as packaging products, including snack food and cereal boxes, Tillirson says.
"The demand there has been for more pleasing consumer packaging. If you look at a Cheez-It box, the quality of graphics on those containers is incredible," he says. "We've done a lot of work in formulating kaolins for different types of application methods to allow the end user to be able to deliver a package that is appealing to the consumer."
Companies serving the hydraulic fracturing, or fracking, industry are also facing challenges. "With a lot of these mining companies, depending on what they are mining, the last couple of months have been pretty tough. The fracking out in North Dakota has dropped off," DeVaughn Pettit, vice president and regional sales manager for Georgia at Tractor and Equipment Co., says.
As his clients keep an eye on costs, Pettit says manufacturers like his recognize the need to make equipment that is more productive, more fuel efficient and more environmentally friendly.
---
Reclaiming Land
Although less than one-tenth of one percent of Georgia's land has been mined, the state's reclamation law requires that an acre of land be reclaimed for every acre mined. Once materials are mined, the land is put back to use, Lemke says.
Mining industry leaders say the relationship with state and federal agencies is less adversarial than in the past. "We want to accomplish the same thing that EPD [state Environmental Protection Division] wants to accomplish and we're working together now," Bearden says.
Environmental requirements and federal regulations mean companies have to invest in new, cleaner technology. The federal EPA's Brick MACT (Maximum Achievable Control Technology), for example, may place additional limits on air emissions when the new rules come out in September.
"What happens with that in the next year is going to have a very potentially major impact on the brick industry," says General Shale's Bowles. "Depending on how that goes, it could be significant outlays for new control equipment."
Soon, the industry may face more costs to train workers as baby boomers and seniors retire. BASF's mining veteran Hoyt Sanders jokes that he'll be in his job until he can't find his way to work anymore. But even as loyal workers remain, the Mining Foundation looks to identify and assist the next generation. In 2015, it awarded $58,850 in scholarships to 120 students seeking to pursue degrees at four-year as well as tech schools, in programs in geology, mining engineering, industrial engineering and even non-mining and engineering fields. More than $1 million has been awarded since the 1990s.
"The Georgia Mining Foundation is very proud of its support for education," Bowles says. "This is indicative of how mining companies care about and give back to the communities that they operate in."
While a few years ago, Atlanta Sand laid off 10 percent of its workforce and shut down a plant. Avant, treasurer of the Georgia Mining Association, anticipates an industry rebound, but doesn't expect to see a return to the high levels of production experienced during the housing market boom. "I just think the return is going to be slow, and that's fine," he says. "Slow and steady is fine."
---
GEORGIA MINING BY THE NUMBERS
Permitted Mines
Borrow pits: 341
Clay pits: 316
Quarries: 89
Dredges: 69
Total: 815
---
Permitted Acres
Clay pits: 57,810
Quarries: 35,389
Borrow pits: 7,982
Dredges: 3,665
Total: 104,846
Source: Georgia EPD