Columbus: Shoring Up The Economy
Tourism, education and the military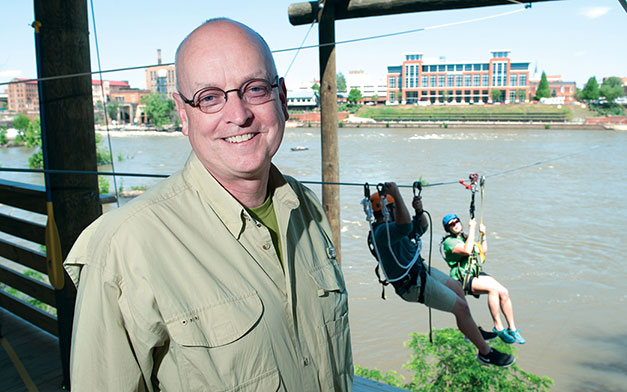 The old adage "a rising tide lifts all boats" could have been written specifically for Columbus, considering the city's leadership role in the regionalism that has helped put the area back on the map. From new tourism attractions to innovative job creation programs to a vibrant downtown in "Uptown," the greater Columbus area appears to be thriving.
Located in West Central Georgia, the city of Columbus and surrounding Muscogee County hug the Georgia-Alabama border, the two states separated by the Chattahoochee River, running free and clear after years of being dammed up to serve the mill industry. These days the river bridges the two states rather than separating them, as they continue to nurture the growing joint ventures in whitewater rafting, zip lines and other outdoor adventure opportunities.
With tourism increasing by leaps and bounds, the challenge becomes creating new possibilities for outdoor adventure, adding layers of activity to entice day-trippers to become multi-day travelers, taking advantage of area hotels, restaurants and retail offerings, says Peter Bowden, president and CEO at the Columbus Convention and Visitors Bureau. "Our Trip Advisor ratings are high in all the things we want to see succeed," he says.
"What happened with whitewater happened quicker than we anticipated," he says. "Now we need to determine how to cultivate this new market, not only for adventure seekers, but also for spectators," who outnumber adventurists 10 to 1, he adds. Current marketing efforts target not only tourists, but also convention and business-meeting planners. The city hosts about 300 conventions each year.
---
Investing in Education
Another attraction in Columbus these days is its downtown, known locally as "Uptown." Area residents and tourists aren't the only ones drawn to the district for dining, shopping, lodging and entertainment. So is higher education. Columbus State University – which already has a presence in Uptown with 3,000 students enrolled in its colleges of music, art, theater and communications there – announced plans for a $100-million capital campaign to finance relocation to Uptown of its College of Education and Health Professions, among other projects.
"This makes a significant statement about that college becoming a regional center in teacher preparation and preparation of nurses," says Tom Hackett, provost and vice president for academic affairs, who has been serving as interim president since the first of the year. A higher expectation from students with regard to housing and amenities is among the reasons the school chose to expand to Uptown, he adds. Desire to create a state-of-the-art campus that will attract more top students and faculty is another driver.
As of mid-March, nearly $61 million had already been donated or pledged while objectives of the campaign were still being formulated. The college purchased the former Columbus Ledger-Inquirer building, part of which they'll demolish. The remaining historic section, along with some new construction, will become classrooms for the Uptown campus expansion, which "will impact the significant part of a block," says Hackett.
Plans also call for a $17-million project in the center of the quad on the main campus, including a new laboratory building and significant changes to the front of the library to accommodate a consolidation of academic-related student services. "This will create a whole new look for Columbus State on the main campus," says Hackett. In addition, there is a public/private venture to add 500 new freshman beds to the main campus.
Other changes at CSU include the April announcement by the University System of Georgia Board of Regents and the university of a new president. Chris Markwood, former provost and vice president for academic affairs at Texas A&M University-Corpus Christi, was to assume the post on June 1.
K-12 education is also progressing in Columbus; voters narrowly passed a penny sales tax this spring to fund 24 projects totaling $192 million in the Muscogee County School System. Included in the funding proposal is $56 million to replace Spencer High School, established in 1930 as the city's first African-American school. Additional projects include $34 million for ongoing system-wide upgrades in technology and infrastructure and an $11-million multi-sport complex.
There are also a number of workforce development programs showing early success. One innovative program coming out of Columbus Tech is GDAC, or Giving the Deserving Another Chance, a program designed to make former inmates living at Columbus Transitional Center more employable, says Jamie Lloyd, vice president of economic development at Columbus Tech. An intense two-week program brings participants into the classroom for basic computer skills, aptitude and interest tests, and hands-on activities that help identify potential welders and other skilled laborers.
Members of the local Society for Human Resource Management help coach and conduct mock interviews with program participants, and a partnership with Goodwill provides them with business suits to wear to real interviews. A number of local employers are on board with the program, which offers incentives to those willing to take a chance on a new employee.
"Some have been so successful in the mock interviews that the employers actually hired them on the spot," says Lloyd, noting the program is funded through SPLOST dollars slated for crime prevention. A four-pronged incentive package for employers includes federally funded work opportunity tax credits, a federal bonding program, reimbursement for up to half of the employee's salary for six months, and job-specific employee-prescribed training or certification to make the participants more employable.
To date, about 60 people have completed the program, 90 percent of whom were successfully hired. Recidivism measured one year out shows a reduction to 6.6 percent, compared to 22.2 percent among former inmates who didn't attend the program. "It's evolving," says Lloyd. "Employment is just one issue. There's also housing, substance abuse and mental health needs. We're meeting with different partners to help fill those other needs."
---
Protecting the Military Presence
A large portion of the local economy is dependent on the presence of the U.S. Army's Fort Benning. Understandably, leadership and residents in the area get uneasy when discussions arise regarding base closures and budget cuts. With Fort Benning covering nearly one quarter of Muscogee County – and 12,000 acres across the Alabama line – the base's existence is crucial. Excitement and construction activity to prepare for the base's addition of the Armor School and its 7,500 soldiers who arrived in 2011 has given way to apprehension over upcoming troop reduction in light of government cuts in military funding.
The sixth largest installation in the U.S., third largest in terms of troop density, Fort Benning will definitely be impacted by sequestration, says Gary A. Jones, executive vice president of military affairs for the Columbus Chamber of Commerce. Currently, there are about 30,000 active duty soldiers and nearly 11,000 civilian employees on post. Total economic impact of Fort Benning on the region is estimated at more than $5.5 billion.
With the Department of Defense drawdown already underway because of the sequestration requiring a reduction in military spending of $475 billion, U.S. Army troops will be reduced overall by 80,000 by the end of September, says Jones, with another 106,000 positions cut from Army National Guard, U.S. Army Reserve and civilian pools, all of which will impact Fort Benning. In addition to the drawdown, Jones estimates sequestration could cost the base not only its 3rd Brigade, but also some 13,858 regional jobs, including military, civilian and contractors. Taking into consideration family members of base personnel, the losses could impact 27,000 residents, with a total annual loss in sales, salary and taxes of $1.36 billion. Those losses could begin as early as October, he says.
While Base Realignment and Closure (BRAC) is on hold through September 2016, the Department of Defense indicates a need for some realignment before September 2017. Stakeholders are circling the wagons, addressing the devastation such a move would have on the region.
"I can't say [what other Georgia bases] are doing. Fort Benning, in terms of fighting a battle, has completed the tactical battle," says Jones, by making sure the Department of Army Community Listening Session Team is aware of the facts surrounding what the region does to support the base. Jones reports a strong turnout for the session in February, the only opportunity local residents will have to voice their opinions regarding budget cuts and potential troop loss.
The Fort Benning Partnership, active during BRAC 2005, has contracted with consultants with the Spectrum Group and the Principi Group – the head of which chaired the 2005 BRAC Commission – to keep elected officials and community leaders in both Georgia and Alabama abreast of the situation as it progresses and, hopefully, to retain as many troops and base jobs as possible. Jones expects "a litmus test" this June when the Army announces which brigades will be cut.
---
Midsize City Draw
Mayor Teresa Tomlinson talks a lot about the rise of the midsize city and says leaders there intend for Columbus to become one of the finest in the world. "We're in an era where millennials, and even baby boomers, are choosing to be in a midsize city. They want that sense of community in a size you can get your hands and hearts around."
Toward that goal, she says, Columbus takes every advantage of best practices and sophisticated technologies to improve quality of life in her city. But those behind-the-scenes assets aren't typically what people look at when they consider where they want to live. Rather, people look for overall quality of life features such as strong cultural arts programs, access to great professional opportunities, outdoor adventure, parks that families actually use, and good transportation grids – not only for automobiles, but also for cycling. And Columbus has that vibe, she says.
Looking ahead, the mayor says Columbus is "sitting on a gold mine" of vacant buildings and land lying empty due to disinvestment. So what to do with it? One answer is the redevelopment of City Village, a 30-block area adjacent to Uptown. Today, the city owns 40 percent of the property, which sits high on a bluff, offering impressive views of the river. "We don't want multimillion-dollar mansions on the bluff, but maybe four-bedroom homes in close proximity to 825-square-foot homes, and quadra-plexes and duplexes to encourage people of different ages, cultures and economic levels to live within close proximity to one another," says Tomlinson, who hopes the entire area will become a "creative village," attracting those hungry for a live, work, play environment.
One of her biggest focuses remains the high-speed rail system slated for 2030 that would link Columbus with Atlanta. It's about much more than just getting people from point A to point B, the mayor says. Rather, it's about connecting the right resources, thereby offering more opportunity for economic development.
"In this new era of transportation, people need to stop thinking of rail travel as selling tickets and think of it more as connecting economic resources," says Tomlinson. "High-speed rail is a tremendously efficient way to connect two cities without the costly infrastructure of sprawl. High-speed rail functionally connects Georgia State University with Columbus State Univers-ity, Emory University Hospital with our regional Medical Center, and our business centers, for instance. If we do that, the rail system pays for itself and has a tremendous return on investment."
Currently in the fundraising stage to finance an environmental impact study, the project is worthy of one of the $4-million federal grants available from the U.S. Department of Transportation to pay for the study, she says, noting it would require a 20 percent match. "I feel we'd be very competitive for those grants," she says. "We need to show very strong public/private partnerships. In another eight months or so, we might have some good news to report."
---
Looking Forward
This year the chamber has embarked on an aggressive business attraction and retention program, says Bill Murphy, executive vice president of economic development for the Greater Columbus Chamber of Commerce. The majority of available sites and buildings have been absorbed by the expansion of existing businesses or new companies moving to town, Murphy says, but there are more coming out of the ground, as well as a number of existing sites at outlying industrial parks, including Muscogee Technology Park. Currently in development, the 170-acre Benning Technology Park will be served by a new interchange off Victory Drive at I-85 funded through the T-SPLOST, this being one of few regions in Georgia that approved the penny sales tax for transportation projects in 2012. Hopes are to market it to defense-related support businesses, says Murphy.
"Much like many midsize industrial cities, we've gone through a pretty big transformation over the last three or four decades," says Murphy. Trading the bulk of its textile industry for technology-based companies such as Aflac and TSYS and finance-based companies such as Synovus banking was a solid move.
Manufacturing is still strong in the Columbus area and includes the Kia Motors plant, the yarn producing Swift Spinning, snack makers Hostess and Snyder's-Lance, and NCR, a manufacturer of ATM machines, which recently announced it will bring manufacturing operations up to Columbus from Mexico.
Chamber and community leaders recently embarked on a strategic planning process to position Columbus for the future. Part of this includes hiring a new chamber president, Brian Anderson, formerly with the Greater Dalton Chamber of Commerce.
"The chamber each year does an inter-city leadership visit. We go to other communities across the country and see what they're doing," Murphy says. "In every community that we've been to, at the heart of their success was a community-wide strategic plan with the community's buy in. That's why we're investing so much time and energy into doing a comprehensive and fair assessment of where we are and where we're going."
---
LOCAL FLAVOR
Take Me to the River: These days there's even more than whitewater rafting, kayaking and stand-up paddleboarding drawing outdoor enthusiasts to Columbus and the free-flowing Chattahoochee River. While paddlers traverse the water below, zip liners shoot overhead, crossing the river and landing in Alabama. Blue Heron Adventure zips, operated by Whitewater Express, reach up to 40 miles per hour and are the only dual zip lines connecting two states, say operators.
The zip line is available for anyone age 10 and up and weighing between 70 and 250 pounds. Participants glide for 1,200 feet, coming within 100 feet of the whitewater rafters slicing through the CutBait rapid below. The adventure ends with another 400-foot zip along the riverbank on the Phenix City side.
Once zip liners land in Alabama, they can choose to participate in the Blue Heron Obstacle Course, a treetop experience featuring 10 obstacles on two levels of difficulty. Ages 5 and up can zip between trees, traverse a high-altitude tunnel and climb across a rope "spider web."
Last fall marked the completion of a $6.2-million pedestrian bridge across the river, allowing visitors and residents to walk from Columbus to Phenix City for easy access to outdoor activities along the river on both banks. A motorized raft ferries zip liners back to the Peach State following their wild ride. Reservations for zip lining are recommended, as walk-ins often cannot be accommodated. For information, visit www.whitewaterexpress.com. – K.K. Snyder