Albany | Dougherty County: Putting On A New Face
A rebranding effort, big announcements and city grants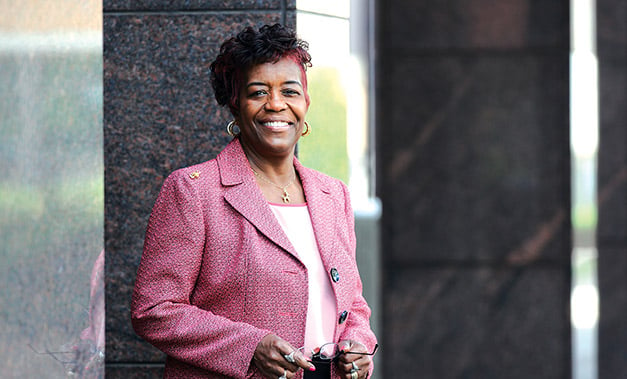 There's Only One Albany. That's the mantra floating around town these days, a loaded attempt by local leadership to rebrand the Southwest Georgia city of Albany and surrounding Dougherty County. The slogan is everywhere, splashed across television, billboards and magazine pages, and local leaders are hoping the message reaches both citizens and visitors alike.
The $400,000 rebranding campaign, spearheaded by the Albany-Dougherty Economic Development Commission (EDC), is the culmination of a strategic planning process, says Justin Strickland, commission president. "The largest vote-getting initiative to come out of the process was a rebranding campaign for the city and county to highlight our positives and help market our resources."
The first phase of the campaign culminated in January with the There's Only One Albany 2015 Community Heroes awards program, recognizing members of the community who help make it shine. Honorees ranged from a high school orchestra teacher to an 18-year-old community volunteer. Black, white, young, old, native, newcomer – together they put a face on the sense of pride and teamwork that Albany and Dougherty County need citizens to buy into to improve the overall perception and attitude about the area.
"This was a research-heavy campaign," says Strickland. "We did a phone survey of the entire community and leadership interviews to see what people are feeling, what is the perception of the community, where is the needle between positive and negative?" The needle, he says, was one of apathy and negativity. "We feel we're pushing it up, but we can't change the perception of everyone in Albany with a six-month campaign."
The Dougherty County Commission's new chairman, Chris Cohilas, agrees and says the county will continue to support the EDC in its aggressive marketing tactics. "Dougherty County has to be creative in how it defines itself as we're coming out of this depression," he says. "We need to be competitive as well as cognizant of regionalism."
Cohilas was elected following the departure of former chair Jeff Sinyard, who had served on the commission since 1985. Now in a position to focus efforts on positive change, Cohilas says the county will continue to strengthen its ability to draw new business and industry to the area. Local leaders recognize that success greatly depends on citizen cheerleaders, those who push forward in changing the self-defeating attitudes of some of their peers.
When Albany's previous downtown manager left to take a position on the West Coast, Sharlene Cannon agreed to step in during the interim. "I started July 1, 2014, and was supposed to stay six weeks," says Cannon, who will continue until a permanent manger is hired this year. She was initially brought in as a consultant, having spearheaded highly successful revitalization efforts in downtown Thomasville, Ga., and Quincy, Fla.
---
Intown Potential
While a search for a new downtown manager is underway, Cannon says she was encouraged during her brief stint by the potential she saw in Albany's central business district and riverfront. She hosted representatives from nearby revitalized towns such as Columbus who offered ideas on how to best market Albany's downtown riverfront assets. Bike paths, new kayak and canoe launches, a riverfront park – those are already in place.
"[Albany] is not a whitewater destination like Columbus, but [it] can still promote the fly fishing, boating and kayaking opportunities, and the [Flint] RiverQuarium," she says, pointing out some of the existing assets. "They've got to get some kind of plan together and get some foot traffic down there. Businesses follow people; you've got to get people down there, and businesses will come."
It's the same catch-22 Albany's downtown has faced for decades: people won't venture downtown without businesses to patronize, and businesses won't move in until they see people frequenting downtown. The reimaging campaign took that problem into consideration and built in some subtle pro-downtown messaging specifically targeting a younger crowd. "You need a whole new generation of young people down there who don't want to hear about how it was in the '50s," adds Cannon.
"We understand downtown revitalization is important," says Albany Mayor Dorothy Hubbard. "Most people looking to come here and bring jobs want to know you have a vibrant downtown. We're going to have to be in on it, give our [Albany Dougherty Inner-City Authority] board more support and have them come to us and see what they're doing. If we get some quaint restaurants and different types of boutiques down here, people will come."
One project that might be a boost to downtown is a proposed tennis center and community swimming pool, says Hubbard, adding that discussions are still taking place about creating more of a multi-purpose recreation area that could support both tennis and perhaps soccer or other activities. The joint city/county project will be funded through a voter approved Special Purpose Local Option Sales Tax.
---
Big Biomass
As 2015 tipped off, so too did a couple of big announcements, including a commitment from Procter and Gamble Co. to construct a $200-million biomass plant to provide steam to help power P&G's Albany facility, one of the company's largest. Operating for more than four decades, the Albany plant produces Charmin toilet tissue and Bounty paper towels.
With construction well underway, the biomass plant should bring about 500 jobs during the two-year construction phase, with another 50 to 70 permanent jobs once the project is complete mid-2017. The plant will produce steam from biomass, including pine tree debris from local forestry operations, and crop residuals such as pecan shells and peanut hulls, all in plentiful supply in the area. The city of Albany hopes to provide their 25,000 annual tons of yard waste and tree trimmings to the plant, keeping that waste out of the landfill.
The project was a collaboration with the Albany-Dougherty Payroll Development Authority and city, county and state leaders, with support from the Georgia Public Service Commission, as well as energy companies. In addition to powering P&G, the plant will generate electricity for Georgia Power.
The P&G project will also add a feather to the cap of another of Albany's mainstays, Marine Corps Logistics Base-Albany, which proposes to purchase energy from the plant. The base currently gets 40 percent of its energy via a renewable energy program with a local landfill. Use of biomass energy could make Albany's base the world's first net-zero energy military installation.
MCLB-Albany, with about 4,000 employees, has weathered Base Realignment and Closure (BRAC) threats in the past, much to the relief of the Dougherty County community, since its economy relies heavily on the base's presence. "When BRAC comes up, you always want to make it more expensive to shut [a base] down than to keep it open," says Chris Hardy, former president and CEO of the Albany Area Chamber of Commerce, adding that becoming the only net-zero base in the world would bolster the base's stance.
Renewable energy isn't the only impending addition to MCLB-Albany, he says. As the Department of Defense continues to streamline military installations, the consolidation and relocation of five Georgia National Guard units could bring the units to the Albany base, says Hardy, though he can't put a timeline on when that might happen.
"Obviously, there is some funding involved through MILCON [military construction], and funding is short as we all know," he said of the proposed consolidation, which would bring additional resources and programs to the community, including programs that serve underprivileged and at-risk youth.
---
Boosting Education
Programs for youth would be welcome in Dougherty County, where the high school graduation rate is just 60 percent. "The public school system is getting better, and [School Superintendent] Dr. Mosely has done an excellent job," says Hardy. "Anytime you're talking about economic development, quality of life, workforce development, you always start with a sound public education system. We're making the right steps."
Hardy says there aren't many communities in Georgia the size of Dougherty County that boast three institutes of higher education – Darton State College, Albany State University and Albany Technical College (ATC). "True workforce development means skilled labor, and that's Albany Technical College's niche," he says. ATC offers specific training programs that fast track graduates to the workforce, including students from the school's Carlton Construction Academy and the Logistics Education Center.
The second announcement in the first quarter of 2015 was from WebstaurantStore, a leading e-commerce brand that specializes in the quick delivery of restaurant equipment and supplies to the foodservice industry and individual customers worldwide. A $10-million investment in a distribution and fulfillment center in Albany over the next three years will create 150 new jobs, says Strickland.
"Albany is proud to be known as a great location for worldwide distribution and logistics effectiveness," says Strickland. "Our transportation infrastructure, our workforce and our low costs of doing business make Albany one of the most attractive sites for national and international companies."
The company will locate in an existing 472,000-square-foot facility in Parkway Industrial Park. Webstaurant-Store's fourth distribution center in the U.S., the new location will serve clients in the Southeast, meeting the company's goal of providing one-day shipping to its customers, says Dave Groff, president of the Lancaster, Pa.-based company.
Moving forward, grants are still available via the $30-million Job In-vestment Fund created with Municipal Electric Association of Georgia (MEAG) dollars. Mirroring the state's One-Georgia grant program, the first Job Investment Fund grant awarded in Dougherty County was to crop-dusting plane manufacturer Thrush Aircraft in late 2014. Thrush's $200,000 award can be used to purchase equipment or upgrade their facility. Their promise of 100 new jobs and a new machine shop made them a viable candidate, says Strickland, who hopes other industries will take advantage of the available funding.
Marketing the city and county as a viable candidate for new business and industry continues to be the goal of local leaders. Existing buildings vacated by long-defunct operations of Cooper Tire, Merck Chemicals and McGregor Golf stand ready to serve new purposes, and the Pecan Grove Industrial Park has a number of vacant spaces available, says Hardy. Touting resources such as plentiful water, extensive fiber systems and improved infrastructure, including the completion of a new bridge relinking two sides of the city across the Flint River, local leaders are optimistic about the future, reminding everyone that There's Only One Albany.
---
Local Flavor
Market in the Park: For older Albanians, Tift Park, at the gateway to Albany's downtown district, is where families used to go for recreation, see exotic animals in the former zoo and swim at the community pool. The popular park kept the corner of Fifth Avenue and Monroe Street jumping in the mid-20th century. But the zoo and pool eventually closed, and for decades the park was in disrepair, a place of foreboding to skittish citizens.
Enter Stephen Brimberry, Benjamin McCrary and Pam Barkley, co-founders of Friends of Tift Park. What began as a group of folks sharing their Tift Park memories and concern for its demise on a closed-group Facebook page quickly gathered steam and sparked a newfound interest in the oak-canopied space, when word spread that the city of Albany was discussing selling the park to a developer. That discussion was soon squelched. The group's mission to preserve, protect and promote the historic park was established.
Last summer, members of Friends of Tift Park along with city officials launched the Tift Park Community Market, a Saturday farmers market that met with great success its inaugural year. The market's second season is well underway, having begun in early March, and those who frequent the well-organized event sing its praises. Others in the community have stepped forward to help park preservation efforts, including a group of volunteers from the local Lowe's home improvement store that provided labor and materials to refurbish the park's aging yet beloved gazebo.
Open every Saturday through the end of October, the market includes live entertainment and a number of food trucks in addition to the standard farmers market offerings of fresh produce, homemade goods and a plethora of arts and crafts, from handcrafted furniture to custom jewelry. Oh, and visitors shouldn't miss saying hello to Nelson and Elli, the market's mascot pygmy goats. – K.K. Snyder