West Central: Pole Position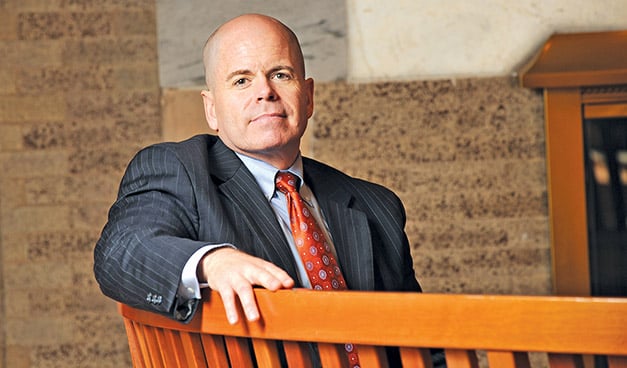 Like the sounds of the high-powered motors that will eventually pulse the air at the Georgia International Raceway Park in Sumter County, the economic engines of West Central Georgia are off to a good start for 2015.
The primary economic hubs of the region – Americus, Columbus and LaGrange – have garnered significant gains post-recession in jobs and capital investment, and smaller communities are reporting advances as well.
Bill Murphy, executive vice president for economic development for the Valley Partnership and the Greater Columbus Chamber of Commerce, says that most of the activity has been in Muscogee County and at the Northwest Harris Business Park in West Point. The Harris park gained Hyundai Glovus, a supplier for Kia's West Point plant, with a $14-million investment into a new facility that is expected to add 190 jobs over the next five years. Already underway at Northwest Harris is a $15-million, 100,000-square-foot plant for Korean auto parts supplier Kopla that will employ 150.
Fort Benning remains a dominant economic partner for the region, and while there is talk about the Army cutting jobs by 2020, in 2015 officials intend to maximize opportunities and emphasize the base's importance to the region's economy through a four-point Fort Benning Partnership.
Blue Cross/Blue Shield of Georgia plans to invest $62 million in a new state-of-the-art campus in the Muscogee Technology Park. Meanwhile, Kodak plans a $10-million investment to add 40 positions over the next few years at its Columbus plate-manufacturing facility. Aircraft engine builder Pratt & Whitney expanded into a nearly 106,000-square-foot building at Muscogee Technology Park, adding 45 jobs.
Murphy expects the upward trend to continue. "The recent announcements by Blue Cross/Blue Shield, Hyundai Glovus and Kodak, among others, point to a very strong 2015. Greater Columbus and the Valley Region expect to see continued growth in manufacturing as well as new investments in the commercial and retail sectors over the next 12 months," he predicts.
In Troup County, South Korea-based Hanil E Hwa Interior Systems Georgia Inc., a Kia Motors parts source, unveiled plans for a $5.5-million expansion of its LaGrange Industrial Park plant, adding 80 jobs. "It has been a very busy and productive year," says Andy Camp, former senior development specialist with the city of LaGrange, with 15 prospect visits, a net gain of 290 jobs and an overall capital investment of $68 million.
In addition to Hanil E Hwa, Yasufuku, a supplier of custom-molded rubber and plastic parts, added 35 jobs and an $8-million investment; a new Badcock and More distribution center is under construction, with 100 jobs and $22 million invested; and a $25-million expansion is underway for Caterpillar Forestry Products, adding 50 new jobs.
In May, CSX Corp. designated LaGrange's Callaway South Industrial Park a "CSX Select Site," which the company certifies as an ideal rail-served site for industrial development and expansion. It is one of only two in Georgia.
In Sumter County, the Georgia International Raceway Park is working through regulatory requirements by the EPA and the FAA ahead of construction. Also, 2014 saw four major newcomers or expansions: in March, Caravelle Powerboats celebrated its rise from the recession, announcing it would add 60 new jobs. May brought news that Golden Gourmet, a producer of prepackaged meals, would invest $4 million in a 48,000-square-foot facility in the Ted Baldwin Business and Technology Park to employ 65. In September, the Americus-Sumter Payroll Development Authority held a ribbon-cutting for expansion of the Contact Center, a shared space in Baldwin Park to house three companies: PharmaCentra, ConCentra Solu-tions and PetCareRx, for a combined 140 jobs. Finally, in October it was revealed that Australian boat-builder H2O Sports Manufacturing would locate in Ted Baldwin Park, bringing 30 new jobs.
Barbara Grogan, executive director of the Americus-Sumter Payroll Development Authority, says Sumter's success was possible due to public-private partnership and "because they know we have the good worker base and the skill system." Looking ahead, she adds, "The outlook for 2015 is very positive. We have other prospects looking at the Contact Center, as well as two manufacturing prospects" eyeing the county.
In Schley County, the January opening of a Walmart Neighborhood Market brought excitement – and 30 new jobs. Schley County administrator Bill Sawyer believes Ellaville may be one of the smallest communities selected for the global retailer's new-concept grocery stores. He also thinks the new store will result in more competitive prices at other stores and draw additional retail businesses – both positives for area shoppers.
"We know we can't be stagnant, we can't just sit still. We can't just depend on the state," says Sawyer, although Schley officials will continue working with the state to attract more business, he adds.
The economic sun is shining on Taylor County with a total investment of $770 million in five solar power projects that Taylor County Chamber of Commerce Executive Director Leslie McNary says will bring some $40 million in revenue to the county. Last year also saw healthcare expand with the opening of a Butler office for Southwest Georgia Health Care offering family practice and internal medicine.
Marion County officials expect activity at the Pasaquan art site to paint a brighter tourism future. Wisconsin-based Kohler Foundation, dedicated to the preservation of art sites, purchased Pasaquan, seven acres and six buildings of colorful folk art created six decades ago by Eddie Owens Martin, known as St. EOM. The two-year restoration process began in July, after which the site will be donated to Columbus State University for use as event space, programming, educational activities and tours. According to Marion County, Georgia Chamber of Commerce President Debby Ford, the foundation is putting millions of dollars into the project. Ford said top state tourism officials have prioritized the attraction potential of Pasaquan, the Five Points Berries blueberry wine distillery and historic sites in the county.
In other economic news, Oakcrest Lumber is expanding its operations, and in Buena Vista plans were announced for a new retail/office center to be anchored by an 11,000-square-foot supermarket.
"There's a lot stirring right now. It's a good feeling," says Ford. "This is all so exciting for our quiet little area of the state."
Meriwether County joined the green energy movement with announcements of two solar plants last year. Origis Energy is producing 3 megawatts on a 30-acre site in Woodbury from a $5.4-million investment, and Hannah Solar invested $1.85 million in a 1-megawatt plant. Elsewhere, Meriwether White Springs Bottling Co. invested $1 million in producing mineral-rich bottled water under the registered name Allqua, and Prolific Coaches, a final-assembly point for buses, is adding up to 50 new jobs.
The county's proximity to the Kia Motors plant and Hartsfield-Jackson Atlanta International Airport continues to draw interest from potential Kia suppliers. According to Meriwether County Development Authority Executive Director Jane Fryer, the county's tax-credit ranking by the Georgia Department of Community Affairs has been upgraded from Tier 1 to Tier 2, resulting in a competitive edge.
Pike County continues on the upswing with its fully ready business park, according to County Manager John Hanson. Hanson says an undisclosed prospect is looking at the U.S. Highway 19 park – equipped with fiber optics, water and sewer – which already hosts four small- to mid-size companies. Across the highway is Tencate, where 125 workers produce fire-retardant fabrics.
Zebulon is home to Touchstone Embroidery, located in a former sewing plant, and the services center for a growing United Bank occupies one side of a town square that has undergone numerous improvements over the last few years. The county rezoned as commercial a 64-acre tract on four-lane Highway 341 in northeast Pike, a corridor that includes truck-body maker Supreme Corp., General Machine Diecron and Caterpillar supplier Yan-cey Engineered Solutions. Hanson also reports that two undisclosed national retail chains are looking at the county.
"Our community has a pro-business leadership team in place," says John Edwards, Development Authority of Pike County chair. "The development authority is bringing the key stakeholders together to create a long-term strategy to develop our properties and attract positive economic development for our community.
Read about individual regions: