Getting A Head Start
From nursing and commercial truck driving to aviation and motorsports, the Technical College System of Georgia provides education to 150,000 people in more than 800 programs of study, while also helping businesses find and train qualified employees across the state.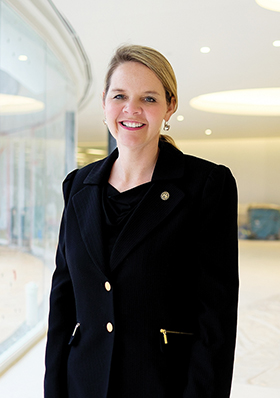 When companies are looking for a headquarters site, want to open a branch office or expand their operations, they need assurance that people – well-trained, professional people with skills that are pertinent to their business – are on hand as willing, ready employees. That's when they turn to the Technical College System of Georgia (TCSG).
With a $1.2-billion impact on Georgia's economy, the TCSG works with businesses across the state to find and train people to fill positions – often ones that are highly specialized requiring specific skills.
At the same time, thousands of people in Georgia are looking to further their education, change careers, or quickly get into the job market and are enrolling in classes at one of the TCSG's 23 colleges.
Gretchen Corbin, who replaced Ronald Jackson as TCSG commissioner when he retired in January, is well-versed in the panoply of programs that promote Georgia's economic development. The Cedartown native comes from a year-long stint as the commissioner of the Department of Community Affairs, and since 1998 she has held positions at the Georgia Department of Economic Development, where she most recently served as the deputy commissioner for Global Commerce. Her dedication to assuring an educated workforce and promoting an environment that maximizes corporate growth and increases employment is matched by her pride in making it happen.
"We take care of every student as a full human being and whoever they want to become in Georgia's great economic fabric. Whether they are in dual enrollment during high school, completing a core curriculum before transferring to a four-year university, advancing in a specialized technical field or earning a GED as an adult so they can enter the job market, we have learning ready when they are ready, at any stage of life."
From acute care nurse aide to wireless engineering technology, TCSG's several hundred programs of study lead students to associate degrees, certificates and diplomas signifying their readiness for work. Since courses are designed to adapt to the evolving workforce needs of Georgia businesses, TCSG has established a reputation for nimbleness in keeping pace with emerging technologies. For instance, a "world-class labs" modernization project was recently initiated in response to a company that required their workforce to be trained on specific lab equipment.
The symbiotic relationship between business and education nourishes TCSG's growth at the local and regional level. Lanier Technical College, with campuses in Banks, Barrow, Dawson, Forsyth, Hall, Jackson and Lumpkin counties, where several racing firms are located, has the state's only motorsports vehicle technology diploma program. Lanier Tech is also moving forward with a new commercial truck-driving program to help ease a nationwide shortage of truck drivers, thanks to the help of equipment donated by local trucking firms. While at Wiregrass Georgia Technical College in Valdosta, an associate of science in nursing degree program was funded in part by a foundation at nearby South Georgia Medical Center.
"We feel our partnerships keep our coursework relevant, and that relevancy is one of the reasons we provide such a strong, well-prepared workforce," says Lanier Tech President Ray Perren. For the future, Perren envisions a new program that will train students in the study of the Internet of Things, or IoT, a subject encompassing the interconnectivity of devices and a range of applications, from smart thermostat systems to transponders in farm animals.
---
Encouraging Entrepreneurs
As many as 85 percent of TCSG graduates find a job in their field or a related field, and some, like 31-year-old Stuart Gregory, start their own business. During computer information system and computer support classes at Ogeechee Technical Institute in Statesboro, he corralled a couple of fellow students to start Dynamic Solutions, a computer consulting business. Just two years after opening its doors, the company is operating in the black, which Gregory attributes to his education. In particular, he points to computer information systems professor Terry Hand, who inspired him along the way.
"Computers are boring, and working on them is more boring," confesses Gregory. "But the way Professor Hand instructed made it interesting. He is one of the reasons I decided to take both programs, because I knew I could learn and absorb information from him more than anywhere else. What really sticks out is his passion and love of teaching."
Earlier in his educational career, Gregory took classes at Georgia Southern University, but when he decided to go back to school, his needs had changed. "I was 26 years old when I went back to school, and I needed a job. I didn't have time to sit in a four-year institution. I knew if I went to Ogeechee, I would be motivated by people who had worked with these skills in the field rather than just taught them. Rather than just sharing a book, they shared their experiences with me," he says. "It put me on the path to where I am today."
Since he's started his business, he has hired interns from technical colleges as well. "Their program is geared for someone who wants to get on-the-job training at a big company, but as a graduate of Ogeechee Tech you walk out the door with a bunch of skills that are immediately valuable."
---
High-Demand Fields
As the new commissioner, Corbin would like to build on Jackson's success by expanding online learning opportunities, joint enrollment and dual enrollment. "We have the opportunity to mold students in certain fields of study, such as precision manufacturing, advanced automation and the biosciences." Graduates in these areas now work throughout the state for companies such as Baxter International, Gulfstream Aerospace and Kia Motors.
Gov. Nathan Deal has been a fervent supporter of TCSG. In April 2014, he signed HB 697 to provide $11 million in HOPE scholarships to eligible technical college students and approved an additional $5 million to pay the difference between HOPE's coverage and full tuition in select high-demand fields. Strategic workforce grants are now in place for students majoring in healthcare, welding, diesel mechanics, information technology, commercial trucking, early childhood education and nursing, and Deal anticipates proposing funding for four additional programs this year.
He is also committed to plans for a Georgia Film Academy to help train Georgians for the state's burgeoning film industry. While still in the early stages, the academy would most likely be a partnership between TCSG and the University System of Georgia, both of which already have film-related courses at several schools to meet the growing demand.
If the nearly 150,000 students currently enrolled in TCSG are not enough to attract investment to the state and promote job creation, TCSG's internationally acclaimed Georgia Quick Start program will. Quick Start, with an annual budget of about $12 million, designs customized training programs to fulfill the specific workforce needs of qualified businesses. From multi-national corporations to the single-person startup, businesses collaborate with Quick Start to obtain employees in a range of industries from biotech to manufacturing to warehousing and more.
This year Quick Start will open and operate a new Bioscience Training Center to support Baxter International's new facility and attract additional biotech companies to Georgia.
Since 1967, Quick Start has trained more than 1.1 million Georgians through 6,650 projects. In fiscal year 2014:
• 13,000 jobs were created or maintained through Quick Start.
• 88 percent of Quick Start projects supported advanced manufacturing operations.
• 123 customized workforce training programs were delivered.
• 53 percent of projects were new; 47 percent were continuations of existing projects.
• 35 percent of Quick Start projects were delivered to international companies from 18 countries.
The Quick Start program is one of the reasons TCSG plays such a huge role in the state's economic future. To help fund this program and provide education to all of its students, the system receives about 44 percent of its funding from state appropriations. Corbin is confident in the state's continued financial support. "I have not met one member of the legislature who has not said education is one of the most important things we do in Georgia."
Quick Start was critical to the success of Norcross-based Suniva, America's leading manufacturer of high-efficiency PV solar cells and modules. In 2008, the then two-person firm joined the Advanced Technology Development Center (ATDC), a Georgia Tech-based business incubator, to get off the ground. As the company began to grow, it announced a $75-million facility in Gwinnett County. The company would need 100 new employees, and fast. So it contacted the Quick Start program.
"We were blown away with their capabilities," says John Baumstark, Suniva's CEO. "They undersold us. And we've been tremendous partners ever since."
Through the Quick Start program, Suniva partnered with Gwinnett Tech to provide customized training for its new employees. The program also managed the nitty-gritty of Suniva's initial recruitment and onboarding services, developing interview and evaluation procedures, creating specialized employee training and safety programs, and producing instructional videos to ensure employees were fully ready to perform the precise functions Suniva required to get off the ground.
Quick Start put a full-time engineer on board with Suniva during its startup phase and also provided conference and meeting space. Gwinnett Tech also lent free use of facilities in lieu of a hotel conference room.
"After we had our first 50 employees, our facilities in place and some experience under our belts, we were flying on our own," says Paul Schneider, Suniva's plant manager. "As long as you are adding jobs, Quick Start is here to help, but then their services stop. If we do another expansion, they will be back on board."
Companies as large as Caterpillar and Baxter International have tapped into the huge list of ready-made workforce training courses offered by Quick Start, named by Expansion Management magazine for the 10th straight year as the nation's top U.S. workforce training program.
Schneider notes that Quick Start's adaptability is one of its key strengths. "Without Quick Start, we would have had delays with our factory startup, it would have been very expensive and I would have to do it all myself. Once we began to trust the engineer, we'd give him a little direction and he'd be off and running. It was a load off my mind to deal with professionals with so much experience."
Today, the number of employees at Suniva is inching toward 300 with the opening of a facility in Michigan.
"Don't discount Quick Start because it's free; believe the hype," says Baumstark. "They treated us like they were our employee and cared about our success. They were in the trenches with us. We are partners."
---
Careers to be Proud Of
Deal recently recommended changing TCSG's name to Georgia Career College System to reflect a more comprehensive mandate. Corbin suggests that the new name may clear up public misconceptions about TCSG's quality and breadth.
"He wants to make sure the name speaks to what is actually happening within the system. His intention is to make sure every student of TCSG is proud of that, whether that career is technical or not," Corbin says.
Of course there are challenges ahead. Corbin is working toward system-wide agreements to ease credit transfers within TCSG schools and between TCSG and the University System of Georgia, high schools, corporate training and military training programs. Still, with the success of the Quick Start program coupled with efforts to expand its course offerings, TCSG is primed for more growth in the coming years.
"We all feel like TCSG has raised the status of its students, and Gov. Deal intends to enhance that feeling of pride. I agree with him, as it speaks to the end game of what we are doing: educating students for their career future."