Georgia's New Trustees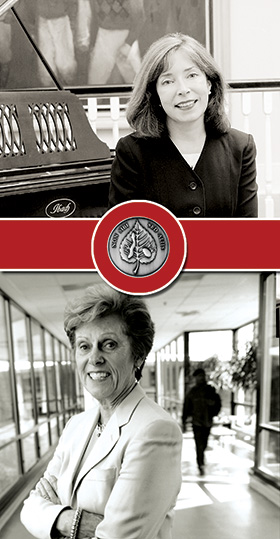 Making the lives of Georgians better – that's what the 2015 Georgia Trustees have in common and what they continue to do at the institutions that have long been synonymous with their visions.
As the founder of the Shepherd Center in Atlanta, Alana Shepherd changed the way people with spinal cord and brain injuries receive treatment and improved patient outcomes. Paula Wallace's vision of a school to educate artists in an environment that inspires them to learn has come true at the Savannah College of Art and Design and forever changed arts education around the world.
These two women – the first time two women have been selected as trustees – were chosen by the Georgia Historical Society and the Office of the Governor for their achievements and will be honored Saturday, Feb. 14, at the historical society's gala in Savannah, part of its annual commemoration of the state's history.
"Our very first trustee was Marguerite Neel Williams [in 2009], but that was given posthumously. And since then, it has just been men," Robert Jepson, chairman of the Georgia Historical Society, says. "This is not a state made up of just men. There's some fabulous women in this state who have done incredible things. We didn't have to look too far to see two that have distinguished themselves. They've done great things for humanity and Georgians. They couldn't be better choices."
Nearly 300 years ago, the original trustees were chartered by England's King George II and charged with establishing the new colony. Formed in 1732, the group disbanded in 1752, but the state re-established the honor in 2009 to recognize contemporary Georgians.
The original motto, Non Sibi Sed Aliis, which means "not for self but for others," steers the selection process each year toward people whose lives and accomplishments have made the state a better place.
This year's trustees join a roster of distinguished Georgians, including fast-food pioneer and philanthropist Truett Cathy and construction giant and Civil Rights participant Herman Russell, who both passed away in 2014; and former Ambassador and former Mayor Andrew Young; developer Tom Cousins; former Sen. Sam Nunn; former University of Georgia Athletics Director Vince Dooley; businessman and philanthropist Ted Turner; baseball legend Hank Aaron; The Home Depot co-founders Bernie Marcus and Arthur Blank; Atlanta Olympics visionary Billy Payne; and the late Marguerite Neel Williams, a founding trustee of The Georgia Trust for Historic Preservation.
"I think [Alana Shepherd and Paula Wallace] embody the principles of the original trustees – not for self but for others," says Todd Groce, president of the Georgia Historical Society. "They both have shown not only vision of leadership, but what they have created reflects what the original trustees intended for Georgia to be – this place where people's lives would be improved, where they would be made better. I think they are a great fit with those original trustees." – Karen Kirkpatrick
Read more about Alana Shepherd