Spotted in Georgia, El Taco, Virginia Highland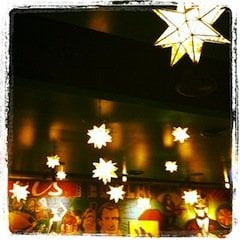 The Virginia Highland website: "Historic Virginia Highland is Atlanta's most popular neighborhood for shopping, dining and nightlife. Developed in the early 1900's, it consists of seven distinct commercial "villages" alternating with short, walkable blocks of charming bungalow homes. The neighborhood's name derives from the intersection of Virginia and Highland Avenues.
Locals and tourists alike mingle for brunch at charming sidewalk cafes, cocktails at lively night spots, and innovative cuisine at progressive restaurants and bistros. Discovering the unexpected is part of the attraction where you may find world- famous musical entertainment at a tiny nightclub, an opening-night party at an art gallery or a gathering of fascinating people at one of the coffeehouses.
Virginia Highland is acclaimed for its diverse and unique shopping. Trend-setting apparel, classic to kitschy antiques, folk and pop art, whimsical decorative accessories, natural linens, rare cigars, distinctive art books, gourmet kitchenwares, fine woodworking and gardening tools, unusual fresh flowers, gelatos, unique contemporary, antique or traditional furniture, do-it-yourself pottery, full-service day spas, fashionable salons – all are just a few of the extensive retail offerings."
Spotted in Georgia
El Taco, Virginia Highlands
Image Credit: Julia Roberts