2014 Silver Spoon Awards
Our favorite places for dining out in Georgia, plus our top bar picks.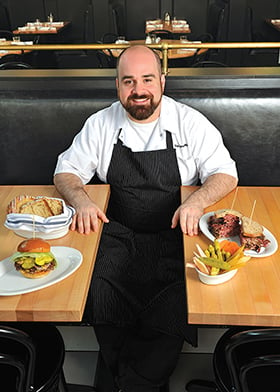 Suddenly, it seems like old times: Red dirt construction sites everywhere, with brand-new developments blossoming, fully formed, overnight. Atlanta, at least, seems back on track after our long winter of economic discontent, once again displaying its familiar boomtown hustle.
Increasingly, restaurants are both a symbol and spearhead of the city's revival. At presstime, so many new restaurants and restaurant-centric projects are on the verge of opening, it almost feels like we're hunkered down under Mount St. Helens, waiting for the final "there she blows!" Ponce City Market, Avalon, Krog Street Market and (at last!) the altered Buckhead Atlanta project are unleashing dozens of new restaurants, bakeries and bars, large and small.
The BeltLine and Atlanta Streetcar are also changing the landscape and connections among Atlanta's intown neighborhoods. Restaurants along both corridors anticipate new customers seeking out waystations.
However, elsewhere the state still struggles. Valdosta recently topped a list of U.S. cities with the highest percentage of lost population. That makes the work of Chef/Owner Keira Moritz and her staff at downtown Valdosta's Steel Magnolias even more noteworthy, as she has helped revitalize its historic downtown, spurring more and better homegrown restaurants there. In Athens, a dedicated foodie community and enthusiastic young college-student workforce is expanding its already noteworthy restaurant scene, but other destinations – particularly along the coast – seem to lag behind, despite their lucrative tourist industries.
It's worth noting the link between such projects as the BeltLine and streetcar and Atlanta's restaurant revitalization. Beyond those limited intracity routes, new car services like Lyft and Uber (the first to expand beyond Atlanta to Athens) and even cheap but comfy and Wi-Fi-enabled bus services like Megabus, which travels within Georgia only as far as Athens, have also changed the way we go out to explore new places. (My favorite food truck name and motto has to be the little chips and soda wagon always parked near the Megabus station downtown: Megasnack, with the unbeatable slogan, "When your stomach touches your back, you're going to want a Megasnack.")
As options to driving expand, perhaps returning Atlanta to its early role of a transportation hub, not only will we all be getting around more, but we can get there cheaply and have a cocktail too. I hope that brings more traffic to worthy destinations statewide, because their restaurant scenes are bound to benefit. (And by the way: Did I miss something noteworthy in your town? Please let me know at gtcritic@mindspring.com.)
Speaking of cocktails, in addition to the Silver Spoons, this year I decided to add another Top 10 list, which I'm calling the Silver Shakers. So many new, noteworthy spots are serving creative craft cocktails and inventive bites, I thought they deserved special attention. Many of these bar/restaurants seem to share a similar format, often involving oysters from all over the country, witty drinks, grilled octopus and a more comfortable environment for enjoying them.
Thank heaven for those alternatives to driving – it's the only way to enjoy the wares and get home safely.
---
TOP 10 RESTAURANTS
---
St. Cecilia
Ford Fry's Atlanta restaurant empire (JCT. Kitchen, The Optimist, King + Duke) continues to expand, and his newest is my favorite. Named for the patron saint of music, St. Cecilia is rollicking good fun, with a committed, knowledgeable waitstaff and a simple but beautifully prepared array of Mediterranean-inspired fare, heavy on sustainable seafood. It's appropriate that the restaurant commands Atlanta's most high-profile corner, between Lenox and Phipps, because Fry clearly intends to conquer all comers.
3455 Peachtree Road NE, Atlanta
404.554.9995
stceciliaatl.com
---
Steel Magnolias
Owner Keira Moritz commands her staff like a young, coltish general, hurrying up three flights of stairs to the rooftop bar with a heavy tray on her shoulder, sharing the work with her foot soldiers. While the food is a good-enough draw on its own, the camaraderie and buzz is equally infectious in this historic building in downtown Valdosta.
132 N. Patterson St., Valdosta
229.259.0010
steelmagnoliasrestaurant.com
---
Buckner's
Serving up the best of the near-lost art of the expertly fried pulley-bone chicken since 1980. With simple vegetables and desserts, served family style on custom-made formica-topped lazy Susans, which spin like wheels of fortune during busy lunchtimes.
1168 Bucksnort Road, Jackson
770.775.6150 (Closed Mondays-Wednesdays)
bucknersfamilyrestaurant.com
---
Umi
The freshest sushi, the most thoughtful presentation, in the most striking environment, with the most charming chef/hosts, the Itos, and the best celebrity-watching. Oh yes: Also my favorite Moscow Mule, with a generous slice of fresh ginger.
3050 Peachtree Road NW, Atlanta
404.841.0040
umiatlanta.com
---
The National
So dependably good it's sometimes too easy to overlook in a town that's becoming a foodie paradise, but The National serves not only a great lunch and inventive dinner, its cocktails may be the best in cocktail-centric Athens.
232 W. Hancock Ave., Athens
706.549.3450
thenationalrestaurant.com
---
The General Muir
A year after its opening, this contemporary Jewish deli is still the place I want to go every chance I get. I just have to keep insisting on trying something other than that reuben and matzoh ball soup, because it all pays off: The always-changing vegetable plate, including such lovelies as collards with pastrami and crisp-fried whole okra with slivers of green onion, peppers and celery; and perhaps the best trout in town.
1540 Avenue Place, Atlanta
678.927.9131
thegeneralmuir.com
---
Kimball House
So popular that you can't avoid a wait on weekends unless you're going very early or very late, this former train depot and namesake of one of downtown Atlanta's first serious restaurants serves up caviar and oysters – just as the original did. Here, however, you're likely to see a fascinating cross-section of Atlanta and Decatur's creative communities, dining on just about anything they can get their hands on, but especially those dreamy oysters, the terrific cocktails and that charred octopus. The interior is both modern and authentic, down to the belt-driven ceiling fans.
303 E. Howard Ave., Decatur
404.378.3502
kimball-house.com
---
Miso Izakaya
This is the place to take friends from out of town to show them what Atlanta is really all about: Genre-bending, pretty and in an up-and-coming neighborhood, Miso Izakaya's lighthearted staff serves seriously good food, including both very traditional izakaya treats such as sushi and steamed buns, along with KFC (Korean Fried Chicken) and old- and new-school cocktails.
619 Edgewood Ave. SE, Atlanta
678.701.0128
facebook.com/misoizakaya
---
Bacchanalia
The consistency is nearly as impressive as the universal excellence in the food, wines and cheeses. Atlanta's top choice in fine dining for more than a decade.
1198 Howell Mill Road NW, Atlanta
404.365.0410
starprovisions.com
---
Cinco y Diez
Hugh Acheson's new Southeast-meets-Southwest venture in the old Five & Ten space is so much fun it has momentarily eclipsed his more serious Athens venture (which has moved to Milledge Avenue).
1653 S. Lumpkin St., Athens
706.850.2020
cincoydiezathens.com
---
TOP 10 BARS
---
Kimball House
Yes, it's on both lists. It's the only restaurant/bar in which the food and drink are equally, madly serious, including such treats as the Good Old Boy, a bourbon and orange drink infused with smoked peanuts, dispensed by something called "a smoking gun."
303 E. Howard Ave., Decatur
404.378.3502
kimball-house.com
---
Polaris
Perhaps the most fun opening this year. Fantastic cocktails in a midcentury Mad Men set, as all of Atlanta twirls beneath your feet. If you recall how thrilling this place used to be, now imagine it with really great drinks, bites and clothes.
265 Peachtree St. NE (atop the Hyatt Regency), Atlanta
404.460.6425.
polarisatlanta.com
---
Seabear
This brand-new venture from Peter Dale and Patrick Stubbers (of The National) takes the oysters-and-cocktails concept and runs with it, with a pretty little spot in the Bottleworks. Negroni slushy, anyone?
297 Prince Ave., Athens
706.850.4367
seabearoysterbar.com
---
The Olde Pink House
This tourist favorite has a secret spot downstairs, long a hangout for locals. With a crackling fireplace and comfy club chairs, it's no wonder it's the go-to spot in a town full of alternatives (including The Florence, a new Savannah venture from Hugh Acheson that opened this summer).
23 Abercorn St., Savannah
912.232.4286
plantersinnsavannah.com/the-olde-pink-house
---
Paper Plane
The speakeasy vibe is more atmospheric than exclusionary, but the comfy, wide leather booths are perfect for hiding out as you watch street-level traffic in the alley above. The steaks (once a Monday night special) are now a nightly offering, but you'll hardly go wrong with any of the small plates.
340 Church St., Decatur
404.377.9308
the-paper-plane.com
---
Tybee Island Social Club
It looks and feels a little like a bleached-out beach cottage, which is just the kind of atmosphere for enjoying the smoked vodka bacon bloody Mary, or the Billy Carter. (Belle Meade bourbon, peanut Orgeat and Coke. Incredibly, no beer is involved.) Great with the coastal-inspired tacos, such as the Low Country lobster roll, with lemon aioli, celery, onions and herbs on pita.
1311 Butler Ave., Tybee Island
912.472.4044
tybeeislandsocialclub.com
---
H. Harper Station
Another former train depot put to good use, with a quieter crowd no less serious about their potent potables. Take a group for one of their signature punchbowls, to be shared by four or more.
904 Memorial Drive SE, Atlanta
678.732.0415
hharperstation.com
---
Manhattan Cafe
Every college town needs a downtown dive, and while we're hopeful about the new branch of Atlanta's Sister Louisa's Church of the Living Room & Ping Pong Emporium just opened here, for now our loyalty lies with the Manhattan, where the bourbon choices are plentiful and affordable and the White Castle burgers are microwaved. (OK, sometimes for food we defect to The World Famous, next door.)
337 N Hull St., Athens
706.369.9767
facebook.com/pages/Manhattan-Cafe/113121355386993
---
Grant's Lounge
Macon's venerable, historic hangout, which served the Allman Brothers and some of their Capricorn labelmates when they played here. (And you know the Allmans were serious about their drinks.) Covered with graffiti, photos and posters on its "Wall of Fame," this dark, quiet hole-in-the-wall is not the place to go for anything but the basics – on a recent visit, a bartender had never heard of a Manhattan. Have something neat, or with tonic, and enjoy the vibe.
576 Poplar St., Macon
478.746.9191
grantslounge.com
---
Holeman & Finch
Everyone raves about the burger, a limited-engagement offering that often sells out an hour or more before they're actually served at 10 p.m. But you can also get them at brunch, and at any rate, almost any of the food (usually involving Southern standards like deviled eggs and chicken livers, along with bone marrow, pickled shrimp and pimento cheese with bacon) go very nicely with cocktails crafted with ingredients like Georgia sour mash, mezcal, Cocchi Americano and muscadine.
2277 Peachtree Road NW, Atlanta
404.948.1175
holeman-finch.com