40 Under 40: Recognizing Georgia's Best & Brightest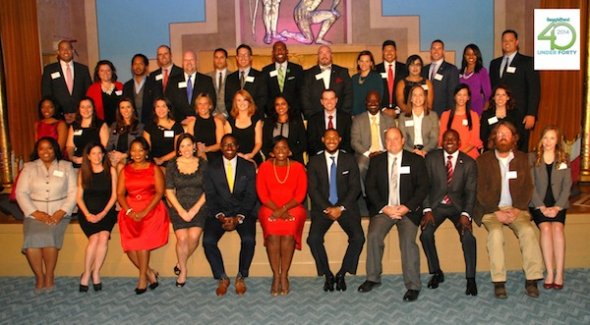 On Oct. 21, bestselling author Becky Blalock challenged some of Georgia's best and brightest to get out of their comfort zones, take more risks and dare to do more at Georgia Trend's annual 40 Under 40 banquet.
Held in the beautiful Egyptian Ballroom at Atlanta's Fox Theatre, the event recognized this year's honorees, who were named to the list because of their impact on Georgia through their work and community service efforts. The ballroom was full of friends, family and co-workers, who came out to support and congratulate these 40 men and women for their efforts.
WellStar Health System and Kennesaw State University sponsored the event. Becky Blalock, managing partner at Advisory Capital, was the keynote speaker.
To meet this year's best and brightest, see the story in the October issue of Georgia Trend, "2014 40 Under 40," and congratulations once again to this year's 40 Under 40 winners. We can't wait to see what you all will do next.
– Karen Kirkpatrick
Group photo credit, Bill Lake and all other photos by Karen Kennedy