The Knight Cities Challenge: Making Cities Successful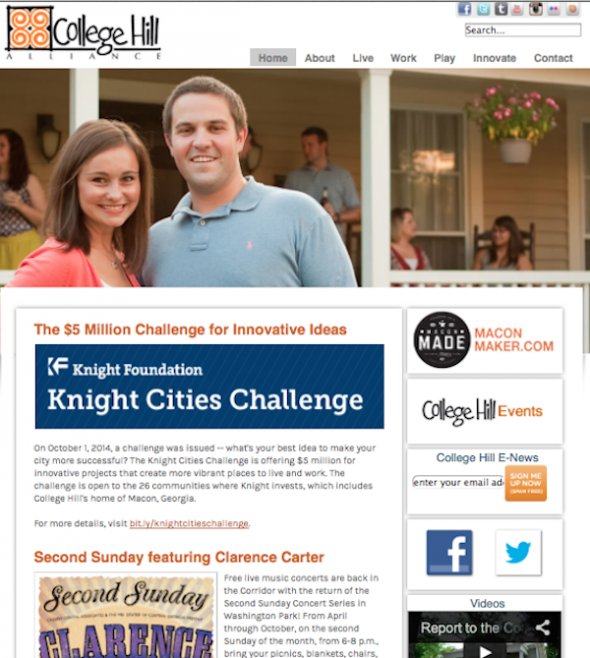 Do you have an idea to make the cities of Columbus, Macon or Milledgeville more successful? If you do, the John S. and James L. Knight Foundation might just pay you to put your idea in play. In the first-ever national Knight Cities Challenge, the foundation is looking for ideas that will make the 26 cities – including three here in Georgia – where Knight invests more vibrant places to live and work.
Applications for a piece of the $5 million pie are being accepted through Nov. 14, at 5 p.m. ET at KnightCities.org.
"Our hope is to inspire people – even those who have not previously thought of themselves as civic innovators – to get involved in shaping the future of their cities," says Carol Coletta, Knight Foundation vice president for community and national initiatives.
The challenge has two rules:
1. A submission may come from anywhere, but the project must take place in or benefit one or more of 26 Knight communities.
2. The idea should focus on one or more of these areas:
· Talent: Ideas that help cities attract and keep the best and brightest
· Opportunity: Ideas that create economic prospects and break down divides
· Engagement: Ideas that spur connection and civic involvement
The brief application asks for just two pieces of information about your project – each in 150 words or less:
1. Describe your idea and how it will advance talent, opportunity or engagement.
2. Describe what you intend to learn.
Find out more about the impact the Knight Foundation has already had on the College Hill Corridor in Macon in Georgia Trend's story, "Community Building in College Towns."
– Karen Kirkpatrick