Engaged Innovation
Valdosta State University is investing in its future and its students through unique community partnerships.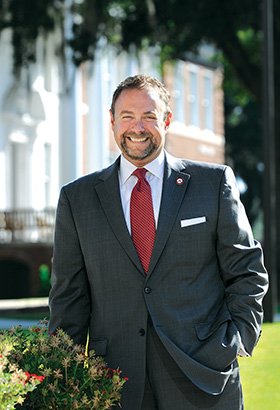 Valdosta State University President Dr. William McKinney cited Engaged Innovation as his inaugural theme when he was named president in 2012. It's a theme that resonates to this day with a new strategic plan that includes engagement as one of it's five pillars and a growing number of creative – even innovative – award-winning partnerships and programs designed to engage students, faculty, staff and the community. The goals: to create a better educated workforce, ensure VSU continues as an economic driver for the South Georgia region and enhance the lives of everyone who is touched by the university.
Valdosta State, which opened as a two-year college for women in 1913, has grown into a regional university with 11,885 students from across the U.S. and more than 60 countries. VSU offers approximately 100 degree programs, including bachelor's, master's and doctoral degrees.
In spring 2014, the new Health Sciences and Business Administration building opened. The $32-million facility houses six health sciences programs and allows the university to expand to produce additional – and much needed – healthcare professionals. The move also frees up space in the former College of Nursing and Health Sciences building for a new Center for Excellence in STEM Education, which will offer training to VSU students and regional teachers in science, technology, engineering and math.
The Strategy
A new strategic plan was one of the first things on McKinney's agenda when he arrived at VSU. "The university's existing strategic plan was about to expire when I came on board in July of 2012," he says. "So it was time. This needed to be a plan that would see the university well into the future and a plan that was developed by a number of our constituencies. We really did a lot of work to get a lot of feedback from folks. And it has paid off. We've got a plan and now a process in place that will hold us accountable to that plan."
The plan's first goal – to recruit, retain and graduate a quality, diverse student population – "sits at the heart of why we exist," McKinney says. "Every other priority in the strategic plan feeds into that first one."
That goal also helps explain the focus on engagement, which is vital to the recruitment of quality, diverse students. Take a look at some of VSU's programs that exemplify Engaged Innovation.
Making College a Given
Seven years ago the folks in VSU's Dewar College of Education and Human Services, including Dr. Brian Gerber, now interim dean of education, worked with Valdosta City Schools (VCS) to devise solutions to a high drop-out rate, low college matriculation rate and achievement gap. The solution they created is the Valdosta Early College Academy (VECA), a program that received the national American Association of State Colleges and Universities (AASCU) Christa McAuliffe Excellence in Teacher Education Award last year.
"That one is a gem," McKinney says. "They do such extraordinary work at VECA. That to me is the epitome of what our partnerships, our engagement in the community is all about."
The idea with VECA was to start slowly, with just one group of 36 sixth graders, and implement new practices such as accelerated learning in a school on VSU's campus.
"The first two years the students actually came to our campus and had class," Gerber says. "The school buses came by, they dropped the kids off right in front of our building, and the kids came in here and spent all day. This was their school. "
Faculty and staff knew it would take more than a new and unusual location to help raise graduation rates for the students, many of whom come from families where no one has graduated high school or attended college. "Right from day one the expectation is that they're going to be successful, graduate from high school and they're going to go on to an institution of higher education," Gerber says. "And we're going to help all that we can to make sure that vision comes true."
As the program grew – those original students are now seniors in high school, and it now has a total of 250 participants – it outgrew the space. In 2010, VECA moved across the street from the university to an old K-3 school owned by the VCS.
Maintaining a close involvement between VECA and VSU students was a vital part of the program. To ensure the connections remained – and grew even stronger – when the program moved, some of the teacher education classes moved, too.
"In the middle school science and math methods class, our students would get instruction from our professors, then the rest of the class period and maybe even the rest of the day, they would go out into the classrooms right beside [theirs and teach]," Gerber says. "It was very much a hands-on, more clinically based model."
The success of the VECA partnership has led to "partnerships now with schools all around our area," Gerber says. "Because VECA is relatively small, we can't put all of our students in that little school. So we now are teaching classes in lots of our schools."
A number of other innovations, including an iPad for every student and classrooms with tables, chairs and lots of collaboration, rather than quiet students lined up in rows, are helping ensure success.
"Our VECA students perform significantly better on the standardized tests than their matched comparison group counterparts [in traditional Valdosta schools] on the CRCT and on the end-of-course tests," Gerber says.
Treating Warrior Athletes
When you think about it – and people at VSU have thought a lot about it – paratroopers and college/pro athletes have a lot in common. They have teammates who depend on them; they have physically demanding careers; they need to be in top physical shape; they need to be able to recover from injury quickly and fully; and they often need physical therapy to do it.
Given these similarities, it makes sense that VSU's College of Nursing and Health Sciences would partner with Moody Air Force Base in a program that provides a new site for clinical rotations to athletic training majors and new methods for assessing and treating various injuries to military personnel – or warrior athletes.
The internships started in spring 2014 with two students, says Lori Howard, co-clinical education coordinator for the Athletic Training Education Program. This fall they have two more students doing full rotations and six others doing shorter, mini-rotations.
"It's going really well," says Master Sgt. Evita Yuan, physical therapy flight chief at Moody. "I got to work with Meghan and Sean [the spring interns]. Basically we brought them on board just like they were new workers to us. They learned anything any new medical person would learn."
It isn't just the VSU students who are learning, however. "They would teach us things that we hadn't seen as much of," Yuan says. "They're very good at athletic taping; they do a lot of that. And that's definitely one of the skills as a physical therapy technician that we just haven't used as much."
"For us, it's extremely beneficial because not only do we improve our own field as physical therapy technicians when we're teaching somebody else, but also it can actually boost our productivity a bit more," says Maj. (Dr.) Erin Sturgell, clinical flight commander. "Instead of myself alone being able to see one patient, I'm supervising two students who are both working with their own patients. That allows us to give more effective and slightly faster care for our warriors."
Typically you think of athletic trainers standing along the sidelines or working with athletes in the locker rooms to get them back in the game. However, the military is a growing career setting for athletic trainers and offers the students experiences they can't get with a sports team.
"I didn't initially want to go into the military field, but I was glad that I was placed at the military setting because it helped me learn a lot," says Meghan Trella, one of the spring 2014 interns. "Definitely much different than working with the traditional patients. We were seeing people who had chronic injuries. Like maybe they had a back problem. We were helping them learn how to do their job better and more efficiently so they wouldn't get hurt over and over again."
There are very few athletic training programs that are able to provide students with a military clinical rotation, says Howard. "It's just a great way for us to partner with the community. The students are getting a great education opportunity out of it, they're also getting exposed to a different work setting and they're promoting athletic training to a population that doesn't know a whole lot about athletic training."
Rethinking Business
If asked which students might be likely to have successful internships with a local chamber of commerce, your thoughts might first land on business students. And while you'd probably be right in many instances, VSU and the Valdosta-Lowndes County Chamber of Commerce are thinking outside the business school box. In the second year of a partnership with the College of Arts and Sciences – that grew out of a request from, of all places, the English department – VSU's finest liberal arts majors are demonstrating their employability to businesses, government agencies and departments, and even the chamber itself.
"One of the things I was particularly proud of with that particular partnership is that it grew out of an academic department that typically you don't think of in terms of finding career opportunities," McKinney says. "It shatters the stereotype – and it's a stereotype that should be shattered – that says that if you're majoring in the humanities, the liberal arts, you have a hard time finding work."
To get an internship, students must first be recommended for a mandatory course that covers topics like workplace ethics and marketing to employers. Once they've completed the semester-long course, the chamber helps place them in local internships.
A large part of the course curriculum came from feedback the chamber got from business owners about how "students were not prepared for the workforce," says Crystal Goode, a VSU career counselor and internship course instructor. "So it's a way to meet the employers' needs as well as promote some of our best students."
The partnership started in 2013 with eight students in the fall and six in spring 2014. Students have been placed at chamber members including the library, area businesses and even the chamber itself.
Varian Brown, the chamber's economic development director, is "the one that goes out and seeks out these internships for the students," Goode says. "They don't have to go search about on their own. They have someone who is really promoting them and making those arrangements."
The partnership is also good for local businesses and ultimately the Valdosta community. "There's a constant need for an educated workforce and experienced individuals," Brown says. "We hope [this program] will eventually allow us to keep these talented young people here in our community and also help increase the number of people with college degrees and make us more attractive for companies that are interested in locating here to our area."
"They're great critical thinkers. They're great learners. They're great writers. They're great problem solvers," McKinney says of the program participants – and liberal arts students in general. These are the skills, he adds, that HR executives all over the country are looking for.
Spreading the Word
As is so often the case, the challenges to keeping these important partnerships going and successfully implementing new programs include getting the word out about them and paying for them. VSU is addressing both through an institutional identity and branding initiative and with its first-ever comprehensive capital campaign.
"The most important part of the marketing and branding study has been the market analysis, getting a sense of what external markets know about us, what they think about us, how they perceive us," McKinney says, adding that it's helped the school zero in on who to recruit as prospective students.
The first step in the new branding effort was an institutional identity study. Launched in January 2014 as part of the strategic planning process, the study polled "both internal constituencies, like faculty, staff and current students, and external constituencies, like prospective students, prospective parents, high school counselors and alumni," says Mary Gooding, director of marketing and community relations. "We asked them to help us define the essence of VSU and what sets VSU apart and makes us unique."
Armed with that information, at press time the university was developing a positioning statement that would include "who we are, what we deliver [and] what value we give our constituencies," Gooding says.
That information will help inform the university's comprehensive capital campaign – a five-year campaign just getting underway.
"We have set a five-year working goal of $43.25 million," says John Crawford, vice president for University Advancement and CEO of the VSU Foundation Inc. "The name of the capital campaign is Invest, Ignite, Inspire – the Campaign for Valdosta State University.
"Years ago, the term capital campaign meant you were out raising money for capital building projects. These days, I think the term capital campaign has much more to do with just raising the capital required to operate a university and to offer a high-quality education," Crawford says. "The capital of this campaign is largely going to be human capital – students, faculty, the communities in which we operate."
Sounds like the very definition of Engaged Innovation.