2014 40 Under 40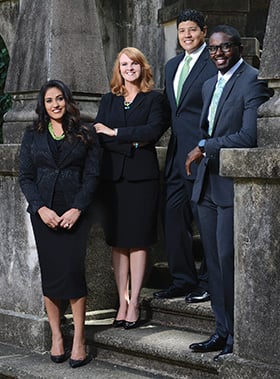 For the 18th year, Georgia Trend presents a group of 40 outstanding Georgians under the age of 40 – the state's best and brightest. The honorees represent business, government, politics, nonprofits, science, conservation and education.
The 40 were chosen from nominations made by readers throughout the state. Final selections were made by the Georgia Trend editorial staff. We're proud of our selections and glad we can share the stories of these Georgians and their achievements in the following pages.
Four representatives from this year's group, shown here and on our cover, were photographed at the Swan House at the Atlanta History Center by Jennifer Stalcup. From left, they are Amna Shirazi, Shirazi Law Group, Norcross; Karen Warren Rosas, Juvenile Court of Macon-Bibb County, Macon; Eric Johnson, North Avenue Investments, Hahira; and Nick Jones, Ron Clark Academy, Covington.
Individual profiles were written by Anna Bentley, Ellen Berman, Lawrence Viele Davidson, Mary Anne Dunkin, Candice Dyer, Kevin Hogencamp, Lori Johnston, Elizabeth Schwartz, Karen Snyder and Lindsay Thomas Jr.
---
Shan Arora, 39
Policy Programs Manager
Southface
Atlanta
Originally a tax attorney, Arora joined Southface, an Atlanta nonprofit promoting sustainable communities, in 2010 after realizing that his passion was to make cities more livable and efficient.
Arora helped Southface launch GeorgiaEnergyData.org, in partnership with Georgia State University, in 2012. The interactive site offers comprehensive energy data and maps depicting nearly 1,000 solar installations and firms. He also finds time to be active in the city's sustainability community, including the Equitable Transit-Oriented Development Collaborative, and guest lectures on energy issues at Emory, Georgia State and the University of Georgia.
Arora and Southface participated in the first Southeast Clean Energy Industry Census (CleanEnergyIndustry.org) and are now working to provide the Department of Energy a roadmap for growing the sector's tax base and employment.
"We can address the challenges that we have with our relationship with the environment, and do it in a way that is economically beneficial," he says. – LJ
---
Jamie Baltrus, 30
Community Relations Representative
PruittHealth
Valdosta
Baltrus has made it her life's work to help people, both personally and professionally. As a community relations representative for PruittHealth in Valdosta, her job is to educate the community and local physicians about hospice options and changes in healthcare.
Her desire to help others extends far beyond her job. Baltrus is involved in Leadership Lowndes, Rotary Club, the Valdosta Civitan Club, Habitat for Humanity, United Way and many other nonprofits, but she says it is the bereavement camp for children that she founded that has the most meaning for her. Winnersville Camp Cocoon is a camp for children who have experienced loss through death, divorce, incarceration or other emotional loss.
"We need to invest in the children of our future," says Baltrus. "Many don't have a strong foundation of family or stable home environment or have suffered a loss or death of a parent. I've gone through similar circumstances and want to show them that you can rise up, work hard and make things happen." – ES
---
Thua G. Barlay, 39
Managing Attorney
Barlay Law Group LLC
McDonough
Specializing in residential and commercial real estate and estate planning, Barlay embraced community involvement after relocating to Conyers-Rockdale. Tackling issues facing unemployed families in his area, Barlay launched Estates for Plates, trading free use of his conference facilities for hundreds of canned goods donated by meeting attendees over the past four years.
The 2014 Jerry Barboe Small Business Person of the Year, Barlay helped the local chamber establish a Leadership Collaborative, calling on government agencies to unite for better management of growth and change in the community.
In the private sector, collaboration between varied church denominations was Barlay's goal as a board member for the local Family Promise affiliate, an organization that pairs homeless families with host congregations.
"That is in and of itself symbolic of our community – crossing the divide to help a central cause. Now we have a united vision for helping [the] homeless in our community." – KS
---
Christy Jones Barnes, 33
Legal Consultant for the Rental Assistance Division
Georgia Department of Community Affairs
Lawrenceville
In the fall of 2005, Barnes' legal career took an unexpected detour. She was finishing her final year of law school when Hurricane Katrina devastated New Orleans. Living in nearby Baton Rouge, Barnes got involved with the Road Home program, which aimed to provide displaced residents a path back to their homes.
"I went to help, and it became a job that became a career that I absolutely love," she says.
Now, Barnes works behind the scenes at the Georgia Department of Community Affairs to help place low-income individuals and families in safe, affordable housing through its Housing Choice Voucher Program. She also volunteers with numerous organizations, helping cultivate pride in homeownership and inspire children to dream big.
"If we do a little bit more than we think we can, we can always make it better," she says. "I am always looking for ways to make things better." – AB
---
Zachary Blend, 30
Residential Life Director
Goshen Valley Boys Ranch
Canton
Two years out of Rollins College in Winter Park, Fla., Blend felt a call to join the staff at Goshen Valley Boys Ranch, a long-term residence started by his family for boys and young men ages 9 to 21 in foster care.
Today as residential life director, he provides oversight and direction to a staff of 35 and offers guidance, advocacy and "a positive influence in the lives" of 40 young residents.
In addition to his daily responsibilities, Blend assists with development and fundraising efforts, community engagement and special events.
"I wake up every morning feeling like I am led into doing this work, despite the fact it can be difficult at times," says Blend, the proud father of a 2 year old, with another baby on the way.
Blend will finish his master's at Fuller Theological Seminary in December and hopes to pursue an MBA next fall. – MAD
---
Ben Carswell, 34
Director of Conservation
Jekyll Island Authority
Jekyll Island
Grow revenue by attracting more tourists while protecting and enhancing fragile coastal ecosystems they want to enjoy – that's Carswell's challenge as director of conservation for the Jekyll Island Authority, a self-supporting state agency that oversees the conservation, development and management of Jekyll Island.
He says success demands collaboration with diverse stakeholders. Since he was hired in March 2012, Carswell has helped island golf managers save money by reducing chemical use and mowing; one course is now a certified Audubon Cooperative Sanctuary. He's worked with multiple agencies and nonprofits to control invasive plants. And he scored a major grant to study restoration of a degraded estuary that could provide a template for smart growth on Georgia's coast.
"More and more agencies must operate like businesses to survive while still achieving their mission," says Carswell. "We can be a really important model for conservation in the rest of the country." – LT
---
Jake Carter, 33
Co-owner
Southern Belle Farms
McDonough
Coming home to Southern Belle Farms in 2003 with a UGA degree in business management, Carter realized he couldn't farm the land like his father and grandfather had. Henry County's growth was consuming traditional agriculture while creating a new opportunity: agritourism.
"We had a lot of new neighbors who were several generations removed from a family farm," Carter says. "We needed to do something to educate them."
Carter and his family converted Southern Belle Farms to seasonal produce like strawberries and pumpkins, and they added educational activities for families and school groups. More than 80,000 guests, including 30,000 school children, now visit the farm annually.
Carter also volunteers for the betterment of agriculture. He is chairman of the American Farm Bureau Federation's Young Farmers and Ranchers program, past chairman of the Georgia Farm Bureau's Young Farmers Committee, board member of the Georgia Agritourism Association and active in the Georgia Strawberry Growers Association. – LT
---
Terry Chastain, 38
General Counsel
Office of the Speaker
Georgia House of Representatives
Dunwoody
As a lawyer Chastain has only one client, but his legal work affects all Georgians; he is the attorney for David Ralston, the speaker of the Georgia House.
"Part of my job is to review all legislation as drafted to make sure it's legally sound," Chastain says. "I get excited about finding solutions to legal and legislative problems to help Georgians." Especially the littlest constituents.
"Any legislation involving children gets to me, so a highlight of my work here was medical cannabis legislation sponsored by Rep. Allen Peak during the last session," he says. "It was the most meaningful of my career, because we could see how much the kids suffering from severe seizure disorders needed our help."
Chastain also has worked as executive director of Get Georgia Moving, a transportation-focused coalition of more than 50 organizations, including the Sierra Club and the Metro Atlanta Chamber. – CD
---
Eshé Collins, 34
Project Director for Jumpstart
Georgia State University
Atlanta
A former teacher in Atlanta Public Schools, Collins left the job she loved to pursue a career that would help her make a difference in the lives of children far beyond her fourth-grade classroom.
Today she serves as the project director for Jumpstart at Georgia State University. The early education, nonprofit organization delivers a high-quality curriculum to preschool children in low-income neighborhoods. In this role, she trains adults to teach and lead in their communities, works with parents to improve family involvement and inspires children to learn.
Last November she was elected to the Atlanta Board of Education.
"If we invest in our children at an earlier stage of life, we will reduce a lot of issues we see in adolescents and have a bigger return on our investment," says Collins, who refers to Atlanta's 50,000 school children as her babies. "I love them as if they were my own." – MAD
---
Matthew Crenshaw, 38
Vice President, Product Marketing
Outbrain
Decatur
The day after Crenshaw graduated from the University of Georgia with a journalism degree, he bought a book called Marketing and the Internet and read it cover to cover.
"I barely knew what the Internet was at that time, but I realized it was the tidal wave I needed to ride," he recalls.
Since then, he has helped develop Mother Nature Network and recently joined Outbrain, the world's largest content-discovery platform, which reaches more than half a billion people every month.
"I work with the world's top publishers such as CNN, the Guardian, and the Discovery Channel," he says. "There's an endless river of content coming at us from multiple screens, whether it's our TVs, phones, tablets or computers. My job is to make sense of it all, building products and technology that provide people with high-quality, personalized content." In his spare time, he helps teens find their voice in communications work at the youth development nonprofit VOX. – CD
---
Capt. Patrick Darcey, 30
Selection Officer
U.S. Marine Corps
Atlanta
As Selection Officer for the Marines, Darcey recruits, mentors and trains Marine officers from colleges around the state and helps young athletes develop their leadership skills. Though he spends his days shaping the next generation of Marine officers, his biggest passion is working with homeless veterans.
"There's really no safety net for them," he says. "For whatever reason, after the service they'll fall on hard times and that's it. They have nowhere to go, and I think that's unfair because they've just dedicated portions of their lives to serving in the military."
In addition to spearheading a Thanksgiving food drive for needy families in Marietta, Darcey serves on the board of directors for Joseph and Sarah Caring for Veterans, a nonprofit organization that provides free transitional housing for homeless veterans. It's a cause he plans to champion throughout his career – military or civilian. – AB
---
Susannah Darrow, 29
Executive Director
BurnAway
Atlanta
Darrow was working for a nonprofit gallery in Dunwoody when she saw arts critics losing their jobs. The native Atlantan helped launch BurnAway in 2008 to offer coverage and dialogue about the arts. The online publication now has about 300,000 page views and 120,000 unique visitors annually and has earned national attention.
A recent $20,000 National Endowment for the Arts grant recognizes BurnAway's partnerships with arts nonprofits across the Southeast, Darrow says. It will fund a critic-in-residence program by BurnAway and Pelican Bomb, an online arts publication based out of New Orleans. Darrow, who holds a bachelor's degree in art history from UGA and a master's degree in art history from Georgia State, also plans to grow BurnAway's arts writing program through mentorships.
"I have really tried to take as many opportunities to learn from a lot of mentors as possible," she says. – LJ
---
Jefferson I. Davis IV, 39
Owner/President
Alterra Networks
Dublin
When Davis needed a new location for Alterra Networks, the technology contracting business he started in 2004, he chose to restore one of Dublin's greatest landmarks. His restoration of the 1912 post office earned him The Georgia Trust for Historic Preservation's biggest accolade, the Marguerite Williams Award.
As a member of Dublin's Downtown Development Authority and the Dublin-Laurens Tourism Council, Davis has been instrumental in improving the downtown area and has high hopes for Dublin's future through responsible growth. "I play a very small part," he says. "A lot of people here play a role, and no one cares who gets the credit."
Davis works with state and local leaders on his vision to ensure that Dublin continues to be "green and growing." He carried that vision to Sumter County last year as a participant in GeorgiaForward's Young Gamechangers program, which focuses on solving pressing policy challenges of one Georgia community each year. – KS
---
Shanta Dhar, 37
Assistant Professor of Chemistry
University of Georgia
Athens
For Dhar, medical research means thinking outside of the box. Her award-winning research at the University of Georgia is changing the way the medical community thinks about treating heart disease, cancer and many other illnesses. Dhar and her team are researching ways to deliver medicine directly to the mitochondria, or the "powerhouse" of cells.
Her work has been recognized nationally, and her lab is one of only a few in the country dedicated to nanotechnology and looking at how mitochondria can affect disease progression, evolution and treatment. The nanotechnology allows delivery of the medication directly to the cells or organs.
"Research is what I love," says Dhar. "The fruits of my labor are to one day see these therapies taken directly to the patient bedside or clinic and be able to have a direct effect on treating and curing cancer and other diseases." – ES
---
Jason Esteves, 30
Litigation Counsel
Equifax
Atlanta
Esteves grew up on the side of Columbus where the neighborhood schools of the time weren't so great. But he had good parents who got him into a magnet school – the first in a long line of excellent schools.
He attended the University of Miami, then after a stint as a social studies teacher for Teach For America, he got his law degree from Emory University School of Law. He became an associate at McKenna Long & Aldridge before moving to Equifax and was just elected to an at-large position on Atlanta's Board of Education.
Mentoring and teaching children in an impoverished area of Houston while with Teach For America, "was life-changing and matures you very quickly," he says. "It was incredibly tough, and I credit that with my passion to serve."
And serve he does. He works with the Alzheimer's Association, Georgia Appleseed – Young Professionals Committee, Young Professionals for Educational Equity (YPEE) and the Georgia Association of Latino Elected Officials. – LVD
---
Howard Franklin, 35
Executive Director
GeorgiaForward
Atlanta
On his way to being named executive director of Georgia-Forward in 2013, Franklin gained a reputation for successful collaborations on policy challenges, organizing young voters and guiding some of the South's leading elected lawmakers to the winner's circle.
At GeorgiaForward, Franklin is charged with convening business, political and academic leaders to shape a statewide policy agenda. Toward that end, he leads a massive policy forum in a different Georgia city each year. "It's about getting the right people in the room to talk about the challenges facing our state," says the Morehouse College graduate.
Franklin's influence extends well beyond state borders. The 2010 New Leaders Council fellow has advised global organizations such as Save Darfur and even managed a 2009 campaign in the Cayman Islands that succeeded in electing a new government. – KS
---
Tanika Gray Valbrun, 36
News Editor CNN/Turner Broadcasting,
Founder/Executive Director White Dress Project
Lithia Springs
For Gray Valbrun, one career is not enough. Two, even, is too little. A news editor at CNN, she's also been a radio/ TV producer and high school teacher. But her latest under-taking might be the most ambitious yet: founder and executive director of the White Dress Project, an organization that aims to raise awareness of an often-overlooked condition — uterine fibroids.
Gray Valbrun wrote legislation to make July Fibroid Awareness Month in Georgia. It was passed on the last day of the House's 2014 session, making Georgia the first state in the nation to have such legislation. Next for Gray Valbrun? Tackling the Senate for funds for fibroid research and education.
"It's so important to leave a legacy," she says. "I'm a firm believer in the fact that you're the only one that's here to do something specific. If you're not doing it, it will never be done." – AB
---
Layla Haddad Gunn, 39
Owner and Director of Marketing
The Melting Pot Restaurants
Johns Creek
One job isn't enough for Haddad Gunn. She juggles being a restaurant owner, pharmacist and encouraging an entrepreneurial spirit in big-hearted kids. Through The Melting Pot and her nonprofit, Pure Imagination, more than $700,000 has been donated to children's charities. "I'm a busy, busy woman," says Haddad Gunn.
After she and her husband, Mark, expanded The Melting Pot to four Atlanta-area locations, Haddad Gunn put her pharmacy degree from Mercer back to use in 2010. She works full time for CVS and oversees marketing, events and social media for the restaurants.
Through Pure Imagination, founded in 2010, kids raise money for a special outing with a Children's Healthcare of Atlanta patient. Her annual "Paint the Town" auction raised a record $115,000 in 2014. The careers and charitable efforts are connected. "If it weren't for my husband and [me] owning the restaurants and having these amazing contacts … then none of this would be possible." – LJ
---
Milton "MJay" Hall, 27
Plant Environment Coordinator
Kelley Manufacturing Co.
Tifton
Hall has no use for the notion that small-town residents have fewer opportunities than their big-city counterparts. Young people often just need a nudge, says Hall, a Tifton manufacturing plant environment coordinator and entrepreneur.
"My passion is helping kids see the opportunities and showing them that there is a different path than what they are familiar with," says Hall, who administers an annual stay-in-school rally and an Easter egg hunt for children with disabilities.
Hall started young. He began a clothing line as a teenager, and his career at farm implement maker Kelley Manufacturing Co., where he ensures that the company complies with environment and safety regulations, sprouted from a high school internship.
He also owns a boutique, provides disc jockey and private valet services for parties and events, and is co-developing a wine-infused gelato product.
"I really don't think I'll ever retire," he says. – KH
---
Bo Henry, 39
Co-owner of Stewbos and Merry Acres Inn & Event Center
Lead Singer for Bo Henry Band
Albany
Henry works as both an entrepreneur and an artist, and the roles share more in common than you might think.
"In everything I do, I'm focused on service," he says. "Whether I'm on stage with my band or getting good food to people or watching them enjoy a vacation with their families, I love to see other people having fun and enjoying a good quality of life."
Stewbos employs more than 150 workers at five Albany restaurants, and the company saw a 300 percent revenue growth from 2010 to 2013. Henry plans to open another restaurant this year.
His company offers mentoring services in business management through the local chamber of commerce and supports, through donations and volunteer hours, several organizations including Habitat for Humanity and the Georgia Cancer Coalition.
"We're going to try to keep doing the little things to make this area better," he says. "Little things make a big difference." Meanwhile, his band, a popular Southern rock act, takes requests. – CD
---
Shed Jackson, 36
Director of Marketing and Communications
91.9 WCLK-CAU
Atlanta
Jackson, whose multiple degrees are in the sciences, uses his platform at a respected radio station to promote his two passions: education and health and wellness.
"I think music is a universal language that can be a powerful force for healing and unity, so I try to use it to further those goals," he says, citing his Jazz in the Classroom workshops. "I've brought legends like Al Jarreau, David Benoit and saxophonist Mike Phillips into Atlanta's public schools, where they talked about the importance of staying in school, and then students are able to play music with them."
Jackson also volunteers with the Call to True Beauty, a campaign against domestic violence, and the Healthy Heart Coalition. The Atlanta Regional Commission selected him for the class of 2013 Arts Leaders of Metro Atlanta. – CD
---
Eric Johnson, 34
Managing Partner
North Avenue Investments
Hahira
As a managing partner of North Avenue Investment, Johnson is in the business of funding people's dreams by helping middle-market, lower-middle-market and family-owned enterprises access capital to grow their businesses.
The father of two also helps children achieve their dreams of playing sports – regardless of their skill levels. "When they get older, it gets more competitive and they get weeded out," says Johnson, who has coached T-ball and youth basketball for three years, "but when they are young everyone should play. Let them have fun and enjoy it."
Previously a commercial banking officer for Guardian Bank in Valdosta, where he originated more than $60 million in new loans from 2010 to 2014, Johnson was selected by the Valdosta-Lowndes County Chamber of Commerce as one of their four finalists in 2014 for Young Professional of the Year. He was elected to the Lowndes County Board of Education in May. – MAD
---
Jayson Johnston, 39
President
Harris County Chamber of Commerce
Hamilton
When Johnston took the position of president at the Harris County Chamber of Commerce, he faced plenty of challenges. The chamber was struggling, and member confidence was down.
By focusing on what the chamber was doing well and what could be improved, Johnston was able to enact big changes in a short amount of time. After his first year of leadership, chamber membership grew 25 percent. Now, two years later, the member retention rate is 98.1 percent. And, more importantly, chamber members benefit from a renewed energy and fresh perspective.
What was Johnston's secret to success? Building relationships, both through the chamber and local community organizations.
"I always say, 'Every conversation is worth having,' because you never know what may come of it," he says. "What drives me and keeps me motivated is continuing to build those relationships, because that's what makes us successful as a community." – AB
---
Keri Jones, 37
Certified Public Accountant
Allen Pritchett and Bassett LLP
Tifton
Jones has a local reputation as a "leadership junkie," a moniker that suits the community-driven Tifton CPA just fine.
"When it comes to personal leadership development, I soak it all up," she says. "I enjoy learning from others and passing it on."
Bettering her hometown also is part of the 2013 Leadership Georgia graduate's fiber; among Jones' service ventures, she co-founded Tiftarea Young Professionals and helped spearhead Tift County's recent Transportation Special Purpose Local Option Sales Tax (T-SPLOST) campaign.
"My favorite community service activities are ones that invite input and allow collaboration and participation," she says.
Jones returned to school five years into a marketing career to become a CPA. At Allen Pritchett and Bassett LLP, she helps nonprofits and others with their financial reporting needs.
"I like learning what challenges [clients] are facing and then developing efficient and effective strategies to help them reach their goals," she says. – KH
---
Nick Jones, 32
Teacher
Ron Clark Academy
Covington
Jones' childhood dream was to be a corner-office marketing executive. His school mentors were so impressive, however, that somewhere along the way he shifted gears dramatically – to education.
He went the extra mile for his students in Newton County High School, where he taught math and won Teacher of the Year this year. The honor meant more than any others, he says, because Newton High is his alma mater.
"It came full circle for me," he says. "Once you see your life from a different perspective – all the efforts, all the hours you put in – it's priceless."
He's in school some 60 hours a week and serves his childhood church, Mt. Zion First Baptist Church, as an assistant youth director and financial director. This year, Jones moved to Ron Clark Academy, a private school.
While he may not stay in education forever, he's a "lifelong learner. Every day is a teachable moment," he says. – LVD
---
Amy Michaelson Kelly, 31
Litigation Associate
Greenberg Traurig LLP
Atlanta
Kelly says she is "wired to work hard" and plugs in her legal expertise as a commercial litigator to provide a high level of service not only to her clients, but to the broader population as well. She is a chair of ServiceJuris, a day of service provided by Atlanta's legal community. Last year ServiceJuris assisted organizations in eliminating homelessness in connection with Mayor Kasim Reed's Unsheltered No More initiative.
Whether going door to door to promote voters' rights, organizing a benefit for the Boys and Girls Clubs of Metro Atlanta or serving on the University of Tennessee College of Law's Alumni Council, Kelly considers herself a problem solver.
She enjoys working on pro bono cases at her firm and is currently on a team representing an indigent client on death row. She most recently was selected for the LEAD Atlanta Class of 2015.
Kelly grew up in a neighborhood where, she says, "people didn't have a lot of luck. Mentors and personal relationships made the difference. I've been given a lot, and I have a lot to give back." – EB
---
Isaac Kelly, 31
Staffing Specialist/Business Development
Augusta Staffing Associates
Augusta
Pride means many things for Kelly. He takes great pride in his work and community involvement and in helping people. As a staffing specialist for Augusta Staffing Associates, Kelly helps people find and interview for jobs.
"I have a passion for helping people and improving lives in my community and city," he says.
But it was when he started the first LGBT Augusta Pride event in 2009 that the word "pride" took on new meaning. Kelly noticed a lack of resources and sense of kinship within the LGBT community and took it to heart. Augusta Pride is in its fifth year and draws more than 10,000 people from all over the country and globe.
"I wanted a place and event for the Augusta LGBT community to gather outside of typical places like bars," says Kelly. "At the end of the day if I've helped someone accept themselves or made their life better, I know I've made a difference." – ES
---
McCree Lake, 27
IT Strategy Manager
Accenture
Marietta
As a leader of complex consulting engagements at global Fortune 1000 companies for Accenture, Lake has made unprecedented strides in his young career. From award-winning IT innovations for Kennesaw State University in his early 20s to his involvement in Atlanta's Brazilian and Latin American communities, Lake thrives on cultivating synergies and solving complex business challenges.
"I've learned to open up and connect by building relationships that allow everyone to grow and learn," he says, noting his non-traditional path to Accenture, which typically targets MBA grads from the very best business schools.
Lake's impact stretches far and wide. Selected in 2012 for a Rotary Club professional exchange to Brazil, he ramped up his team's ho-hum presentations with a dance he choreographed to a popular Brazilian song. Yet another tribute to his spirit for bringing worlds together by bridging societal and business acumen. – KS
---
Brandy Mai, 35
Sales Executive
Apartment Guide
Savannah
Mai gets her passion for helping military veterans honestly: She is one. Indeed, as the granddaughter of a three-war veteran, "I grew up bleeding red, white and blue," says the former U.S. Army photojournalist.
An Apartment Guide sales executive and freelance public relations professional, Mai founded a monthly fellowship breakfast for Savannah-area veterans. She also volunteers her marketing services to organizations that assist veterans, injured soldiers and their families.
This year, she coordinated a 5-kilometer race that raised $25,000 for wounded veterans, and she was honored for her advocacy as one of 10 inaugural ambassadors for a national marathon at Fort Bragg, N.C.
"With two installations here, this is a great military town, and [there is] a real need for someone like me to connect veterans with information and resources," she says. "My job with Apartment Guide is a great fit to keep me connected to the community." – KH
---
Jatisha Marsh, 34
Performance Analyst
Atlanta Public Schools
Atlanta
Marsh's daily commitment to student academic success and teacher personal development doesn't stop when the final bell rings. She simply kicks into volunteer mode.
Marsh takes on extra Atlanta Virtual Academy teaching assignments, tutors Springdale Place shelter residents, is the Junior League of Atlanta's early childhood advocacy coordinator, and volunteers as a Teach For America alumna and with the Phi Delta Kappa educational sorority.
"I consider my community service like my second job," she says.
Marsh initially resisted following her mother's footsteps as an educator, but ultimately she left her corporate career for the classroom. Now she's responsible for performance management for about 7,000 employees in about 40 schools.
"In our performance management function, we strive to make sure there are high-quality teachers in every classroom," she says.
Marsh's endeavors recently resulted in her being selected as a 2013 Hope Street Group National Teacher Fellow. – KH
---
Linda Nguyen, 38
Attorney

Page, Scrantom, Sprouse, Tucker & Ford PC 

Columbus
A practicing real estate lawyer for more than 11 years, Nguyen was drawn to real estate because it was perhaps the only area of law where everyone leaves the table happy, she says.
For Nguyen, happiness and hard work are important – and related. Happiness comes from the sometimes hard work of raising her three young children as well as working hard to serve her clients – be they investors purchasing office complexes or young couples buying their first homes – and her community. For four years, she has participated in the Greater Columbus Georgia Chamber of Commerce's Total Resource Campaign, in which she single-handedly raised $72,000 to promote businesses and development in the region.
"I am a big believer in doing what makes you happy," says Nguyen, who learned her strong work ethic from her parents, who emigrated from Vietnam during the Vietnam War. "If you do something that makes you happy, that will lead to success." – MAD
---
Tami Peavy-Owen, 29
Executive Director/Legal Advocate


Southwestern Judicial Circuit Family Violence Council


Americus


Peavy-Owen, an attorney, left private practice in 2013 to assist domestic violence victims in six of Georgia's poorest counties. Her move to the grant-funded council came at a time when more help was needed to protect abused and neglected kids. Georgia's revised juvenile justice laws, which entitle children to attorneys in dependency cases, took effect in January 2014.
The council serves more than 300 adults and children annually through legal and non-legal advocacy, group meetings and referrals of clients to other organizations and agencies. On average, 25 clients annually receive free legal services.
Peavy-Owen also works to improve public education as vice chair of the board for the proposed Furlow Charter School in Americus. The Sumter County Board of Education approved the school in July; if approved by the state, it could open in fall 2015.
"My husband would say that I'm willing to take anything on," she says. "I like to make a difference." – LJ
---
Heather Pendergast, 38
Executive Director
College Hill Alliance
Milledgeville
Pendergast's community-revitalization organization has generated more than $91 million in investments for a two-mile corridor of Macon, making "College Hill" a national model of how public/private partnership and citizen participation can turn a depressed zone of urban blight into a vibrant and coveted zip code.
"We're still creating more loft space for students, and we've added 121 jobs," says Pendergast of the project that has won gold and silver awards from the International Economic Development Council. "What I enjoy most is seeing new leaders step up and become passionate about a crosswalk, and then realize how activism for one project can lead to others. Then, ultimately, it becomes less about fixing what's wrong with the neighborhood than figuring out how to showcase what's right about it."
Pendergast also pioneered the state's first "Opportunity Zone" in a downtown area, in nearby Milledgeville. – CD
---
Kimberly Poma, 37
Director of Sales Process and Insight
Cox Communications
Atlanta
In her new position with Cox Communications, the third largest cable and broadband company in the U.S., Poma helps the sales department provide products more efficiently to its customers.
Prior to joining Cox in July, she had a similar role supporting the global HR organization at Coke, where she blazed trails by becoming the first woman at Coke to be certified as an Operational Excellence Master and delivered more than $16 million in value as a direct result of building capabilities for leaders and associates around the globe.
When Poma is not at her job, she is often working with different organizations including Hosea Feed the Hungry and Homeless, for which she serves as chair of the board of directors.
Service and advocacy are values instilled in Poma growing up. "I was inspired by elders in my family as well as the Civil Rights Movement," she says. "They sacrificed so much, and I have been privileged and blessed." – MAD
---
Karen Warren Rosas, 37
Program Manager
Judicial Citizens Review Program
Juvenile Court of Macon-Bibb County
Macon
Warren Rosas brings hope for a stable future to foster children in Georgia. She worked her way through college as a program assistant with the Department of Juvenile Justice, earned her master's degree in social work, and in 2008 was the National Association of Social Workers' MSW Student of the Year. Recognizing her passion for helping children in need, the chief judge promoted her to program manager.
A roll-up-your-sleeves kind of person, Warren Rosas is also operations and development director for FosterLove, a 501(c)(3) organization, ensuring that donated clothes and gift boxes reach needy foster families in Houston, Bibb and Monroe counties. She organized Macon's first Take Back The Night event to promote awareness of sexual assault and participates in Leadership Macon, a select group of young professionals who help revitalize local communities. A licensed clinician, she is studying to become a certified trauma therapist and is a frequent presenter at child welfare conferences.
Inspired by the spirit of her late father, she says, "He was always a giving person. He taught me that if you see someone in need, you help them." – EB
---
Amna Shirazi, 39
Attorney
President of Shirazi Law Group
Norcross
Shirazi has dedicated her busy legal practice to the "defense of those who can least defend themselves" – immigrants, refugees seeking asylum and others affected by genocide and human rights violations.
"When I have a good day at work and win a case, that usually means that a family gets to stay together," she says, noting that her client roster recently included the widow of a law enforcement officer assassinated by a drug cartel. "I'm the child of immigrants, so that gives me a certain perspective," says Shirazi, whose parents are from Pakistan.
She consults for NGOs, volunteers with the World Affairs Council of Young Leaders and serves on the board of the International Rescue Committee, which resettles refugees, and she gives free talks to these newcomers to help them understand the legal system. Shirazi also traveled with The Carter Center to Sudan to monitor that country's presidential election. – CD
---
Miki Deal Thomaston, 37
Manager, Technical Marketing
Rayonier
Jesup
At four years old, Thomaston was winning swimming ribbons. It was the start of a sporting life that instilled a drive for excellence in all things.
She won MVP status in a national title softball tournament. Her parents "never hesitated," to volunteer her to lead children's sports camps, and academics remained a priority. "If I made a 98, my dad would say 'where's the other two points?'"
She graduated from Georgia Tech with honors in chemical engineering. A walk-on to the women's softball team, she won a scholarship.
As she moves up the ladder at Rayonier, Thomaston also serves her community. She led a management overhaul and change in board membership – to community accolades – as board chair of the Boys & Girls Club.
Through sports, a child learns to "believe in himself." That attitude influences others around him, she says. "It's a greater return on your investment." – LVD
---
Stephen Vault, 35
Director
Strategic Planning & Business Development
WellStar Health System
Atlanta
A lack of interest in science dissuaded him from becoming a doctor, but it didn't keep Vault from improving the lives of patients in his role at WellStar, a nonprofit integrated healthcare system that operates five hospitals in Georgia. WellStar's newest hospital is a "beautiful beacon," says Vault, on the cutting edge of healthcare services in Paulding County.
Vault was selected for the Leadership Atlanta Class of 2015, serves on an advisory board for Families First, and is one of the youngest members of the 100 Black Men of North Metro Inc. Through its Men of Tomorrow program, he mentors 12- to 18-year-old boys, serving as an ideal role model. Their experiences are often far from his own; Vault grew up in a middle-class family that spent Christmas mornings at a nursing home or local shelter.
Vault says he is proud to "set an example of how to act, how to be and how to give back in service." – EB
---
Sabina Vayner, 31
Associate
Kilpatrick Townsend & Stockton
Atlanta
When Vayner first moved to Atlanta from the Soviet Union at age 7, she was often teased as the "weird kid who didn't speak much English and whose mom gave her weird food."
Proud of her heritage, today she's a standout litigator working as many as 70 hours a week who also devotes her time to the Anti-Defamation League (ADL).
"It's one of those things that if it matters, you find the time," she says.
Her passion comes from experience. Her family fled the Soviet Union to escape persecution because they were Jewish. Her drive "is completely due to my parents," she says. She watched her mother redo her medical exams and residency to practice medicine in the U.S.
Vayner graduated with highest honors from the University of Georgia's Terry College of Business and earned her law degree from the University of Virginia.
She is a LEAD Atlanta and ADL Glass Leadership Institute graduate. She works mostly on the ADL's leadership development committee and has also been named to its Southeast Region Board of Directors. LVD
---
Sarah Visser, 37
Executive Director
Keep Georgia Beautiful Foundation
Atlanta
Visser keeps environmental awareness all in the family. As executive director for the Keep Georgia Beautiful Foundation, Visser works with a personal and professional passion to keep Georgia's environment sustainable for generations to come – even her own. She describes her 4-year-old daughter as a "serious recycler" and takes her to community cleanup events, which Visser attends even on her own time on weekends.
Visser and the foundation provide training and resources for litter reduction, community cleanups and environmental sustainability to the more than 75 Keep Georgia Beautiful community affiliates, the largest network of its kind in the nation.
"Our goal is to help them be successful and change attitudes around environmental issues in communities," she says.
Clearly, it's something she's working hard at in her community, in her work and in her home. – ES