Georgia's Top 100 Public Companies
From Columbus to Savannah and Blairsville to Thomasville, Georgia boasts a wide range of companies that are seeing success.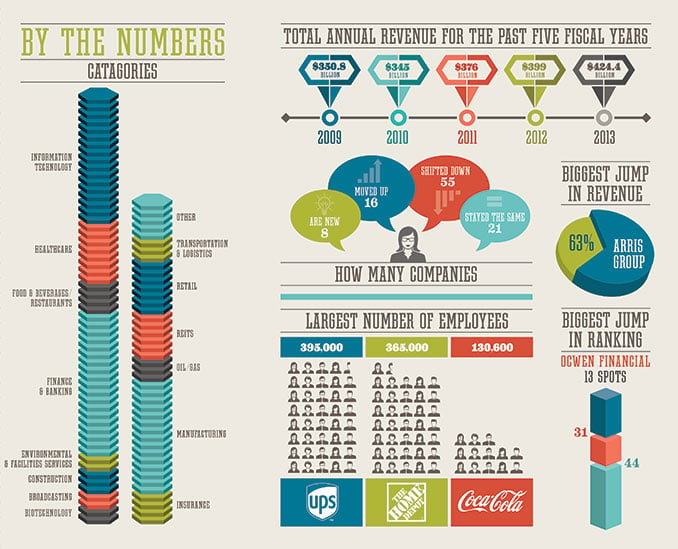 A rising tide lifts all boats, and that's no different in the economic realm. With the rebound in full swing, Georgia's top companies continue to see growth both in financial earnings and number of employees.
All together, this year's leading businesses saw an increase in revenue of more than $25 billion, a number that's been steadily rising each year since the Great Recession first took its toll.
According to the U.S. Department of Labor, companies nationwide shed 8.7 million jobs from February 2008 to February 2010 in an effort to survive the storm. Here in Georgia, the Top 100 Companies saw their employee numbers shrink from 1,650,719 in 2007 to a low of 1,427,463 in 2011.
Fast-forward three years, and proof that companies are hiring again is in the numbers. This year's group employs more than 1.5 million people, 75,011 more than last year.
That's not to say there haven't been a few choppy waves along the way. Out of the top 10 companies, three saw a decline in revenue over last year. At the beginning of 2014, lagging soda sales worldwide and a growing negative perception among consumers of sodas in general pushed Coca-Cola's stock down for the first time in 15 years, and that shift is reflected in its 2013 revenue, down $1.16 million from 2012. But with increased investment in bottled water and energy drinks – Coca-Cola recently acquired a 17 percent stake in Monster Beverage Corp. – the beverage giant is still resting comfortably in the top three.
Columbus-based AFLAC and Atlanta-based SunTrust also dipped slightly in revenue this year.
Georgia is becoming a hotbed of biotechnology, and several companies recently moved to Georgia to be a part of the action. In fact, three of the eight new companies are in the healthcare and biotech industries.
Digirad Corp. (#91), which makes cameras and imaging products for use in healthcare applications like nuclear medicine, cardiology, women's health and pediatrics, moved to the state from Poway, Calif., just outside of San Diego. Biota Pharmaceuticals (#92), which develops products to prevent and treat viral and bacterial infectious diseases, moved from Rockville, Md., to Alpharetta in mid 2013.
AdCare Health Systems Inc. (#68) recently relocated from Springfield, Ohio, to be closer to the majority of its senior care facilities located throughout the Southeast.
Columbia Property Trust (#56), one of the nation's largest office real estate investment firms, began publicly trading on the New York Stock Exchange last year. So did Atlanta-based OCI Resources (#61), CatchMark Timber Trust (#93) and HD Holding Supplies (#11), which went public with its IPO last summer.
With the addition of HD Holding Supplies to this year's list, Georgia now boasts 17 Fortune 500 companies. Only one of those, First Data, is a private company, although it is considering a future IPO.
As for the eight companies that fell off this year's list, five were acquired by companies based elsewhere in the U.S., and one, AssuranceAmerica Corp., decided to go private.
Georgia Trend's 2014 list of Georgia's Top 100 Public Companies is determined by S&P Capital IQ, a partner of McGraw Hill Financial and is based on data supplied for 2013. – Christy Simo
Click here to download a PDF of Georgia's Top 100 Public Companies.