Digging In
Two years after Caterpillar announced its new North Georgia facility, the region is starting to see the effects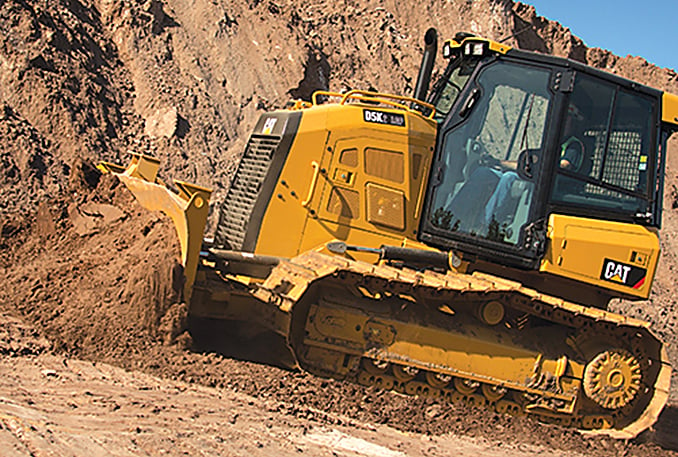 Back in February 2012, the unemployment rate was 7 percent in Clarke County and 5.9 percent in Oconee County. While both of these Northeast Georgia counties could boast of lower unemployment than the state as a whole, neither did much bragging. Now economic development folks across the region can't stop talking about their unemployment numbers.
"The unemployment rate was the lowest in the state in metro Athens in April [2014]," says Ryan Moore, director of the Athens-Clarke County Economic Development Department. The reason for the area's good fortune can be found in one word: Caterpillar.
A Look Back
For those of you who've been living under a Georgia economic development news blackout the past couple of years, here's a little background. In 2011, heavy equipment manufacturer Caterpillar decided to move production of small track-type tractors (STTT) and mini hydraulic excavators (MHE) from Japan to the United States – reshoring, it's called. The folks at Caterpillar put the word out, were shown property near the intersection of Atlanta Highway and Georgia 316 in Athens, and 64 days later announced they'd found a new home, says Rusty Haygood, economic development director for Oconee County. The facility officially opened in October 2013.
Several factors influenced Caterpillar's decision to land in Athens, says Todd Henry, plant manager. "When we were doing the site search, there were some key criteria that we had to make sure we were able to meet our requirements on," he says. "Obviously we had to have land and infrastructure that could support an operation this size. Once you get beyond those basic needs, we really had to look at several key factors. One, is there a need for manufacturing jobs in the area? And there obviously was."
A second question Henry says they asked was, "Is there a good base of people that we could pull from?" And Caterpillar execs were pleased with the answer. "We looked at a 45-mile radius around the facility, because that's really where you're going to draw the bulk of your employees from. And we saw that, one, there was a need for the jobs, but, two, there were a lot of people with skills that we felt we would be able to bring on and hire as part of the team. And that's exactly what we've found as we've been ramping up."
The 850,000-square-foot facility, which will be the global source for the STTTs and the North and South American and European source for the MHEs, sits on approximately 135 acres of what is commonly known as the Orkin site. Caterpillar is investing $200 million in the new facility, while county, city and state governments have provided incentives totaling another $75 million, including infrastructure improvements, tax abatements and the land the plant sits on. Caterpillar is expected to employ as many as 1,400 people at the plant by 2018, representing an annual payroll of $57 million, says Mike White, human resources manager at the facility.
And that's just the beginning. Studies done at the time showed an estimated $39 million annual increase in retail sales in Clarke and Oconee counties, which would generate an additional $945,000 in sales taxes per year. In addition, new retail and restaurants were predicted to serve not only Caterpillar employees and their families, but also the employees of vendors and suppliers to Caterpillar that are expected to move into the area.
Spirit of Collaboration
To ensure timely delivery of the huge project that sits on land straddling the Clarke-Oconee county line, collaboration was vital.
"Our partnership approach to economic development is what really makes our state stand out as an ideal location for business activity," says Chris Carr, commissioner of the Georgia Department of Eco-nomic Development. In fact, he adds, "the spirit of collaboration in the region and the state" were important factors in Caterpillar's choice of location.
The two counties have a history of working together, Haygood says. Several years prior to the Caterpillar project, the two counties had jointly courted other companies for the same piece of land. "The groundwork had been laid for collaboration on this project," he says. An existing intra-governmental agreement spelling out the responsibilities of each county just needed a little updating.
Another vital partner in the project is Athens Technical College, whose president, Dr. Flora Tydings, was very involved with the economic development team. "I met with the prospect team several times during the recruitment period" to explain training resources, Tydings says. In addition, the college provided temporary office space for more than 50 Caterpillar employees in the months before the facility opened.
Athens Tech's partnership continues through an ongoing commitment to provide training for Caterpillar employees. "We have worked with Athens Technical College to bring on a program called Manufacturing Operations Specialist to help those who do not have an extensive manufacturing background to get the basic skills," White says. "We have been using the Georgia Quick Start program to develop a customized workforce training program to ensure we have the highest quality workforce possible."
The college also worked with Athens Community Career Academy to place five high school seniors in paid internships at Caterpillar this summer. The CAT 5, as the students are known, are part of the academy's Mechatronics pathway – a high-tech program that uses mechanics, electronics, computing and control technology to create high-performance mechanical systems. "It gives them the opportunity to gain some skills working firsthand, side by side with some of our employees," Henry says. "It helps get them excited about their careers in manufacturing. And it really helps them understand that manufacturing is not what people think it used to be – that dirty, oily environment. That it's actually very high tech, very clean, and there are very good careers in manufacturing."
The internship program is just one way Caterpillar is supporting education and workforce development in the region.
"We recognize that there's a good base of employees now, but we also have to make sure we're being proactive to build the workforce of the future," Henry says. "We're working with the local high schools. We're working with the technical colleges, and we're working with UGA. This year, we're going to start employing some kids from the high school … who will be able to gain some skills in welding and assembly, while also attending school half the day. This helps kids at risk of dropping out. It gives them the opportunity to earn some money, to gain some skills and to gain some focus to help them graduate."
Ripple Effect
Two years later, "it's just been a tremendously positive project," says Moore. "It's amazing how efficient those guys are at meeting their goals."
One of the goals they've met is in hiring. "We're actually over 700 employees," Henry says, then adds how impressed he's been with the quality of applications Caterpillar has seen – all 20,000 of them.
"We're in production with three models of mini-hydraulic excavators, and we are in the process of doing our second pilot build for the small track-type tractors," he adds. "By November, we will be in production with all models [of the STTTs and MHEs] we're going to make here in Athens."
Haygood applauds the speed of hiring and its impact on the community. "The biggest impact is payroll. When you're employing [more than] 600 individuals, you've got a pretty healthy payroll you're pumping into the economy." He also points out another important impact Caterpillar is having on the area. "They have as a company integrated themselves into the community." Executives and other employees participate on boards, in civic organizations and in local activities.
"The Athens team has participated in more than 50 community events since the summer of 2012," says White. "The community made a significant investment in Caterpillar, and we want the community to know they made the right investment."
Caterpillar's impact can be felt across the region as suppliers, such as HK Logistics in Spalding County and Orlaco in Pickens County, have moved in. In addition, existing Georgia companies, like Flambeau in Morgan County and Olympic Steel in Barrow County, are expanding to supply to Caterpillar.
"We are actively working with potential suppliers and will continue to do so over the long term," Carr says. "We expect Caterpillar suppliers to locate and expand for years to come."
In Oconee County, home buying and retail development are also picking up, Haygood says, although he's not quite ready to attribute 100 percent of the uptick to Caterpillar. Some of the growth in new housing starts, he says, is due to a general improvement in the market and pent-up demand. And a new retail development on Highway 316 was actually started before Caterpillar was announced. "Just so happened, a perfect storm was brewing," he says about the economy's improvement.
Caterpillar has delivered jobs, economic growth, community involvement and optimism across the Northeast Georgia region. And why not, says Moore. "Athens, [this whole area], is a great place to live, a great place to raise a family. [We have] the amenities of a big city without the troubles of a big city."