Back To The Business Of Banking
Georgia banks that have weathered the Great Recession are creating new ways to thrive in a new economy.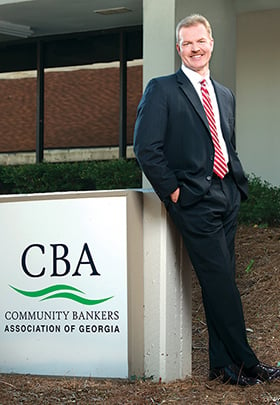 As the economy continues to pick up speed around the state, Georgia banks are also picking up new customers, making new loans and generally improving right along with other businesses. This comes as no surprise to Rob Braswell, president and CEO of the Community Bankers Association of Georgia (CBA). "Any bank is closely aligned to the health of its community," he says. "If you see a thriving community, I guarantee you there's a thriving bank."
"There are about 260 banks doing business in Georgia," says Joe Brannen, president and CEO of the Georgia Bankers Association (GBA). "In the first quarter [of 2014], net income at Georgia's banks was up 17.3 percent compared to the first quarter 2013." Profits are also up, and loans are increasing as well. "Our banks are lending to qualified borrowers. If you're a consumer or business with good finances, banks are offering very attractive rates and terms."
The improving business climate has shifted the focus at many banks from crisis management to growth, service and compliance – which means banks are hiring again, says Brannen. "Many of today's students want jobs where they can see they make a difference. Banking, and community banking in particular, is actually a great career for those students. Helping people with their finances, funding family dreams, helping build communities – those are things a banker can do."
There's also a need now, even at the smallest community banks, for compliance officers. "Our community banks are really being weighed down by compliance burden," Braswell says. And this is leading to an increase in mergers and acquisitions. "I think the main reason for bank consolidation now is cost of regulatory compliance," he adds. By joining forces, banks can increase the ways they make money and share the burden of regulation.
Keys to Success
One bank that looks forward to bigger, brighter days through merger is First Bank of Georgia in Augusta, which is set to complete a merger with Atlanta-based State Bank Financial in the first quarter of 2015.
Remer Brinson, president and CEO of First Bank of Georgia, sees the merger as good news not only for his bank and shareholders, but also for banking in Georgia generally.
"We certainly had a lot of options, whether it was remaining independent, maybe looking to acquire another institution in another market to get larger or join up with a larger institution," he says. "We felt that this opportunity with State Bank was a great opportunity for our shareholders as well as our employees and customers. So we went that route. But I think the big news for that is … the economy is recovering, and so [banks] have a lot more options for how they deliver service to customers in the future."
As the recently elected chairman of the GBA, Brinson is in a good position to see the opportunities – and challenges – that continue to face banking across the state. In his hometown, he credits the relatively robust economy in Augusta for the success of local community banking. "We have a very diverse economy. We have a very strong manufacturing base. Fort Gordon and the signal corps, they employ over 25,000 people in the area. The Savannah River Site, [another large employer] is right across the river." And he keeps going, mentioning the large medical community and several customer-service call centers.
But it takes more than diversity to weather a recession. "We have some strong community banks here," he says. "We didn't have 20 other state banks that have an office here. So you had the local market being banked by local bankers."
While he believes those things helped Augusta weather the financial downturn relatively well, the area didn't get through unscathed. "Going through the recession, the hardest part was working with our customers who were struggling," Brinson says. "We spend a lot of time, really work with our customers. If they're struggling, we're struggling. You know, most of these are lifelong customers and friends, so you work as hard as you can."
Now that things are improving, Brinson is looking ahead – and looking at ways the GBA can help banks across the state. "Regulators and bankers are shifting to compliance," he says. "It's almost an avalanche of new regulations and regulators. So it's an adjustment period for banks, which makes it sometimes harder to loan money, which then affects your customers.
"We [at the GBA] spend a lot of time educating ourselves and bankers on what's going on in the industry," he says. "What is the new regulation and how do we comply with it? Because we all really have the same goal in mind, which is safety and soundness from a banking perspective and compliance from a regulatory standpoint. But ultimately, what is it our customers need? They need to borrow money, they need to save money, they need to move money around and they need it to be kept safe. And that's really all we do – those four things."
On the Map
"Get your map out," Glenn Willis, president of South Georgia Banking Co., says. "Omega is in Tift County. It's a little farming community." It's also the home of South Georgia Banking. "We're a little different. I'll be right up front. We've not had the problems at our bank that a lot of banks had in the state of Georgia. Mainly because we stuck to a lot of the principles we had over the last 44 years we've been in business – working with the communities we've been in and not really getting outside our market and business model."
Willis is the second generation at South Georgia. His father helped form the bank in 1970 and continues to serve as chairman and CEO. "We started out real small," Willis says, working with the business owners and farmers in Omega who brought his father in. Over the years the bank has grown, adding branches and acquiring another bank in 2006. The acquisition was the beginning for South Georgia of what Willis sees as the future of banking.
"You had to consolidate to continue to grow, kind of like in farming. When I grew up, there were a lot of small farms in South Georgia. But over the years, because of margin and having just the increased cost of inputs and things like that, farmers had to get bigger, too," he says. "And that's the same thing that's gone on with banking in my lifetime. I know that we're going to see a lot more of that. That's a trend. A lot of smaller banks are either going to have to merge, sell or whatever with bigger banks for survival."
Earlier this year, South Georgia acquired a second bank, the Bank of Dooly. "They were a bank very similar to ours – $100 million in size, one location, they were formed in the mid '70s. Because of the changes we're seeing in banking, they needed to do something for the future. The best solution for them and their stockholders and their directors was to find somebody to join up with that had a lot of the same principles and same background. And that would be a bank like ours," Willis says.
Following the merger, South Georgia is a $450-million bank with eight branches, an operations center and 145 employees to serve a diverse customer base. "It's primarily agricultural, about 25 to 30 percent in the agriculture business," Willis says. But, he adds, even the agriculture is diverse. "We bank peanut growers, cotton growers, produce, chicken, trees. You get the picture. And that's, I think, a lot of what community banking is for us in the south. We might have a little concentration in this agriculture market, but it's diversified."
Their business may be diverse, but they don't plan to branch out of the area they know so well. "Look again on the map," Willis says. "All these locations are along I-75. They're easy to get to. We're not interested in going to Atlanta or North Georgia or the coast to try to acquire anyone." But, he adds, other acquisitions may be in South Georgia's future. "We'll probably work on this acquisition for the next five or so years, then look at another one. That's our strategic plan."
Timing is Everything
First Landmark Bank, a Marietta community bank, opened in 2008, just as the Great Recession hit. "Lucky timing," says bank President and CEO Terry DeWitt without a trace of sarcasm. "The great thing about the timing of when we opened is that many of the problems that our fellow bankers experienced were already becoming known to us. When we opened in March 2008, we didn't have a lot of the legacy problems that many of our fellow bankers did."
Despite the good fortune in terms of timing, DeWitt admits there have been challenges to getting a new bank up and profitable during a recession, especially in Metro Atlanta, where the competition is fierce. "Historically, community banks are able to make loans pretty easily, and core deposit growth becomes a problem," he explains. "During the financial crisis, the exact opposite was true. As people left the stock market and businesses pulled back, there was a wave of liquidity or deposits that came into our bank and many other banks. You've had to figure out how to profitably invest those deposits in an almost zero interest rate environment."
This has not only been a problem over the last few years, but it may create additional problems for banks in the near future. "Many banks increased the size of their investment portfolio, and so they were buying bonds for longer terms. When rates start to rise, the value of those bonds will go down," he says.
All of this has forced many community bankers, who may not have a lot of investment and other income sources, to "think really hard about how they make money in the current environment," DeWitt says.
Fortunately, he is seeing loan demand make a comeback. "Believe it or not, residential construction lending and development lending is our strongest area of growth right now," he says. "The builders and developers that we do business with in our Cobb County market are building houses and selling them as quickly as they can."
First Landmark Bank also has a merger in the works. The bank has "entered into a merger of equals with another metro Atlanta area bank," DeWitt says, that will expand their ability to make loans. "We announced it at the end of April, and we're in the process of getting regulatory and shareholder approval for that merger." The merger with Midtown Bank and Trust, assuming it's approved, will provide First Landmark Bank with three locations and more than $400 million in assets. "So it will allow us to basically double in size."
DeWitt agrees that mergers and acquisitions are a trend across Georgia that's likely to continue. "What you're starting to see now are what I would just call private transactions or clean bank mergers and acquisitions, where two healthy banks are coming together." But he doesn't believe these mergers will destroy the community bank feel of the merging institutions. "The acquiring banks are not the Wells Fargos and Bank of Americas. They're the state banks and community banks.
"I think there will always be a niche and a market for community banks," he adds. "That really hasn't changed. We're just continuing to adapt and find new ways to compete and survive."
Sitting in the Sweet Spot
In terms of assets, SunTrust, Georgia's largest state-chartered bank, is not a community bank – they have $179.5 billion in assets. But neither are they as big as the national giants like Wells Fargo ($1.5 trillion in assets) or Bank of America ($2.2 trillion). But don't worry about middle child SunTrust. The bank's in-between size is an advantage, says Executive Vice President and Retail Banking Market Executive for the Southeast Reggie Davis.
"We actually think the puck's coming our way," says Davis. "And I do think we sit in a sweet spot. Because if you think about the larger competitors, they're so big that it's hard for them to be nimble. We're small enough to be nimble, but quite honestly, big enough to be sophisticated enough and savvy enough to help clients."
That nimble sophistication is enabling SunTrust to face the challenges of new regulations and a changing business climate. "I guess [compliance] is a challenge that we're all facing. But since we're all facing it, it's kind of the great equalizer," Davis says. "So then the question is: how do you respond in terms of managing your business? We're trying to figure out what changes do we make to our business to offset some of those regulatory challenges.
"One of the things that we're focusing all of our businesses on is how we can be more relevant and more important to our clients so that they have a reason to do more business with us," Davis says. "Part of that process is understanding the client. Having gone through the last four or five years, there was a time when we pretty much were in the fulfillment business, because someone was always coming in looking for another credit card, another checking account or buying a larger house."
Now, he says, "I think the product that we are actually selling is the advice that goes around the products to try to help people understand how to use those products. Financial products are much like other products except they don't come with instruction booklets. And so you can walk out with a bag full of stuff, and guess what? It may not be a good thing."
SunTrust counts on its employees to make sure the bag of stuff you walk out with is exactly what you need. "Part of what you have to do is attract top talent," Davis says. Once the best are on board, they are trained to not only use SunTrust's products and tools, but to also help the client use them to meet their specific needs.
"Georgia is our backyard," Davis says. "That's our home market. We're a bank with a tremendous legacy around community in Georgia. We've got a great team on the ground. The reputation of the firm and, quite frankly, the reach of the firm is unlike anybody else's. We're really bullish on Georgia."