Parks with Purpose: Lindsey Street Park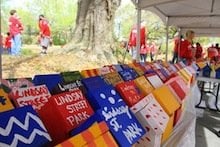 In the May 2013 Sustainable Georgia we discussed green infrastructure planned by The Conservation Fund as a means of improving the Vine City/English Avenue neighborhood in West Atlanta. This month the neighborhood broke ground on Lindsey Street Park, the first ever park in the English Avenue neighborhood.
On April 4, volunteers from the Blank Family of Businesses, as part of that organization's All-Associates Day, rolled up their sleeves and kicked off the next phase of this community-driven effort by clearing brush, debris and invasive species. Later this spring, neighborhood residents will begin construction on the park.
"The park will be more than just a nice open space in the city, as you touched upon in your article," says Ann Simonelli, media manager for The Conservation Fund. "Because a section of Proctor Creek runs through the property, Lindsey Street Park will have rain gardens and other absorbent green areas to help infiltrate and improve water quality. Also, the project will have measurable economic impacts for these residents throughout its construction and management, including workforce training, temporary jobs, and a creek that no longer spills sewage into nearby streets and homes. All of this results in a park with true purpose as a center of community life."
Over the past 10 years The Conservation Fund has helped acquire and protect more than 200 acres of green space in more than 31 parks across the Atlanta metro region. Now, through Parks with Purpose, The Conservation Fund is bringing community members together to build parks that will improve the environment, the local economy and the quality of life for residents who live within walking distance of the new Falcons stadium in the Vine City and English Avenue neighborhoods.
"With support from neighbors, the City of Atlanta, Park Pride, the Arthur M. Blank Foundation, and the Waterfall Foundation, our approach is focused on a rare combination of urban conservation and community engagement that will bring cleaner water, safer places to play and more job opportunities," says Simonelli.
Photo by Whitney Flanagan & courtesy of The Conservation Fund