Rabun Manor: Mind The Gap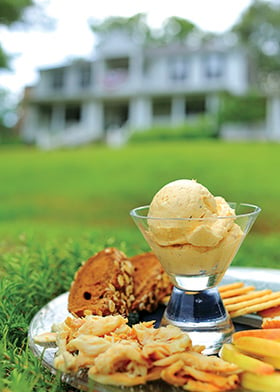 Rabun Manor
205 Carolina St., Dillard>
703.851.9338 or www.rabun-manor.com
Hours: Dinner served Thursdays-Saturdays. Sunday brunch.
Parking: Free.
Dress Code: Casual.
I've always loved taking the back way up to East Tennessee. I-85 gives way to more scenic I-985, and finally, slowing and narrowing to Route 441's stoplights and winding blacktop through the North Georgia mountains. One of my favorite stretches of the drive is at the top edge of the state, in Rabun Gap, where the Blue Ridge seems gentler and more grandfatherly, before the view gets more dramatic and the road trickier as you cross into North Carolina.
Over the years the view has changed, the road widened and little towns like Clayton have positively blossomed. After a long recession, in which video poker and title pawn shops flourished even in tiny mountain communities, more encouraging signs of life are appearing.
The Rabun Manor is one example. This grand old house, built in 1837 and moved to this spot from Athens in 1906, is so pretty it's hard to believe that after closing as an inn in 2008, it sat for years in disuse until new owners Nancy Childress and Ginger Isom bought and rehabilitated it as a B&B and event spot last year.
The restaurant is open to the public as well as guests Thursdays through Saturdays and for Sunday brunch. It's within walking distance of Dillard's many antique and curio shops, but if you'd rather spend your time on one of several porches or in your choice of several public rooms reading, playing games or chatting with other guests, that's up to you. While the cool porches beckon in August, this fall and winter, the big fireplaces also will be good gathering spots. The inn's five rooms and two cabins were full with a wedding party on our visit; still, we had the upstairs porch to ourselves, with a gorgeous view of the mountains and fields below.
The dining room is large, and the view of the mountains expansive, with screened windows that open (although the inn is also air-conditioned, that wasn't necessary on our visit in late May).
We opted for a bottle of La Marca prosecco from the short, but well-chosen list of affordable wines. (Childress says the then-pending liquor license should allow the inn to serve cocktails by the time you read this.) Beer-drinkers have a good selection of craft brews, including Fat Tire, Highland Gaelic Ale and Jefferson Stout, among several others.
Our waitress was young, sweet and attentive, bringing us house-smoked locally raised trout as a complimentary appetizer. The inn is planning to sell the trout and was looking for feedback. It was very good, and we loved the simple flaked version even better than the subtle mousse.
Along with the smoked trout, the salads and starters were among the best dishes of the meal. A simple plate of spiced shrimp with remoulade and side salad, and a towering wedge of iceberg lettuce with bacon, grape tomatoes, tobacco onions and blue cheese dressing made us very happy. Among the entrees, the main dishes shone: More local rainbow trout, this time sautéed in browned butter with Georgia pecans, and the thick-cut pork chop with apple ginger chutney and citrus pork reduction were both very good, but side dishes needed work. The sweet potato gnocchi were too sweet and too doughy; the mixed vegetables forgettable. Coffee was good and strong, and the chocolate bread pudding tasty, but a bit dry. It was all perfectly pleasant, especially when we took our own after-dinner beverages to the porch before retiring.
When we came down for Sunday brunch in the morning, we expected the usual small B&B offerings. It was instead a buffet – a bit curious and slightly chaotic, but boy, what a spread. Choices ranged from pre- to post-church favorites like made-to-order omelets, waffles, bacon, ham and cheese grits, fruit, fried chicken, tossed salad and macaroni and cheese. (We later learned the brunch is served until 2 p.m., and at $14.95, it's a bargain for the public and free to overnight guests.)
After a short wait, while the young men in the kitchen struggled to figure out how to light the Sterno stove for omelet-making, we looked for a bite of bread for toast, or muffins or bagels or … something? We even asked about bread, thinking perhaps it had been forgotten in the confusion. The waitress sadly shook her head no. Still, the food was good, if at times we wished for a smaller, more thoughtful selection.
That said, these small confusions were just that – small, and to be expected in a restaurant still finding its niche. It's a joy to see this great old building discovering new life, especially here. The inn's management clearly cares about how you like your room, your food, your experience, and many of these problems will be ironed out. Childress, a soon-to-be-retired minister, hopes that in addition to hosting weddings and other groups, she can institute more retreats and regular events like Thankful Thursdays, which will benefit a local food bank.
With all its other assets, Rabun Manor may not yet offer destination dining. But it's a worthwhile place to stop, park the car, haunt the local shops, have a good meal and a glass of wine, and savor the quiet time. And surround yourself with those cool, grandfatherly views.