Georgia Conservancy Welcomes a New Leader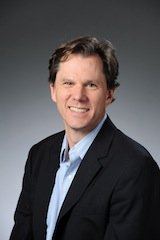 Congratulations to Robert Ramsay, new head of the Georgia Conservancy, an Atlanta nonprofit that has been advocating for environmental issues and developing strategic collaborations to preserve our natural resources since 1967. Ramsay has big shoes to fill – former Lt. Gov. Pierre Howard was the previous president and will remain active on environmental issues.
A Toccoa native, Ramsay is a past president of the American Fly Fishing Trade Association and considered one of the best fly fishing guides in the world. He worked at the Nature Conservancy of Georgia prior to coming to Georgia Conservancy and graduated from the 2013 class of the Institute for Georgia Environmental Leadership.
Howard called him "the ideal choice" for the position. We look forward to seeing his vision in action at the helm of GC.
There are a number of ways you can get involved with the Georgia Conservancy, including a Paddle on the Chattahoochee this Saturday, July 19. The event is hosted in collaboration with Chattahoochee NOW.
Pictured Above: Robert Ramsay
Photo courtesy of the Georgia Conservancy