When Powers Combine
A Q&A with Laura Turner Seydel on environmental education and stewardship.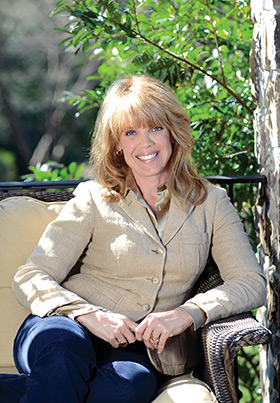 Laura Turner Seydel is chairperson of the Captain Planet Foundation, which was inspired by the groundbreaking Captain Planet and the Planeteers cartoon series and provides funds for learning gardens and other environmental projects in schools. Like her father, media mogul and philanthropist Ted Turner, who helped start the series and the foundation, she is a committed conservationist.
She co-founded the Chattahoochee Riverkeeper with her husband Rutherford Seydel and started Mothers and Others for Clean Air with Stephanie Blank.
The Seydels helped transform Captain Planet from a corporate foundation to a public philanthropy in 2001.
Warm, engaging and passionate about her work, Seydel is reminiscent of the character Ma-Ti in the Captain Planet cartoons – the one who provides the heart for the young environmental warriors whose rallying cry is: "Let our powers combine."
Seydel has received the League of Conservation Voters Environmental Hero Award and the SCLC Drum Major for Justice Award. She serves on numerous boards, including the League of Conservation Voters, Waterkeeper Alliance, Turner Foundation and Turner Endangered Species Fund.
Georgia Trend's Susan Percy interviewed Seydel at EcoManor in Buckhead, the home she shares with her husband and three children. It is the first Gold LEED-certified house in the Southeast. She talked about her conservation interests and why she believes so strongly in focusing on children. Following is an edited version of the interview.
GT: Tell us about the Captain Planet Foundation.
Seydel: It was launched as a result of a cartoon that aired in the '90s [on TBS] called Captain Planet and the Planeteers. It featured the first and only eco-superhero. It really taught kids about issues of global importance – both environmental and social. The cartoon was seen in 100 countries in 23 different languages. Five youths that were main characters were from five continents. These youths would work together to solve real world problems, and when it was too big for them to accomplish, they would call on Captain Planet.
GT: How did the character turn into the foundation?
Seydel: Barbara Pyle [co-creator of the cartoon series and foundation founder] and my dad decided that teachers needed a way to have kids learn in a hands-on way in schools and through youth organizations. They started a small grants program – it was a corporate foundation, part of Turner Broadcasting System. Money came from merchandise sales and residuals from the cartoon. They were able to fund hundreds of these great initiatives to do hands-on environmental stewardship projects.
GT: What kinds of projects does the foundation fund?
Seydel: Our small grants are between $200 and $2,500. It really gives educators the critical gap funding they need to teach children outside of the classroom and do environmental stewardship projects. We have funded 700 school gardens over the past 20 years. The [new] learning gardens program we developed launched in 2009 – with grants from Kaiser Permanente and Georgia Power – to actually have curriculum that is standards-based that would teach the core subjects in the context of gardens.
GT: Where do you make the grants?
Seydel: In all of the states. We have granted probably about 200 to school and youth groups throughout Georgia – 100 of them or more are outside Atlanta. We just funded our millionth child directly and indirectly our 7 millionth.
GT: What do you mean by indirectly?
Seydel: When you buy a water kit for a class of students, it's not like they're going to use them once. They are used every year with that teacher, for science class. These are gifts that keep on giving – planting trees, planting all kinds of gardens [like] pollinator gardens, edible gardens.
GT: What's special about this foundation?
Seydel: It was really the brainchild of my dad. He thought it was important for youth to get involved. It is their future. When they understand what supports our lives and how important nature is, and have an opportunity to be out in it, they connect with it, learn not to be afraid. A lot of children now are afraid of being outside, of dirt, of germs, bugs, eating any kind of vegetable. When they get out in nature and do these projects, they have a positive outlook about nature. They become interested and become good stewards.
GT: Why did you decide to make this particular foundation your focus?
Seydel: Because it was an important niche that needed to be filled. Nobody else was doing it. No other environmental organizations. They might have had great programs, but they weren't actually supplying the critical gap funding to schools that made the difference between whether they could take their kids out and do these projects. It's important for us to do everything in our power to make sure we are handing over an earth that is livable. I have an opportunity to make sure that happens. My dad handed it to me, and I wanted to make the most of it.
GT: Does having children of your own make your work with children more important?
Seydel: My whole conservation ethic was always good, but when I had children, I kicked it into high gear. My husband and I, their grandfather and others in my family have really led by example.
GT: You mean that literally, don't you?
Seydel: When we go on family vacations, if we go to the beach we end up picking up trash. My dad is out there leading the way. He walks around Atlanta picking up trash along the way. When we went to Machu Picchu, we actually were up at the top there in the ruins and Dad was picking up trash. It's standard fare with us.
GT: You and your husband stepped up and made a concerted effort to save the Captain Planet Foundation when AOL and Time-Warner were merging and the foundation was in danger of being shut down. Tell us about that.
Seydel: They said we'll give it to your family, but it has to be a public foundation, has to be in control of your family. We [the foundation] don't own the brand. If the Captain Planet Foundation went awry and wasn't managed fiscally responsibly, it would reflect poorly on them. So for a while we kept it in the family's hands. My three brothers, myself and my sister, my dad stayed a part of it. For a while, we only did one fundraiser a year. We'd split the proceeds between a couple of children's foundations and Captain Planet. That would be the money we would give out in small grants. [A few years ago] we went back to [TBS president] Phil Kent and said we need to diversify our board, grow our budget and our programs. We got started right away, and we have done a great job. Our stars have aligned.
GT: How does the foundation operate?
Seydel: We have a wonderful staff, the best we've ever had. [Executive Director] Leesa Carter is fabulous – very dedicated, very enthusiastic, very capable, doing a great job. [We have] a diversified, talented board that also has the capacity to fundraise. We're adding additional board members. Governance is really important. It took us a while to make that happen. For a while, it was just my family on the board.
GT: Has the legacy of the cartoon helped your fund-raising?
Seydel: The cartoon aired around the world. Millen-nials who call themselves the Planeteers are in their mid-20s to mid-30s, moving up in the business sectors, coming into their own power. They've been meeting up on Facebook. They are organizing. We are actually getting grants from these organized groups of Planeteers.
GT: Talk about the challenge of making people aware of environmental needs.
Seydel: If you ask anybody in this country – they might not call themselves environmentalists – but when you ask the questions which environmentalists are concerned about, they always answer positively. Are you supportive of clean air? Do you want clean water? Do you want a healthy life support system? Do you like biodiversity? About 71 percent of Americans agree. We've got people who care about theses issues all around us.
GT: That sounds encouraging.
Seydel: But giving to environmental and conservation causes doesn't reflect that. Only between 2 or 3 percent of all philanthropy in the U.S. goes to the environment or conservation. It's very surprising. There has just been a disconnect between people and place. I would say, first of all, reporting through the media is nonexistent. CNN doesn't really cover much any more. Rupert Murdoch – they don't report [much on the environment] at Fox, where the majority of people in America get their news. We're not telling people what's going on, so it's hard to get them involved to become part of the solution. Americans are spending 90 percent of their time indoors. An important part of my upbringing, and my father before me and for my children – we had all of this experiential play outdoors. All of our time wasn't structured like children growing up now.
GT: Are you optimistic that this will change?
Seydel: I do think we are seeing a lot of success. People are starting to get more involved in communities. Children are bringing a lot of it home, seeing a lot of it in school.
GT: In terms of the larger world of environmental philanthropy, which is more effective, smaller groups with a tight focus or larger umbrella groups?
Seydel: Both. It's the mix. People care about place, so they might connect up with local organizations more so than with a Washington, D.C.-based organization – they can't see where their money is going. We have funders that want to pay to put gardens in schools, but not a school in Africa or a school in California. They want it to be here in Atlanta, where their kids are or their employees work. I think you see that with all kinds of organizations like Riverkeeper – it's a grassroots organization that has just grown. But that's because somebody in that community has said, this is what we need – somebody watching out. And I think the [same is true for] little land trusts protecting this park or that mountain. It's a community-based effort, and that's really important. Big ones like The Nature Conservancy – they have state chapters and have big national [offices], and they are able to raise $600 million. They are doing good jobs. They are focused on endangered species and habitat, and they are really good at that, but it takes all kinds.
GT: There was a time when environmentalists and the business community were typically at odds, but that is no longer true.
Seydel: We are very blessed with Fortune 500 companies in our state. Seventy percent of those companies have sustainability reports or chief sustainability officers. Companies are leading the way – look at Coke, Walmart, UPS. Southern Company is moving from coal to gas and other renewables. It's absolutely crucial.
GT: What does your work mean to you?
Seydel: I do this work because I realize it's really a moral issue. We are mandated to take care of God's creations. We all can do so much individually, but together we can even achieve more. That's one of Captain Planet's slogans: "Let our powers combine." It's all about getting the job done.