Albany | Dougherty County: Stability And Growth
Education, technology and energy efficiency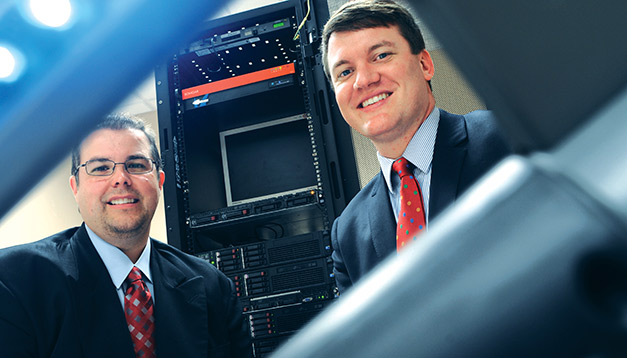 The terminal building that recently opened to the flying public at Southwest Georgia Regional Airport is an apt symbol of the way the economy of Albany and Dougherty County is poised to take flight.
"Having a brand-new terminal as your gateway to your community is a great asset for us," says Justin Strickland, interim president of the Albany-Dougherty Economic Development Commission (EDC). "I think that makes for a great first impression." In fact, visitors from Canada recently toured the airport, eyeing it as a potential model for their new facility. UPS already has a cargo hub at the airport, and Strickland says goals are an expanded runway and larger apron to accommodate bigger aircraft.
Projects like the airport have County Commission Chair Jeff Sinyard passionate about his hometown. Sinyard has served as a commissioner and now commission chair in Dougherty County since 1985. He was born and raised here and is the longtime owner of Adams Exterminators.
"I love this county," he says, even as he plans to step down from his commission seat after his current term, believing "that it's time to move on." Locals say he will leave big shoes to fill.
Moving on is what Albany and Dougherty County have been doing since the Great Recession. Economic stalwarts like Procter & Gamble, Coats & Clark, MillerCoors, Mars Snack Food and the Marine Corps Logistics Base Albany remained stable or even expanded during the economic downturn, and other businesses are making their own marks.
Two local successes are Equinox Chemicals, which develops customized chemical compounds to meet a company's specific needs, and SASCO Chemical Group. SASCO has been in Albany for 66 years and recently upgraded its headquarters and plant. Both companies market globally and continue to grow, says Sinyard, providing jobs that range from truck loaders to chemists with Ph.D.s.
Thrush Aircraft, which builds crop-dusting planes that it ships globally, is also thriving, growing from less than 50 employees in 2011 to some 200 now. "They've put together quite a team in sales, quality control and manufacturing," Sinyard says. "It has been pretty extraordinary.
"Our biggest challenge," Sinyard says, "is to continue to develop our skilled workforce." Community leaders are encouraged by a series of collaborative meetings that have begun taking place between the presidents of the three higher education institutions in town – Albany State University, Darton State College and Albany Technical College – and Dougherty County School System Superintendent Dr. David "Butch" Mosely. Their goal is to identify and solve challenges to increase the graduation rate, currently at about 60 percent, and help prepare students for work in a world increasingly driven by technology.
According to a knowledgeable observer, Albany's technology infrastructure is excellent. Robert Collins, founder and CEO of NEOS Technologies, says, "Albany's robust technical infrastructure provides a key component for existing and future businesses, healthcare organizations, schools and government to grow and thrive, creating jobs and wealth in the region." NEOS itself recently moved to larger quarters to better serve a growing clientele.
High-speed fiber connections provided by AT&T, Mediacom and Albany's Water, Gas, & Light Commission provide the bandwidth needed to leverage cloud technologies and Voice over Internet Protocol (VoIP) phone services.
"These allow businesses to stay current on technology and obtain rich features and functionality without large upfront investments," Collins says, resulting in decreased business expenditures for hardware, server and software upgrades, as well as enhanced protection from cyberattacks, viruses and spyware. NEOS' key mission is to help its clients leverage and grow their businesses and efficiency through these technological advances.
The region's manufacturers and ag producers would benefit from the proposed expansion of the Port of Savannah via the inland port terminal in Cordele, only 40 miles north of Albany and connected by the four-lane Georgia 300. Although the port project did not receive federal funds this year, Sinyard says, "We're in full support of Governor Deal and his policies in trying to move Washington off square one."
Greening and Cleaning
Dougherty County plays a vital role in national defense through Marine Corps Logistics Base Albany. With more than 5,000 employees, of which about 3,300 are civilian workers, and ongoing discussions in Washington about drawing down military resources, "there's not a day goes by that we're not thinking of ways to enhance or strengthen that base," Sinyard says.
The county is currently widening a roadway and adding a traffic light to better control traffic flow to and from the base. Dougherty County also partnered with the base a few years ago on a gas-to-energy project in which emitted gas pumped from a county landfill powers some 20 percent of the MCLB's electricity. According to Sinyard, a second generator will be brought online this fall that should push the total to 40 percent.
Add to that a biomass partnership between the Marine Corps and Procter & Gamble and plans to run new underground lines to increase efficiency, and Sinyard believes that within the next two to four years, the base could be the first net-zero base in the U.S., meeting or exceeding every energy requirement. He emphasizes that it's a partnership. "The community's job is to discuss, market and cheerlead what the folks inside that fence do. It's critically important." That partnership extends to local officials, who journey annually to Washington to meet with the congressional delegation and Pentagon officials, most recently this past March.
From her office in the City-County Government Center, Mayor Dorothy Hubbard explains her push for cleanup in the city and why it is important for economic development. "I don't think anyone is going to come into our city and invest [millions of] dollars [if] we're not clean," she says, "It implies that we don't have any community pride, that we don't care about our neighborhoods or where we live."
To encourage citizens to participate in yard and neighborhood cleanup, as well as to help them understand and embrace the role private citizens play in economic development, she launched the Call to Service Initiative. Community groups can apply to adopt streets, parks or blocks to plant trees and flowers, keep the area litter free or report criminal activity, community concerns or issues requiring city assistance.
Another highlight of Hubbard's first term has been the fulfillment of a campaign pledge to tear down the abandoned, dilapidated Heritage House, a former hotel and event center on Oglethorpe Boulevard, U.S. 82's business route through downtown that had become a haven for transients, prostitution and drug users. On the day demolition started in late 2012, "I did go down there to that excavator and hit that first brick to knock it down," she says.
With the debris cleared away, the city has had several offers to buy the property, says the mayor, but any sale prospects are on hold pending the outcome of determination of a site for a multimodal transportation center. It's a project more than 13 years in the making, but positive steps are being taken to move the transportation center forward. The preferred site is nearby on Oglethorpe Boulevard, and the city approved funding for an environmental assessment last January.
Rebranding, Revitalization, Retail
The establishment of a job-creation fund is an economic development tool for the city that officials believe gives Albany a distinct advantage. The funds come from money returned to Albany through its membership in the Municipal Electric Association of Georgia (MEAG). The city designated some $30 million to provide new companies that meet key eligibility criteria with matching funds or startup costs.
"This fund is here for one purpose and one purpose only, to provide incentives to recruit new industry and new manufacturing," says Chris Hardy, president and CEO of the Albany Area Chamber of Commerce.
"There are a few other communities that have similar [job creation] funds, but we think ours will be the best-funded and most flexible when it comes to funding projects," Strickland adds.
This summer the EDC will kick off phase one of a rebranding campaign, a marketing and communications plan aimed at boosting the community. Stories and comments in the news media and online have often tended "to not paint Albany in the best light," says Strickland.
"Our biggest challenge is the perception issue," Strickland's EDC colleague Bárbara Rivera Holmes, director of marketing and existing industries, says. "We have great things to offer as a community, and just like all communities there are things that we're working through. But what you read online isn't representative of our community, so that's why we started this branding campaign, to help us shift that external perception but also shift the internal perception, which is really important for us."
Revitalization of Albany's central business district continues on the upswing, with new businesses opening and new development by the private sector on the horizon. In April, the Albany-Dougherty Inner City Authority (ADICA) voted to spend $337,000 on pre-development and consulting with Charlotte-based Shandon Development Properties for a master plan that could ultimately result in $49 million in downtown Albany development on or near the river.
There are local partnerships as well, says Aaron Blair, Albany downtown manager. It's all part of a larger goal to continue shifting away from public-funds involvement to private-sector investment. Since Blair assumed his post in 2010, there has been well over $3 million in private investment in the central business district and $4 million to $5 million within the expanded downtown boundary, which extends east across the river. Also underway are construction of two kayak/canoe launches on the downtown riverfront and a search for an outfitter to serve users. In addition, a Waffle House restaurant is in progress along with other small projects. The hope is that these will jumpstart bigger things.
New retail outlets opened across the city over the last three years, both locally owned and national. Walmart opened a second area supercenter in East Albany in 2011 and Gander Mountain, PetSmart and Party City are newcomers within the last year. Olive Garden debuted an Albany location a year ago.
Financial and Human Capital
Financial capital investment is crucial, but so is human capital, and that's what the chamber of commerce will emphasize starting in August with a new leadership development program. According to Hardy, the program has created a lot of buzz over the past several months. "We have a distinct leadership generational gap in our community," he says. "We need to address that, and this program's going to do that." The program, available only to chamber members, will pair young professionals with mentors and focus on key areas such as strategic planning, political savvy and effective delegation, negotiation and networking.
Tourism continues as a cornerstone for Albany and Dougherty County. Rashelle Beasley, director of the Albany Convention and Visitors Bureau, says last year saw a 6 percent increase in tourism revenue through the hotel/ motel tax, and direct spending by visitors was also up. New hotels – three or four over the past few years – are also positive indicators. Beasley estimates 45 percent of Albany's hotel occupancy is by business travelers. The annual Quail Hunt brings in business leaders and celebrities. "[The hunt is] a good time for Albany to shine for the state leadership and for the prospects that come in," says the EDC's Strickland.
Family reunions provide strong summer business for the CVB, says Beasley, and several group bus tours are now offered. Hardy estimates the CVB, which falls under the chamber's umbrella, has an annual economic impact of well over $200 million.
Last fall Phoebe Putney Memorial Hospital held a grand opening for its new Digestive Health Center, a $35-million facility in northwest Albany. The hospital is still on hold regarding remodeling the former Palmyra Medical Center into a proposed women and children's medical center pending final Federal Trade Commission approval. Meanwhile, it's undergoing a two-year project to convert all its patient files to electronic medical records, a roughly $40-million project. It's just another way that Albany continues to look ahead.