Southwest: Making The Jump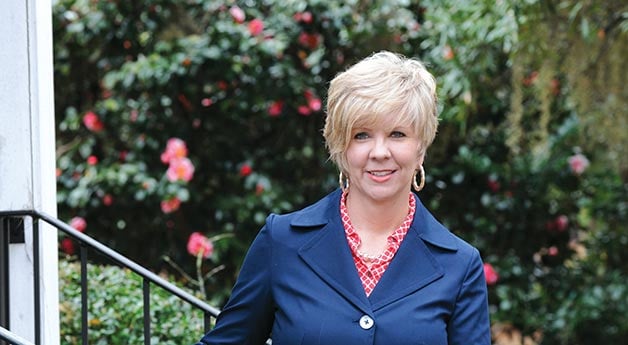 This is looking like the year Southwest Georgia economic development leaders make the big jump from optimism to excitement. The 25-county region's longtime economic mainstay, agriculture, is breaking records, existing industry is healthy and showing signs of growth and the phones are starting to ring more often as prospects check out the area.
"We're excited about 2014," says Justin Strickland, interim president of the Albany-Dougherty Economic Development Commission (ADEDC). "We had some good things happen in 2013, and we hope and expect to continue that momentum. We've seen some great growth in our existing industry, retail has been especially strong and our local manufacturers are growing. We haven't had any huge projects, but we've had a lot of small successes."
"One of our biggest success stories," he says, "is our Pecan Grove Corporate Park." It's doing so well ADEDC is now rushing to get all utilities in place for its 225-acre Albany-Dougherty Industrial Park.
"We're always preparing for the future, and we want to be sure we have sites ready when companies come looking," Strickland says.
And companies are definitely looking, especially since the City of Albany and the commission announced a $30-million job investment fund, the largest such deal-closing fund in Georgia. The money would be used to reimburse companies for expansion-related expenses as an enticement to bring companies to the region, generating jobs, recharging the area's tax base and hopefully leading to an economic boost.
"Our phones have been ringing ever since the fund was announced, and we hope to have a project in 2014 that will meet the criteria," Strickland says. Eligible projects must create at least 100 jobs or invest at least $10 million within the first three years.
Strickland's excitement about the new year is echoed by many of his counterparts in the region.
Brian Marlowe, president/CEO of the Tift County Development Authority and the Tifton-Tift County Chamber of Commerce, says he's "very optimistic" his community will be seeing a lot more economic development activity this year.
Helping fuel that optimism is a major expansion by American Textile Company. The company, which opened a Tifton bed pillow manufacturing facility just three years ago with 100 employees, broke ground in late January for an expansion that will bring the company's total space to more than 400,000 square feet and double its workforce over the next five years.
"An important indicator of our community's well-being is the diversity of our growth," Marlowe says. "During the past three years, almost every one of our local industries has expanded. We are fortunate in that we continue to experience a tremendous amount of activity and success across all sectors within the community."
The community's success has now put it in the position of running out of building space, a problem "we're going to remedy," Marlowe says. "We're working on site plans now for a new spec building. We believe the economic tide is getting ready to turn, and we want to be ready when a company comes looking for a place to locate or expand."
Valdosta-Lowndes County has also been busy preparing for anticipated future growth.
"Our community has invested $13 million in two new industrial parks," says Andrea Schruijer, executive director of the Valdosta-Lowndes County Industrial Authority. "We now have three industrial parks with some 500 acres completely ready, with all infrastructure in place."
"I'm looking forward to 2014 being a really good year," Schruijer says. "Our existing companies are going great. They're hiring again and getting back to pre-recession employment levels. A number of companies are also starting to make capital investments in their facilities, so you know they're feeling better about the economy."
Schruijer says she's seeing "a good pipeline of projects" for new business, especially manufacturing and retail.
Economic activity is also looking better for other Southwest Georgia communities.
"It's nice to have some good news to report," says Darrell Moore, president of the Moultrie-Colquitt County Chamber of Commerce and the Development Authority. "Our mainstay, agriculture, is doing great. We've got two major projects underway, and leads for prospects have really picked up."
The two big projects are a new $45-million high school and a $30-million renovation and expansion at Colquitt Regional Medical Center in Moultrie.
"It amazes me that agriculture here is doing as well as it is," Moore says. "It seems to get better every year. We're trying to take advantage of our reputation as a big agriculture area to attract new business, and activity for prospects has really increased in the last couple of months."
"We have a lot going on, and we're moving forward," says Lisa S. Collins, director of economic development for the Cook County Economic Development Commission.
"We recently completed a $5-million improvement project at our airport and are planning more than $1 million in infrastructure improvements for the county's industrial park," she says. The county has a 3,000-acre supersite that runs parallel to I-75, with 350 acres "ready to develop."
Collins says the airport improvements have already helped attract a new company, Catalina Tempering, a tempered glass manufacturer.
Lee County's Winston Oxford says he believes his county has just about weathered the recession storm and is getting back on track for growth.
"By the end of last year, our unemployment rate had dropped back to almost the levels before the recession hit, and our sales tax revenue has really rebounded," says Oxford, executive director of the Lee County Chamber and Development Authority.
"Several new stores, some new restaurants and a new Chevrolet-Cadillac-Buick dealership opened last year, and a new John Deere dealership will be opening this spring," Oxford says. "The rest of the year is also looking good. I've got some pretty interesting things going on, including one big project and several small ones I hope to hear from soon."
Shelley Zorn started 2014 in a new place but with a familiar job. Zorn, who handled economic development as the longtime president of the Ashburn-Turner County Chamber of Commerce, became executive director of the Thomasville-Thomas County Development Authority in January and barely took time for a second breath before hitting the road in her new community.
"I started visiting companies and found out quickly that our existing industry is doing well," she says. "In fact, of the four companies I visited my second week, three are looking at expanding. We have a strong industrial base and a strong downtown, and it looks like we'll have a good year."
The year definitely got off to a good start when Ag-Pro Companies, which has 25 John Deere dealerships, announced it would build a $3.4-million corporate headquarters facility in Boston, in east Thomas County. Zorn says Ag-Pro is expected to break ground this spring for the facility, which will add "up to 50 high-paying jobs."
"We're looking forward to an awesome future, and it may just get started in 2014," says Karen Rackley, executive director/president of the Sylvester-Worth County Chamber of Commerce. "Agriculture is still the mainstay of our economy, but we are also positioning ourselves to welcome new industry."
The community has a new 196-acre industrial park "that is shovel ready" for tenants, Rackley says. "Our community leaders have gone the extra mile to let industry know we're ready."
Tina Herring, director of the Brooks County Development Authority, says 2014 is off to a good start for her county with a new chip mill in operation and "several prospects" knocking on the door.
"After a lot of starts and stops, our retail is picking up and we have some good prospects," says Herring. "I'm cautiously optimistic an upward trend is starting."
Cordele-Crisp County leaders started preparing for the economic turnaround several years ago, and Bruce Drennan, executive director of the Cordele-Crisp County Industrial Council, says it looks like that time is coming soon.
"We have three prospects for good-sized manufacturing facilities we're working with right now that we hope to hear from soon," Drennan says. "Our new Intermodal Center is really helping us attract attention, and we're now looking at partnering with all the technical colleges in a 60-mile radius so we can be sure we have the skilled labor market needed."
An important part of the community's plan for the future is the Cordele Intermodal Center, an inland port that serves as a staging area for container cargo going to and from the Port of Savannah. Companies can bring their cargo to the Cordele facility, where it is shipped by rail car to Savannah and loaded directly onto a ship.
"We see things turning around and believe 2014 will be a good year," Drennan says. "We're seeing more prospects, our existing industry is adding workers and we're seeing an increase in retail with several new store openings."
Individual Stories: