Southeast: Rising Tide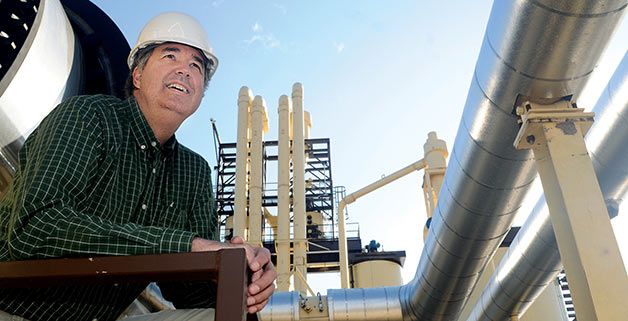 Without question, when it comes to economic development in Southeast Georgia, the long-planned Savannah Harbor Expansion Project is big news.
After years of planning – Congress first authorized studying the project in 1999 – dredging to deepen the river channel from 42 to 47 feet is expected to start this year – despite an unexpected lack of funding when the federal fiscal 2015 budget was announced in March. Both Gov. Nathan Deal and Curtis Foltz of the Georgia Ports Authority have since said dredging will still move forward using the $265 million in dedicated state funds.
A deeper channel is needed to accommodate the supersized cargo ships that are expected to begin arriving via an expanded Panama Canal in 2015. According to Trip Tollison, president and CEO of the Savannah Economic Development Authority, the expansion project will take four years to complete.
"There are several key economic generators in the Georgia coastal region, and our ports are one of the largest," says Allen Burns, executive director of the Coastal Regional Commission. "The Savannah port expansion project will result in more import and export trade volume, additional manufacturing and distribution opportunities and more jobs – not just in the coastal region, but throughout Georgia."
Even without the expansion, the Port of Savannah experienced double-digit growth in volume last year, says Tollison. "And we expect to exceed three million TEUs (twenty-foot equivalent container units) this year for the first time ever."
Tollison says that three things are contributing to healthy economic growth in Savannah and Chatham County: the Port of Savannah, rapid expansion at Gulfstream Aerospace Corp., and growth in tourism. "We're seeing unbelievable growth in tourism, with more than 12.5 million visitors last year," he says. "Gulfsteam Aerospace has been a remarkable success story. They added 1,000 new employees last year, which is well above their expansion announcements."
An aerospace corridor is developing between Charleston, S.C., and Jack-sonville, Fla., he notes, luring all kinds of aerospace suppliers. "It's similar to how auto manufacturers are building huge plants here in the Southeast." Aerospace is now a $50-billion industry in Georgia, with 838 aerospace companies providing 85,000 jobs statewide.
A little farther down the coast, business is also booming at the Port of Brunswick. The Colonel Island terminal is now the No. 1 port in the country for new car imports and second overall for the processing of auto imports and exports. That number is because of companies like Mercedes Benz, which ships 60,000 automobiles a year from its manufacturing plant in Alabama to Europe.
Elsewhere in Camden County, progress is being made toward development of a commercial spaceport among the salt marshes on the Southeast Georgia coast, says Charlie Smith, chairman of the Camden County Joint Development Authority. The site could be used for rocket testing, launching satellites or making trips to outer space by private companies. "This would certainly have a huge economic impact on the area," Smith says.
Burns calls it a potential economic game-changer. "We're still early in the process of this long-term project, but it's something that could change the face of coastal Georgia," he says.
Smith says that Camden County requested $16 million from the state for a new technical college on 30 donated acres in Kingsland to help prepare spaceport workers and train employees on the nuclear submarines at Kings Bay Naval Base. The money was left out of Gov. Deal's initial budget, but $1 million was included for renovations to the Collage of Coastal Georgia's Brunswick campus, Smith notes.
The impact of Gulfstream Aero-space extends into Glynn County and Brunswick as well, where Gulfstream recently announced it will develop a $25-million, 110,000-square-foot maintenance repair and overhaul facility near its two existing hangers at the Brunswick Golden Isles Airport. This expansion is expected to create 100 new jobs.
Out on the barrier islands, Golden Isles Convention & Visitors Bureau President and CEO Scott McQuade says the Golden Isles are coming off three years in a row of substantial gains in the tourism industry. "And 2013-2014 is currently tracking 8.5 percent ahead of last year's record pace for tourism," McQuade says.
Sea Island Properties opened The Sea Island Inn, a new 85-room hotel, in February, and the King and Prince Beach & Golf Resort opened a completely remodeled oceanfront restaurant, bar and lobby area in March to compliment extensive 2013 remodeling projects. On Jekyll Island, the former Oceanside Inn & Suites is getting a $16-million overhaul before it reopens as a 155-room Holiday Inn Resort this spring.
Moving further inland, much of the economic growth and development of these counties is dependent on the health of the lumber and agricultural industries, says Dale Atkins, executive director of the Development Authority of Appling County. "We are located in the heart of the timber belt, which is important for servicing the lumber, pulp chip, biomass and wood pellet industries," he says. "We continue to rely on our agricultural base of cotton, pecans, blueberries, peanuts, corn, soybeans and the processing facilities associated with those products."
Atkins points to recent economic development activity in Appling County that includes expansion of Raycon's sawmill and pellet equipment plant, Stanley Farms' establishment of Southern Pack N Go to process and distribute fruit and vegetables (adding 70 jobs), and Georgia Power's location of an employee/contractor processing facility in the county. "Baxley and Appling County provide easy access to interstate highways and the Savannah and Brunswick ports," Atkins says, "and the Norfolk-Southern Railroad affords additional access to ports and distribution."
Right next door in Jeff Davis County, Grant Gainer, chairman of the Jeff Davis Joint Development Authority, points to a new $91-million wood pellet facility being built by Fram Renewable Fuels in Hazlehurst that will process raw wood into pellets to export to Europe, which will create 80 new jobs. Also in Hazelhurst, a $10-million plant is being constructed by EP American Footwear, which supplies shoes to major retailers including Walmart, that will create up to 250 new jobs. And Propex is expanding its operations, adding between 100 and 200 new jobs.
"The unemployment rate here in Jeff Davis County has been high for several years as some industry has left this part of Georgia," says Gainer. "We're optimistic that these projects will help get our industrial base back to where it needs to be."
Waycross-Ware County Development Authority Executive Director Bob Hereford says the county is working closely with CSX Railroad to maximize the use of Rice Yard, the largest switching hub east of the Mississippi. "There is a $2-million automated switching operation there, so we want to put ourselves in the best position to take advantage of it from an economic development perspective for Ware County."
Hereford says the county development authority owns 600 acres of land in the Waycross-Ware County Industrial Park that would be ideal for any company that needs rail service and four-lane highway access to I-75 and I-95. "Here in Ware County, we have abundant access to land, water, timber and transportation," he says. "And the Okefenokee Swamp in south Ware County is a growing tourist attraction."
Meanwhile, Liberty County Development Authority CEO Ron Tolley says the region is recovering from a slight economic dip due to the 3rd Infantry Division at Fort Stewart being overseas. "Fort Stewart continues to have the largest economic impact on our area, and most of the 3rd Infantry Division is back now," he reports.
Among the county's successes, chemical manufacturer SNF Floquip is planning another expansion (on top of the one it completed last year) that will add another 50 jobs to its facility in the Midway Industrial Park. Elan Corp. was recently purchased by Perrigo Co., which plans to expand the operation at its 90,000-square-foot facility in Midway, adding capital investment and creating new jobs.
"There were no major closings or downsizings in Liberty County last year, but we had expansions of existing businesses, as well as new businesses coming into the county," says Tolley. "Last year was a good year for us, and I think 2014 will be another good year."
Individual Stories: