South Metro Atlanta: Staying Power
Innovation, a growing filmpresence and healthcare.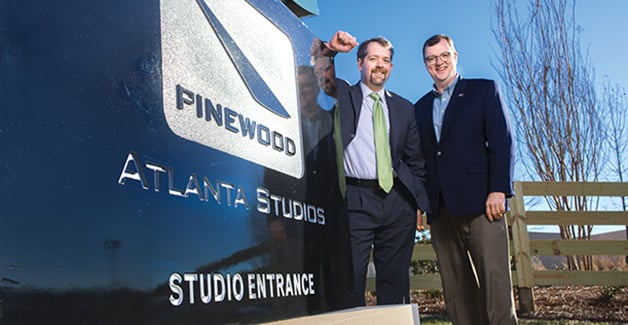 There's this thing in Hollywood called staying power. You'll hear it applied to movie stars, like Michael Douglas, for example. He's been around awhile, has a couple of Academy Awards, and at almost 70, he still gets his share of choice roles. It means the effort has paid off. It means you are in demand, which implies enduring success, or sustainability. That's staying power.
It's also a fitting designation for the South Metro Atlanta region, where the movie business has put down serious roots, where the world's busiest airport gets busier, where the healthcare industry investment keeps growing, and where a 1,000-acre community, Serenbe, has become a nationally renowned living laboratory of New Urbanism (see page 103).
Serenbe, located within the city limits of Chattahoochee Hills in southern Fulton County, was created with staying power in mind, and it also perfectly exemplifies the underlying sense of "close enough yet far enough" that prevails in much of South Metro – close enough to Atlanta and the airport, but far enough to feel almost rural, this region's spin on location, location, location.
"This community has emerged like a European village on the edge of bustling Atlanta, a community that understands sustainable development, that incorporates organic farming, that has embraced the arts," says Steve Nygren, a restaurant industry veteran whose family moved to the area 20 years ago, opened Serenbe Bed & Breakfast in 1996, then founded a community that is setting standards for responsible development in the shadow of Atlanta's sprawl.
"To have all of this just 20 minutes from an airport that connects you to the world – it's pretty remarkable," Nygren says. "It pulls you into this whole thing that's happening on the south side."
A big part of this whole thing, he says, is Pinewood Atlanta Studios, the full-service film and entertainment studio complex that just opened on 288 acres in Fayetteville. It's the first U.S. facility for England-based Pinewood Studios, the company that produces the James Bond films, among other big-money projects, and it's putting more polish on Georgia's already sterling film image.
And soon, South Metro – which consists of Clayton, Coweta, Fayette, the southern portion of Fulton, Henry and Spalding counties – will be home to the newest Marvel movie superhero, joining a franchise roster that includes Iron Man and the rest of The Avengers (which equates to big money in the way of ticket sales and merchandise). Pinewood Atlanta's first project is the film adaptation of Ant-Man, which will star the aforementioned Douglas (he of staying power) and Paul Rudd.
"That's a large production in excess of $200 million, and it's happening right here," says Steve Brown, chairman of the Fayette County Board of Commissioners. "Pinewood just completed Phase One, and Phase Two is on the drawing board. This is going to be a great adventure for everyone concerned."
That would include the expected invasion of visitors who will support another growing industry in the region, movie tourism. The region is known as home of the most popular drama on cable TV, AMC's The Walking Dead, a zombie apocalypse adventure series. Fans by the busload explore the region surrounding Raleigh Studios in Senoia, the Coweta County city that is home base for the series. They visit, they spend money and they leave.
"It's hysterical how many people come," Brown says. "They want to see the town where The Walking Dead is filmed, or where Drop Dead Diva is filmed (Peachtree City, where Brown used to be mayor), or whatever. Some of these productions have a cult following.
"Now Ant-Man is coming, and there will be a following for that, too."
On Location
The arrival of Pinewood changes the economic and cultural landscape of the region in general, but especially in Fayette County.
"Traditionally, we have been home to advanced manufacturing, corporate headquarters and service-related operations. With Pinewood locating here, our involvement in film-related activities is going to increase," says Matt Forshee, president and CEO of the Fayette County Development Authority.
Forshee's office has started a new division called Film Fayette to work with location scouts or film production tenants such as Pinewood, "and anything else where we can bring a positive community impact to film production activities," he says. "We already are fielding calls from film-related businesses so that they can serve not only Pinewood, but other film projects that are happening in the region."
Pinewood has facilitated big-dollar hits – Harry Potter films, Pirates of the Caribbean and countless classics, in addition to the 007 franchise. They could have gone anywhere, including Hollywood. But Fayetteville, Forshee says, was a "no-brainer for them."
Again, it's the airport's proximity (20 minutes), as well as the state's generous tax credits, but the available land may have been the clincher, because Pinewood has been in a long-term battle in London with local residents over its expansion plans there. That won't be the case in Fayette County.
"Our land prices coupled with the long-term ability to expand made great sense to them," Forshee says. "They saw an opportunity here to lock in development rights for many years to come at a relatively low price."
Pinewood plans to develop more than 500 acres in multiple phases. The first phase, an investment of more than $50 million, includes five soundstages and two large workshops – about 300,000 square feet spread over 50 acres. Stocking the workshops will be a new, on-site Home Depot store devoted entirely to the construction needs of film production crews.
The studio campus is at the north end of a large, undeveloped swath of land in the center of the county, with Piedmont Fayette Hospital (the county's largest employer) at the south end. Forshee says his office has been working with the city of Fayetteville on a master plan for the 1,500 acres there.
"This area could provide a sense of place that is otherwise lacking in Fayette County and can also provide apartments and condos for short-term residents," says Forshee, who envisions a pedestrian friendly urban core with shops, restaurants, "and office areas for new outgrowths of the film industry, like post production and animation."
Southbound Focus
Hartsfield-Jackson Atlanta International Airport employs about 58,000 people and has an economic impact of about $32.5 billion in metro Atlanta, and South Metro boosters work constantly to wring whatever shekels they can out of their communities' proximity to the airport. It hasn't been easy.
"If you look at the historical patterns of who has benefitted most from the airport, it's been communities far to the north, as opposed to those in the immediate shadow of the airport," says Doug Hooker, executive director of the Atlanta Regional Commission (ARC).
What he means is, the ritzy neighborhoods inhabited by executives with Sky Miles, the high-end Class-A real estate, the technology companies, the expensive Class-A office space, the better-performing schools – they are in the north, while many communities in the south have struggled.
"We're trying to change that pattern," says Hooker, who has been the ARC's point man the past two years in development of a project called the Atlanta Aerotropolis Alliance, which is a collaboration of local governments, citizens and business leaders who want to bring more business and development to the area.
"As a collection of communities working together on general goals, they can plan and develop in a way that is more harmonious with the type of business activity that flows in and out of the airport," says Hooker.
Fulton County Economic Develop-ment Administrator Ken Dobson has been at the Aerotropolis planning table, and he describes a potential corridor in South Fulton, running from the airport down to Chattahoochee Hills.
"There's a lot of undeveloped land that could become a first place of choice for companies," says Dobson, who has been working with a handful of clean-technology companies interested in the region. "The window of opportunity we have in the south for green, sustainable development is magnificent."
In the meantime, the area remains a major supply chain hub packed with warehouses and distribution centers, trucking companies and the like.
"A lot of logistics, distribution. We've got that," says Grant Wainscott, Clayton County economic development director. "The majority of the deals that have come in the past 12 months, or that we're seeing now, are especially related to that. The airport, of course, is right there, and there are the four interstates and the rail hubs."
It's an old story. The high-end, Class-A office space went north to be closer to the high-end residential space, and the distribution warehouses, the industrial area, grew on the south side. An old story, but it makes sense. The airport is there, as he says, and being on the south side of town puts a mover of goods that much closer to the Port of Savannah.
For years he's been trying to promote the Mountain View area (an unincorporated part of Clayton) for development. It's 150 acres, just east of the airport with tons of access to I-75 and I-285. But only in the past few years have they gotten serious, with road, sewer and water projects to serve the space. In fact, they were so serious last year that they offered the site to the Falcons as a possible location for their $1-billion football stadium if they couldn't get the space they ultimately got in downtown Atlanta.
"We were just offering a potential solution for the Falcons, but our bid brought us a lot of attention and it accomplished something else," Wainscott says. "Since then, we've seen real estate speculators buying up pieces of land, doing assemblages. There has been a flurry of activity. It's almost like a land grab."
While the development and marketing of Mountain View continues, Clayton is enjoying two bits of good investment news from late 2013.
In November, Briggs Equipment announced it was moving from Fulton County to Clayton, into a new, 120,000-square-foot operations center that triples the company's footprint (a $7-million investment), and in December, appliance retailer h.h. gregg an-nounced it was investing $18 million to move its Ellenwood distribution operation to a new facility nearby.
Sustainable Health
Henry County, just down I-75 from the airport, has developed a reputation for sprawling facilities in which to keep stuff. The Home Depot alone has about 3.5 million square feet of warehouse space there, including a recently opened $45-million, 1.1 million-square-foot fulfillment center (one of two companywide, to help grow its Internet business), and the home repair retail giant just signed a lease for another 600,000-square-foot facility.
"We are known and characterized as a distribution hub, and that's accurate," says Bob White, executive director of the Henry County Development Authority, who serves on the advisory board of the Center for Supply Chain Management at Clayton State University. "We have that niche, but we have a lot more going on also."
White points to expansions of local manufacturers, including Ken Foods, Goya Foods and Behr Paints, and to the resurgence of retail growth happening at South Point, near McDonough, which has seen the opening of an Academy Sports + Outdoors store, Havertys, Hobby Lobby and T.J. Maxx, among others. And he's looking at the growing presence of healthcare services, especially in the Eagles Landing area.
"Healthcare is a strong growth industry for us," says White.
The same thing is true in Coweta County, where the Cancer Treatment Centers of America (CTCA) hospital that opened in August 2012 is already expanding, adding more than 120,000 square feet to the current layout of 226,000.
"We didn't anticipate kicking this off as quickly as we have, but the demand is there, and it became necessary," says Anne Meisner, president and CEO of CTCA at Southeastern Regional Medical Center in Newnan. "Last year we served almost 800 patients. This we year we expect 1,500. So we're almost doubling our clinical space and we're hiring at an incredible pace, recruiting for 100 jobs now, and we'll likely add another 200 jobs by the end of our fiscal year, June 14."
In addition to that project, HealthSouth has broken ground on a $22-million rehabilitation hospital, and Marriott is building a 90-unit hotel adjacent to CTCA to help serve the growing number of patients and visitors who are traveling to Newnan for treatment.
"Our community is developing into the healthcare destination for the South Metro region," says Hasco Craver, Newnan's business development director, who has been working with the University of West Georgia in its redevelopment of the former Newnan Hospital – an organization that was acquired by the seemingly omnipotent Piedmont Healthcare, which built a modern facility in Coweta.
The plan is to give the old hospital, a 1920s building, a $15-million upgrade, sufficient for a modern university nursing program.
But even as communities in South Metro position themselves as a new healthcare mecca, the region continues to get timely infusions from existing businesses demonstrating their own brand of staying power.
In Spalding County, for instance, the biggest economic development news came recently from one of its oldest industries. Towel manufacturer 1888 Mills bought a 500,000-square-foot building that had been vacant for several years. It's part of a company expansion that includes 100 new jobs.
Yamaha Motor Corp., already the largest private employer in Coweta, last summer completed transfer of its all-terrain vehicle (ATV) production from overseas to its Newnan plant, adding 100 jobs immediately, with plans to add another 300 over the next few years.
Also, Bonnell Aluminum, which has been in Newnan since the 1950s, is retooling to the tune of $17 million to start serving the automotive industry.
"With increased competition from overseas, we were concerned that they might close their doors and go away," says Greg Wright, president of the Coweta County Development Authority. "Instead, they're changing direction. The auto industry has standards to increase fuel efficiency, and one way to do that is reduce weight, and one way to do that is to use aluminum.
"Instead of leaving, they found a way to stay," Wright says, "and that means a lot for this community."