Ready To Go: 2014 Economic Yearbook
Georgia Trend's annual region-by-region look at Georgia's economy with new industries, new jobs and a newfound sense of optimism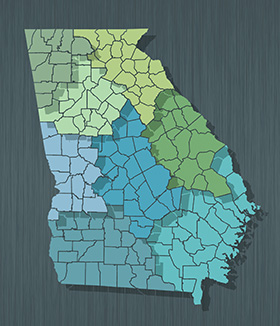 Everywhere you turn in Georgia, stories abound of new industries bubbling up, new jobs heading to the state and a newfound sense of optimism about the coming years. It seems the Great Recession is finally in our rearview mirror, and Georgia is ready to hit the gas pedal.
From technology and healthcare to the film industry and logistics, the Metro Atlanta area is booming and job growth is poised to outpace the national average.
Northwest Georgia is busy reinventing itself while still seeing an influx of flooring industry jobs, including the big announcement by Engineered Floors that will bring 1,500 jobs to the region and Mohawk's plans to expand two of its area facilities. Northeast Georgia is set to see the ripple effects of last year's big announcements, including the $200-million Caterpillar plant and Ethicon's facility near Athens.
Kia and Fort Benning continue to influence West Central Georgia's economic outlook, and the region is busy making the most of 2011's T-SPLOST passage. Project activity is high in Central Georgia, with the aerospace industry and solar power making strides. East Central Georgia is seeing a diversification of its energy sector, along with falling unemployment rates and a wide variety of industry moving in.
In Southwest Georgia, existing companies are expanding, agriculture remains strong and new retail is coming to the area. In Southeast Georgia, the Port of Savannah project is moving forward, aerospace suppliers continue to flock to the region and tourism is up along the coast.
Stories in this year's Economic Yearbook were written and reported by Jerry Grillo, Lawrence Viele Davidson, Scott Blusiewicz, Randy Southerland, Bobby L. Hickman, Karen Kennedy, Bobby Nesbitt and Don Sadler.
The Simon S. Selig Jr. Center for Economic Growth at University of Georgia's Terry College of Business provided the statistical information for these tables. Georgia Trend's Economic Yearbook divides the state's 159 counties into eight regions established in 1996.
Population and income data for 2013 have been projected based on 2009-2012 trends in income and 2008-2012 trends in population. Per capita personal income estimates were calculated based on revised population and income data from the Bureau of the Census and the Bureau of Economic Analysis.
Estimates of population and per capita personal income for 2013 are based on extensions of existing trends and reflect growth or decline based on data that already have been recorded.
Total population estimates are based on data through 2012 from the U.S. Census Bureau. County population projections for the year 2013 have been controlled to the reported state total for 2013. Employment data are for January-June average covered employment, defined as jobs, by place of nonagricultural employment statistics. Preliminary employment estimates are based on information of residence, were derived from data through 2012 issued by the U.S. Bureau of Economic Analysis, and are given in current dollars. Revisions from the BEA income data result from incorporation of the five-year economic census and the benchmark input-output accounts.
For more information, readers may visit the Selig Center website at www.selig.uga.edu. – Christy Simo
Individual Stories: