Back From The Brink
A Q&A with Synovus CEO and Chairman Kessel Stelling.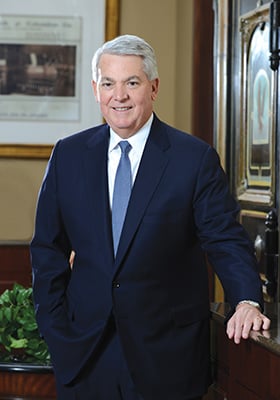 Veteran banker Kessel Stelling joined Columbus-based Synovus in 2006, when the financial services corporation acquired his Riverside Bank and merged with the Bank of North Georgia (BNG), just in time to present Stelling with the toughest challenge of his 37-year career.
The financial crisis hit Synovus especially hard; its loan portfolio was heavily concentrated in real estate, and the bank posted 12 consecutive quarterly losses. Many questioned whether it would survive.
Stelling rose quickly to become CEO and chairman of Synovus, but he was an outsider to the bank and to its Columbus home base, following two generations of Blanchard family leadership.
Over the course of the recovery, there were layoffs, cutbacks, even lawsuits; but Stelling guided the bank to profitability in 2011, and last July the bank repaid its nearly $1 billion TARP (Troubled Asset Relief Program) debt to the U.S. Treasury. Synovus today is a $26-billion company with 30 banks operating in Georgia, Alabama, Tennessee, South Carolina and Florida.
As part of the company's 125th anniversary observance last year, Stelling rang the New York Stock Exchange's closing bell on November 13.
Susan Percy talked to Stelling in the Bank of North Georgia office in East Cobb – formerly the Riverside Bank office – about the lows and highs of the last few years.
Following are edited highlights of the interview.
GT: How do things look to you now?
Stelling: Things are relative. I'm very optimistic about our company and about its future. It's a tough industry right now. I think the companies like us that came through this crisis and survived with strong capital and a strong, committed employee base like we did are well positioned for the future.
GT: Where do you go from here?
Stelling: People will judge us and bank with us and invest with us based on what we do going forward. The past is important as a data point, but on a go-forward basis it's going to be which banks can serve customers better, which banks can do it more efficiently.
GT: You joined Synovus just in time for the banking crisis.
Stelling: I sold Riverside Bank to Synovus in 2006 and had visions of renting sailboats to somebody on a beach somewhere, even though I knew I loved banking. I transitioned and became president of BNG, but I never in my wildest dreams thought in 2010 our company would be in the crisis it was in and I would be asked to go to Columbus. I had lived in Atlanta for 30 years. But when I was asked to go, I left that day – I lived in a hotel for six months.
GT: Within Synovus, things happened pretty quickly for you, didn't they?
Stelling: I was named CEO in October 2010 – that was not part of the grand plan [but] because my predecessor was stricken with a very rare illness. I went from president and CEO in February to interim in June to permanent CEO in October, then was named chairman of the board in June [2011] because of the emergency. My world changed a lot.
GT: Synovus has a long history with Columbus and especially with the Blanchard family. Did that add pressure?
Stelling: It did, and you know we're really proud of that history. I can't think of a person who has been a bigger supporter of me personally and of what we have tried to accomplish through our team than Jimmy Blanchard [former CEO and chairman]. He is no longer on our board, but he is still a close friend and close confidante.
GT: What did you do to try and improve the bank's situation?
Stelling: Within three months, we announced a new $10-million cost reduction, with over 1,000 employees being displaced. It was a big deal throughout our footprint, but especially in Columbus.
GT: What was the response?
Stelling: Immediately what got called into question was [if] these actions [were] consistent with the culture that had been developed over [at that time] 122 years – cutting people, cutting office costs. I remember speaking to a television reporter saying it's absolutely consistent: being fair, being transparent with our employees, doing the right thing with customers and employees. Everything we did, even with downsizing, those principles guided us. Jimmy Blanchard supported it every step of the way. [He said] you are going to have to take these actions, which are painful in the short term. Trying to make the company stronger put pressure [on us]. But that history has also been part of our success.
GT: There were some who doubted Synovus could recover.
Stelling: There were a lot of naysayers, a lot of bad things written about us. People said a lot of hurtful things. People said we wouldn't survive, we wouldn't ever make money again, wouldn't pay TARP back.
GT: When did you see some positive signs?
Stelling: In October 2011, we announced profitability for the first time in a long time. The number of emails I got from employees I never met, just saying when they read it on the wire that morning, they burst into tears, all these emotions hit them. They never gave up on the company.
GT: What helped you guide your company through the tough times?
Stelling: I've been in this business for 37 years. I started my career cleaning printing presses in the basement in a bank in Augusta. It was several promotions later before I became a teller. I love the business and always thought you sink or swim as a team. When I got there in 2010, I was the new guy. The message I tried to deliver is we will make it or not as a team. It's not about what I do, it's what we do together. There are going to be some long days and long nights and dark moments, but we've got to stick together as leaders. We've got to make sure our team never doubts us as leaders. They watch what we say, watch how we say it, watch how we walk down the hall.
GT: What did you tell your employees?
Stelling: The message to the team was focus on what we can control, stick together as a team, make sure the team members in five states never doubt our resolve. Take it a day at a time. We will get through it. I would say on Monday: Today is short-term; Friday is long-term. Think of it that way. We need to think what we can do this week to advance the ball, to get us closer to profitability, to get us out of regulatory purgatory. The team stayed focused.
GT: Was there a single moment at which you felt the bank would be all right?
Stelling: It was cumulative, but there were some big checkpoints along the way.
GT: What were they?
Stelling: In December 2010, we completed a $573-million sale of troubled assets that gave us some breathing room to work on our problems. Then in October 2011 [when] we became profitable for the first time in many years, it put an extra spring in the step of every employee. Everything about us just changed. At the end of 2012, we got our deferred tax asset back – an $800-million boost to our income, and it was a sign of confidence in our company. That was another big moment. In the spring and early summer of 2013, we participated in an FDIC-assisted transaction. We acquired the deposits of another bank [Sunrise Bank]. That was another big public affirmation of our company. I had friends say, "Two years ago, we thought you'd be on the other end of that transaction." And here we were being asked by regulators to step in.
GT: So that was big.
Stelling: I'd still say the biggest was repaying TARP on July 26. From the day I became CEO, [I knew] that ultimately would be the signal to the market this company has made it – or not. Can they pay off TARP without having to do something – sell the company or whatever? When we wired $968 million to the Treasury and got a certificate back that said "paid in full," it was an emotional moment for a lot of us.
GT: But TARP had its critics.
Stelling: People questioned that program, but the financial system was in crisis. The most recent Treasury reports say $245 billion was invested in the banking system; what's been repaid to date is $273 billion. That's a $28-billion profit. Some call it a bailout; I call it an investment. We borrowed money; we paid it back. That was the moment everybody – in the public, the markets, our customers, our employees – saw "they have done it."
GT: Over the tough times, was it hard to project strong leadership when you really didn't know if the outcome would be successful?
Stelling: There were probably some nights when I doubted myself, but I made sure only my wife heard those doubts. You can't let the team think that you doubt anything that you are doing – they are sharing in your vision. It was hard to see good people lose jobs, but it was never hard to encourage those that were still with us. There were tough moments. I have a great board who stood behind our leadership team every step of the way and a great leadership team who accepted me as if I had been CEO 20 years. We fought the battle together.
GT: What are the lessons for Synovus and the banking industry from the financial crisis?
Stelling: They are similar. As a company, we were certainly too concentrated in real estate. We operate in the five states in the U.S. probably hardest hit by the real estate crisis. It was just a bad combination of events. Today our balance sheet has been totally repositioned. We were too heavily concentrated in large borrowers; we have pushed down the large borrower concentration significantly, so the risk of one borrower's default causing significant impact isn't there anymore.
GT: Anything else?
Stelling: We have to be more efficient, have to get our technology better. Even though we still believe in relationship banking, we have to be competitive in all our delivery channels.
GT: What about the causes of the banking crisis?
Stelling: I think most of the excesses of the industry really are not what caused banks in my universe to get in trouble. Banks in the Southeast that got in trouble weren't doing exotic things on Wall Street; they were making real estate loans to friends, neighbors, people they had worked with for 25 years. The majority of bankers did not make loans they thought weren't going to get repaid. Nor did people that borrowed money willingly borrow money they didn't think they could repay. It was just a perfect storm and bad combination, and there were bad actors on both sides of that equation.
GT: What contributed to that perfect storm?
Stelling: In general, it was real estate concentration and maybe overall risk oversight. I think the industry has learned about overall risk management and the importance of controls. We have centralized a lot of our processes, centralized a lot of our oversight. Today it's much easier for me to know what and where my risks are, whereas before we were very decentralized – with 30 different banks.
GT: What's your plan for 2014?
Stelling: Basic blocking and tackling. It's execution, absolutely putting the customer first in everything we do. Making sure in every market in which we operate we maximize that opportunity. We've got to get efficient and stay efficient, make sure we introduce technology across the spectrum.
GT: How will you do that?
Stelling: All of us are trying to make our branch networks more efficient [with] fewer branches, more technology in branches. There's a long-term plan. We're investing in technology, investing in advertising, branding.
GT: How do you balance the in-creased technology you talk about with the personal touch?
Stelling: You have to do both well. I think that's the challenge. We're never going to have as many branches as Bank of America or Wells Fargo, as the major banks. We've got to be competitive with those banks on technology and got to beat them on service. There will always be a good part of the market that wants that service. That small businessperson wants to have a banker they can talk to. They want to be able to do their daily stuff online, but want to know if they have a chance to expand a business they have a banker.
GT: What about the Synovus footprint? Is that likely to change?
Stelling: We are exiting the Memphis market; we don't plan to exit others. Memphis was a geographic outlier for us. Longer-term, for a company like ours, with a five-year horizon, should we be in North Carolina? Probably so. If you're going to be a major Southeastern bank, you can't ignore North Carolina. Short-term, our focus is on our core operating franchise.
GT: Traditionally, banks have had strong relationships with their communities. Do people expect more of banks than other businesses?
Stelling: There is that expectation. Customers and non-customers look to our banks and our bankers not just for money but for leadership. We don't take it lightly.
GT: Yet the image of the banking industry has taken a hit over the last few years.
Stelling: During the crisis, you'd hear things about the London Whale [a JP Morgan Chase trader who lost $6.2 billion of his bank's money] and $20-million bonuses to people. Bankers had all of a sudden become the bad guys wearing the black hat. We always thought of ourselves as the good guys – the ones you wanted to help start a business, help send a child to college, help the Rotary or Kiwanis Club get started, help a church or synagogue. We've got some work to do. I believe those communities that have healthy banks are strong communities.
GT: How do you change the image?
Stelling: We've just got to do what we've done for years and years, got to support communities. Not just because we're good guys. If there's a healthy civic club, the bank benefits. It's a two-way street. We've got to claim that role back. It's a service business. I tell people we hire [that] if you don't like service, you're in the wrong business.
GT: What is the most immediate challenge for Synovus?
Stelling: Everybody thinks what we've done is great, but the real message from Wall Street is: "What have you done for me lately?" So let's get into 2014, let's focus on our customers, let's grow the bank.