Moving Ahead
With the port deepening project, an intricate rail system and an increased emphasis on training, 2014 promises to be a banner year for logistics in Georgia.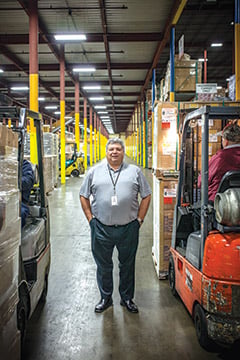 All of that traffic in, through, around and above Atlanta – it was meant to be. The big rigs circling the city on I-285, the car conga line shuffling down Georgia 400, the airliners circling over Hartsfield-Jackson waiting for permission to land, the trains roaring in and out of town: destiny, all of it.
Movement is the reason Atlanta was invented, the movement of stuff to and from the port of Savannah, and then across the known continent, or across the sea.
"Atlanta is a true nexus. Since its founding, it's been a transportation and logistics hub," says Alan Erera, co-director of Georgia Tech's Supply Chain and Logistics Institute. "That's the reason the city is here."
In the 1830s, the Georgia General Assembly started creating a rail connection between the port of Savannah and the Midwest. The plan was to build rail from Chattanooga to what is a fixed point in the ground now known as Atlanta (called Terminus back then, which means the end of the line) and connect to Savannah via other rail lines.
Eventually, all of that happened, and after General Sherman destroyed a lot of it, it happened again. Georgia rebuilt its transportation network, made and grew stuff and developed a knack for moving it, and kept investing in different modes of connectivity. And it keeps happening, so that today Georgia is one of the leading places in the world for logistics, which is a small word for a complex, wide-ranging field concerned with managing the flow of stuff from origin to consumption.
"I tend to think of our vast logistics system in Georgia as an ecosystem made up of different pieces, all relying on each other," says Page Siplon, executive director for the Georgia Center of Innovation for Logistics. "We have some unfair advantages – the fastest-growing seaport in the nation, the world's busiest airport, more railroad miles than any other state in the Southeast, a highly ranked highway system.
"I like to say that we're uniquely complete."
If it's possible to be even more uniquely complete, that's about to happen. After 15 years of studies and planning and lawsuits and Congressional authorizations (then reauthorizations), the Savannah Harbor Expansion Project (SHEP) is reaching the construction phase, which means one of the nation's shallowest and fastest-growing ports will be able to efficiently accommodate the larger "post-Panamax" ships that will call on Savannah in greater numbers when the Panama Canal expansion is completed.
"We've been working on this so long the cost of the project has more than doubled," says Bob Jepson, who chairs the Georgia Ports Authority board. "But we begin the deepening this year.
"It's going to be a banner year for logistics in Georgia."
Georgia already is the fifth largest overall logistics employer in the nation, with 142,000 workers at nearly 11,000 logistics providers (generating more than $16 billion in annual sales).
These include, among other things, cargo carriers, trucking companies, railroads, freight brokers, warehouses and distribution centers, third-party logistics companies (3PLs) and software firms. (There are 400 logistics companies in Georgia with a technology focus.)
They're busy little companies with a national reach, like Rettig Inc., a four-person business in Gainesville. They're homegrown success stories like HWC Logistics in Forest Park, which started out as a guy with a van and now has a fleet of 50 trucks, not to mention warehouses in Atlanta, Charlotte and Savannah. And they're huge companies with headquarters here, like Delta Air Lines, Manhattan Associates, SAIA and UPS, as well as major logistics players like Coca-Cola, The Home Depot and Gulfstream.
They're here because Georgia has an effective industry lobbying community and a business-friendly tax environment, and they're also here because it makes logistical sense. With Hartsfield-Jackson, first in passenger traffic and 10th in cargo, Georgia has something Siplon calls, "a geographical corner-store advantage."
Atlanta is within a two-hour flight of 80 percent of the U.S. population (i.e., "consumers") or one day by truck, and more than 40 percent of North American manufacturing and distribution locations are within a 500-mile radius of the city.
They're here for the workforce, and the training – Georgia's universities and technical colleges are offering about 100 degrees and certificates with a logistics focus.
"This is the right place if you're interested in the supply chain and logistics domain," says Erera, who is also director of the Master of Science in Supply Chain Engineering program at Tech. "Right now, we've got a lot going for us in Georgia."
Port Growth
If there is a villain in Georgia's epic logistics story, it's got to be Sherman, who helped bring an end to the Civil War through innovative (to some, infamous) scorched-earth maneuvers, which resulted in the crippling of Georgia's transportation and logistics infrastructure.
His army turned Atlanta, a critical Confederate supply and rail center, to ashes and rubble. Then they marched for the sea, wrecking bridges and 300 miles of railroad along the way, destroying countless cotton gins and mills, seizing millions of pounds of food and crops, and thousands of horses, mules and cows from local farms.
That year, Sherman gave the port city of Savannah to President Lincoln as a Christmas present.
What a difference 150 years can make.
While history buffs are commemorating the sesquicentennial of Sherman's destructive camping trip this year, the people involved in Georgia's logistics industry are celebrating the beginning of the long-awaited harbor expansion.
"We've been a beneficiary of the port's growth, as well as a key component of that growth," says Craig Camuso, regional vice president of state government affairs for CSX Transportation, one of two Class 1 railroads with on-terminal intermodal facilities. (Norfolk Southern is the other.) "We see the deepening project as critical to the growth and success of the freight rail industry, extending well into the Southeast and beyond."
Savannah's (and Atlanta's) intermodal capacity is the envy of the rest of the nation. What that means is, the port has developed the infrastructure to seamlessly move standard-sized cargo containers between different modes of transport.
And those ship containers are moving to rail in greater numbers. Griffith Lynch, the GPA's chief operating officer, sees rail outpacing trucking and expects a continued increase, even for short hauls, of stuff moving via rail, especially as Savannah prepares to meet the demand to move more containers.
"We eclipsed three million TEUs [twenty-foot equivalent container units] for the first time (in 2013), one of only four ports in the country to do that, a very elite club," says Lynch. "But we have the capability, when you look at our facility and the room we have to grow, to reach the six to six and a half million range in the future. So, we are seriously focused on increasing the capacity and throughput of the facility."
That's why they're deepening the Savannah harbor from 42 feet to 47 feet, to handle more stuff more efficiently. When a deeper Panama Canal opens in 2015, the average-size vessel calling on the U.S. East Coast is expected to shift from a capacity of 4,500 TEUs to about 9,000 TEUs (though capable of carrying about 12,500 TEUs), which should mean 20 percent to 40 percent savings on shipping costs.
The dredging project costs about $660 million. The state already has committed its share, $266 million. The federal government is on the hook for the rest. That's been the hold-up. Last year, the Water Resources Development Act of 2013 (which authorizes SHEP) passed the Senate and the House. In January, a conference committee was merging the Senate and House versions. The legislation would next require the president's signature, and then, in Jepson's words, "we're off and running."
Contracts are awarded and approved and, Jepson says, "I expect that we'll be dredging by the first or middle of April."
SHEP Ready
It's not like the port can't handle the larger ships now.
"Those ships already are coming in some numbers today," says Jamie McCurry, GPA's senior director of administration and governmental affairs. "Getting them in and out efficiently is the challenge right now."
The deepening will throw the tidal window wide open, allowing more of the larger vessels to call on the Savannah port's Garden City Terminal, which has been ready for the traffic and the heavy weightlifting.
Last year, the ports authority purchased and deployed four new "super" post-Panamax ship-to-shore cranes (a $40-million investment), each of them capable of lifting up to 65 tons.
And in September, they broke ground on the $73-million Jimmy DeLoach connector, which will give trucks unimpeded access to the port from Interstates 95 and 16. That, plus a new gate at the terminal, is meant to help increase truck traffic.
"We handle about 8,000 truckloads a day, by far the largest amount in the U.S. for a single terminal," Lynch says. "If we want to go from three million to over six million TEUs a year, we need to do 16,000 loads a day."
In addition, they're shoring up docks that date back to the 1940s and 1950s so they can handle larger equipment, a phase-by-phase project requiring an investment of $12 million to $20 million, and they're purchasing new electric-powered mobile gantry cranes (for stacking intermodal containers) and converting the old diesel ones to run on electricity.
This kind of investment in the means to make things go from one place to another, it's the reason Mike Owens started his business, HWC Logistics, in Georgia more than 30 years ago.
"I used to travel a lot between New Orleans and Chicago when I was going to college at Tulane, and you had to fly through Atlanta. You know, everybody has to go through Atlanta," says Owens, who liked the sound of that. "I noticed that they'd built a new airport, that they seemed to be investing in themselves. Something was ready to happen here, and I wanted to be part of it."
Owens' father, Dick, had been a customs house broker in Chicago, in fact, had been the longest-serving president of the Chicago Brokers Association and helped grow the industry in the Windy City.
So Mike learned the business from the inside, and after graduating from Tulane, he bought a Dodge van and started a courier business in 1981, serving six local brokers in the Atlanta market. It was exactly the ground-floor opportunity he anticipated.
"Now there are 300 to 400 customs house brokers in Atlanta, and we've grown with them," says Owens, whose company based in Forest Park now employs 110 people and has grown into a full-fledged logistics firm that provides warehousing, distribution, transportation, and import and export services, with more than 800,000 square feet of warehouse space in Atlanta, Charlotte and Savannah and a fleet of 50 vehicles.
"The key for us has been, we've always provided a service that the trade required as those needs evolved," Owens says. "When we saw a need for warehousing, we opened a warehouse. When the need to import grew, we opened a container freight station. When there was a need for transportation, we started buying trucks. As our customers grew their businesses, we grew ours.
"With us, it's always been a 'can do' thing. We never learned to say 'no.'"
Susan Rettig has quite the opposite approach. She isn't afraid to say "no." She doesn't like to say it, but she will when she has to.
"Our clients know that if we don't have a truck, we will tell them so, and I know that some customers really appreciate that honesty," says Rettig, whose Gainesville-based company (Rettig Inc., which began as JS & Son) is a freight brokerage and one of the few woman-owned logistics companies in Georgia.
But with 5,500 carriers coast to coast on her company's call list, Rettig doesn't have to say "no" very often. Her company manages the movement of food via refrigeration trucks, or "reefers." She figures food was a safer bet than other products.
"People got to eat," says Rettig, who was burned out on the restaurant business after 25 years when a regular customer turned her on to the freight business. Rettig went to work for a freight broker, then for a trucking company, then opened her business, JS & Son (with her oldest boy, Tony Beheler) in 2000.
Today it's Rettig, Tony and three other employees – her son Chris Beheler, daughter Leigh Dyer, and Leigh's best friend, Angie McDaniel. They are a company that provides load planning, truck service to 48 states, routing and cost management, and they're available 24 hours a day. "If we have an edge, that's it. My customers have my cell number and the number of everyone who works for me," Rettig says. "We're always on call."
Their client list includes Smithfield Packing, Pepsi and Mission Foods. The trick is to find a truck for less than what the shipping customer is paying you.
"That's a good day," Rettig says. "Will I retire soon? Will I be wealthy? No. But I love what I'm doing."
So do Greg Cox and Dan McMackin, who have both been involved in the movement of stuff for about 30 years, but have taken completely different routes.
On the Job
Greg Cox is a veteran road warrior, a truck driver since 1985 who has been hauling heavy equipment (excavators, backhoes, bulldozers, etc.) via 18 wheels since 1990, while Dan McMackin has worn many hats for UPS, where he's worked since he was 17.
"Like a lot of our management people, I started out loading trucks. I was a package handler," says McMackin, now a spokesman for the company, a member of the public relations battalion in the world's largest package delivery company. "It was a great job for a college kid bound and determined to stay close to home. It beat busing tables, which is what I had been doing."
McMackin lived in Wisconsin, went to Marquette, and the UPS job helped pay his way. After graduating with two degrees (English lit and marketing), he became a UPS driver, brown uniform and everything. It was totally an economic decision – he had a young family and he could make a lot more driving a UPS truck than he could analyzing Beowulf.
UPS is known for hiring from within, so McMackin moved from job to job – loader, driver, driver supervisor, human resources, then he worked as a photographer for the company magazine, worked at the company's global air hub in Louisville, at the former corporate headquarters in Connecticut.
Now he gets to answer questions from the media about drones. (Yes, UPS is interested in the technology – they spend a billion dollars a year on technology – but flying robots that deliver one package at a time aren't viable yet, he says, not when a single UPS driver hits the road with 150 to 300 packages.)
There are days when Greg Cox wishes he could fly like a drone, like a few days ago, when he saw a guy driving southbound on I-75 North.
"He made it all the way to the left lane and somehow, nobody hit him," says Cox, who drives for Sunbelt Rentals, one of the largest equipment rental companies in the country.
Cox delivers the equipment that builds the Southern economy and sometimes rescues whole communities. When the devastating tornado outbreak ripped through Alabama, Cox hauled equipment there for the relief effort.
"If there's a natural disaster anywhere, Sunbelt is gonna be there," says Cox.
And thanks to Georgia's formidable logistics industry, he means it.