Ready For Its Close Up
Georgia's film industry generated $3.3 billion last year, setting the stage for a burgeoning business.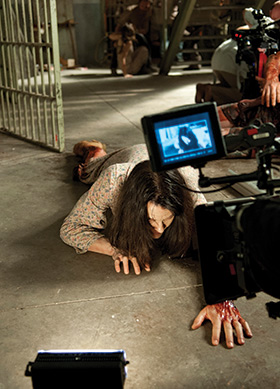 Nobody expected the end of the world to last this long or to have such mass appeal.
"Who could predict the popularity of a zombie apocalypse? We didn't, but we're delighted."
That's Tom Luse, executive producer for The Walking Dead, the AMC network's smash hit horror show made in Georgia, which has become a busy crossroads of wide-ranging cinematic stories.
In Georgia, in just the last year and a half, Jackie Robinson broke the baseball color barrier, teen heroes fought each other and an autocratic government to survive in a dystopian future, the alluded-to zombies chased a dwindling human buffet across the countryside, and now the stage is set for comic book superheroes to battle for truth, justice and economic development in Fayetteville.
They're scenes from a 40-year Hollywood story that basically began with Deliverance in 1972. Inspired by the economic impact of that movie (filmed in Northeast Georgia), Gov. Jimmy Carter opened the state's film office in 1973.
With a diverse landscape and an active – if small – film office, Georgia cruised along as a regular backdrop in motion pictures and TV shows, landing the occasional big role.
But for the past few years, Georgia has tasted superstardom.
Carter's creation, now called the Georgia Film, Music & Digital Entertainment Office, has enlisted an army of foot soldiers across the state in the form of Camera Ready Communities to market the state to movie and TV producers, who have fallen deeply in love with Georgia – the film industry spent $933.9 million in FY 2013, generating about $3.3 billion in related economic activity (up from $242 million in 2007), according to the Georgia film office.
"For us, Georgia is the perfect location for a combination of reasons," says Luse, one of 25,000 people employed by the industry in Georgia. "Part of it is, The Walking Dead was actually set in Atlanta. The other part is, the tax incentives."
Mainly, though, it's the incentives. Cities stand in for each other all the time (for example, Atlanta doubles for New York City in Anchorman 2: The Legend Continues, which was filmed here last year). But Georgia lawmakers enhanced the film incentive package in 2008, so now companies investing at least $500,000 in Georgia on production or post-production can get a tax credit of up to 30 percent of what they spend on a project.
Luse grew up in Atlanta (went to Chamblee High School, then Georgia State) and worked as a technician or production manager on a number of films around the state, but he had to follow his career ladder to other places because there wasn't enough work to keep him here.
"Work went away, mainly because Canada and other places got aggressive with incentives. So I went with the work," Luse says. "When studios sit down to study where they want to put down a project, they look at incentives first, and Georgia's are very good. That's what brought me back."
For years, most of Georgia's film business has been a transient thing – production companies from California staking out temporary digs for location shooting. That still happens.
The infrastructure and skilled labor already was here when The Walking Dead began shooting in 2010. The show is based at Raleigh Studios, which has a long history in Senoia, and according to Luse, about 95 percent of the TV show's crew is from Georgia.
But since 2008, when Georgia sweetened the incentive deal, more than 70 entertainment industry companies have moved here, and a dozen studios and soundstages have been built or planned or expanded.
Permanent Homes
Mega-grossing film franchises like The Hunger Games are shooting here, and the production of more big-budget movies is assured (at least for now) with the development of London-based Pinewood Shepperton's first studio in the U.S., in Fayetteville.
Pinewood, production base for The Hobbit, James Bond and Harry Potter series, among others, won't waste any time bringing a blockbuster project to Georgia.
"The first project to go in there will be a Marvel film," says Lee Thomas, director of the state's film office (a division of the Georgia Department of Economic Development). "We've never been able to get Marvel here, because we didn't have a soundstage that could accommodate them."
Marvel – if you don't have kids or read comic books/graphic novels or have been hiding under a rock – means superheroes. Owned by film overlord Disney, Marvel churns out chartbusting, special effects-laden hits like The Avengers (including Iron Man, Thor and the rest), Spider-Man, the various X-Men movies, and so on. According to some reports in December, at this writing, filming on Marvel's Ant-Man big-screen adaptation was to begin at Pinewood's new 288-acre lot this month.
"This is huge for the film industry in Georgia," says Thomas. "That movie will probably be here a year. It'll fill up all five of their soundstages. We're trying to get them to build two more."
Pinewood has partnered with River's Rock LLC (an independently managed trust of the Cathy family, owners of the Chick-fil-A fast-food empire) to develop the studio. The trust put up most of the construction money, and Pinewood (a 40 percent owner) will manage the facility and (presumably) make smash hits.
Meanwhile, Jacoby Development is planning a 125-acre, $1-billion mixed-use project anchored by one of the largest movie studios in the country, at the old Western Electric complex near Jimmy Carter Boulevard and I-85. Atlanta Media Campus & Studios, with seven sound stages (and more probably on the way), is managed by Los Angeles-based Manhattan Beach Studios, which has produced some Marvel projects and is home base for the Avatar sequels.
"These guys are great strategic partners. They give us instant credibility," says Jim Jacoby, the developer behind Atlantic Station in Midtown Atlanta. "Having an operator that's been in the business a long time, that has respect within the industry, goes a long way toward enhancing what we believe is great real estate."
In addition to 500,000 square feet of eco-friendly LEED-certified studio space, Jacoby is planning a higher education component, student and multi-family housing, retail, entertainment and a hotel.
About 60 miles south of Jacoby's film campus, Senoia has experienced some redevelopment of its own, because The Walking Dead has brought new businesses and tourists to its historic downtown. The little city and surrounding communities provide a perfect setting for the hit show, says Luse – a wide-open rural canvas, giving the production crew a sense of control while sitting just a half hour away from bustling Hartsfield-Jackson Airport.
"We've had terrific cooperation from the city, the county and surrounding communities, which has been so important because every place we film has to look like the world has been shut down, so we need a great deal of control over physical locations," Luse says. "So no lawn mowers or airplanes. It's not like zombies use those things. So all of those things have to be gone. We can't even have streetlights."
About 230 miles southeast of Senoia, Medient Studios is bringing a touch of Bollywood to the Savannah area. (Medient is a major player in India, which produces more films than any country in the world.) When finished, Medient promises its Studioplex, a movie and game production facility in Effingham County, will be the largest production facility of its kind in the U.S. (See more on page 34).
"This isn't your typical industrial project that rolled in," quips John Henry, CEO of the Effingham County Industrial Development Authority. "But we heard their sales pitch, looked at their business plan and believe this project has great potential."
Medient is investing $90 million and creating 1,000 jobs within five years, although Henry says the project has longer-range goals, with plans for an amphitheater and boutique hotels. The company wants to be close to one of Georgia's favorite film destinations, Savannah and the Georgia coast.
"A ton of movies have been shot around here, but our area is sorely lacking in film industry infrastructure, like soundstages and studio facilities," Henry says. "We see this project as a stepping stone for a permanent film industry presence. This could be a real game changer for us."
Location, Location
Linda Harding graduated from Florida State with a degree in broadcast communications, worked at the ABC affiliate in Tallahassee while in school and has made a good career for herself as a video editor. Consequently, she's spent her film career about as far behind the scenes as you can get … well, except for that month she spent playing a hippie in a commune.
The Paul Rudd-Jennifer Aniston comedy, Wanderlust, was filming outside of Clarkesville, a few miles from Harding's home in the Northeast Georgia mountains (and not far from where Deliverance was shot). Some friends talked her into trying out as an extra.
"They needed hippie types, and it was a slow period of work for me, so I decided to give it a try, figuring I'll never get called because I'm so opposite the characters they needed," says Harding. "Naturally, I was the one who got called. It became my full-time job for over a month."
She ended up being selected as one of the core extras, and wearing her friends' hippie clothes, she appears in the film several times in the background. But she showed up to work every day and says the tedium could be grueling.
"We'd get there at five in the morning, got made up, then you'd sit in a tent for four hours, then go to a trailer and sit for six hours. You can spend a whole day sitting there and never get to the set, but still get paid," says Harding, who says she and a friend were offered $250 extra to take their shirts off for one scene, but they declined.
"And the scene ended up on the cutting room floor anyway," Harding adds.
Down in Clayton County, a few miles from the airport, Grant Wainscott is delighted that his community made the final cut in The Hunger Games: Catching Fire. Wainscott, director of the Clayton County Office of Economic Development, also serves as the county's Camera Ready liaison, and he was on set at the Clayton County International Park beach (former Olympic venue) for some of the epic fantasy franchise's production.
"You never know when they're filming what's going to make it into the final cut, so it was really nice to see that we're a big part of the movie," says Wainscott, who caught a sneak peek at the second installment of The Hunger Games saga in Novem-ber, just before its official opening. The good news is, the franchise is back in Clayton County, and across the region, to film the final movies of the series.
"The great thing about these bigger film projects is, the spending doesn't occur in just one county, but all over the region," says Wainscott.
Clayton County is one of the most "camera ready" communities in the state – 144 of Georgia's 159 counties had received the designation from the state film office as of this writing. Southern Regional Medical Center in Riverdale is Clayton's most popular location, getting about 10 film projects a year.
The county redeveloped an old strip shopping center across from Clayton State University, turning it into Metro Atlanta Sound Stages (four projects are shooting there this spring) and headquarters for the Clayton County Film Experience, which is offering film tours.
"We're getting a tremendous amount of activity here," Wainscott says. "With Downtown Atlanta so close and the world's busiest airport right here, the film industry understands that they don't have to go far afield to find diverse locations.
"So our proximity helps us, and the relationships we've built with the industry, but let's face it, the state incentives package is the primary reason Hollywood is here. That can't be emphasized enough. I can't say it's the sole reason, but it's the primary reason. At the end of the day, making movies is a business."
He also counts the Camera Ready program as a key ingredient to moving the industry along. The program identifies local liaisons in each community that film industry people can contact. These liaisons help with scouting local potential film sites and navigating local permitting processes.
"It's been a great program, because we have such a small staff – there's only four of us doing film work here at the state office," says Thomas. "We're on everybody's radar now, and we couldn't handle all of the interest ourselves, so our Camera Ready Communities have been a huge asset."
A filmmaker can go to the state office website, find a map of Georgia, click on a county, and the name and contact information of a local liaison pops up. Or, they can pore through photos of different locations in different parts of the state. The job of finding suitable places to film has become a lot easier with the digital component and a small army of location scouts around the state.
"We were 'camera ready' long before the Camera Ready program," says Lisa Smith, Camera Ready representative in Floyd County, where she also serves as executive director of the Greater Rome Convention & Visitors Bureau. She has foot soldiers of her own, representatives with cameras scattered throughout her county.
"This is a large county, so we've appointed some ambassadors – friends and family with cameras. We'll say, 'We need a farmhouse with two silos and a pasture,' and someone will find it for us. We're trying to put more feet on the ground to help show that we've got a lot to offer."
With Berry College's sprawling campus and an attractive, historic downtown, Rome and Floyd County have been popular with filmmakers. (Need for Speed just filmed there; hit films like Sweet Home Alabama and Remember the Titans have filmed there.)
In Troup County near the Alabama state line, Laura Jennings is a one-woman department – tourism director for the LaGrange-Troup County Chamber of Commerce and Camera Ready liaison. One day, she might be loading luggage on a group tour bus, the next she's finding an abandoned warehouse for The Hunger Games sequels.
"Movie people move at the speed of light. You have to respond quickly, drop everything, and sometimes it can be frustrating when you think you've found the perfect location, but the production goes somewhere else."
But when you land a project like The Hunger Games and Hollywood descends on your little town, it can be thrilling.
"The phone starts ringing off the hook – restaurants wanting to cater, people wanting to be extras, tourists wanting to visit," Jennings says. "If you get a movie in your community, the social media buzz is amazing. Then the production arrives, and it's amazing to watch.
"And they're so self-sustaining. It's like this big spaceship. They land, they work and then they leave."