Paying It Forward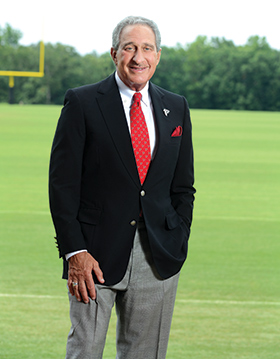 Arthur Blank and his business partner Bernie Marcus did a pretty good job of figuring out how to make money, founding Atlanta-based The Home Depot and turning it into a global operation that revolutionized home improvement retailing and made them both billionaires. And Blank has done just fine as owner of an NFL franchise.
But when it came to giving money away, he needed a little help from the son of another retail icon.
"After Sam Walton died, I had dinner in New York at a business conference with Rob Walton. It was probably '92 or '93," Blank says. "There was a huge estate. His dad, during his lifetime, was focused on building this great company – Walmart is the largest retailer in the world. But he never really focused on philanthropy. So after his passing, his kids had that responsibility; but they didn't have a lot of training."
That conversation had an impact on Blank. "I came back to Atlanta and founded my own family foundation primarily as a result of that. I wanted both my wife then and my children to be fully versed in philanthropy and be able to do evaluation, judging, being involved. It's an art form – there's a science to it, but it's an art form as well."
Since its founding in 1995, the Arthur M. Blank Family Foundation has given more than $300 million in grants to a wide variety of causes. His goal, he says, is that 95 percent of his estate will be recycled back through the foundation.
"We have a long way to go," he says. "The estate is very substantial, thanks to The Home Depot and thanks to the NFL." Forbes estimated his wealth at $1.6 billion in 2013.
Blank, who began a new career as owner of the Atlanta Falcons after he stepped down as The Home Depot CEO, is one of two new Georgia Trustees for 2014, sharing honors with Billy Payne, the man who brought the Olympics to Atlanta.
Blank set up his foundation to complement his family's enthusiasms. "Each of my adult children have areas of interest they feel very strongly about. My oldest daughter cares a great deal about public education; my middle daughter, about the environment and wildlife conservation. My oldest son, about the arts. And I care a great deal about all of those, also about youth and self-esteem issues and confidence issues.
"Given all of that, that's what we framed most of our work around."
Grantees for 2013 include a variety of organizations large and small: $150,000 to the United Way of Metropolitan Atlanta for operating support of GEEARS, a statewide program focused on helping children prepare for school; $85,000 to the Truly Living Well Center for Natural Urban Agriculture for the Elm Street Community Garden in the English Avenue neighborhood; and $500 each to several high schools and athletic programs for sports equipment.
Was there an "Aha!" moment when Blank realized he could be a benefactor on such a large scale?
"I remember I was driving with my partner Bernie Marcus out of town someplace. We both kind of gave each other a little elbow in the side saying, 'Can you believe this has happened to us since 1978?' We always knew we were going to be successful. We felt that way because of our personalities. But we had no idea that it would be of the proportion it turned out to be," he says. "From that point and forward we began to realize the size and success of the company – [that] all of those opportunities to make a difference would be there."
Blank says it's a "great joy" for him to see his adult children so immersed in and enthusiastic about the foundation. His younger children (a 16-year-old son and 12-year-old twins) are involved as well, getting some orientation into the practice of philanthropy.
The Right Place
Atlanta has been a good fit for Blank and his ambitions. He recognized it early on – and the city recognized what it had in Blank, as a CEO and then as an NFL owner. He served as chairman of the Metro Atlanta Chamber, among other board memberships.
The city power structure's signature blend of business acumen and civic involvement that served Atlanta so well from the tumultuous 1960s on is very much to Blank's liking, of course; but beyond that, the openness of the city, the genteel but palpable can-do attitude and the willingness to offer a seat at the table were important to him. There's no probationary period for a committed newcomer: Jump right in.
Blank grew up in New York – in Queens, the son of a pharmacist. After college, he worked as an accountant and eventually ended up as a VP of finance at Handy Dan Home Improvement Centers, where Marcus was CEO. The two found themselves on the losing side of an internal power struggle and were fired in 1978, the same year they founded The Home Depot and began to make retailing history from an Atlanta home base.
"Atlanta always, looking back over my 35 years here, has been marked by the ability to collaborate and partner – between government and business and other stakeholders – to be able to do very significant things," says Blank. "That's been a great part of the success of Atlanta over the years. That's been true since I've been here."
The new Falcons stadium that will be built in downtown Atlanta to replace the 22-year-old Georgia Dome is a prime example of that kind of collaboration.
"If you look at the stakeholders – the state, the city, the city council, the community, English Avenue, Vine City, the Georgia World Congress Center and our fans, our sponsors, everybody with a stake in this," he says, "one of the reasons doing the stadium was as complex as it was, [was] trying to please a lot of stakeholders, trying to find points of interest, common interests. We've been successful in doing that. On balance, the deal's gone well. We're happy to be in the position that we will break ground in April and start building.
"Our view – I think it's important to say – is not just to build an iconic great sports and entertainment complex if we're only going to play 10 or 12 games there a year," he says. "The rest of the days of the year really represent Atlanta and the region and the state. So whether it be the NCAA Final Four, potential FIFA, potential MLS soccer, concerts, all the other legacy events the Georgia World Congress Center holds in the Georgia Dome now, we have a big responsibility to do all that and do it correctly."
His interest, he says, does not stop at the stadium gates. He's very clear on that.
"We've taken it on as a challenge – individually, collectively, as a leadership team, our foundation, to make a difference in the west side of Atlanta. We take that commitment very seriously.
"We know it's complex work. Frankly, it's much easier to build a stadium in three and a half years than to deal with all those human capital issues we have to face in those communities. We realize that we can't do it all ourselves. But we also realize that we are expected and pleased to be part of the group that will be working in those areas, primarily in response to what the community is telling us."
The process, he says, is reminiscent of the way he and Marcus ran their retail operation.
"At Home Depot, it was not our decisions, it was customers'. The customers were the ones who drove what should we carry where. We just responded to what the customers were telling us. In this case, our stadium design, layout, amenities, parking, connection to communities – all those things are responses to what our fans and sponsors are telling us are important to them.
"Our work with the community is going to be a reflection [of] what the community is telling us is important to them in terms of problem solving. We don't ever want to be in the position that we're going into the community, no matter however well-intended it may be, imposing our viewpoint. We want to be listeners. We have spent the better part of the last two years doing that. And we will continue to do that and try to respond to fulfill those needs."
Hometown Credentials
It's hard not to contrast the process of securing a new football stadium for the Falcons with the Braves exit to Cobb County and a new stadium to be built there. Neither deal was without its critics, but the football stadium process, protracted as it was, involving drawn-out negotiations with two historic churches in the neighborhood, was more transparent than the hastily accomplished baseball stadium process, which was announced and approved by the Cobb County Commission in less than three weeks.
There is a key difference in ownership, of course – the well-known hometown Falcons' owner and the Colorado-based corporate owner of the Braves – Liberty Media.
Blank believes his Atlanta credentials helped. No criticism of Liberty Media or the local folks who run the Braves, he says, but the NFL requires principal owners to have a strong individual, preferably local, identity as opposed to one that is corporate.
"I live here. I've lived here since 1978, 35 years," he says. "Our estate is based on a company that was founded and built here, The Home Depot. There are lots of reasons we've been committed to Atlanta. We have a long history, the family has been raised here, we love the community. Our attitude has been from the get-go that we were going to try hard to make this work with our partners. The Georgia World Congress Center, the state, the city all had that aspiration – to create a winning formula for everybody. So it's easier to get something done. That doesn't mean there weren't pieces that took a little longer than others. A real estate transaction of this size is going to be complex."
The job description of an NFL franchise owner, of course, has undergone some changes.
"In the old days," Blank says, "and this is generic – many NFL owners were primarily interested in the team as a hobby, Sunday fun. Today, given the investment, the franchises, the stadiums, what fans are looking for in terms of amenities and entertainment, opportunities for sponsors, it's become much bigger than that. Stadiums have become so costly. I project our stadium being used probably 225 to 250 days a year for a variety of events. So the whole notion of being involved 365 days a year – sports and entertainment both – we look at these complexes from that view. So as owner of a franchise, it's much, much broader."
But is it fun, as all armchair quarterbacks assume?
"Winning is a lot of fun," Blank says. "I love the competition, love to win for our players and coaches and love to see it for our fans. The togetherness that takes place around wins is powerful. On the other hand, when you lose. …" He pauses. "This is a difficult year for us. It's been hard emotionally because I carry a lot of it on my back.
"One of the things we're very proud of is in the last five years we've had the second most wins in the entire league – putting aside this year, which is an aberration. So it's been a great success. We've won two of every three games we've played."
Making Connections
Blank is committed to what he sees as a vital connection between business and the community. Again, he references The Home Depot: "2001 was my last year as CEO of the company. We were recognized by The Wall Street Journal, in a nationwide poll, as being the most socially responsible company in America. That's a great recognition, when you match that up with a 23-year record of sales that were [up] 46 percent that year, earnings up 49 percent, stock up 45 percent a year.
"The point is that you can do both. A lot of times companies say – they may not say it publicly – but say they can afford doing one or the other. You can't serve two masters. Can't do good in the community and do well in the marketplace. That recognition of the ability to do both – it's very powerful."
The notion of civic involvement and business success produces stronger leaders, he believes. "My attitude has been we not only have a purpose as a business but have a purpose to serve, to give back, to make a difference in people's lives. That ability to marry the two together – it's not just about making money, it's about making money and doing lots of good things. That macro recognition we got in 2001 – people feel like a company is worthy of their lives."
Sharing Inspiration
Blank's roster of heroes starts close to home.
"My mother, who is 98, has been an inspiration to me," he says. "My partner Bernie Marcus has been an inspiration. If you walk around this building," the stately Arthur M. Blank Family Foundation headquarters in Buckhead, "you see conference rooms named after Martin Luther King, Anne Frank. Their values, commitment, their sacrifices – they remind me of the way I'd like to live my life."
He has kind words for his Georgia Trustee co-honoree. "It's an honor to be honored with Billy Payne. He's a visionary," Blank says. "He's always had the ability to see around corners and see things other people didn't see. The way he conducts himself – I think his sense of giving back has always been traditional – and critical."