Georgia's New Trustees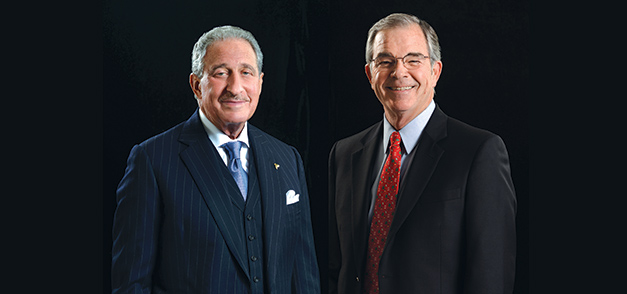 Whether it's creating retailing history or city history, this year's two Georgia Trustees have dreamed big over the course of their lives.
As The Home Depot founder and Atlanta Falcons owner, Arthur Blank changed the home improvement industry and is leading the charge for an innovative NFL stadium downtown. Now, he's dreaming up ways to pay it forward. Billy Payne saw potential in a southern city when few believed Atlanta was ready for the international stage. His vision for hosting the 1996 Olympics forever changed the state's trajectory. Now, he's lending his insight as chair of Augusta National Golf Club.
These two men were chosen by the Georgia Historical Society and the Office of the Governor for their achievements and will be honored Saturday, February 15, at the historical society's gala in Savannah, part of its annual commemoration of the state's history.
Nearly 300 years ago, the original trustees were chartered by England's King George II and charged with establishing the new colony. Formed in 1732, the group disbanded in 1752, but the state re-established the honor in 2009 to recognize contemporary Georgians.
The original motto, Non Sibi Sed Aliis, which means "not for self but for others," steers the selection process each year toward people whose lives and accomplishments have made the state a better place.
"The Georgia Trustees is an honor as old as Georgia itself," says Todd Groce, president of the Georgia Historical Society. "It is the highest honor the state of Georgia can confer. This year's inductees represent the best our state has to offer. Arthur Blank and Billy Payne have used their influence and stature to make Georgia and the world a better place to live."
This year's trustees join a roster of distinguished contemporary Georgians, including fast-food pioneer and philanthropist Truett Cathy, construction giant and Civil Rights participant Herman Russell, former Ambassador and former Mayor Andrew Young, developer Tom Cousins, former Sen. Sam Nunn, former University of Georgia Athletics Director Vince Dooley, businessman and philanthropist Ted Turner, baseball legend Hank Aaron, The Home Depot co-founder Bernie Marcus and the late Marguerite Neel Williams, a founding trustee of The Georgia Trust for Historic Preservation. – Christy Simo