The Georgia Chamber of Commerce hosts "Eggs & Issues" Breakfast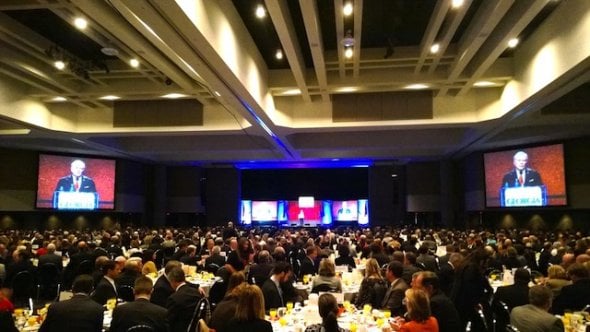 The Georgia Chamber of Commerce just concluded its three day gala with the annual "Eggs & Issues" Breakfast with remarks from Gov. Nathan Deal, House Speaker David Ralston and Lt. Governor Casey Cagle. Public safety and the port deepening were high on the agenda, with the governor planning to expand life flight helicopter service to southwest Georgia, complete the Jimmy Deloach Parkway and provide more funding to make sure the Savannah Harbor will be deepened in time for new port traffic from the Panama Canal. "We're ready to get this show on the road," says Deal.
Education and work force development were among other highlighted topics, with the governor pledging $5 million of this year's budget to welding, health, diesel and information technology higher education programs. Ralston will continue his "Red Tape Watch" initiative in the House's Small Business Development Committee to expedite permitting, and emphasized the importance of the Chamber's voice for the business community to maintaining good government. "We can't let agents of deceit and dischord shape political discussion," says Ralston. "It's ultimately very destructive." Cagle added that "we must be good stewards," and called on the Georgia business community as "our agents of change and consistency.
Also this week, the ceremonial gavel was passed from outgoing Chamber Chairman Steve Green (President and CEO, Morris Manning Martin Green Consulting) to new Chairman Ernest Greer (Managing Shareholder, Greenberg Traurig LLP), who stressed the importance of resolving partisan, racial, and territorial differences dividing Georgia. Chamber CEO Chris Clark also unveiled a new program, Georgia 2 Georgia, through which Georgians can pledge to increase their business with Georgia companies by 2 percent, in an effort to expand Georgia Grown and promote the value of doing business in our home state. Photo: Gov. Nathan Deal addresses the multitudes at the Eggs & Issues Georgia Chamber breakfast Wednesday morning at the World Congress Center in Atlanta.
Photo Credit: Ben Young