Hall Of Fame: Lasting Influence
John Lewis and Robert Shaw join Georgia Trend's Most Influential Hall of Fame.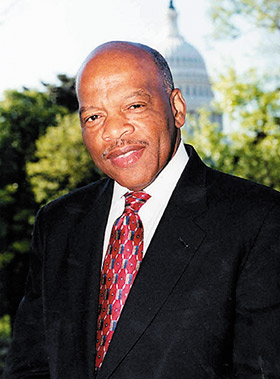 John Lewis
U.S. Congressman
Civil Rights Leader
Atlanta
Age: 73
John Lewis left the cotton fields of Alabama and became the conscience of a nation at war with itself. The scars still visible on his head are tangible reminders of an American hero's courage, determination, defiance and grace, a hard life well lived, with intention.
Inspired as a teen by the Montgomery Bus Boycott and the radio broadcasts of the Rev. Martin Luther King Jr., Lewis felt compelled to fight, through nonviolent protest, for the cause of common humanity.
For his trouble, Lewis was beaten and injured on a number of occasions and arrested dozens of times, but he also helped plan the 1963 March on Washington, where he was a keynote speaker, and became a leader and symbol of a national struggle. Since 1986, he's served as a U.S. Representative of Georgia's Fifth Congressional District with the same spirit and sense of responsibility he displayed during the Civil Rights Movement.
"I've tried to do my best for the people of my district, of Georgia and of our country," Lewis says. "My goal always has been to leave society a little better than I found it, leave the world community a little more peaceful, to do what I can to inspire people to stand up for what is right and fair, and what is truth."
Lewis pushed through Congress a proposal to designate the highway from Selma to Montgomery a National Historic Trail, to commemorate the 1965 voting rights march (when Lewis and about 600 peaceful protesters were beaten by Alabama state troopers). And in 1988, Lewis introduced legislation to build the National Museum of African American History and Culture. Congress finally approved it in 2003.
At 73, he remains a vital progressive force in Congress, still sharply focused on the cause of human rights.
"The most prevailing, serious issue we're confronting today is comprehensive immigration reform," he says. "We have 11 to 12 million people living in the shadows, and we must set them on the path to citizenship." – Jerry Grillo
Robert Shaw
Chairman/CEO of Engineered Floors
Former Owner, Chairman, CEO of Shaw Industries
Dalton
Age: 82
Bob Shaw epitomizes the headstrong entrepreneurial spir-it of the modern industrialist, a man who lives in the here and now, and for the future, with no time for nostalgia or sentimentality.
So he has very little interest in discussing his long career as the grand poobah of Georgia's carpet industry, including his time running Shaw Industries, a half-century that defined his professional career and forged Northwest Georgia's reputation as the carpet capital of the world.
"I'm not interested in looking back," says Shaw. "I'm not working on my obituary here, am I? My business is Engineered Floors. That's what I'm into now, and it has nothing to do with my first 50 years in business."
Or it has everything to do with it.
In 1958, Shaw became CEO of Star Dye Company (a company founded by his father), which produced bedspreads and scatter rugs. They started making carpet 10 years later, and Shaw named the company after himself in 1971, turning it into the world's largest carpet manufacturer. He sold it to billionaire Warren Buffett in 2000 and retired as its CEO in 2005. Then he grew bored playing golf at the fancy golf community he developed, so he jumped back into the game. And to Shaw, it is a kind of a game.
"I always thought competition was fun, and business is competition," says Shaw, who started Engineered Floors in 2009, breaking ground on a new plant in Calhoun, adding another in Dalton in 2011.
Then, earlier this year, Engineered Floors announced it would invest about $450 million to build two more plants, in Whitfield and Murray counties, adding more than 2,400 jobs over the next few years.
It was sweet music to the ears of people in Northwest Georgia, which had been hit particularly hard by the recession. But for Shaw it was, typically, just business.
"We found a niche that no one else was filling," he says. "So we're filling it." – Jerry Grillo