2014 Georgian of the Year
Atlanta's Kasim Reed has redefined what it means to lead the state's capital city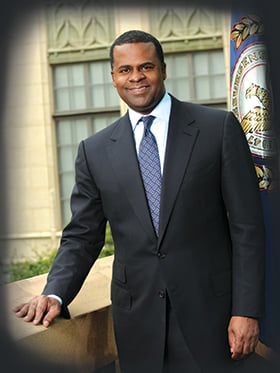 It isn't much of a stretch to say that Kasim Reed is a lot like the city he will be governing for another four years – energetic, resilient, brash, pragmatic, competitive and results-oriented. And very likely the smartest guy in the room.
Reed first took office in 2010 when the recession still had the city reeling. He won a contentious runoff election by only 714 votes; four years later, he was returned to office with 85 percent of the votes.
"I believe very strongly in being first," Reed says, "and I compete to be first."
During his initial term, he pushed a tough pension reform bill through the Atlanta City Council, increased the number of police officers on the street and oversaw a drop in the city's crime statistics.
"I just feel good about our direction, and I think people feel like the city is moving again," he said in an interview with Georgia Trend at City Hall.
He is proud of his success in turning around the pension program: Other cities are struggling to slay that particular dragon. He likes to list the major companies that are relocating or adding jobs in Atlanta. He points to the significant federal TIGER grants that will benefit the BeltLine and the Streetcar projects. He's very happy that the Falcons will continue to play in downtown Atlanta – and somewhat resigned to the fact that the Braves won't.
But what clearly distinguishes Reed from other mayors – Atlanta's and other cities' – is his statewide perspective. You could easily make the case that he has pushed the city limits to the coast. A Democrat with strong ties to the Obama Administration, he has a solid working relationship with Gov. Nathan Deal and other Republican officials and is an ardent champion of the Savannah port and the effort to deepen it – something he considers essential for economic development in Atlanta as well as Georgia.
For his accomplishments in Atlanta and his leadership on matters affecting the state's economy, Mayor Kasim Reed is Georgia Trend's 2014 Georgia of the Year.
"Kasim is an effective leader for the city of Atlanta," says Gov. Nathan Deal, "as evidenced by his overwhelming re-election victory. But the mayor's interests extend far beyond parochial concerns, and that's how our personal and professional relationship developed. He gets that what's good for Georgia is also good for Atlanta – and every other city and town in this great state for that matter. The work we've done together to deepen Savannah's harbor demonstrates that perfectly. As governor, that's been one of my top priorities. As mayor, Kasim knows this isn't a project just for southeast Georgia; it's crucial to the economic development of the Metro Atlanta region, too.
"Certainly, we don't agree on all issues. I'm a strong Republican, and he's a strong Democrat. But we've kept the lines of communication open, and that's allowed us to work together on projects important to all the people of this state."
Steeped in Politics
Reed grew up in Fulton County, graduated from Westwood High School (now Westlake High) and went to Howard University in Washington, D.C., one of the preeminent historically black colleges in the country, for undergraduate and law school. He came back to Atlanta to practice law and became a partner at Holland & Knight.
It didn't take him long to become involved in politics. He served 11 years in the General Assembly – as a representative and a senator. He credits that service with giving him a broader view.
Reaching beyond the city was a conscious decision, Reed says. "That comes out of my experience in the legislature. Being in the General Assembly, I developed a love of the state because I used to travel the state. If you were a good legislator, prior to the start of the session, you would drive to see the local chairs in their hometowns before they got to Atlanta. If you had something you cared about in the legislative session, it would be better to go to Bremen to see the [former] Speaker [Tom Murphy] or to Houston County to see Larry Walker or to Blue Ridge to see Speaker [David] Ralston.
"You get in your car and you drive and you understand what people love about where they are from. You see people in their own environment, and it changes how you feel about the state of Georgia. It gives you a less Atlanta-centric view. It doesn't change how much I love the city that I'm from, but it does give me a much greater appreciation of the wonderful things the state has to offer in communities across the 159 counties."
Almost from the day he was elected, there was speculation that he might join the Obama Administration. Certainly his ties to the White House have benefitted the city and the state – most recently in legislation affecting the Savannah port that passed the U.S. House of Representatives in October. A similar bill passed in the Senate earlier in the year. Reed believes President Obama will sign the measure once it comes out of a conference committee.
The Water Resources Reform and Development Act (WRRDA) puts Georgia a significant step closer to deepening the Port of Savannah by allowing the project to be funded in 2013 dollars rather than 1996 dollars originally authorized.
It is, the mayor says, "an example of what happens when you choose cooperation over conflict. The governor has led that effort, Senator Chambliss has been essential to that effort, Senator Isakson has been essential to that effort. The progress we have made on the Port of Savannah [comes from] identifying something that we all agree is in the interest of the state of Georgia – everyone. It's pretty remarkable when you look at where it was three years ago and where it is today."
Reed says firmly that he does not see City Hall as simply a safe place to bide his time for a couple of years. "I plan to finish out my second term. To move a city, I believe you need as close to a decade of high performance as possible."
And after that? "Then I have to figure it out. I do have a passion for this city."
The First Term
His second term, starting from a position of considerable strength, begins quite differently from his first. "When I think about the last four years," Reed says, "I think about wanting to get the city off its knees." Feeling keenly the effects of the recession and job losses, Atlanta had lost a little of its characteristic swagger. The city's financial picture was grim.
"On the day I was sworn in, the reserves of the city were $7.4 million," he recalls. There was a $48-million budget shortfall and $1.5 million in unfunded pension liability.
"We were going through the worst of times in terms of the city's economy, the state's economy, the nation's economy. On my first day in office, I signed a tax anticipation note loan to ensure that the city would have the funds that it needed to meet its obligations.
"That was probably one of the best things that happened to me in retrospect. It focused me in a way that otherwise I might never have been. What I decided on that day was that the city was never going to be in that position again. There were a series of hard decisions that needed to be made to change the trajectory of the city."
He was willing, he says, to make those decisions. "The first and most important," he says, "was that we were actually going to implement pension reform." The pension obligation had grown over a 10-year period from $50 million to a height of $144 million and was only 51 percent funded.
"So while all public revenue was going off of the cliff, the pension obligation was going up at double digits, and we were on a trajectory towards insolvency. Our pension payments were very much like a subprime loan. We had opened the amortization of our pensions, meaning that the payments were not being applied toward the principal.
"That's where we were. We decided to take that on in our first year. It was a pretty contentious year of my life. You barely win, then you come in and you're faced with reforming your pension obligations. And I was elected with the support of labor. I think we were able to get the result that we got because I cared about keeping our obligations to our pensioners and our employees."
Pensions of retired city workers were not affected; current city employees' pension contributions increased by five percent and the vesting period increased to 15 years.
"All the other services that people cared about were be-ing crowded out. We reversed that, and so we saved $270 million a year over the first 10 years. But what was really important was that our pension reform proposal passed unanimously [in the City Council], and every employee union supported the agreement that we ultimately reached.
"We are one of maybe three major cities in America to really take on an is-sue that is a growing national problem."
Atlanta's success helped give Reed a national profile. He is a sought-after Sunday morning TV news guest. A shelf in his library at City Hall is lined with souvenir Meet The Press coffee mugs. He even had an appearance on Fox & Friends in September. The New York Times columnist Thomas Friedman has praised his work on pension reform and called him "inspiring."
"We were able to invest in public safety at a time we needed to invest in public safety," the mayor says. "If in a down economy we had a spike in violent crime, it would have damaged Atlanta's brand as a high-quality place to live and a high-quality place to do business. It would have been very difficult to recover from that when we came out on the other side."
He ticks off names of companies expanding, relocating or prospering in Atlanta: Pulte Group, a homebuilding company from Michigan; athenahealth, a HIT operation bringing 500 jobs; AT&T and its Foundry initiative with Georgia Tech; Coca-Cola and the 200 additional jobs it is locating downtown; the Porsche Cars North America facility near the airport.
"Delta Air Lines is having some of the best financial results they have had for years," he says. "That partnership is strong-er than ever. We opened the international terminal. We brought that project to a close."
The Stadium
And, of course, there is the new Falcons stadium – Reed threw himself into that project, using his contacts in the General Assembly to help win authorization for the city's hotel-motel tax funds to support the new facility and involving himself in successful negotiations with the two churches that owned land at the new stadium site.
Why was it so important to replace a facility that not everybody believes needs replacing, he is asked.
"I felt it was in the best interests of the city," he says, "not just in the short term but in the next 10, 20, 30 years to make sure the Atlanta Falcons continue to play in the heart of the city. I also looked at a number of other mayors who had gone through negotiations with another NFL football franchise." He didn't find much evidence that mayors who lost an NFL franchise were happy with the result.
"The Dallas Cowboys don't play in Dallas – they play in Arlington. The New England Patriots don't play in Boston. The San Francisco 49ers no longer play football in San Francisco; they play in Santa Clara. What I decided was I wanted to be sure the team stayed in downtown," the mayor says.
"The second point is that Arthur Blank is just an honorable man and an outstanding owner. We are in a bit of a rough patch now," he says, a nod to the team's dismal performance in the current season, "but he has turned that organization into an organization that the city and state can be proud of.
"Third and finally, we have negotiated the most favorable stadium deal in America for a stadium that costs more than $700 million. The Falcons and the private sector will invest between $800 million to $1 billion. The city's contribution is capped at $200 million through the hotel-motel tax. That hotel-motel tax was extended by the Georgia General Assembly solely for the purpose of funding a new stadium.
"Anyone who believes those dollars would have been used for something else doesn't know the General Assembly. The tax was simply going to expire. It wasn't going to be repurposed."
He sees the new stadium, part of the Georgia World Congress Center complex, as essential for a state with a $10-billion tourism industry.
"Last year, for example, the city had 42 million guests, a record for us," Reed says. "So we are now on par with Los Angeles and Las Vegas in terms of the number of guests we host. The only cities that outperform us are New York and Orlando – Disney World."
On the day the Braves announced their impending move to Cobb County, the mayor said the city's taxpayers could not afford the improvements to Turner Field the team was asking for; at a news conference the next day, he admitted disappointment but stuck to his guns that the city could not finance another stadium.
Atlanta Rising
Early in his first administration, the mayor says, "We were losing our confidence, and we needed to reassert ourselves as the dominant city in the Southeast and the most important economy in the region. You could feel it in the air – you heard a lot of conversation about Charlotte, a little bit about Nashville and others. You just don't hear that anymore. Not a lot of people dispute that Atlanta and the Atlanta Metro area is the most important section of the Southeast.
"When I wake up every day, it's my job to make sure that the city of Atlanta is the most important city in the Southeast."
Atlanta, he likes to point out, has the third largest concentration of Fortune 500 companies in the country and is benefitting from the movie boom that is affecting all of the state. "In my first 18 months in office, we negotiated with EUE/Screen Gems, which brought sound stages into the City of Atlanta into what was an abandoned fairground site.
"All of these things are allowing us to reassert ourselves as the dominant city in the Southeast. We don't talk about ourselves enough – it's part of our culture. We don't pause and reflect on what we've built in the last 40 years. Here you have what was, when I was growing up, a sleepy Southern town. In 2012, a survey ranked us as the 35th most international city in the world.
"We have the ninth largest metro area in the country, the 10th largest state in the union. Folks in and around Atlanta have a lot to feel good about – our university infrastructure, 57 colleges and universities. And I think we are managing diversity better than anybody else at a time our country is becoming increasingly diverse."
So what is it that has made Atlanta successful?
"Atlanta is an intentional city," he says. "We're not on the ocean, we don't have the benefit of beautiful mountain vistas, don't have great lakes. People come to a piece of red clay in the center of the state intentionally.
"The biggest ingredient to who we are is we continue to attract really talented people from all over the state of Georgia and across the country. They come here, and they stay because of the quality of life we have – our cultural amenities, our arts, sports and entertainment. That's really our secret ingredient – highly talented, really smart, educated people continue to choose to make Atlanta home.
"You have a lot of young energy and young talent that's coming in and mixing with people who have been here forever but who embrace it," he says. "Our ability to embrace new people, new ideas and retain our own character and charm is one of the reasons why we're the most special city in the world."