100 Most Influential Georgians
Georgia Trend's annual listing of the state's most powerful and influential citizens who affect the lives and livelihoods of all Georgians. Plus, a roster of Notable Georgians.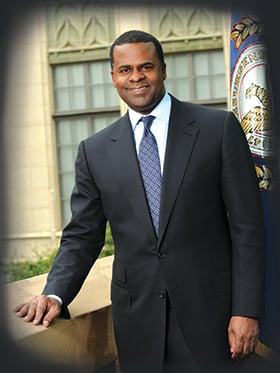 This 16th edition of Georgia Trend's 100 Most Influential Georgians includes, as always, some new names and some old ones, as leadership changes and recent achievements combine with resignations, retirements, course corrections and shifts in power to shake the list up a bit.
Arthur Blank and Dan Amos, who are among this year's Most Influential, were listed in 1999 (and in a couple of earlier lists that presaged our current annual 100 selections). So was John Lewis, named this year to our Most Influential Hall of Fame, as well as Jimmy Carter, Herman Russell, Ted Turner, Tom Cousins, Monica Pearson and Charles Loudermilk, all Hall of Fame inductees from years past.
Selecting the 100 most influential citizens is pretty much a year-round process for the editorial staff at Georgia Trend, but the process begins in earnest in the summer when we meet to compare notes and make suggestions for our initial working list, which always comes in considerably over 100. That prompts more meetings, discussions, consultations and deliberations to produce the final list – subject to late-in-the-year hirings, firings and changes in status, of course – that we believe reflects the realities of leadership, power and influence in Georgia.
Some of the 100 wield their influence in the limelight; others work behind the scenes. But all of them impact the daily lives of Georgians everywhere.
The individual profiles were written by Stan Awtrey, Mary Anne Dunkin, Jerry Grillo, Karen Kennedy, Don Sadler, Randy Southerland and Ben Young. – The Editors
Stacey Abrams
Minority Leader
Georgia House of Representatives
Atlanta
Age: 40
Abrams, a Democrat, represents District 89 in the General Assembly. She is the first woman and first African American to serve as House Minority Leader and is rapidly gaining a national profile. She's widely viewed as a consensus builder, ensuring Democratic voices were heard on legislation to reform the HOPE grant and helping rural communities control local tourist attractions.
Dan Amos
Chairman and CEO
Aflac, Inc.
Columbus
Age: 62
The Amos-led insurance company boasts annual revenues of more than $25 billion. In 2013, Aflac expanded its agreement with Japan to gradually increase the number of postal outlets offering Aflac's cancer insurance products from 1,000 to 20,000. Amos has also helped make the company a leader in corporate citizenship and one that shows up each year on lists of best places to work.
Brian Anderson
President and CEO
Greater Dalton Chamber
Dalton
Age: 49
Anderson is helping lead the carpet capital's holistic approach to economic development through unique partnerships, such as Readers to Leaders, a collaboration of government, business and school systems to promote literacy in young students. Anderson also serves as the Lt. Governor's appointee to the Northwest Georgia Regional Commission.
Richard Anderson
CEO
Delta Air Lines
Atlanta
Age: 58
Anderson's tenure at Delta, which began in 2007, has been marked by management and service improvements that have led to Delta's topping Fortune's Most Admired Airlines list in 2011 and 2013. Delta continues to offer more service to fliers, with additional routes around the world through partnerships with airlines such as Alitalia, Aeromexico and others in China. Anderson is the 2014 chairman of the board of the Metro Atlanta Chamber.
Boyd Austin Jr.
Mayor of Dallas
Dallas
Age: 51
Austin is the longest-serving mayor and dean of the chief elected officials in Paulding County. In 2011, he was elected to his fifth consecutive term in office. A leader in promoting regional growth and cooperation, he chairs the governing board of the Metropolitan North Georgia Water Planning District and is on the board of directors of the Georgia Environmental Finance Authority.
Ricardo Azziz
President
Georgia Regents University
Augusta
Age: 55
An internationally recognized medical researcher and executive with more than 20 years of leadership experience in higher education, research and healthcare, Azziz serves as founding president of the Georgia Regents University (a consolidation of Georgia Health Sciences University and Augusta State) and CEO of the Georgia Regents Health System, managing a budget of more than $1.2 billion.
John D. Barge
State School Superintendent
Rome
Age: 47
Born and raised in Georgia, Barge has been an advocate of public education all of his working life, as teacher, principal and administrator. As superintendent, he's seen increases in student test scores on almost every national test. As a candidate for Georgia governor, his goal is to work with the next superintendent to continue that trend.
John Barrow
U.S. Congressman, District 12
Athens
Age: 58
Barrow, first elected to Congress in 2004, has been re-elected four more times and is one of five Democrats representing Georgia. Barrow is considered a centrist and was one of 39 Democrats to vote against the Affordable Care Act. The last white Democrat congressman in the Deep South, he serves on the Committee on Energy and Com-merce and the Committee on Veterans Affairs.
Mark Becker
President
Georgia State University
Atlanta
Age: 55
Since beginning his tenure as GSU's seventh president in January 2009, Becker has led this 100-year-old institution of some 32,000 students into a period of marked growth and advancement. Under his leadership, Georgia State's graduation rate has already increased by 10 percent, and the university is becoming a national model for undergraduate education.
Charlie Bethel
State Senator, District 54
Dalton
Age: 39
Republican Bethel, elected to the Senate in 2010, last year accompanied a group of Georgia business leaders and elected officials on a nine-day business, trade and tourism mission to Asia, serving as an official delegate appointed by Gov. Nathan Deal. The group traveled throughout China and Japan to strengthen existing ties and explore new investment opportunities between Georgia and these vital Asian nations.
Sanford Bishop
U.S. Congressman, District 2
Albany
Age: 66
Bishop is serving his 11th term in the U.S. House of Representatives. He represents Georgia's Second Congressional Dis-trict, which covers 29 middle and south-west Georgia counties. A leader among the fiscally responsible Democrats in Congress, he seeks to use the legislative process to promote jobs and a stronger, more diversified economy.
Gary W. Black
Commissioner
Georgia Department of Agriculture
Commerce
Age: 55
Black has spent much of his time as agriculture commissioner – since 2011 – working to bring the department into the 21st century, transforming a paper-laden regulatory system into a technology-based system. Its new Licensing Division was aiming to have all 137,000 Georgia Department of Agriculture licenses available online by the end of 2013.
Frank Blake
Chairman and CEO
The Home Depot
Atlanta
Age: 64
Blake heads the nation's largest home improvement retailer (2,260 stores, 300,000 associates, $74.8 billion in sales and $4.5 billion earnings in fiscal 2012). Prior to joining The Home Depot in 2002 as executive vice president, business development and corporate operations, Blake's past positions included deputy secretary for the U.S. Department of Energy and executive roles at General Electric.
Arthur Blank
Philanthropist
Owner
Atlanta Falcons
Atlanta
Age: 71
One of the most ac-tive owners in the NFL, Blank pushed successfully for a new $1-billion stadium with retractable roof to be built downtown to help secure a Super Bowl for Atlanta. Blank chairs The Arthur M. Blank Family Foundation, which has given more than $300 million in grants, and serves on the board of trustees at Emory University and the boards of directors for Staples and Cox Enterprises.
Bill Bolling
Founder and
Executive Director
Atlanta Community Food Bank
Atlanta
Age: 65
One of the nation's leading advocates for the poor, Bolling started the South's first food bank at Atlanta's St. Luke's Episcopal Church in 1979. The nonprofit ACFB distributes millions of pounds of food and grocery products each year through a network of more than 600 nonprofit partner organizations that feed the hungry and other food banks throughout the southeast.
Paul Bowers
President and CEO
Georgia Power
Atlanta
Age: 57
Bowers leads the state's utility giant (2.3 million customers) as it works to complete the Plant Vogtle expansion, which is now expected to be completed in 2017 and 2018. Georgia Power reported a 2012 net income of $1.17 billion, a two percent increase over the previous year; in 2013 the PSC ordered the company to increase its solar energy deployment. Bowers just completed a term as chairman of the Metro Atlanta Chamber, where he oversaw a successful transition for retiring President Sam Williams and hired Hala Moddelmog as successor.
Zac Brown
Musician/Entrepreneur
Atlanta
Age: 35
Born and raised in Cumming, three-time Grammy winner Brown formed his band in 2002 and immediately launched into a heavy tour schedule of 200 shows a year, but it was six years before his first single, "Chicken Fried," reached No. 1 on the country charts. In addition to his musical endeavors, Brown also owns the Southern Ground Social Club, an eatery and music venue in Senoia.
Casey Cagle
Lieutenant Governor
Chestnut Mountain
Age: 47
Cagle made history in 2006 by becoming the first Republican ever elected as lieutenant governor in Georgia. Re-elected in 2010, he has been mentioned as a strong potential candidate in the contest to fill retiring U.S. Senator Saxby Chambliss' seat in the nation's capital. Cagle's business acumen propelled him to leadership roles and assignments that led to balancing Georgia's budget without raising taxes.
Jason Carter
State Senator, District 42
Atlanta
Age: 38
Carter continues to follow in the political footsteps of his grandfather, President Jimmy Carter, first as state senator, now as a candidate for Georgia governor. Carter, also a Democrat, often found himself at odds with Senate leaders during the 2013 legislative session, but points to achievements, such as changes to the HOPE grant, that he believes will make Georgia a better place.
C. Michael Cassidy
President and CEO

Georgia Research Alliance

Atlanta

Age: 60


Cassidy draws on the resources of Georgia's research universities, businesses and governments to foster economic development, emphasizing high-tech in-novation, recruitment of talent and scholarships through its Eminent Scholars Program, and commercialization of scientific findings. The GRA and Georgia Public Broadcasting won four Southeastern Emmy Awards for their pilot program, The Future Files – Inventing Tomorrow in Georgia Today.
Saxby Chambliss
U.S. Senator
Moultrie
Age: 70
When Chambliss retires this year, he'll leave behind a legacy of bipartisanship and service on the Senate Armed Services Committee; Senate Committee on Agri-culture, Nutrition and Forestry; Senate Rules Committee; Senate Special Committee on Aging; and Senate Select Committee on Intelligence, where, as vice chairman, he steadfastly advocates for dramatically im-proved information sharing and human-intelligence-gathering capabilities.
Mickey Channell
State Representative, District 120
Greensboro
Age: 71
Channell jokes that he must be a glutton for punishment – he's served in office continuously since 1972, when he was elected to the Greene County Board of Commissioners. For the past 22 years, he's served in the Georgia House of Representatives, where he now chairs the busy and powerful Ways and Means Committee.
Chris Clark
President and CEO
Georgia Chamber
Peachtree City
Age: 43
Clark, a Georgia native, has led the chamber for three years. Largely through his organization's efforts, the 2013 legislative session was one of the most business-friendly in the state's history. The chamber has refocused its attention on investor services and economic development and created a plan for the future to ensure the competitiveness of businesses throughout the state for decades to come.
Shan Cooper
Vice President and General Manager
Lockheed Martin
Marietta
Age: 45
Cooper is the first woman to lead the Marietta assembly plant – long one of the largest employers in the region. She is managing through the uncertainty of Pentagon budget cuts that have resulted in layoffs and slowed production. With a MBA from Emory and a master's in Human Resources from Rutgers, Coop-er joined Lockheed Martin in 2002 as part of a diversity management team.
Deke Copenhaver
Mayor of Augusta
Augusta
Age: 46
A Canadian native who was raised in Georgia, Copenhaver had a successful real estate career before his election as Augusta's mayor in 2005. A 2011 graduate of the Mayors' Institute on City Design, Copenhaver currently serves on the Georgia Chamber's International Development Committee, the Savannah/ Upper Ogeechee Regional Water Council and the Georgia Downtown Task Force.
Gretchen Corbin
Commissioner
Georgia Department of Community Affairs
Rome
Age: 42
Corbin, a Cedartown native, spent 15 years with the Georgia Department of Economic Development, including a stint as the deputy commissioner for global commerce, before being appointed the new commissioner for the Department of Community Affairs. She views the positions as very similar – both are focused on helping grow jobs in Georgia communities.
Deron Davis
Executive Director
The Nature Conservancy in Georgia
Atlanta
Age: 45
Davis, who was instrumental in launching a conservation campaign during the historic drought and developing regional water plans in Georgia, was recently named to head Georgia's arm of The Nature Conservancy, which is in negotiations with neighbor states over water through the Apalachicola-Chattahoochee-Flint Stakeholders and the U.S. Army Corps of Engineers Savannah River Basin Study.
Scott Davis
Chairman and CEO
United Parcel Service
Alpharetta
Age: 61
Under Davis' leadership, UPS has made significant improvements in its logistics network as the company has expanded its reach and capabilities throughout Europe, Asia and the Americas. He has also overseen UPS's status as a sustainability leader, including improvements in the fuel efficiency of the air and ground fleet, along with the deployment of the industry's largest alternative fuel fleet.
Nathan Deal



Governor of Georgia



Demorest 


Age: 71
Deal cites improvements to the state's criminal justice system that have been passed into law as one of most significant of his legislative victories since taking of-fice in 2011. He has kept a focus on jobs and job creation. His next goal is to address the challenge of facilitating re-entry into society for those who have been incarcerated – by helping give them the skills they need to get a job and stay out of trouble.
Alan Essig
Executive Director
Georgia Budget and Policy Institute
Decatur
Age: 54
Essig leads an organization that analyzes budget and tax proposals offered by the state legislature and advocates for good public policy in a politically charged environment. The group also issues reports, such as the State of Working Georgia 2013 that showed that most working-class Georgians are still struggling to get back to where they were economically before the recession took hold.
Tom Fanning
Chairman, President and CEO
Southern Company
Sandy Springs
Age: 56
In his 30 years with one of America's largest utility companies, serving more than 4.4 million customers, Fanning has led the company's efforts on business strategy, served as its chief risk officer, held responsibility for its research and environmental affairs and directed its nuclear plant operating company. Fanning serves on the board of the Federal Reserve Bank of Atlanta and the Institute of Nuclear Power Operations, among others.
Curtis Foltz
Executive Director
Georgia Ports Authority
Savannah
Age: 53
As executive director of the Georgia Ports Authority (GPA), Foltz oversees all port activity involving the deepwater ports of Savannah and Brunswick, as well as inland terminal operations in Bainbridge and Columbus. Directing one of Georgia's largest economic engines – likely to gain strength with the Savannah harbor deepening – he administers a $280-million annual budget. Prior to his appointment in 2010, Foltz served for five years as GPA's COO.
Grace Fricks
President and CEO
Access to Capital for Entrepreneurs
Cleveland
Age: 57
As the founder and head of Access to Capital for Entrepreneurs (ACE), Fricks helps provide much-needed affordable financing and business advisory services to small businesses. ACE has been recognized nationally as an innovative leader in small business financing. Since its inception in 1997, ACE has made more than $14 million in loans and created or saved more than 2,800 jobs in Georgia.
Helene Gayle
President and CEO
CARE USA
Atlanta
Age: 58
CARE, a leading humanitarian organization that fights global poverty, celebrated its 20th anniversary in Atlanta in 2013. With programs in 86 countries, CARE reached 83 million people last year. One of the biggest challenges in 2013, says Gayle, was the humanitarian crisis in Syria, a problem overshadowed and exacerbated by the politics of the region.
Larry Gellerstedt III
President and CEO
Cousins Properties
Atlanta
Age: 57
Gellerstedt guides the legendary 55-year-old Real Estate Invest-ment Trust (REIT) that has developed and/or maintained a lot of Atlanta's famous skyline. Last year, Cousins dramatically increased occupancy in its more recently acquired intown properties, such as Promenade II in the heart of Midtown, and added significantly to its Texas portfolio with the $1.1-billion purchase of 5.3 million square feet of office space.
Tim Golden
State Senator, District 8
Valdosta
Age: 59
Golden, a Republi-can now serving his seventh term in the Senate, is vice-chair of the finance committee, which is charged with writing the state's tax laws, and secretary of the powerful appropriations committee, which is responsible for the annual state budget. He has a reputation as a strong advocate for business and has worked to promote healthcare issues, earning awards from the Georgia Hospital Association and the Georgia Academy of Family Physicians.
Ryan Gravel
Senior Urban Designer
Perkins+Will
Atlanta
Age: 41
Gravel's Georgia Tech joint master's thesis in 1999 was the original vision for the ambitious Atlanta BeltLine, a $2-billion, 22-mile transit greenway that transforms a loop of old railroad property with light-rail transit, parks and trails to generate economic growth and protect quality of life in 45 neighborhoods throughout central Atlanta. He now serves as the design manager for the Atlanta BeltLine Corridor.
Todd Groce
President and CEO
Georgia Historical Society
Savannah
Age: 52
The Virginia-born Groce has spent 25 years as an educator and administrator who has raised $50 million for educational programming, capital projects and endowment. He guides the oldest continuously operated historical society (founded in 1839) in the South, responsible for collecting, examining and teaching Geor-gia history. Under his leadership, the Georgia Trustee program has been revived.
P. Russell Hardin
President
Robert W. Woodruff Foundation
Atlanta
Age: 55
As president of four foundations – which share an office, administrative staff and ties to Coca-Cola – Hardin's job is to be a good steward of assets exceeding $6 billion and supporting a wide range of charitable activity, primarily in Georgia. In 2012 alone, the Woodruff Foun-dation awarded 53 grants ranging in size from $100,000 to $1 million and totaling $133.5 million.
Will Harris
President
White Oak Pastures
Bluffton
Age: 59
Harris has been recognized around the world as a leader in humane animal husbandry and environmental sustainability. His 1,000-acre White Oak Pastures is one of the largest producers of organic, grass-fed beef in the country. As a fourth generation cattleman, he tends the same land that his great-grandfather settled in 1866.
Douglas Hooker
Executive Director
Atlanta Regional Commission
Atlanta
Age: 59
Hooker oversees an organization charged with regional planning and intergovernmental coordination for the 10-county, 70-city Atlanta region, home to 4.2 million people. The ARC emphasizes transportation, community development, land use, water and natural resources, aging services and workforce development. In 2013, the ARC focused attention on walkable urban communities and transportation alternatives.
Henry "Hank" M. Huckaby
Chancellor
University System of Georgia
Athens
Age: 71
A veteran of state government, Huckaby was a forceful opponent of state lawmakers' attempts to put more guns on college campuses. He engineered the historic and controversial consolidation of eight university campuses into four and will see another this year, when Kennesaw State and Southern Polytechnic begin merging. He manages a system of 31 public colleges and universities with a $6.5 billion annual budget and 43,000 faculty and staff serving 314,000 students.
Donna Hyland
President and CEO
Children's Healthcare of Atlanta
Sandy Springs
Age: 53
Hyland manages one of the nation's largest and best children's healthcare systems, with 8,400 employees and some 6,500 volunteers at three hospitals, serving the needs of nearly 350,000 children from all 159 Georgia counties. Annually ranked among the best places to work, CHOA is also ranked among the top technology innovators in America.
Johnny Isakson
U.S. Senator
Marietta
Age: 69
The moderate Republican was elected to his second term in the U.S. Senate in 2010. Isakson, who founded Northside Realty, began his public service career in the Georgia legislature in 1974 and served seven terms in the Georgia House of Representatives. Isakson serves on the U.S. Senate's committees on finance; health, education, labor and pensions; and veteran's affairs.
Edna Branch Jackson
Mayor of Savannah
Savannah
Age: 69
In 2011, Jackson became the first African-American woman to be elected mayor of Savannah. Prior to that, she served three terms as alderman at large on the city council. Jackson serves on the boards of the National League of Cities and the Georgia Municipal Association. Fully engaged in the civil rights movement, she first joined the NAACP Youth Council in Savannah at age nine.
Ronald Jackson
Commissioner
Technical College System of Georgia
Atlanta
Age: 65
Jackson is charged with guiding the state's 25 technical colleges, which play a strong role in workforce development and bringing jobs to the state. Although student enrollment increased steadily through the recession to nearly 200,000, it declined the past two years as a result of changes in the HOPE scholarship program and an improving economy. Last year, the system produced 36,000 graduates.
Dr. Bonita Jacobs
President
University of North Georgia
Dahlonega
Age: 64
Jacobs oversaw the merger of North Georgia College & State University and Gainesville State College into the University of North Georgia. Before becoming the first female president of North Georgia in 2011, she held posts at the National Institute for the Study of Transfer Students and University of North Texas, where she was also a professor of counseling and higher education.
Reynold Jennings
President and CEO
WellStar Health Systems
Marietta
Age: 66
Jennings, named CEO of the Year by the Georgia Alliance of Community Hospitals, is leading the health system through an ambitious expansion program, while managing the demands of healthcare reform for more efficient and effective patient outcomes. WellStar has expanded operations throughout the North Metro Atlanta area. It allied with Piedmont Healthcare to launch its own health insurance program, Piedmont WellStar HealthPlans.
Robert S. Jepson Jr.
Chairman and CEO
Jepson Associates
Savannah
Age: 71
The Savannah businessman and philanthropist was reelected to a second term as chairman of the Georgia Ports Authority. Jepson has served during the Savannah Harbor Expansion Project, an effort to deepen the port to accommodate larger ships now passing through the Panama Canal, and his philanthropy has helped reshape Savannah's historic district.
Jan Jones

Speaker Pro Tempore
Georgia House of Representatives

Milton

Age: 55
Representing District 47, the first woman to lead the Georgia House hopes to reconfigure the Atlanta-Fulton County library board, reducing the number of members from nine to seven, and give greater financial support to children in foster care, increasing the clothing allowance and paying for GED examinations. She is at the forefront of education reform and sponsored the bill that established the state's Charter Schools Commission.
Brian Kemp
Georgia Secretary of State
Athens
Age: 50
Kemp, who took office in 2010 and was elected in 2012, oversees Geor-gia's elections system. He adheres to conservative business principles and has been instrumental in helping state agencies remove governmental red tape and regulations. He supported the combination of two nursing boards by the General Assembly as a way to streamline services.
Muhtar Kent
Chairman and CEO
The Coca-Cola Company
Atlanta
Age: 61
Kent leads a homegrown soft drink mega corporation with more than $48 billion in annual revenues in 2012. And the company is only getting bigger. It plans to invest more than $4 billion in China, building new factories and adding new products. Kent is chairman of the International Business Council of the World Economic Forum and co-chair of the Bipartisan Policy Center's CEO Council on Health and Innovation.
Rusty Kidd
State Representative, District 145
Milledgeville
Age: 67
Elected as an independent, Kidd is the fourth generation of his family to serve in the state legislature. He is a proponent of solar energy and co-author of a bill that would allow Georgians to take advantage of reduced costs associated with solar power. He is president of Middle Georgia Management, which employs more than 50 people and has an annual payroll of around $2 million.
Ross King
Executive Director
Association County Commissioners of Georgia
Fayetteville
Age: 55
ACCG will celebrate its history and continue to serve as an advocate for county government as it marks its centennial anniversary this year. Today, the ACCG works in ways unimaginable in 1914. The organization seeks to advance Georgia counties by encouraging regional cooperation and economic development and leveraging the power of information technology and organizational efficiency.
Charles Knapp
Chair
State Charter Schools
Commission of Georgia
Big Canoe
Age: 67
President Emeritus of the University of Georgia, Knapp leads the state's newly reconstituted independent charter school authorizing agency. The SCSC rules on petitions for state charter schools and can authorize charters denied by local school boards. An economist and educator, he is the interim dean of UGA's Terry College of Business and was president of The Aspen Institute.
Chuck Leavell
Musician, Tree Farmer, Author,
Conservationist, Entrepreneur

Bullard

Age: 61
Leavell, who has been playing with The Rolling Stones for 30 years, is also a two-time Georgia Tree Farmer of the Year and co-founder of the Mother Nature Net-work. A former member of The Allman Brothers Band, Leavell has toured or recorded with some of the most influential artists of the past 50 years, including Eric Clapton and George Harrison.
Tim Lee
Chairman
Cobb County Board of Commissioners
Marietta
Age: 56
As the Cobb County Commission's chairman since July 2010, Lee is playing a major role in bringing the Braves to Cobb County in 2017. He has led the metro county through the recession with a balanced budget and essential services intact. He has made transportation a key to helping foster renewed economic development: The county is anticipating a $1-billion federal project to create toll lanes on I-75 and I-575.
Tad Leithead
President and CEO, Tad Leithead Advisors
Chair, Cumberland Community Improvement District
Atlanta
Age: 57
A veteran developer of the Atlanta commercial real estate market, Leithead is the immediate past chair of the Atlanta Regional Commission, which steers planning and development for the Metro Atlanta region. As chairman of the Cumberland Community Improvement District, he has led the development of $3 billion of transportation improvements in Cobb County. He serves on several boards, including the Atlanta CVB.
Craig Lesser
Managing Partner
The Pendleton Consulting Group
Sandy Springs
Age: 62
Lesser has been instrumental in helping expand and encourage the development of international business through his extensive network of business and governmental connections. The former commissioner of the Georgia Department of Economic Development, Lesser chairs the World Trade Center Atlanta, the World Chamber of Commerce and the Georgia Chamber's Inter-national Advisory Council.
Dennis P. Lockhart
President and CEO
Federal Reserve Bank of Atlanta
Atlanta
Age: 65
Lockhart is responsible for all of the Atlanta bank's activities, including monetary policy, bank supervision and regulation, and payment services. In addition, he serves on the Federal Reserve's chief monetary policy body, the Federal Open Market Committee (FOMC); serves as a director of the Metro Atlanta Chamber; and chairs the Midtown Alliance, among other activities.
Kelly L. Loeffler
Co-owner/Co-chair Atlanta Dream
SVP, Corporate Communications, Marketing & Investor Relations
IntercontinentalExchange
Atlanta
Age: 43
Loeffler, who developed her work ethic while growing up on an Illinois farm, leads ICE's investor relations program, public relations and corporate marketing strategy, playing a key role throughout her company's acquisition of the New York Stock Exchange. She helps direct Georgia's only female-owned professional sports team, the WNBA's Atlanta Dream. A major GOP fund raiser, she serves on several boards, including the Metro Atlanta Chapter of the Ameri-can Red Cross, Georgia Research Alliance and Atlanta Symphony.
Lauren "Bubba" McDonald Jr.
District 4 Commissioner
Georgia Public Service Commission
Clarkesville
Age: 75
McDonald served 20 years in the General Assembly before being appointed by Gov. Zell Miller to the PSC, where he served until 2002. He was reelected to the commission in 2008. During his tenure, the PSC has handled the controversial construction of new nu-clear reactors at Plant Vogtle and has successfully pushed for the use of more solar energy by Georgia Power.
Penny McPhee
President and Trustee
The Arthur M. Blank Family Foundation
Atlanta
Age: 66
As president and trustee of The Arthur M. Blank Family Foundation, McPhee directs the Foundation's strategic focus on opportunities for children and youth, job training and enhancing the quality of life in Atlanta and beyond. She is also a five-time Emmy Award-winning television producer and author of two award-winning books on The Rev. Martin Luther King Jr.
Timothy Mescon
President
Columbus State University
Columbus
Age: 59
Mescon became the fourth president of Columbus State University in 2008. Since then, the school has been named by U.S. News & World Report in 2012 and 2013 as one of the top 50 public universities in the South, and CSU's online graduate program is ranked among the top 35 in the country. The school has an enrollment of more than 8,200 in more than 100 different degree tracks.
Jere W. Morehead
President
University of Georgia
Athens
Age: 57
UGA's new president is intimately familiar with the workings of the state's flagship university. He's a graduate of the law school and held a number of UGA faculty and administrative positions prior to his appointment to the top post in 2013. He'll need all of his institutional knowledge as he prepares for the university's largest and most comprehensive capital campaign.
Jeff Mullis
State Senator, District 53
Chickamauga
Age: 54
A state senator since 2001, Mullis is chairman of the Senate Rules Committee, chairman of the Economic Development Subcommittee of Senate Appropriations and a member of the Banking and Finan-cial Institutions, Economic Development and Appropriations Committees. As executive director of the Northwest Georgia Joint Development Authority, he has been a leader in bringing business to the area.
Charlotte J. Nash
Chairman
Gwinnett County Board of Commissioners
Dacula
Age: 60
Nash is no stranger to Gwinnett Coun-try government, where for 27 years she held positions including county administrator, director of financial services and budget director before starting her own consulting firm specializing in governmental and public strategy and management. In 2013, she was sworn in as third vice president of the Association County Commissioners of Georgia.
Dink NeSmith
President/Co-owner
Community Newspapers, Inc.
Member, Board of Regents
Athens
Age: 65
As co-owner and president of a company that publishes 25 newspapers in three states – Georgia, Florida and North Carolina – NeSmith works every day to keep his newspapers distinguished, profitable and relevant throughout the communities they serve. A strong supporter of higher education, he is the immediate past chairman of the University System's Board of Regents.
Lamar Norton
Executive Director
Georgia Municipal Association
Atlanta
Age: 67
As director of governmental relations and now executive director, Norton has taken the lead in providing lobbying, training and technical consulting services to officials in the state's 512 municipal governments. The GMA has played an important role in helping cities find new ways to deal with lower tax receipts that have been a legacy of the Great Recession.
Sam Olens
State Attorney General

Marietta

Age: 56

Sam Olens' big win of 2013 was the passage of legislation designed to stem the epidemic of prescription drug abuse through the licensing and regulation of pain management clinics. He'd been an advocate for such a law since 2011, when Florida passed similar legislation and that state's suddenly illegal pill mills headed north to Georgia. He is also a strong supporter of Sunshine Laws to ensure access to public documents and public meetings.
Dan Papp
President
Kennesaw State University
Marietta
Age: 66
Papp continues to lead KSU toward the ranks of those universities recognized for academic excellence and quality of student experience, not to mention explosive growth. That growth will continue when KSU and Southern Polytechnic State consolidate in January 2015, under Papp's leadership. In 2013, the two institutions had a combined enrollment of 31,178 and an annual economic impact on the region of $1.15 billion.
Keith Parker
General Manager and CEO
MARTA
Atlanta
Age: 47
Parker took the helm of MARTA in 2012 after running similar systems in San An-tonio and Charlotte, where the transit systems had some of the highest ridership increases in the country (while maintaining low costs). Named Texas CEO of the Year in 2011 and 2012, Parker hopes to raise money for MARTA through land leases while improving customer service.
G.P. "Bud" Peterson
President
Georgia Tech
Atlanta
Age: 61
Peterson helps maintain the school's high standards during a difficult economy. Georgia Tech ranks among the nation's top 10 universities without a medical school in research expenditures, which exceed $643 million. Peterson believes in "technology-assisted education" and is leading Tech to offer an online Master of Science in Computer Science that is designed to create more qualified workers in STEM fields.
Michael Polk
President and CEO
Newell Rubbermaid
Atlanta
Age: 53
Polk took the big job at the Atlanta-based marketer of consumer and commercial products in July 2011. He built a reputation for effecting change, improving performance and improving the bottom line during his eight years as a top executive at Unilever. He's continuing along that line at Newell Rubber-maid, implementing a long-term strategy to grow the company, which had sales of $5.9 billion in 2012.
David Ralston
Speaker of the House
Blue Ridge
Age: 59
Ralston introduced an overhaul to the state's ethics regulations to bring more trans-parency to the giving of gifts to lawmakers. Ralston has also called for changes to the state's forfeiture law to increase accountability. He was elected to the Georgia State Senate in 1992 and served until 1998; in 2002 he was elected to the Georgia House, representing District 7. He became Speaker in 2010.
A.J. Robinson
President
Central Atlanta Progress and
Atlanta Downtown Improvement District
Atlanta
Age: 58
Robinson leads two organizations whose shared mission is to work with government to help build a better Atlanta center city. Last year saw a huge increase in new development and adaptive reuse projects, including groundbreakings for the Atlanta Streetcar, National Center for Civil and Human Rights, National College Football Hall of Fame and GSU Law School.
Earl V. Rogers
President and CEO
Georgia Hospital Association
Atlanta
Age: 60
Before being named GHA's top executive last July, Rogers was senior vice president of government relations, playing a key role in the passage of hospital-friendly legislation regarding tort reform, Certificate of Need and Medicaid funding. He leads GHA as member hospitals face a challenging future: Georgia has refused to expand Medicaid while federal payments have been sharply cut with full implementation of the Affordable Care Act.
Terry Rogers
State Representative, District 10
Clarkesville
Age: 59
As Majority Deputy Whip and vice chair of the State Planning & Community Affairs Committee, Rogers is known for his commitment to economic development in his Northeast Georgia region. The former chairman of the Joint Development Authority of Banks, Habersham and Rabun Counties has received an A+ rating from the Georgia Chamber for his pro business stance.
William H. Rogers Jr.
Chairman and CEO
SunTrust Banks, Inc.
Atlanta
Age: 55
Rogers leads the nation's 13th largest bank, ranked by total assets. A veteran of SunTrust predecessor Trust Company of Georgia, he was named president in 2008 and CEO in 2011. He is vice chair of the influential Atlanta Committee for Progress and leads the 2013-2014 Woodruff Arts Center campaign. As more people bank online, his company has closed some branches and refocused on investment in technology, all with the same emphasis on clients first.
Jackie Rohosky
Assistant Commissioner of Economic Development Programs/Quick Start
Technical College System of Georgia
Atlanta
Age: 61
Over 20 years, Rohosky has built Quick Start into an internationally recognized, top-ranked workforce-training program – it's been the deciding factor in a number of hefty job-creation projects in Georgia over the past several years (Kia, Caterpillar and Baxter International, to name a few). So far, Quick Start has trained more than a million workers for 6,200 companies.
Sylvia Russell
CEO
AT&T Georgia
Atlanta
Age: 57
Russell has led a company with an economic impact in Georgia of about $2 billion, directing AT&T's efforts to provide the latest technology to its customers. She's been spearheading the $14-billion Project Velocity IP, which shifts 99 percent of its network away from TDM to the more efficient IP. As part of the process, AT&T will hire workers for more than 1,000 positions throughout Georgia. She announced her retirement after more than 20 years with the company in November.
Michael Shapiro
Director
High Museum of Art
Atlanta
Age: 62
Under Shapiro's direction, which began in 2000, the High Museum continues to grow in stature. This year the museum will continue its partnership with the Louvre, feature a "Go West" exhibit that includes works and artifacts depicting the American West, and spotlight an exhibit from Wynn Bullock, a significant photographer from the 20th century. A summer exhibit of historic concept cars is the latest addition to the lineup.
Page Siplon
Executive Director
Georgia Center of Innovation for Logistics
Savannah
Age: 39
Siplon is the king of logistics. He initiated the state's first Logistics Summit in 2009 and developed the first Georgia Logistics report. Siplon, who holds undergraduate and graduate degrees from Georgia Tech, heads the agency that helps companies overcome challenges when it comes to moving freight by offering expertise, data and advice. His Center for Innovation for Logistics also produces a monthly market snapshot.
Lynn Smith
State Representative, District 70
Newnan
Age: 68
An accomplished legislator, businessperson and civic leader, Rep. Smith serves as chairman for the House Natural Resources and Environment Committee. She is acclaimed both statewide and nationally for her leadership in developing Georgia's water plan. Smith authored legislation modifying the successful brownfields program, which offers liability protection and tax incentives for those who clean up environmentally damaged land.
John W. Somerhalder II
Chairman, President and CEO
AGL Resources Inc.
Atlanta
Age: 58
Somerhalder leads one of the country's largest operators of natural gas assets, serving about 4.5 million customers in seven states, at a time when the abundance of shale natural gas is creating new opportunities and new challenges in the industry. He also serves as chairman of the board of the Atlanta BeltLine, Inc., which is leading development around the city.
Jeff Sprecher
Founder, Chairman and CEO
IntercontinentalExchange (ICE)
Atlanta
Age: 58
Jeff Sprecher runs an enterprise that has become a major force in Georgia and global business. ICE is a fast-growing, dynamic international company that has become the world's dominant player in the highly sophisticated commodities, derivatives and energy exchange markets. In 2013, ICE finalized its purchase of the New York Stock Exchange, heightening its profile considerably, along with that of its hard-charging CEO.
Kessel D. Stelling Jr.
Chairman and CEO
Synovus



Columbus



Age: 56
Stelling leads an institution on the upswing, with recent upgrades from ratings agencies, two successful stock offerings, the redemption of its TARP obligation and continued profitability. These successes gave the bank lots to celebrate as it marked its 125th anniversary in 2013. Challenges continue to come from new banking regulations and a highly competitive environment.
Jimmy Tallent
President and CEO
United Community Banks, Inc.
Blairsville
Age: 61
After becoming president of a $42-million bank in rural Blairsville in 1984, Tallent built it into the third largest traditional bank holding company in Georgia. Today, UCBI is a $7.2-billion company with 27 community banks and 103 offices serving communities across north and coastal Georgia, Metro Atlanta, western North Carolina and eastern Tennessee.
Lee Thomas
Director
Georgia Film, Music & Digital Entertainment Office
Georgia Department of Economic Development
Atlanta
Age: 48
When you recognize yet another area hotspot that's been overrun by hordes of The Walking Dead, Thomas is the woman to thank. Her job – and she's really good at it – is to find locations in Georgia where movie and TV companies can shoot their projects. She credits diverse locations, a talented crew base and a competitive incentive package for the filming boom.
Hugh P. Thompson
Chief Justice
Georgia Supreme Court
Milledgeville
Age: 70
The Milledgeville native was appointed to the Georgia Supreme Court by Gov. Zell Miller in 1994 and sworn in as chief justice in 2013. He is seen as an even-tempered man known for a common-sense approach to the law. The graduate of Mercer University has been practicing law since 1969 and previously served as president of the Council of Superior Court Judges of Georgia.
Michael Thurmond
Superintendent
DeKalb County School District
Athens
Age: 59
The former Commissioner of Labor inherited a mess when he took over leadership of the third largest school system in Georgia (100,000 students, more than 13,000 employees). But he's stabilized the troubled district, eliminating a $14-million deficit, emphasizing academic achievement, improving employee morale and guiding DeKalb to a favorable mid-year accreditation report, elevating his reputation as a problem solver and advocate for public education.
Teresa Tomlinson
Mayor of Columbus
Columbus
Age: 48
Since becoming the city's first female mayor in 2011, Tomlinson has helped reform the city's pension plan, initiated reforms to ensure the effectiveness and safety of the Muscogee County Prison (and increase staff morale there) and improved the city's tax assessor's office, which was suffering from lengthy backlogs in complicated assessments, putting $32 million in previously unassessed properties back on the tax rolls.
William Underwood
President
Mercer University
Macon
Age: 57
Since assuming Mercer's presidency in 2006, Underwood has guided an ambitious expansion of its academic programs and enrollment. After launching second and third medical school campuses in Savannah and Columbus, Mercer initiated a master's-level physician assistant program and a doctoral-level program in physical therapy. It has also added Ph.D. programs in Clinical Psychology, Nursing, Counseling, Educational Leadership, and Curriculum and Instruction.
T. Rogers Wade
Executive Director
Governor's Defense Initiative
Sandy Springs
Age: 72
A past president of the Georgia Public Policy Foundation and former head of Gov. Nathan Deal's transition team, Wade, a longtime Deal advisor, now serves as executive director of the Governor's Defense Initiative. This new program is designed to foster economic development opportunities at Georgia's military base establishments and their surrounding communities to create new jobs for the state.
James W. Wagner
President
Emory University
Atlanta
Age: 60
The challenge for Emory, as for many universities these days, is to continue demonstrating the ways higher education serves society and is worthy of public trust and enthusiastic support. Wagner looks on 2013's successful conclusion of a seven-year fund-raising campaign as proof that many still value higher education. The university raised nearly $1.7 billion from more than 149,000 donors.
Joel Wernick
President and CEO
Phoebe Putney Health
System, Inc.
Albany
Age: 59
Wernick manages the century-old system, which continues to provide essential care – Phoebe is the region's only provider of neonatal intensive care, cardiovascular surgery and radiation oncology services – to all residents of Southwest Georgia, regardless of personal circumstance. He's managing in interesting times, during what he terms a tidal wave of change to health delivery systems.
Philip Wilheit Sr.
President, Wilheit Packaging and Marketing Images

Chairman, University System
Board of Regents
Gainesville
Age: 69
Wilheit, who has helped guide Gov. Nathan Deal's political career for more than 30 years, will once again chair his gubernatorial campaign. A strong proponent of public education, he is chairman of the University System Board of Regents, representing the Ninth District. He's also a member of the Georgia Chamber Advisory Committee on School Board Governance.
Robert Williams Jr.
Co-owner, SouthFire Newspapers
President
National Newspaper Association
Blackshear
Age: 63
In 1971, when he was only 20, Williams bought a piece of The Blackshear Times and Pierce County Publishing Company. Five years later, he bought out his partners and now owns the SouthFire Newspaper Group with his wife, Cheryl, the associate publisher. In 2013 he was elected president of the NNA, which was created to protect, promote and enhance community newspapers.
Tommie Williams
Georgia Senate, District 19
Lyons
Age: 58
The South Georgia onion farmer and public school teacher who went on to become one of the most influential members of the state senate is now also a pioneer in an emerging Georgia agribusiness – olive oil. This past fall in Toombs County, Williams harvested his first crop of olives. Meanwhile, in Atlanta he continues to be a major force under the Gold Dome.
Sally Quillian Yates
U.S. Attorney
Northern District of Georgia
Atlanta
Age: 53
Yates leads a team of 100 federal lawyers who prosecute a variety of crimes, from drug trafficking, white-collar fraud and cyber threats to child exploitation. The University of Georgia graduate became the first woman to serve as U.S. Attorney in the Northern District when appointed by President Obama in 2010. She was the lead prosecutor in the trial of Olympic bomber Eric Rudolph and other high-profile political corruption cases.
NOTABLES
Joel Babbit, CEO, Co-founder, Mother Nature Network
Cheryl Bachelder, CEO, AFC Enterprises Franchisor, Popeyes Louisiana Kitchen
Vance Bell, CEO, Shaw Industries
Freddy Bensch, Co-founder, "Big Kahuna," Sweetwater Brewing Co.
Sally Bethea, Founding Director, Chattahoochee Riverkeeper
Karen Bremer, Executive Director, Georgia Restaurant Association
Robert L. Brown Jr., President/CEO, RL Brown & Associates
Suzanne Burnes, Executive Director, Sustainable Atlanta
Mark Butler, Georgia Commissioner of Labor
Leesa Carter, Executive Director, Captain Planet Foundation
David Connell, President/CEO, Cobb County Chamber
Joe Cook, Former Executive Director, Coosa River Basin Riverkeeper
Cathy Cox, President, Young Harris College
Ann Cramer, Senior Consultant, Coxe Curry & Associates
Erroll B. Davis Jr., Superintendent, Atlanta Public Schools
Martin Dawe, Artist
Katie Dempsey, State Representative, District 13
Rajeev Dhawan, Director, Economic Forecasting Center, Georgia State University
Stephen Dolinger, President, Georgia Partnership for Excellence in Education
Zippy Duvall, President, Georgia Farm Bureau
Robert Farris, Director, Georgia Forestry Commission
Martin Flanagan, President/CEO, Invesco
Larry Flynn, President, Gulfstream Aerospace
Tom Frieden, Director, Centers for Disease Control and Prevention
Jennifer Frum, VP for Public Service & Outreach, UGA
Thomas Gallagher, Chairman/President/CEO, Genuine Parts
Hans Gant, Senior Vice President of Economic Development, Metro Atlanta Chamber
Sharon Gay, Partner, McKenna Long & Aldridge
Mike Gaymon, President/CEO, Greater Columbus Chamber of Commerce
Rob Gibson, Executive and Artistic Director, Savannah Music Festival
Mike Giles, President, Georgia Poultry Federation
Amy Glennon, Publisher, The Atlanta Journal- Constitution
Jerry Gonzalez, Executive Director, Georgia Association of Latino Elected Officials
Steve Green, Outgoing Chairman, Georgia Chamber
Col. Bruce Hampton, Bandleader, Musician, Actor
Virginia Hepner, President/CEO, Woodruff Arts Center
Doug Hertz, President/CEO, United Distributors Inc.
Helen Kim Ho, Executive Director, Asian American Legal Advocacy Center
Al Hodge, President/CEO, Greater Rome Chamber of Commerce
Phil Jacobs, Founding Partner, The Pendleton Consulting Group
Samantha Joye, Professor, University of Georgia
Vernon Keenan, Director, Georgia Bureau of Investigation
Daniel Kaufman, President, Gwinnett Chamber of Commerce
Terry Kay, Author
James Cox Kennedy, Chairman, Cox Enterprises
Mike Luckovich, Editorial Cartoonist, The Atlanta Journal-Constitution, Pulitzer Prize winner
Lee May, Interim CEO, DeKalb County
Col. Mark McDonough, Commissioner, Georgia Department of Public Safety
John Meadows, State Representative, District 5
Ceasar Mitchell, President, Atlanta City Council
Dan Moody, Co-Chairman, The Essential Economy Council
Jiha Moon, Artist
Michelle Nunn, Non-profit Executive, U.S. Senate candidate
Rashid Nuri, Urban Farmer, Board President, Georgia Organics
Bill Nuti, Chairman, President & CEO, NCR
James Pannell, Partner, Gray, Pannell & Woodward
Karen Paty, Director, Georgia Council for the Arts
David Pennington, Mayor of Dalton, Georgia Governor Candidate
Tyler Perry, Actor, Director, Producer, Writer
Alicia Philipp, President, The Community Foundation for Greater Atlanta
Maria Saporta, Journalist, SaportaReport/Atlanta Business Chronicle
David Scott, U.S. Congressman
Charles Seabrook, Author
David Shafer, President Pro Tem, Georgia Senate
Tyron Spearman, Executive Director, National Peanut Buying Points Association
Walter Sprouse Jr., Executive Director,
Augusta Economic Development Authority of Richmond County
David Stockert, President/CEO, Post Properties
Laura Turner Seydel, Environmental Advocate, Chairperson, Captain Planet Foundation
Ben Tarbutton III, Assistant Vice President, Sandersville Railroad Company, Board of Regents member
Barbara Brown Taylor, Author, Professor, Piedmont College
Sara Totonchi, Executive Director, Southern Center for Human RightsRoger Tutterow, Economist, Mercer University
Woody Woodside, President, Brunswick-Golden Isles Chamber of Commerce
Dick Yarbrough, Columnist
Bill Young, Former Chair, UGA Foundation
Sam Zamarripa, Co-Chairman, The Essential Economy Council