Against All Odds
How and why some Georgia schools are succeeding in spite of economic challenges.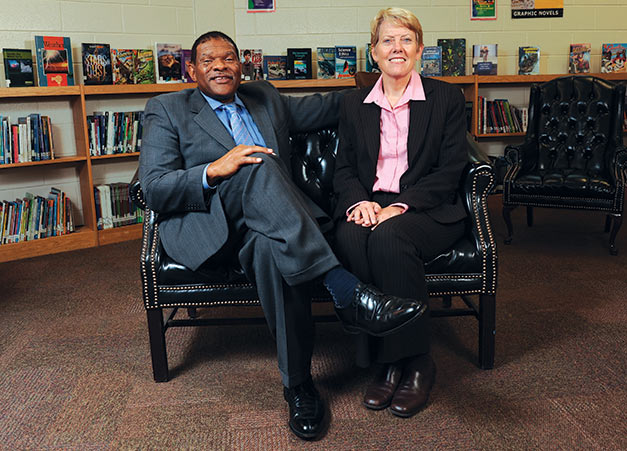 The results came in for Sammye E. Coan Middle School, and they were very good, which is why school principal Betsy Bockman was so worried.
"I thought, 'Oh, great, now they're going to investigate us,' because our positive growth was so dramatic," says Bockman. "We're under greater scrutiny now, and that black cloud will be there for years."
The cloud is left over from the standardized test cheating scandal that has rattled Atlanta Public Schools, including Coan Middle.
Besides the mass promotion, over years, of failing students, the rampant cheating on the Criterion-Referenced Competency Tests (CRCT) resulted in resignations and firings and dozens of arrests throughout the system, and a weird kind of PTSD, a tendency toward Orwellian doublethink, so that anything this good might really be wretched.
So in May, during the last week of the 2012-2013 school year, when Coan Middle found out that it had achieved the greatest gains in system-wide CRCT scores, Bockman could be forgiven for a little well-earned fatalism. Even the kids weren't quite sure what to make of the news.
"It was an emotional thing when we got the test results back, almost overwhelming," Bockman says. "Teachers were crying in the last faculty meeting. They had kids in their classes who had never passed before, and we were all a bit stunned by the achievement.
"When I shared it, the kids, many of whom had never passed math, or hadn't passed reading and math for several years, they didn't know how to receive the information. This is something that they, or their parents, weren't used to."
That's why the fuss over improvement, because this is a school community not used to a bona fide upward trend, and because this school was almost closed as part of the APS redistricting plan (a grassroots campaign from parents and an 11th hour plea from Emory University to APS Superintendent Erroll Davis saved the school from mothballs).
It's not as if Coan is setting state records for meeting and/or exceeding standards in the basics that are measured by the CRCT – reading, math, etc. There's still a long way to go to reach 100 percent, but their eighth graders were at 98.9 percent in reading, and the 74.1 percent who did well enough in math is a pretty good jump from the 60.8 percent from the previous year.
But these are students and families from difficult economic backgrounds (more than 98 percent of the kids are on the free/ reduced lunch program), and now they seem to be aimed in the right direction. And basically, that's what State School Super-intendent John Barge is asking the 180 school systems across Georgia to do – if you're not there yet, find a better direction and accept no excuses, even when you've got plenty of legitimate ones.
"One of the goals I had when I came into office was to visit all of our school systems in the state, and we're just about there," says Barge, who is trying to get a glimpse of what is working and where, or what isn't and why. (Editor's Note: Barge has declared that he will be a candidate for governor in the GOP primary.)
"It's different from school to school, and a lot of people in challenged situations are looking for a magic bullet; but there isn't one. If every school and every district facing challenges did the same thing, you wouldn't get the same results. They are all unique; they all have their own DNA."
That uniqueness, that DNA shouldn't be ignored, Barge says, and a new statewide accountability system for public schools may present a clearer picture of how schools in poor communities are performing.
New Model
The glue pot for many schools, particularly in economically disadvantaged areas, has been Adequate Yearly Progress (AYP), a cornerstone within the federal No Child Left Behind (NCLB) Act designed to measure academic performance based on standardized tests. The goal was for every student in every public school to be proficient in reading and math by the 2013-2014 school year – right now.
The one-size-fits-all strategy hasn't worked as schools tried to restructure, placing federal mandates above local needs and realities. Many schools are still a long way from 100 percent proficiency, and under NCLB, these schools can lose funding or even close if they fail long enough.
But under President Barack Obama's administration, states were allowed some flexibility from NCLB in exchange for their own plans to raise standards – the vast majority of states, including Georgia, have chosen this option.
Last year, Georgia introduced a new model to replace AYP as a way to raise standards and measure progress, the College and Career Readiness Performance Index. In May, the first CCRPI scores were released (for the 2011-2012 school year).
"[CCRPI] is the result of the waiver Georgia received from No Child Left Behind, and it paints a much clearer picture for us, as leaders, as parents, as school communities," Barge says. "Under No Child Left Behind, you either made AYP or you didn't. It was based on a test score given on one day of the school year, and it didn't indicate a lot. With CCRPI, our hope is to have an accountability system that means a lot more than a single test score."
CCRPI measures schools on a 100-point scale broken down into three major areas: Achievement (up to 70 points), Progress (15 points) and Achievement Gap (15 points). Schools that meet expectations and also have a significant number of economically disadvantaged students, English learner students, or students with disabilities can receive challenge points (up to 10) to add to their score.
Basically, the DOE is trying to invent a better microscope to get a closer, more detailed look at student progress, or lack of it. (For more information on indicators and how scores are broken down, visit www.gadoe.org.)
The average CCRPI score for Georgia public elementary schools was 83.4; for middle schools, 81.4; and for high schools, 72.6 – so, basically, a high C or low B average for the state.
"We have a good basis point now from which we can make goals, and our hope is that this will help us drive school improvement from this point forward," Barge says.
This month, Georgia Trend calls on a handful of schools in geographically diverse, poor communities, where the great majority of the students are on the free or reduced lunch program. Some of them, like Coan Middle (98.3 percent of its 300 students are on free and reduced lunch) had a less-than-stellar CCRPI score – 60.3, but that score reflects the 2011-2012 school year and doesn't include Coan's recent success in the CRCT.
"The CCRPI gives us an idea if a school is moving in the right direction, and having one clear number is helpful for a community to evaluate how their schools are doing," says John Keltz, a research associate for APS. "It helps encourage engagement when they can see a straightforward number.
"But the CCRPI score is still a lagging indicator, about a year behind. Through our own internal metrics, we know that Coan has improved, but we're hoping to get CCRPI scores in December [this month] for 2012-2013, so it'll be nice to have an indicator closer to the actual school year it's measuring."
Extra Effort
In spite of what Barge says about panaceas, at least one of the school principals contacted for this story believes he has a definitive answer.
"I think we do have a magic bullet," says Al Taylor, principal of Radloff Middle School in Duluth. "I think it's expectations. Everything comes down to what our expectations are for students. Our perspective is that our students don't know that high poverty rates are supposed to mean poor performance. We're not gonna allow poverty to be an excuse for allowing us to feel better if our students underperform. We take that off the table."
(Editor's Note: Taylor announced in October that he will become the new principal of Berkmar High School in Gwinnett.)
Right now, almost 97 percent of Radloff's 6th through 8th grade enrollment of 1,850 are on the free and reduced lunch program, says Taylor, who serves a diverse student population that is about 53 percent Hispanic, 34 percent African American. Radloff scored almost 81 on the initial CCRPI. Last year Radloff was just shy of 90 percent in meeting and exceeding standards in math, a nine-point jump. The extra time students are getting in basic numeracy and algebra is paying off, Taylor says.
Another focus area for Radloff is literacy. Every class forces students (many of them grew up speaking Spanish) to write as part of the curriculum, including P.E. That effort, too, is paying off with big gains in test scores, Taylor says.
About five miles away in Lilburn, Berkmar Middle, another Gwinnett County school with a demographic makeup very similar to Radloff's, scored almost 94 on the first CCRPI and maintained its standing as a diamond in the rough.
Last year Berkmar placed among the top 25 middle schools in the state in the percentage of students exceeding expectations on the Georgia Writing Test. And its CCRPI score was the highest among Gwinnett County's Title I schools. Principal Kenney Wells credits his school's obsession with self-assessment for Berkmar's year-after-year improvement.
"We basically gauge learning every day, we assess what students have learned or should have learned throughout the week, week and a half, two weeks, and try to provide timely interventions before getting to the end of a unit, and certainly well before the end-of-year tests," says Wells, who went to school in Gwinnett County and has been at Berkmar since it opened in 2004.
"Our teachers also spend a lot of time capturing lessons – they've created a lesson plan database to carry over from one year to the next, so new teachers can recognize the things that have been successful and, of course, the things that need to be tweaked. If we started from scratch every year and didn't have that framework to build upon, we wouldn't get the CCRPI results we're seeing."
Berkmar teachers give their students immediate feedback, and that gives the kids and their parents a clear, quick idea of progress, or what needs to happen to achieve progress.
"It takes an extra effort on the part of our teachers," Wells says. "But if you have passionate teachers, you're gonna have passionate students."
The teachers are no less passionate at Putnam County Primary School in Eatonton, part of a charter system of schools. Putnam Primary consists of kids from kindergarten through second grade – they're too young to take the CRCT, but they did post a CCRPI score of 93.5, including 65.1 on the Achieve-ment part, the highest among all elementary level schools with 90 percent or more on an assisted meal plan.
"We have a good core of teachers devoted to improving their craft, giving additional time to provide tutorial opportunities and involving parents by meeting with them regularly," says Principal Fernando Aker. "They've made tremendous efforts to provide a foundation necessary for our students to achieve at the next level."
It seems to be working. The next level is Putnam Elementary School (Grades 3-5), which scored 93.4 on its CCRPI (nearly 60 in the Achievement area, not shabby for a school with 84 percent of its kids on the free and/or reduced meal plan).
Making It Work
Every Tuesday and Thursday, a school bus pulls into Waverly Terrace in Columbus, a 1924 building that serves as the home of a high school. The bus carries 52 juniors and seniors to a world their parents probably never knew.
"The majority of our students come from homes where no one in their immediate family went to college. We're trying to foster new generations of college students," says Susan Willard, principal of Early College Academy of Columbus (89 percent on assisted meal plans, 90.2 on the CCRPI), a public high school of about 170 students, most of them poor, within the Muscogee County system.
By the time these kids graduate from high school, they will have earned up to 60 college credit hours at Columbus State University.
They're doing the same thing at Booker T. Washington Early College (88.3 percent on assisted meal plans, 83 CCRPI) in Atlanta, where roughly 50 kids attend college classes at Clark Atlanta, Georgia State or Atlanta Metropolitan State College.
The idea for these "early colleges" is to give students who might typically never set foot on a college campus a bit of a head start.
"Nobody knows that these are high school students once they are on the college campus, because they're treated like any other college student," says George Rutledge, principal of the Booker T. Washington Early College High School in Southwest Atlanta. "There's a lot that goes into creating that situation."
At both the Columbus and the Atlanta schools, there are high expectations that the students will cram in as many of the basics as possible so that by the time they are juniors, they are ready for college. And at each school, the leadership is offering students a helping hand to get them off to higher ed.
Title I funding pays the tab for teachers who stay late and work weekends at Washington, where Rutledge is known to pull a kid into his office for a personal chat, parents meet with teachers the first Wednesday of every month and Chick-fil-A plays a vital role year-round (providing mentors for students and bringing students to their corporate offices to see what a work day looks like).
In Columbus, where Early College Academy was started by funding from foundations (Bill and Melinda Gates, and Woodruff), kids have individual learning plans and take a college en-trance prep test early in their sophomore year, then get help on their weak areas so they're ready to take the real entrance exam in the spring before their junior year.
Down at Mitchell County High School in Camilla, college was hardly part of any rational conversation a few years ago. Just getting out of high school was considered a steep enough challenge.
"A few years ago we had a graduate rate of about 39 percent," says Robert Adams, principal, who retired from the Army in 1995 and has been at Mitchell County High for seven years.
Under Adams' leadership, the turnaround in Camilla has been astonishing. Once upon a time, the school valedictorian had to take remedial classes. Today, the school's graduation rate is at 90 percent, and more important, says Adams, about 83 percent of the grads went to college last year – about half of them made the dean's list.
Today, Mitchell County High is a 90-90-90 school – at least 90 percent of the kids live in poverty, at least 90 percent are minorities and at least 90 percent are meeting or exceeding state standards.
"Most of my kids live in the projects, and we're talking about generational poverty," says Adams, whose school earned a CCRPI score of 82. "They know how to get welfare, they know [that] what it takes to save face and be important in their community doesn't necessarily equate to the world of school. In their world, you have to stand up for yourself or you get beat down."
Meanwhile, Adams and his team are asking for compliance. But they're also asking for individual responsibility, and they're empowering the 400 students at Mitchell County to become leaders, masters of their individual and collective destinies. There's an active student government now, so if the kids want a pep rally, they have to organize it. If half the junior class is struggling with math, the other half tutors them, and so on.
Teachers and administrators have raised their expectations and gone out of their way to create a new sense of community, actually getting on school buses and visiting students' homes to deliver report cards and meet with parents.
"Our goal has been to change the culture here, and we're working hard on that," Adams says. "We don't want our students to step up because we're saying they should, but because they've come to the understanding that it's the right thing for them, and their families, so that they'll tell their little brothers and sisters, 'When you go to Mitchell County High School, you've got to bring your "A" game.'
"When that kind of thing happens, we've made public education work."
Click here to download the CCRPI School Summary with Free Reduced Percent.xlsx