Kennesaw State Turns 50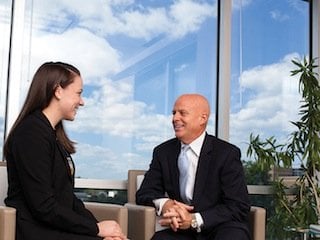 Innovative academic programs revolutionized the KSU profile and continue to do so. The President's Emerging Global Scholars (PEGS) offers myriad educational and cultural opportunities to high-achieving students like Katherine Street, a junior from Woodstock and president of the Student Government Association. In addition to study abroad experiences in Brazil and Costa Rica, Street, a nursing major and commuter student, participated in the Fulbright Commission's Wales Summer Institute, a cultural and academic program. "It was six weeks of experiential learning in Wales," she says, "I was with eight students from all over United States learning what it means to be Welsh and what it means to be American." Read our feature story by Patty Rassmussen on Kennesaw State turning 50 and their local to global reach.
Pictured above: Junior and SGA President Katherine Street, left, chatting with Dr. Ken Harmon, provost and VP of academic affairs at Kennesaw State.
Photo credit: Adam Komich, komich.com