Georgia Solar Energy Association Solar Summit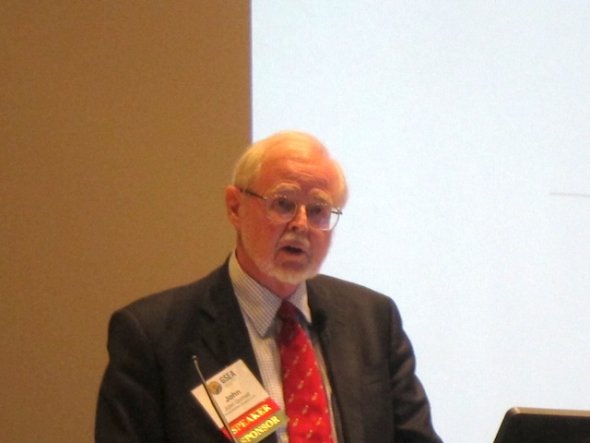 Water and power – not just hydropower but how power generation uses water – was discussed recently at the Georgia Solar Energy Association Solar Summit at Georgia Tech Research Institute in Atlanta.
"The drought has reduced our amount of hydroelectric power being collected at dams on the Chattahoochee River," according to panelist Jesse Roach of Sandia National Laboratories of Albequerque, NM. Georgia also uses a lot of water without "consuming it" for coal fired power plants, much more than cooling towers for nuclear reactors, which also withdraw less. "It is possible to retrofit plants using solar to switch from fresh water use to dry cooling using municipal waste water and brackish ground water, representing a 10 percent increase in costs. A chunk yes, but this is a reality."
"The old argument has always been that solar would cause massive upward pressure on water rates, but 10 percent isn't that bad," says John L. Gornall Jr., Partner of Economic Development Practice for Arnall Golden Gregory. "There wouldn't be the necessity of so much retrofit if renewables are increased. Utilities might argue that it's what's consumed that's important, but I disagree, from a permitting perspective, if I'm down stream I have to throttle back.
"We have the technology, but not the policy, and not the infrastructure. But in terms of creating a water supply program using solar, we are getting there," says Gornall noting that Georgia Power is in the process of closing 15 coal fired power plants.
Joy Hinkle of Southface added that the nonprofit's Atlanta Better Buildings Challenge, as well as Living Buildings Challenge and Architecture 2030, are pushing the zero carbon footprint movement and making retrofits a priority. "We have the most stringent plumbing code of any state in the country," she says.
"Water authorities are pushing solar – whether through redesign for capital costs, or storage overnight and treating by day, the numbers are making sense," says Gornall.

Image Credit: Ben Young