2013 Silver Spoon Awards
The Year Of The Upstart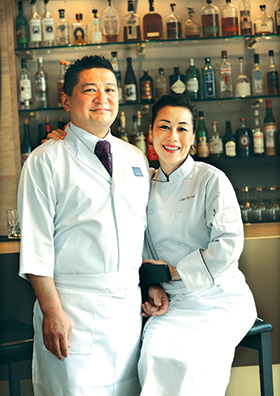 Restaurants have always been volatile businesses – the first to wink out in a downturn; the first green shoots to crop up with an uptick. If Georgia's restaurants in the last year are any indication of the larger business community, we're all coming back. Not in a smooth, sharp upward incline, but in fits and starts, with jagged downturns and slow clawbacks.
Still, it's been a dramatic year, with outstanding new entries leaping into diners' open arms and onto my Top 10 list, almost as soon as they opened their doors. The General Muir and Umi, in Atlanta, are new this year; Antebellum, in Flowery Branch, and Graft, in Grayson, are new on the list after opening in late 2012. Dovetail, in Macon, also jump-starts on our list after an opening late last year.
Like The Optimist (which opened mid-2012, making our list last year), and Miso Izakaya, another relative newcomer that debuts on our list this year, they represent some exciting new trends – fresher, lighter flavors, often in more intimate, casual environments, often in out-of-the-way locations, often embracing their local produce, seafood and dishes in creative ways we haven't seen before. The cocktails are typically as creative as the food and often reflect local culture (see Antebellum's "Smoking Baptist," and Miso Izakaya's "KFC," for Korean Fried Chicken). In fact, that's what we've always loved about perennial favorites Five & Ten in Athens, Elizabeth's on 37th in Savannah, and (aside from the cocktails you make yourself) Cumberland Island's Greyfield Inn.
While all these restaurants in some way show how the industry is changing, what's clear is that no one here has yet figured out how to create an authentic dining scene. I'm thinking of U.S. cities and towns like Asheville, N.C.; Charleston, S.C.; Portland, Maine, and a few other destinations in which the restaurants drive a tourist industry all by themselves.
In Georgia, only Athens comes to mind as having some potential to reach that kind of goal, with its many inexpensive but high-quality restaurants, walkable downtown and generally amiable lifestyle. Why? Surely relatively inexpensive real estate is a part of the formula, but it can't hurt that all are college towns, offering a plentiful supply of entrepreneurial young people who seem to egg each other on. Nor can it be an accident that a nearby enclave of culinary-minded farmers supplies and inspires those young chefs with labor-intensive but long-term vision for organic produce and humanely raised livestock and poultry on sustainable small farms.
In Atlanta, on the other hand, the scene is driven by massive projects and mega-chefs. In another sign of the economic turnaround, the huge Buckhead Atlanta (formerly Streets of Buckhead) development finally revived this summer. What had once aimed to become the city's own Rodeo Drive-like upscale shopping district suddenly stalled in 2009, and then became stuck, frozen in time. For years, cranes hovered over the blighted construction project; recently, they started moving again, and the scaled-back project now includes a greater focus on restaurants. Atlanta has always loved its malls, but it remains to be seen whether this shopping district will spawn the kinds of restaurants that attract diners from miles around.
In the meantime, mega-chefs expand their franchise-like string of enterprises – most notably, Ford Fry and his ever-increasing Atlanta empire (The Optimist, JCT. Kitchen, Decatur's No. 246, King + Duke and the upcoming St. Cecilia and Superica). Athens' Hugh Acheson (Five & Ten, Empire State South), seems to be stretching in a couple of ways, planning a new Mexican-inspired spot at his old locale in Athens and an Italian eatery in Savannah.
Guy Wong, of Miso Izakaya, has perhaps been busiest of all in the shortest amount of time: His Yum Bunz dim sum eatery opened this year, and he's said to be planning a number of other projects, including a Decatur Chinese restaurant and a ramen/yakitori bar in Inman Park. Shaun Doty followed his Ansley Mall Bantam & Biddy with a new Chick-a-Biddy in Atlantic Station with Lance Gummere. Richard Blais continues his burger-mastery, recently converting his HD1 "haute dog" shop into another Flip.
Meanwhile, former Woodfire Grill chef (and Top Chef winner) Kevin Gillespie seems to be going in the opposite direction, with one restaurant and many chefs, all doing small plates in a kind of dim sum showdown, at Glenwood Park's Gunshow near East Atlanta.
Coming up: We have a lot to look forward to. The new Ink & Elm, just opened at presstime, in Atlanta's Emory Village. The Kimball House (named for the historic downtown Atlanta hotel), from the team behind Leon's Full Service. The PushStart Kitchen team (once a supper club by email invitation only) will open Better Half. Mihoko Obunai (formerly of Repast and Joli Kobe) will start serving ramen and yakitori at East Atlanta's So Ba, dishes that are shaping up to be this season's hot bites.
To be sure, this year the Silver Spoons are an eccentric list, made to represent What's Happening Now Around the State. If I could include 20 restaurants, I'd surely invoke headliners like Atlanta's Bacchanalia, Miller Union, Rathbun's, Empire State South, Cardamom Hill and Restaurant Eugene; Macon's Marco and Natalia's (and even the durable meat-and-three H&H Restaurant). But I feel certain that you already know about them – and this year belongs to the upstarts.
Here are the Silver Spoon winners, listed in no particular order.
The General Muir
Atlanta
This uptown deli helmed by Chef Todd Ginsberg so quickly and perfectly settled into the landscape that it's hard to believe it's such a relative newcomer. With a bakery, breakfast counter and dining room, it's a hardworking restaurant that takes its bagels, pastrami and matzoh ball soup seriously. But the creative cocktails (like the cherry Manhattan) and dinner options (trout and fingerling potatoes) also make it a worthwhile destination for a celebratory dinner. With its gleaming subway tiles and light-filled dining room, it's reverential without being hidebound.
1540 Avenue Place (at Emory Point)
678.927.9131
www.thegeneralmuir.com
Five & Ten
Athens
Hugh Acheson's original Athens rest-aurant has a new home, around the corner from the old Lumpkin Street address. He's kept the spot-on, expert service, the whimsical takes on classic flavors, the miles-ahead-of-you wine list and cocktails. Now, however, the surroundings are a bit more serene and sophisticated, while still placing you in a neat old Athens bungalow with a bunch of smart young people running the place.
1073 S. Milledge Ave.
706.546.7300
www.fiveandten.com
The Optimist
Atlanta
Ford Fry's seafood destination is the best of his ambitious empire – which is saying quite a lot when his restaurants include JCT. Kitchen, Decatur's No. 246 (which just gets better and better), and the new and entertaining entry at Peachtree and West Paces Ferry, King + Duke. However, for pure and simple enjoyment of some the best food in town, in a pleasantly bustling environment, go to The Optimist.
914 Howell Mill Road
404.477.6260
www.theoptimistrestaurant.com
Dovetail
Macon
This city's first serious attempt at farm-to-table fare is upstairs from city favorite the Rookery, by the same owners, the Moonhanger Group. After a massive cleaning effort of the old downtown burger haunt, they also updated that menu (with Forsyth, Ga.-based Rocking Chair Ranch beef for the burgers), without losing the scruffy ambiance. They've also purchased the Cox Capitol Theatre, and, at presstime, planned to launch one of the city's first food trucks.
543 Cherry St.
478.238.4693
www.dovetailmacon.com
Miso Izakaya
Atlanta
Chef Guy Wong is on a mission to conquer the world of small bites, recently opening Yum Bunz, his dim sum diner, with plans for several more openings (see intro). But we love his original, out-of-the-way Edgewood Avenue location for sushi, steamed buns, perfect cocktails and sake, as well as creative specials such as crab with handmade noodles. Check Miso Izakaya's Facebook page for menu updates. Unfortunately, Wong will no longer serve his legendary ramen at lunch, but he may be planning a standalone ramen/yakitori restaurant.
619 Edgewood Ave.
678.701.0128
www.facebook.com/misoizakaya
Antebellum
Flowery Branch
Who would have thought this charming restaurant with big ideas for old-school Southern twists could have made it, just a short walk from Flowery Branch's old downtown train depot? Owners Nick and Alison St. Clair (he's the chef; she runs the front of the house) are likely to greet you and ask specifically how you liked such daring dishes as rabbit with coriander and popcorn, as well as such church-supper classics as blackberry cobbler.
5510 Church St.
770.965.8100
www.antebellumrestaurant.com
Elizabeth's on 37th
Savannah
Elizabeth Terry's formula for a groundbreaking restaurant seems prescient in retrospect, using the briny-fresh seafood from local fishermen, herbs from her own garden and crisp-fresh vegetables from nearby providers. Savannah's dining scene seems moribund in recent years, with few forward-thinking new entries, but Elizabeth's remains young and fresh, even as her former waitstaff has come on as co-owners and managers. Longtime chef Kelly Yambor keeps many of Terry's original dishes, while occasionally branching out on her own.
105 E. 37th St.
912.236.5547
www.elizabethon37th.net
Umi
Atlanta
If this is Atlanta's brave new dining world, count me in. Husband-and-wife team Fuyuhiko and Lisa Ito worked together at the cavernous, inventive, gorgeous and now-closed MF Buckhead, the last of the expense-account monsters to roam Buckhead. This small space's design reflects its cuisine: Modern, streamlined, unexpected, from the charred-wood paneling to the city's best Moscow Mule (with house-made ginger syrup and a slice of fresh ginger) to Chef Fuyuhiko's perfect nigiri and innovative omakase, to Lisa's incredible desserts, including her signature green tea soufflé.
3050 Peachtree Road
404.841.0040
www.umiatlanta.com
Graft
Grayson
Another youth-driven exercise exploring the old dishes in new ways, Graft is exciting for its placement in the middle of the rural community that supplies its ingredients.
516 Grayson Parkway
770.338.9001
www.graftrestaurant.com
Greyfield Inn
Cumberland Island
Yes, a stay at the only inn on Georgia's largest barrier island can be expensive, starting at around $525 per night for a room with a private bath. However, once you figure in the extras that are included – three meals a day for up to two people per room, bikes, ferry transportation, wine and more – this unique and not-to-be-missed state treasure becomes a better value than you might have thought. (Dinner and lunch-only excursions are also occasionally offered.) What is perhaps most surprising is that the food, from the hot breakfast to the picnic lunches to the three-course sit-down dinners with your fellow guests from around the world, is far better than you might expect and often from Greyfield's own gardens and shores. Nor can you exclude the dining experience from the overall magic of the unspoiled, undeveloped miles of pristine beaches, walking among wild horses and peacocks, and biking through a tunnel of wind-twisted live oaks to the haunting ruins of the old Carnegie estate.
866.401.8581 or 904.261.6408
www.greyfieldinn.com